Financial markets have developed to show a very interesting environment over the last few weeks, as many of the news headlines have centered on the election of Donald Trump as US President. There are many valid reasons for why these discussions should be occurring but what is being missed in the process is the fact that we still find ourselves in a somewhat clear economic reality that has been defined by the previous administration under Barack Obama.
Most of the recent activity in stocks has been marked by extreme optimism with the main benchmarks hitting all-times in relatively short order. But the real question that needs to be asked here is whether or not the possibility of economic change is even attainable, and whether and real results will be seen in the first half of 2017. The balance of the evidence suggests that this is not the case, so investors should be looking to the precious metals space as a means for protecting against potential declines from the elevated levels we are currently seeing.
Chart View: SPDR S&P 500 Trust (NYSEARCA:SPY)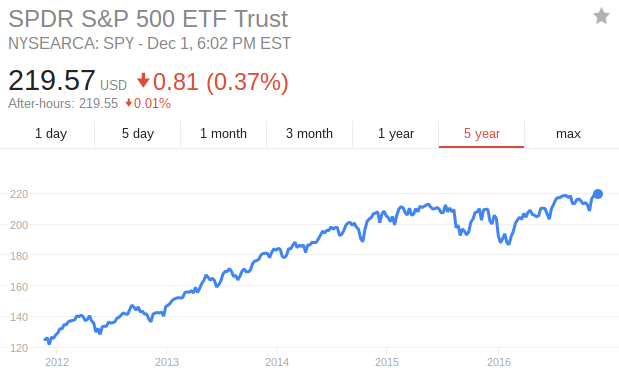 Chart Source: Gold Traders
A relatively lackluster performance in both US GDP output and non farm payrolls suggests limited upside for corporate earnings at a time when the SPDR S&P 500 Trust and assets tied to the S&P 500 continue to push ahead toward new all-time highs. There are fundamental inconsistencies here that need to be addressed because it is clear that many investors are making themselves vulnerable to sharp declines once this optimism starts to moderate.
This is an environment that could aid assets that are tied to the value of precious metals. Typically, this suggests increased buying activity in the SPDR Gold Trust (NYSEARCA:GLD) but this does not mean that alternative choices should be ignored here as instruments like the SPDR Silver Trust (NYSEARCA:SLV) might actually perform better given the broader context.
Chart View: US Jobs Markets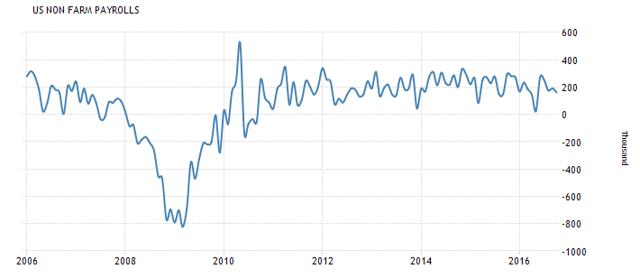 Chart Source: Gold Traders
In the chart above, we can see the jobs numbers that have been posted during the Obama administration. If we are to believe the news headlines, this is a spectacular event. But when we compare these numbers to the longer term averages, there is very little to be excited about here, as the numbers are roughly in line with what is needed in order to keep up with population increases in the US economy. We can add to this the fact that the US national debt was doubled during this period and the picture starts to look more and more bleak.
Of course, most of the Trump presidential campaign platform dealt with economic changes. These include factors like lowering corporate taxes and creating public jobs through infrastructure projects. These are additional factors that stand to benefit valuations in areas like industrial metals and the extensions here could propel rallies in silver more than gold.
Chart View: GLD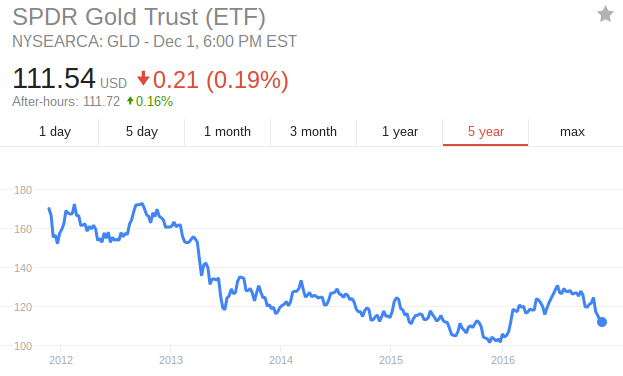 Chart Source: Gold Traders
When we look at the recent market performance, however, we can see that this has not yet been the case. In the chart above, we can see that valuations in the gold ETFs has remained subdued but that rallies have been present more frequently than with what has been seen in the silver ETFs.
Chart View: SLV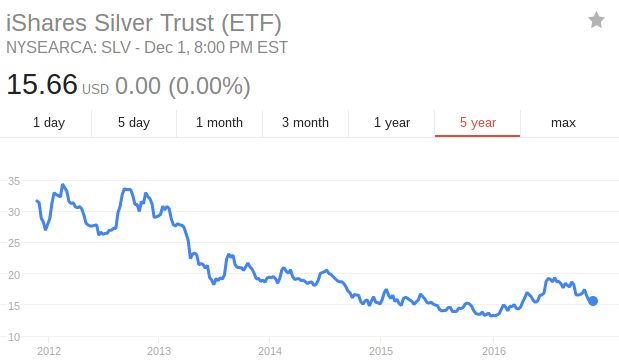 Chart Source: Gold Traders
Rallies in SLV have been much more limited and this does create preferable opportunities from a valuation standpoint. Better industrial usage with silver products could mean higher demand levels if the economy does manage to improve in the ways that the Trump administration has already outlined. All in all, this suggests that the potential for bullish reversals in SLV continues to grow.
Disclosure: I/we have no positions in any stocks mentioned, and no plans to initiate any positions within the next 72 hours.
I wrote this article myself, and it expresses my own opinions. I am not receiving compensation for it (other than from Seeking Alpha). I have no business relationship with any company whose stock is mentioned in this article.