Last Time Out
While spreads widen and market rates continue to rise vs "unnatural additive" rates (NIRP, ZIRP artificial central bank), the massive global bond bubble should continue its blood letting. - A Miracle On 34th Street?
Meanwhile, the #3 Eurozone economy is having a constitutional referendum this Sunday.
"The referendum has nothing to do with leaving the EU, that's what the MSM wants everyone to think.... Simply put, a NO vote maintains the STATUS QUO in senate power (upper house) , electoral process and Renzi probably resigns. The latter being what many want." From Part 1
In trying to escape legislative gridlock, somebody could be in for a....
Catch-22
Frequently cited as one of the greatest literary works of the 20th century, Joseph Heller's satirical novel Catch-22 uses a distinctive non-chronological third-person omniscient narration, describing events from the points of view of different characters. The separate storylines are out of sequence so the timeline develops along with the plot. The pacing of the novel Catch-22 is frenetic, its tenor intellectual, and its tone largely absurdist, interspersed with brief moments of gritty, almost horrific, realism.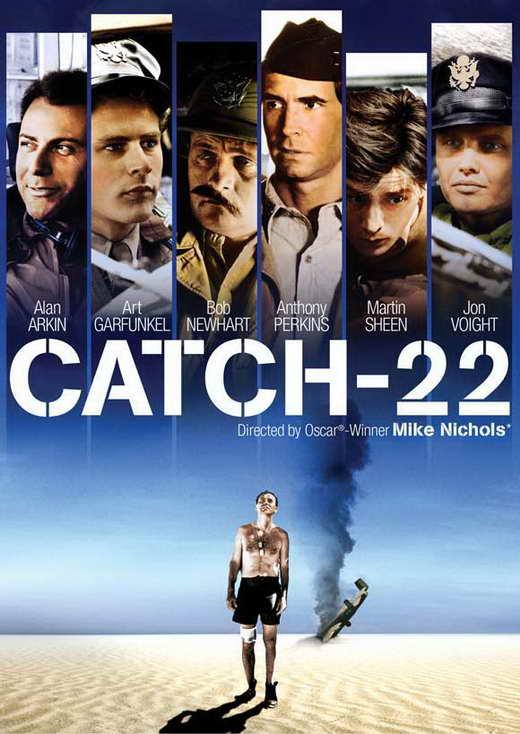 In 1970, academy award winning (1968, The Graduate) director Mike Nichols and screenwriter Buck Henry (also in the cast) converted Heller's complex novel to the medium of film. The adaptation substantially changed and simplified the book's plot to largely follow events in chronological order, with only one event shown in the main characters flashbacks.
The cast included Alan Arkin, Bob Balaban, Martin Balsam, Richard Benjamin, Italian actress Olimpia Carlisi, French comedian Marcel Dalio, Art Garfunkel (his acting debut), Jack Gilford, Charles Grodin, Bob Newhart, Anthony Perkins, Paula Prentiss, Martin Sheen, Jon Voight, and Orson Welles.
During WWII, a U.S. Army Air Force B-25 bombardier (Alan Arkin) stationed on a Mediterranean base, is trying desperately to be certified insane so he can stop flying missions. The "Catch-22" starts as a set of paradoxical requirements whereby airmen mentally unfit to fly did not have to do so, but could not actually be excused.
As explained, an airman "would be crazy to fly more missions and sane if he didn't, but if he was sane he'd have to fly them. If he flew them he was crazy and didn't have to; but if he didn't, he was sane and had to."
Speaking of Catch-22's, checks and balances....
Current State of The Italian Legislature
A perfectly symmetric bicameral legislature exists.
The Chamber of Deputies consists of 630 deputies, who must be at least 25 years of age, and are elected by all Italian citizens over 18 years of age.
The Senate of the Republic consists of 315 elected senators must be at least 40 years of age and their electors must be over 25.
In addition to elected members, the Senate also includes life senators - who are appointed by the President of the Republic "for outstanding merits in the social, scientific, artistic or literary field" - and the former Presidents of the Republic, who are ex officio life senators.
The elected Government must have each house's confidence. A vote of no confidence from either house, throws the baby out with the bath water and they have to start all over again from scratch.
No Constitutional Change
A NO vote on the Dec 4th referendum maintains the status quo, viz. little to nothing gets done with a perfectly symmetric bicameral legislature, as legislation is passed back for forth between the two houses. Oft referred to as the legislative "balla" or dance. Sound familiar? Gridlock by design comes to mind.
Proposed Constitutional Change
A YES vote on the Dec 4th referendum would result in the following:
1. New electoral law. viz. The party that wins the most votes in elections for the Chamber of Deputies, would be awarded many additional seats and have a clear majority.
2. An abolition of the symmetric bicameral legislature by abolishing the current Senate. A reduction of 66% in the number of senators, and the new senate:
A. would NOT be remunerated; (imagine that, no pay)
B. could NOT pass a vote of no confidence in the government;
C. would NOT be elected by direct public vote; (appointed bureaucrats)
The new Senate would consist of 95 senators elected by the Regional Councils and by the Councils of the Autonomous Provinces (Trento, Bolzano). In each Region and Autonomous Province, one senator must be elected from among the mayors of the respective territories; the remaining senators must be elected from among the members of the Councils themselves.
Procedural Changes
Currently, 50K signatures are required to propose a bill, with no parliamentary discussion.
A YES vote change: 150K voters are required to propose new legislation. Once the text is received, the Parliament will be obliged to discuss it.
A YES vote change: upon passage of a bill by the Chamber of Deputies, as opposed to unlimited legislative passing the buck, the Senate could only veto that bill once. After which if the Chamber passed the bill a second time, it would become law without further Senate review.
Other Infrastructure Changes
There are important changes aimed at lowering the costs of public institutions, but doing so at the cost of democratic representation.
1. The abolition of CNEL, a consultative assembly of experts of the economic, social, and legal fields, representatives of public and private-sector producers of goods and services, and representatives of social service and voluntary organisations.
2. Provinces (the 2nd level administrative divisions of Italy) are removed from the Constitution, excepting Bolzano and Trento. The lack of coherent legislation to regulate the partition of competence between the National and Regional levels, and the lack of effective cooperation between central power and periphery are not addressed in the proposed constitutional revisions.
The ultimate affect of these changes is nebulous but could result in the following:
Critics contend that CNEL would be abolished without introducing a substitute for the debate between political institutions and representatives of Italian society.
Critics contend that the reformed Senate would not adequately represent the interests of the Regions. Ordinary Regions (much like US states) would be rendered almost powerless under the new constitution, opening the door for National legislation to abolish or radically reform them.
Conclusions
If the referendum passes, YES vote, the following would result:
1. A reduction in the number of senators and the power they wield would weaken the Senate. No longer elected by the public and in effect, unpaid bureaucrats appointed by bureaucrats (sitting in an emasculated senate).
2. A much more powerful Chamber of Deputies with the majority of seats automatically going to the party winning the popular vote (overseen by the appointed Prime Minister - currently Matteo Renzi).
3. A streamlining in legislative procedure which would increase legislative capabilities (a two edged sword).
4. The legislative division between the National and Regional level would be obliterated (and could become draconian in nature).
Demographics and Market Reactions
Polls are showing a clear 5 to 8 point lead for a NO vote. Most Italians don't want to wait till 2018 to get Renzi out, so they are inclined to vote NO in order to call his "resignation" bluff.
"with 13% advertised unemployment, 7% long term = 20% and 40% youth (15-24) unemployment, the disaffected are legion. Anyone of sound mind knows those advertised numbers, much like our BS under 5% number, are NOT EVEN CLOSE to the real number. Populism is rising and much like our recent election, will probably take the day in this referendum. Again, anything can happen and we see no "surprises" coming here." - Part One
Reminiscent of populism inspired Brexit and Trump's ascendance, a disaffected electorate wanting instant gratification, will probably rule the day with a NO vote.
In that situation, having already lost 50% of their value this year, Italian bank shares would see further downside, Italian bond yields would rise, the Euro would weaken, and Euro markets could see some volatility. Further stress on the Euro could affect near term stability in the region and markets.
With widening debt spreads, a state bailout of #3 Italian bank, Monte dei Paschi dei Seini, and a stagnation in the cleanup of the many Italian NPL's could result. If Renzi follows through with his threat to resign, new government elections would be necessitated, and the current government would be neutered.
If you think that's the bad news, in the event the referendum vote is NO, the Catch-22 is, any new government would still be mired in the "perfect" balance of a symmetric bicameral legislature, viz. it's business as usual.
"without the necessary constitutional or systemic changes which a YES vote would deliver, any new government could never affect a EU succession under the current system, which is designed for divisive gridlock." - Part One
Since the end of World War II, 71 years have passed during which, the "perfect" balance has resulted in 63 different Italian governments, or more often than most change shoes. Instead of being a real second legislative check, that balance is seemingly a weapon of mass distraction and instrument of political vetoes which creates legislative paralysis. Is it any wonder how little effective or real change is accomplished, and how much the populace laments?
Oh the irony of it all? Wanting immediate change, while saying we won't get fooled again, by voting NO to constitutional change which could alleviate legislative gridlock, it could be another case of "Meet the new boss, same as the old boss." Pick your poison comes to mind.
Referendum resources:
Italian constitutional referendum, 2016
PDF Detailing the Proposed Italian Constitutional Changes (in Italian)
Would like to thank you folks fer kindly droppin' in. You're all invited back again to this locality. To have a heapin' helpin' of Nattering hospitality. Naybob that is. Set a spell, take your shoes off. Y'all come back now, y'hear!
This is our 110th in a series of thematically related missives which will attempt to identify the macroeconomic forces with potential to adversely effect capital, commodity, equity, bond and asset markets.
I wish to dedicate this missive to one of my mentors, Salmo Trutta, who is a prolific commenter on SA. Without Salmo's tutelage, and insistence on not masticating and spoon-feeding the baby ducks, as in learning the hard way by doing the leg work and earning it, this missive would not have been possible. To you "Proximo"... "win the crowd and win your freedom" - Spaniard.
Disclaimer
Investing is an inherently risky activity, and investors must always be prepared to potentially lose some or all of an investment's value. Past performance is, of course, no guarantee of future results.
Before investing, investors should consider carefully the investment objectives, risks, charges and expenses of an investment vehicle. This and other important information is contained in the prospectus and summary prospectus, which can be obtained from the principal or a financial adviser. Prospective investors should read the prospectus carefully before investing.
Market Plays
As for how all of the above ties into the potential and partial list of market plays below... the market as a whole could be influenced, and this could tie into any list of investments or assets. Those listed below happen to influence the indices more than most.
There are many macroeconomic cross sector and market asset correlations involved that affect your investments. Economic conditions, the eurodollar, global dollar debt and monetary policy all influence the valuation of the above and market plays below, via King Dollar's value, credit spreads, swap spread pricing, market making, liquidity, monetary supply and velocity, just to name a few. For a complete missive series listing covering those subject and more,click here.
The potential global economic developments discussed in this missive could affect numerous capital and asset markets, sectors, indexes, commodities, forex, bonds, mutual funds, ETFs and stocks.
A List of Potential Market Plays (Long or Short?): SPDR Gold Trust ETF (NYSE: GLD); Apple Computer (NASDAQ:AAPL); Google (NASDAQ:GOOG); Facebook (NASDAQ:FB); Microsoft (NASDAQ:MSFT); Citigroup (NYSE:C); General Electric (NYSE:GE); Cisco (NASDAQ:CSCO); Bank of America (NYSE:BAC); Amazon (NASDAQ:AMZN); Tesla (NASDAQ:TSLA); SP 500 Trust ETF (NYSEARCA:SPY); Ford (NYSE:F); Starbucks (NASDAQ:SBUX); Intel (NASDAQ:INTC); ATT (NYSE:T); IBM (NYSE:IBM); Exxon Mobil (NYSE:XOM).
Disclosure: I/we have no positions in any stocks mentioned, and no plans to initiate any positions within the next 72 hours.
I wrote this article myself, and it expresses my own opinions. I am not receiving compensation for it (other than from Seeking Alpha). I have no business relationship with any company whose stock is mentioned in this article.