I've written quite a few articles about rising leading indicators that predict(ed) stronger mid-term growth. The US ISM manufacturing index soared above 53, supported by new orders and regional manufacturing indices, as conducted in several Federal Reserve districts.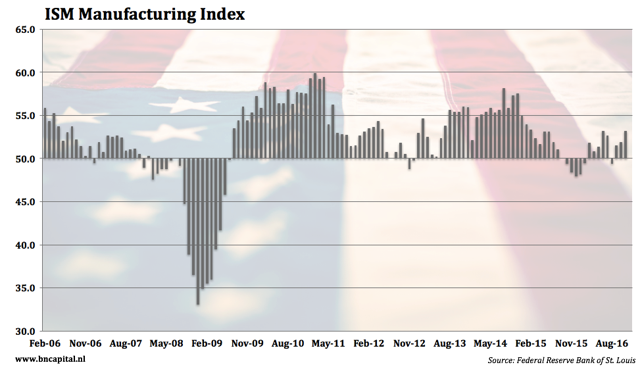 The graph below shows all major manufacturing PMIs. The world's average has hit 2014 numbers. It really looks like the 2014-2015 weakness has ended. The weakest countries are emerging markets. The strong USD is likely to be the reason for their weakness.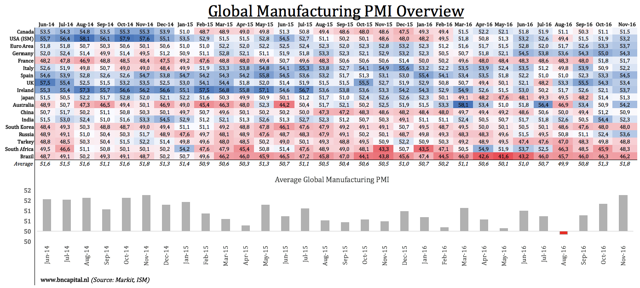 Even the Euro Area has hit a new multi-year high. The PMI is currently at 2013 levels after being below 52 for quite some time during 2015 and 2016.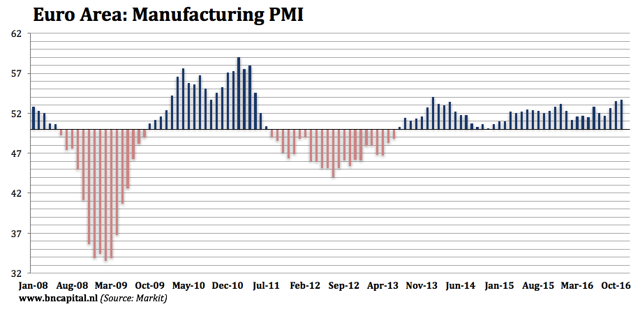 The European countries that could be the biggest risk to the Euro's stability are Italy and Spain. Both countries had debt problems comparable to Greece's problems. The difference is that their debt problem has been managed by the ECB's low rates and QE and the fact that their default would kill the Euro immediately. Both countries have stronger PMIs at the moment. Spain is growing faster with a PMI above 54 while Italy is growing at 52. Both countries are in a strong 3-month uptrend.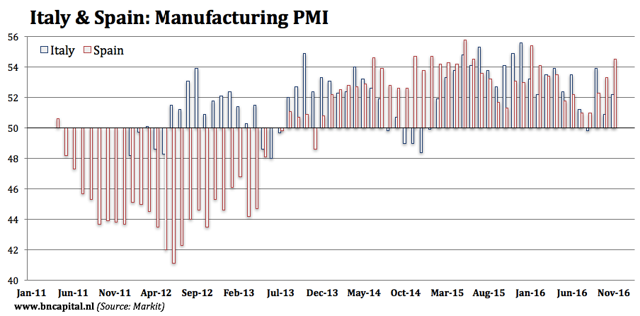 The two biggest Euro Area economies are Germany and France. Germany is declining a bit. Germany's PMI fell from 55 to 54.3. France lost 0.1 points after growing 51.8 in October. Note that France is having the strongest growth since 2011. I know that it sounds ridiculous, given the weakness of the growth, but at least they are participating.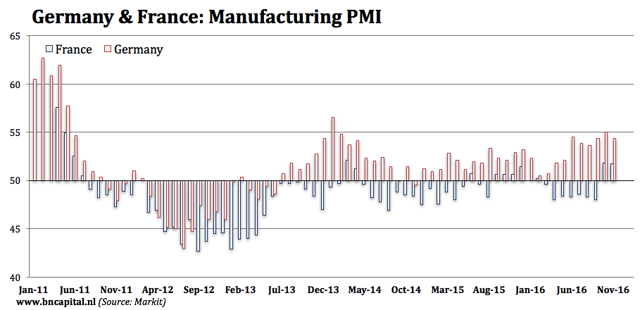 The PMIs show that growth has reached the struggling region with the common currency called 'Euro'. I am quite happy with these numbers since they support my theory of stronger mid-term growth. I am looking forward to the next coincident indicators to see whether leading indicators have reached the real economy. It is also interesting to see whether the European Central Bank is going to taper its QE program.
Many thanks for reading my article. Please leave a comment below if you have questions or remarks.
Disclosure: I/we have no positions in any stocks mentioned, and no plans to initiate any positions within the next 72 hours.
I wrote this article myself, and it expresses my own opinions. I am not receiving compensation for it (other than from Seeking Alpha). I have no business relationship with any company whose stock is mentioned in this article.