Amazingly, General Motors (NYSE:GM) continues to produce incredible results while the market is stuck focusing on the past. The Q3 results and even November sales continue on record setting and impressive trends.
Despite these numbers, the stock only approaches the highs back at the end of 2013. The dividend yield sits at an impressive 4.2%, but is that enough to own this stock?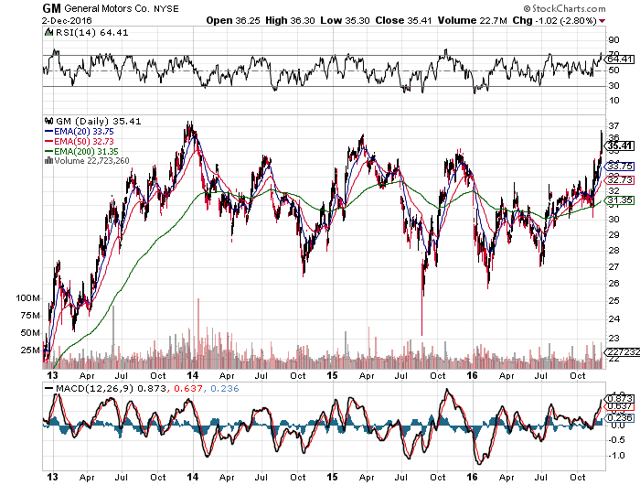 Record Numbers
November auto sales for GM were up an impressive 10.2% and easily surpassed analyst estimates. The auto manufacturer posted the largest market share since 2009.
These numbers follow record October sales in China. The China numbers reached 347K, easily surpassing the 253K vehicles sold in the U.S. last month.
The numbers are impressive considering the stock traded down towards $26 on multiple occasions over the last year on fears that the strong auto market wasn't going to last.
These numbers come after GM reported blowout Q3 numbers. The company reported records for net revenue, EPS, adjusted EBIT, and North America adjusted-EBIT margins at 11.2%.
The analyst sentiment on the stock is highly reflected in the EPS estimates. The numbers for 2016 surged as the year went on while the 2017 numbers are trailing off.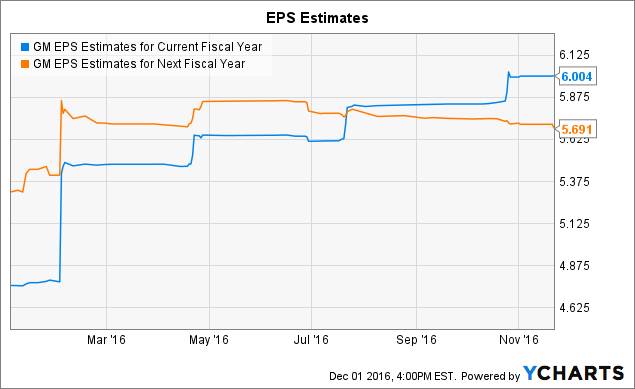 GM EPS Estimates for Current Fiscal Year data by YCharts
Impressive Yields
While the market keeps thinking that GM is pulling sales forward and can't maintain these strong profit levels, the company still offers huge yields, providing a positive, non-emotional signal. The ability to generate $3.5 billion in free cash flow last quarter greatly helps with this signal.
What investors probably don't realize is that GM is only worth slightly above $50 billion so those cash flows are huge in comparison. It doesn't take much in capital returns from those cash flows to have an impact on the stock.
For the first nine months of the year, GM has returned $1.8 billion in dividends and $1.5 billion on stock buybacks. Any company offering a 4.2% dividend yield and spending a nearly equal amount on stock buybacks offers a compelling stock.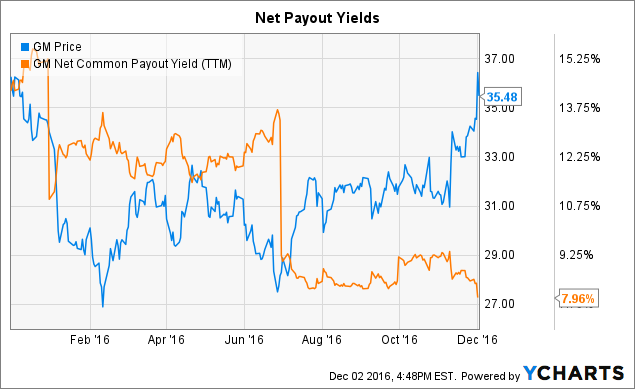 The net payout yield that combines the dividend yield and net stock buybacks sits at a solid 8.0%. The yield, though, is down from the impressive levels above 10.0% when the stock dipped below $30 earlier this year.
Takeaway
The key investor takeaway is that now isn't the best time to buy the stock. Those paying attention have collected dividends that approached 5% in the last year while waiting for this potential breakout of the stock.
Now, though, isn't the time to sell, with GM finally breaking out of sideways trading for three years and worth only roughly 6x EPS estimates.
Disclosure: I am/we are long GM.
I wrote this article myself, and it expresses my own opinions. I am not receiving compensation for it (other than from Seeking Alpha). I have no business relationship with any company whose stock is mentioned in this article.
Additional disclosure: The information contained herein is for informational purposes only. Nothing in this article should be taken as a solicitation to purchase or sell securities. Before buying or selling any stock you should do your own research and reach your own conclusion or consult a financial advisor. Investing includes risks, including loss of principal.