Quick Take
Electronics manufacturer Microphase (MPHSE) has filed an amended S-1 registration statement with notable new details.
The company experienced a severe drop in revenues and in gross margin in Q3 2016 due to a combination of factors within its control and outside its control.
Microphase has not yet provided an expected price range for its IPO stock, but given the 44% drop in quarterly revenue in 3Q 2016 vs. the same quarter in 2015, investors should be concerned about the company's exposure to supply chain vulnerabilities and logistics issues.
Company
Microphase was founded in 1955 by founder and current CEO Necdet Ergul.
The company designs and manufactures a variety of RF, microwave and millimeter-wave electronic components for military, commercial and aerospace systems in the U.S. and allied nations.
I previously analyzed the company and its IPO prospects: Microphase IPO May Be A 5G Wireless Opportunity
In January 2016, Microphase acquired certain Dynamac assets pertaining to Test & Measurement technologies (T&M).
Subsequently, the company has been developing these T&M assets toward its goal of providing them to the 5G wireless testing market, which it believes is materializing soon.
Financials
One important change with the current S-1 filing amendment is a major reduction in revenues and gross margin during 3Q 2016.
Below are the company's operational results for the past two and 1/4 years (Audited GAAP for full years only):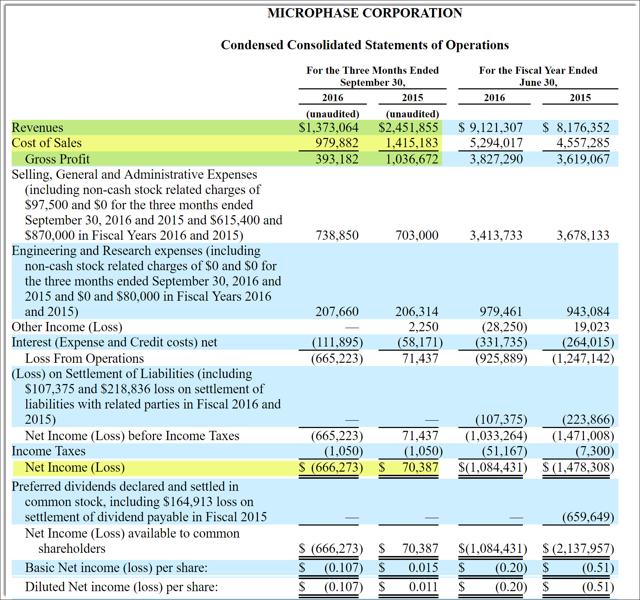 (Source: Microphase: S-1/A Filing)
I highlighted in yellow the relevant areas of concern.
Revenues dropped 44% vs. 3Q 2015, and gross margin dropped from 42% to 29%.
Management stated the reasons for the big drop in sales and gross margin:
The revenue decrease was primarily due to a reduction in overall customer orders resulting in a reduced backlog, with a less efficient mix of products. In addition, the closure of the California plant in July 2016 and the transfer of inventory and work in process back to the plant in Connecticut reduced shipments in the quarter. Additionally, there was a significant slow-down for the quarter on an important program, due to a critical vendor part not being available.

The decrease in the cost of sales was primarily due to the decrease in revenues. The gross profit margin for that same period for 2015 was 42%, whereas the gross profit margin for the same 2016 period was 29%. The decrease in the gross profit margin was due to a less profitable product mix.
So, it appears that part of the slowdown was outside the company's control (critical vendor part not being available) and part of it was within management's control.
Still, a 44% revenue drop is quite concerning, especially in the run-up to an IPO, as it is not exactly the kind of financial management message to send to prospective public investors.
As of September 30, 2016, the company had $16,389 in cash on hand, $367,000 accounts receivable and $3.9 million in current liabilities.
IPO Details
Microphase said it intends to raise up to $12.25 million in its IPO.
The second notable change with this amended S-1 is the disclosure that prior to the IPO, the company will execute a 1-for-3 reverse share split.
Shares outstanding pre-IPO will therefore be 2.294 million of common stock and 15,382 shares of convertible preferred Series A stock. The convertible preferred is convertible into common at $1.50 per share.
The company has not provided an expected price range for the IPO shares.
Commentary
In my previous article on Microphase, I was optimistic about its market opportunity, especially selling Test & Measurement equipment to 5G T&M customers.
While that market opportunity still exists unchanged, I question management's recent 3Q 2016 performance errors, which were a combination of supply chain vulnerabilities, logistics inefficiencies, and product mix errors.
Managements that choose to tap public market investment must perform at a high level to gain and retain public investor confidence in their ability to manage their business on a quarterly basis.
Failure to do so, as happened in this case, would likely result in merciless selling by public shareholders not to mention the attraction of activist and opportunistic shareholders resulting in a challenged and distracted management at the very least.
I don't know how management expects to impress prospective investors with such a poor showing in the most recent quarter.
The market opportunity is great, but I have doubts about whether this management team is the one to bet on to seize that opportunity.
---
I write about technology IPOs, secondaries, and M&A deals. If you want to receive future articles automatically, click the +Follow link next to my name at the top of this article.
Disclosure: I/we have no positions in any stocks mentioned, and no plans to initiate any positions within the next 72 hours. I wrote this article myself, and it expresses my own opinions. I am not receiving compensation for it (other than from Seeking Alpha). I have no business relationship with any company whose stock is mentioned in this article.