I must come out clean with something. I succumbed to an addiction and it is worse than I ever imagined. I am addicted to OTC stocks and I cannot hide it anymore.
It all started with an innocent story that I read a while ago about an incredible investment made around 2013 by Thomas Braziel that epitomize what I believe is the ultimate deep value research that I would like to one day produce. It continued through chats with Nick Bodnar and through following several other SA authors (Safety In Value, Brian Grosso etc.) and blogs. Oddball & Adventures are a must! Ragnar is also fun, but unfortunately not active anymore. It finally escalated on the 17th of November when I decided to cover my first OTC stock OTCPK:JLMC and start to screen the space regularly.
Since then I spent at least an hour a day (or nine) going through OTCmarkets.com in the search for that hidden gem.
On a more serious note though I believe that OTC is even a better setup for like-minded investors than listed micro-caps because the natural constraints that make micro-caps appealing (inability to invest in the case of institutions, lack of coverage, often complex situations) are even stronger in the OTC space and the valuations are sometimes truly great. I always thought that a 'classic Ben Graham' pick is mostly gone, but it is alive and well in the OTC land. While one has to stomach a significant portion of illiquidity I believe that the returns that can be made reimburse investors much more than in the listed space.
That being said the level of due diligence needs to be seriously expanded when dealing with OTC stocks, but again the amount of work put in should be compensated by opportunities likes Ethanex (from Thomas Braziel's story).
With that in mind, I thought that it could be interesting to share part of this search for OTC stocks with you on a bi-weekly basis (if the addiction gets worse maybe weekly). I will cover stocks that I find that might be interesting to further research and I will share a basic view that I have about each case.
I am and will always be a generalist so I do not discriminate against any industry or investment type niche, but I will most likely be skipping a significant amount of exploratory, biotech and complex technology OTC businesses as I do not have enough knowledge to even remotely say whether there could be an opportunity or not. I will also be skipping Chinese stocks as I believe that one would have to do on-site research in China in order to be sure about the investment.
Without further ado, here are five stocks that I found in the past week or so and that I believe could lead to more interesting research. These might not result in an investment opportunity but I feel that if one looks at stocks properly in-depth he/she can always learn something new.
Before I dig in I feel obliged to say; Caveat Emptor! Always do your own due diligence and do not take the following list a solicitation to buy.
This company is focused on producing macadamia nuts. It has large tracts of land and orchards in Hawaii, which would make it an interesting land asset play. The tangible book is currently roughly $37.8 million and the current market capitalization is cca. $31 million, therefore there could be enough margin of safety. The company is also growing its revenue stream by retail sales of its own brand of macadamia nuts. Theoretically, this should improve their margins. The downside is that the company is losing money, but the cash flow does not seem to be too bad. There could also be an issue with the company being LP, which could mean complex ownership structure etc.
There was recently a SA PRO article written by Heath White on the company, which seems to go along the same lines of thinking.
Price: $2.79
Volume (30-day average): 696
Reporting: SEC Available
This holding company is predominantly focused on construction and concrete production in New England and Massachusetts, especially Boston as per the name. I believe that this could be a mix of earnings and assets play as it seems that they are a large player in the area. I saw this Reddit discussion about their real estate holdings and their overall position in the city, which seemed to confirm this. They also own a rail company, which seems to point to new opportunities as reported in this Boston Globe article, which actually also features the Reddit discussion.
Another good thing is that their share price has not moved much as seen below.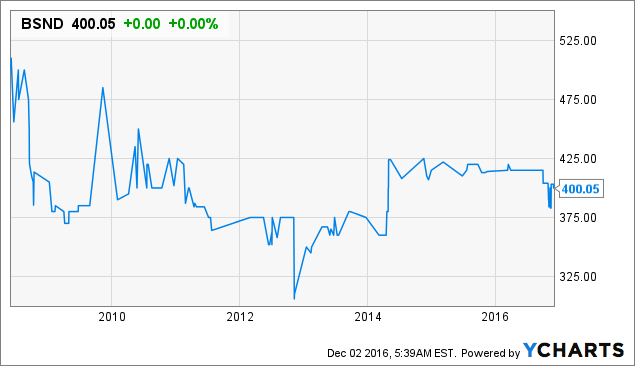 If they are indeed well-positioned and own interesting real-estate this could be an opportunity especially when the market capitalization is now $54 million, which could seem low given all the companies they own and the potential stream of cash flows that they generate. The downside is that the company is completely dark and does not communicate much with the public. I can imagine that there is also tight ownership and not much potential for value realization, but that is just a guess.
Price: 400.05
Volume (30-day average): 5
Reporting: Dark
Just a quick note on Verso Corporation. This paper manufacturer filed for Chapter 11 at the beginning of the year with a massive debt load of $2.4 billion and is currently undergoing a restructuring. Why should this be interesting? Well because if the equity eventually re-emerges, it could present an interesting valuation. I am extremely interested in these kinds of opportunities and I have a goal to track one bankruptcy throughout 2017 and hopefully learning a thing or two about the process. If you have any better ideas than Verso feel free to let me know.
Price: N/A
Volume (30-day average): N/A
Reporting: SEC Available
This company is focused on growing tomatoes, bell peppers and cucumbers in green houses using the hydroponic method (without soil) around North America. The most interesting point is of course again the book valuation and the land assets. VFFIF currently trades at a market capitalization of $37 million while the tangible book is roughly $61 million. If you back out depreciation and amortization they are actually profitable and the operational cash flow is positive so the fundamentals do not seem too bad either. This should then be enough to warrant further research. They are also listed in Canada, so reporting is not an issue.
There have been two SA articles on this stock recently, both of which nicely covered the macro outlook. You can read them here and here.
Price: $0.97
Volume (30-day average): 1958
Reporting: OTCmarkets available; Canadian listing
This food distribution company seems like one of the gems that one is looking for in the OTC land. When I stumbled upon it on the OTCmarkets I did my routine Google search and found that Nate Tobik from Oddball covered the company several times (there is also one VIC article). The metrics he was coming up with seemed definitely interesting. (Data is as of 2012)
Earned $16.24/sh in 2011 has a current P/E of 5
Grew book value from $137/sh in 2004 to $250/sh in 2011
Liquidation value of $99.39/sh
The company has an outstanding offer to buy employee owned shares purchased before 1988 at $150/sh.
$37.89/sh of cash from operations for a P/CF of 2.16
FCF of $23.79/sh for a P/FCF of 3.44
EV/EBIT of 4.45 and EV/FCF of 4.59
These did not really change since then (they grew book value, but the earnings faltered a bit) and the share price didn't do much either.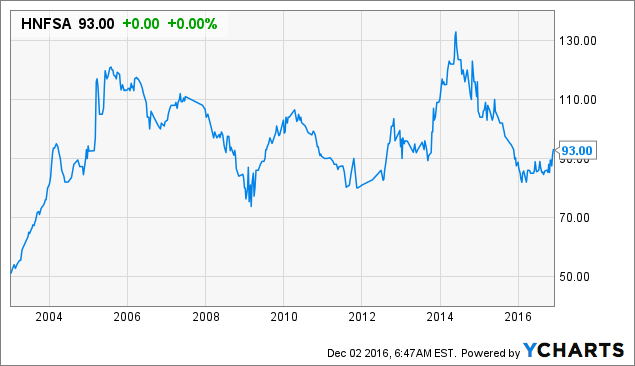 Nate talks about the ownership being the likely reason for this severe undervaluation, but as he points out there were few changes that could help potentially unlock the value. As with many OTC stocks the company is run as a private company and probably is worth holding if you are willing to wait for that catalyst. In the meantime, the company pays out a dividend. I believe this makes it an interesting pick that should need more digging in order to see the latest developments.
Price: $96.00
Volume (30-day average): 8
Reporting: Dark (here is AR for 2015)
And as a last ticker I have decided to always share a business that I thought was peculiar and that might not be worth researching, but might be worth hearing about.
Fan of guns? What about gun cleaning kits? DAC Technologies produces exactly that and only that. They say pick a niche, I believe these guys have done a good job at it. Shame they are dark, seems like a boring enough business. The founder is also buying the stock and the last filed SEC report shows that they could actually trade below book. Although I also found a short SA article about the company written by Dime Trader who pointed out that the company leases CEO's own home and that he received $0.57 million in 2009 in compensation. The net income was $0.55 million for that year. Who would have thought that gun cleaning can be such a good business.
Finally, I would like to borrow few words from Thomas Braziel, which I will quote at the end of every bi-weekly post.
Think about it - where are the truly undervalued securities? It is in the overlooked, deep dark reaches of the markets. The boomed out, the busted, the complex, and the convoluted.
I would add; Are you wondering how to find them? Just research, research, research!
P.S. If anyone should diagnose themselves as a potential 'OTC-holic' hit me up with a ticker that you do not have the time to look at or that you want to have a second pair of eyes on!
P.P.S I am still going to cover the listed space as well.
Disclosure: I/we have no positions in any stocks mentioned, and no plans to initiate any positions within the next 72 hours.
I wrote this article myself, and it expresses my own opinions. I am not receiving compensation for it (other than from Seeking Alpha). I have no business relationship with any company whose stock is mentioned in this article.
Editor's Note: This article covers one or more stocks trading at less than $1 per share and/or with less than a $100 million market cap. Please be aware of the risks associated with these stocks.