The S&P500 finally took a break from it's unstoppable rally as risk on sentiment takes a break from overbought conditions. The main highlight this past week were the agreed OPEC cuts and the U.S. employment numbers. Whilst the headline numbers missed slightly, the main concern was in the average hourly earnings failing to show any significant wage increase. This took the wind out of an otherwise strong employment report.
This next week, markets will be watching the outcome of the Italian referendum, the result of which could lead to the start of political upheaval in the country and Italy's position in the Eurozone being questioned if PM Renzi resigns. Other than this, key U.S. data next week includes the non-manufacturing PMI number.
Trading and Technical Strategy for the week ahead:
| | | | | |
| --- | --- | --- | --- | --- |
| Instrument | Fundamentals | Short-term bias (1-3 days) 4 hourly time frame | Medium-term trend (1wk-3mths) Daily time frame | Long-term trend (>3mths) Weekly time frame |
| GBP/USD | Bearish | Bullish | Bullish | Bullish |
| GOLD | Bullish but weakening | Bullish | Bearish | Bearish Bias being challenged |
| WTI OIL | Bullish | Bullish | Bullish | Bullish |
GBP/USD (FXB)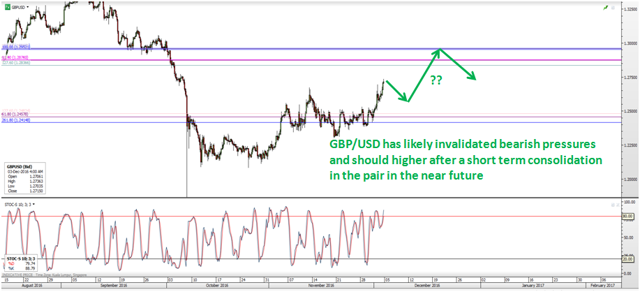 Charts created by themarketjournal, data provided by SAXO markets
| | |
| --- | --- |
| Key Levels | |
| Support: | 1.2560/ 1.2460/1.2300/ 1.2210/ 1.2140/ 1.2000/ 1.1930/ 1.1810 |
| Resistance: | 1.2760/ 1.2870/ 1.2960 |
| | *Level to consider buying at for support and selling at for resistance for intra-day trades |
GBP/USD has now invalidated bearish pressures and should head towards 1.3000 in the not too distant future after a short term consolidation break before the likely next move to the upside.
Trading strategy:
We think traders should wait for the consolidation to look for long positions in the pair. Ideal levels to consider long positions would be around the 1.2460 level. We will update when a good setup shows itself.
XAU/USD (NYSEARCA:GLD)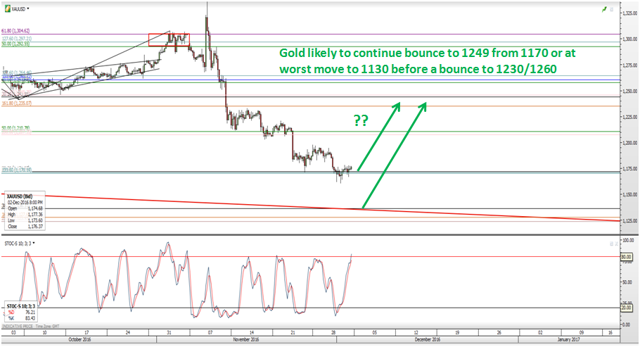 Charts created by themarketjournal, data provided by SAXO markets
| | |
| --- | --- |
| Key Levels | |
| Support: | *1170/ *1130 |
| Resistance: | 1205/ 1220/ 1245/ 1265/ 1280/1305/1330/1360/1400 |
| | *Level to consider buying at for support & selling at for resistance for intra-day trades |
GOLD remains extremely oversold to the downside with 1,170 likely to remain key support for gold at this juncture. However, the bulls are running out of time to prove their case, and a move higher this coming week will be needed to remove bearish pressures. A failure to move higher this next week will likely result in gold breaking below the key 1170 support.
Trading strategy:
Medium-term traders can look to go long gold closer to 1,170 with a stop loss at 1,150. The medium term target to the upside will be 1,230/60. Thereafter, whether gold continues its bullish momentum or has further downside will depend on how the consolidation plays out.
WTI OIL (USO)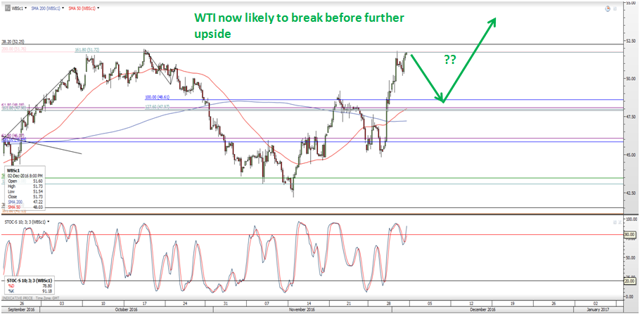 Charts created by themarketjournal, data provided by SAXO markets
| | |
| --- | --- |
| Key Levels | |
| Support: | 51.30/ 50.20/ 49.80/ 49/ 48.30/47.15/ 46.30/ 45.30/ 44.60/ 43.20 |
| Resistance: | 52.60/ 53.80/ 55 |
| | *Level to consider buying at for support & selling at for resistance for intra-day trades |
*Note on our price chart: Before we dive into the WTI technical analysis, we have decided to use the WTI continuous futures price as a chart instead of the original spot price posted in our article. This price will match the nearest dated WTI crude futures contract which will switch automatically once the contract settles, moving on to track the next nearest dated futures contract. We will also be only analyzing the technical aspect of the WTI price, given the fundamental aspect of WTI oil is well covered by many subject matter experts in the energy commodities section. At this time, the nearest dated futures contract being tracked by the above price chart is the January 2017 contract.
WTI oil spiked on news of production cuts being agreed to by OPEC. WTI has now reached upper resistance which will prove tough to crack in the short term, with a consolidation expected. However, we do expect bullish momentum now to continue toward $60 after the next consolidation barring any unexpected risk off outcomes.
Trading strategy:
"WTI traders can look to go long at current levels, with a very tight stop at $45.50. A break of $45.50 will likely lead to bears gaining control and the trade bias turning from long to short. The target to the upside would be $49.20 and higher if the bulls have their way."
Traders who went long last week should consider selling longs in the short term, and waiting for the coming pullback to re-establish longs again. We will update on our site when we think a more ideal setup for going long shows itself.
Risk Disclosure:
High Risk Warning: Foreign exchange, futures and ETF trading carries a high level of risk that may not be suitable for all investors. Leverage creates additional risk and loss exposure. Before you decide to trade any instrument, carefully consider your investment objectives, experience level, and risk tolerance. You could lose some or all of your initial investment; do not invest money that you cannot afford to lose. Educate yourself on the risks associated with trading, and seek advice from an independent financial or tax advisor if you have any questions.
Advisory Warning: THEMARKETJOURNAL provides references and links to selected blogs and other sources of economic and market information as an educational or informational service to its clients and prospects and does not endorse the opinions or recommendations of the blogs or other sources of information. Clients and prospects are advised to carefully consider the opinions and analysis offered in the blogs or other information sources in the context of the client or prospect's individual analysis and decision making. None of the blogs or other sources of information is to be considered as constituting a track record. Past performance is no guarantee of future results and THEMARKETJOURNAL specifically advises clients and prospects to carefully review all claims and representations made by advisors, bloggers, money managers and system vendors before investing any funds or opening an account with any brokerages or dealers. Any news, opinions, research, data, or other information contained within this article and our website is provided as general market commentary and does not constitute investment or trading advice.
Disclosure: I am/we are long GLD.
I wrote this article myself, and it expresses my own opinions. I am not receiving compensation for it (other than from Seeking Alpha). I have no business relationship with any company whose stock is mentioned in this article.