Introduction
GE (NYSE:GE) Power is in the crunch zone, squarely positioned between expectations for a 50% worldwide increase in electricity demand over the next 20 years and growing legal requirements for reductions in carbon emissions. Currently, the Obama administration's clean power plan targets 32% carbon reduction below 2005 levels from the power sector.
The Trump administration will likely have a quite different viewpoint. However, worldwide and within various individual U.S. industries and states, it seems clear that a premium will exist for carbon reduction. I do not expect that a President Trump will be effective in stemming this tide.
These two overwhelming trends (more power, less carbon emissions) do not compute under a "business as usual" scenario. GE is doing everything in its power to ease the conflict. As a supplier to a meaningful percentage of the world's electricity producers, GE is well positioned to play a major role in this drama.
GE proposes digital solutions for the world's energy generation assets and the electricity grid as a productive response to the crunch.
Far from shirking its responsibility, GE relishes the opportunity to address both sides of the crunch zone. GE's approach so far has been "bring it on".
Steve Bolze, GE Power's articulate and determined president, is out front on this effort. As is always the case at GE, Bolze is supported by a deep bench of personnel with vast technical and operational experience. GE Power's Chief Digital Officer, Ganesh Bell, is another able spokesperson for GE Power's digital ambitions.
Both recognize the challenge and are comfortable that they know the solution. In a word, it is "digital". There are three critical components which interact to deliver electricity to the world's consumers. These three are electricity generation, the electrical grid and consumption. Digital techniques allow for communication within and operational optimization of all the myriad components that make up this vast and complex system of connected assets. The ultimate goal is optimal performance of the entire system.
The slide below, from the Electricity Reimagined (21:55) presentation at the 2016 Minds + Machines conference, gives a pictorial overview of the breadth of GE Power's digitization pallet.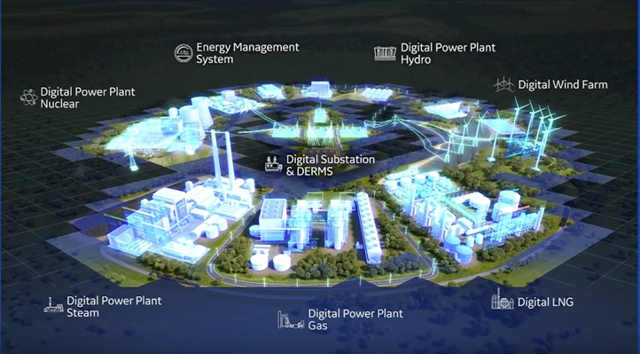 Bolze is shepherding GE's aforesaid efforts to provide digital upgrades to improve the efficiency and reliability of the world's energy generation assets and of the grid. In so doing, GE enhances productivity of the world's existing power generating assets. The net result is an increase in the available amount of electricity without an increase in the world's carbon load.
GE seeks to digitally upgrade the world's generating assets and its electricity grid.
GE Power is a major supplier to the world's gas generated power plants, to its steam (usually coal fired) power plants and to its nuclear power plants. In connection with its digital optimization, GE Power works hand in glove with GE's Renewable Energy division. GE's Renewable Energy plays an important role with the renewable side of the ledger including wind, solar and hydro.
Excelon with all its divisions makes up one of America's largest, if not America's largest, integrated electric and natural gas utility companies. Excelon recognizes the criticality of innovation to its ongoing success and strives to nurture an innovative mindset throughout the corporation.
At Minds + Machines 2016 GE announced an exciting contract with Excelon. The contract calls for enterprise wide IoT software deployment by GE spanning Excelon's entire fleet of energy generating assets, solar, gas, wind, hydro, and nuclear. This contract alone assures that GE will be implementing the various components of its digitization program throughout its power and its renewable energy divisions.
Of course, this contract is not alone. Per slide below, as of Bolze's 2016 Minds + Machines presentation [3:32] GE has signed 25 new power customers from around the world on to its Predix platform since last year's Minds + Machines.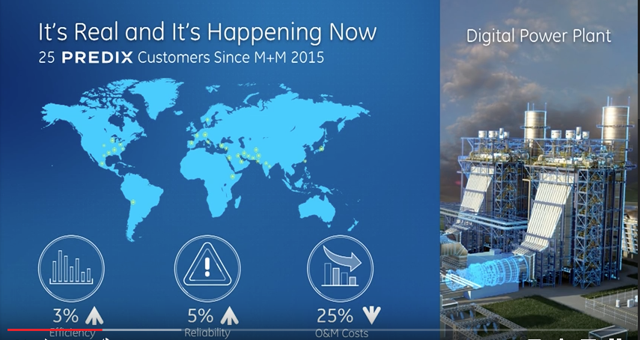 These customers are seeing 3% gains in efficiency, 5% in reliability and 25% reduction in operating and maintenance costs.
The savings potential for those buying into GE's digital solutions are substantial. According to GE:
The expected benefits include up to $230 million in savings for a new combined-cycle gas power plant and up to $50 million in net present value [NPV] over 10 years for an existing combined-cycle, gas-powered plant. Across the power industry today, this will equate to up to $75 billion in savings. Similarly, Digital Wind Farm is delivering up to $100 million incremental value for a new farm.
A digital twin black box undergirds GE Power's digitization.
GE's Minds and Machine's ~14 minute "Meet the Digital Twin" YouTube segment is a must watch for those who want an easy intuitive understanding of the value of this digital tool. Those who wish to take a deeper dive into GE Power's use of the digital twin model cannot do better than watch this short presentation.
It includes a fascinating conversation between GE's Colin J. Parris, Ph.D., VP of Software Research (person) and a power plant (digitized physical asset) concerning a developing problem in one of the plant's turbine rotors. The plant describes the problems and responds to Parris's questions as to various options for addressing the problem.
It is as if the world of Star Wars exists in GE's digitization laboratories waiting to be retrofitted on this world's existing power generating and grid assets and added anew to new build assets. The magic comes from human imagination spurred by an overweening economic reality.
The reality that fathers the digital revolution in the IoT world is the dramatic downward shift in the cost structure of the digital universe over the last 10 years. Sensors, the ubiquitous receptors that allow machines to report sundry operational conditions, have dropped in price by more than 50%. Digital processing costs are down by a factor of 60, bandwidth by a factor of 40, RAM by a factor of 21, disk storage by a factor of 17 and the cost of flash memory by an incredible factor of 646.
These cost efficiencies allow engineers to design and implement systems that would have previously been economically unfeasible. Engineers are taking full advantage of their new freedoms. The digital twin is one such new tool that has become a favorite for GE as it transforms itself into a digital industrial company.
As envisioned by GE, digital twins are digital replications of discrete physical assets in some cases, or in others, of entire systems. They start as precise digital models of operating assets. They grow by collecting experiential data that mirrors the actual experience of the twinned asset over time.
These models are then continuously updated, and learn to accurately represent the "present" state of a plant or farm during its lifetime. The models accurately represent the plant or farm under a large number of variations related to operation-fuel mix, ambient temperature, air quality, moisture, load, weather forecast models, and market pricing. Using these digital twin models and state-of-the-art techniques of optimization, control, and forecasting, the applications can more accurately predict outcomes along different axes of availability, performance, reliability, wear & tear, flexibility, and maintainability. The models in conjunction with the sensor data give us the ability to predict the plant's performance, evaluate different scenarios, understand tradeoffs, and enhance efficiency.
The digital twin, in conjunction with GE's Predix software, form one of the most powerful tools that GE employs in its journey to become a digital industrial company.
Conclusion
Power is one of GE's largest divisions. Its business is beset by formidable forces pulling it in opposite directions. On the one hand, it faces the world's insatiable power demands which imply ever increasing carbon releases into the atmosphere; on the other hand, GE Power operates in a world that increasingly condemns and restricts unbridled carbon releases for environmental reasons.
GE's digital solutions not only work to resolve this problem, as I have described above, they are also instrumental in providing flexibility in the grid so that it can handle the inherent complexities attendant upon introduction of solar and wind resources into the energy mix.
This article is the third I have written that recounts proceedings at GE's 2016 Minds + Machines conference that it recently held in San Francisco. The others are: "GE: Sculpting And Constructing A Digital Powerhouse" and "Digitally Enhanced: GE Healthcare."
I intend to follow with future articles focusing on other areas where there were interesting Minds + Machines presentations. If any readers have any suggestions for a particular article subject please let me know in a comment.
Disclosure: I am/we are long GE.
I wrote this article myself, and it expresses my own opinions. I am not receiving compensation for it (other than from Seeking Alpha). I have no business relationship with any company whose stock is mentioned in this article.