I've written quite a lot on forex trades that I see as having a significant trend emerging. The most recent one was a long GBP/JPY position, which has risen to a level of 144 since Donald Trump won the U.S. election. To date, I haven't really gone into too much detail on the methodology behind how I identify such a trade. In this context, the purpose of this article is to elaborate on the factors that I see making for a strong trend in a currency pair and thus a worthy candidate for initiating a trade.
Strong-Weak Analysis
One of the primary ways in identifying a trade with significant trend potential is a strong-weak analysis, i.e. among a set of currencies, identifying which currency has shown the greatest return versus the one which has shown the weakest return.
This is the dynamic that played out in light of Trump winning the election - we saw that the GBP had suddenly become the strongest currency against the USD while the JPY had become the weakest one.
By verifying the nature of the strong-weak analysis over various timelines, e.g. 2 days versus 10 days, then it becomes easier to spot when a trend is emerging.
Associated News Events
While technical analysis is the overwhelming consideration when it comes to trading forex, a significant news event can serve as a further "confirmatory signal". For instance, the Trump win and subsequent speculation of an early US-UK trade deal saw the pound undergo a sudden reversal and indicates substance behind an emerging trend.
"Margin of Safety"
Just like stock traders don't want to buy at the top and instead have a "margin of safety" in case of further potential losses, the same applies to forex traders. We want to buy value, and this can sometimes mean getting in on currencies that have taken a bit of a battering lately.
For instance, even though the GBP/JPY has been rising, it still trades below the 150 level that we saw pre-Brexit. In this regard, this implies that the GBP has "bottomed out" and we are looking at a currency with little downside, but quite a lot of upside. This is especially thought to be the case when a sudden reversal is accompanied by a confirmation signal, e.g. a crossover of the 8 and 21 day exponential moving averages on the 1-week chart, which it looks like we are on the verge of seeing for GBP/JPY: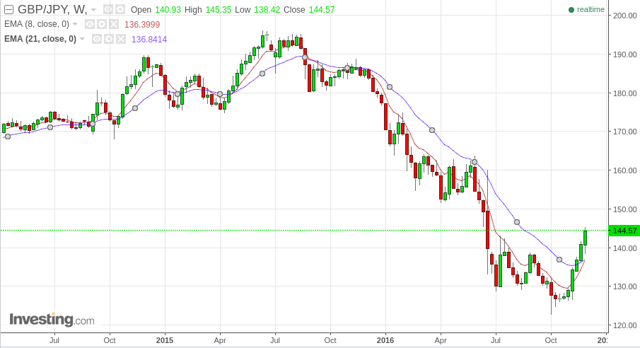 When it comes to selecting a good forex trade, quality is always better over quantity. By being patient and looking for strong trends in forex markets, it is quite possible to form a profitable trading strategy in doing so.
Disclosure: I am/we are long GBP/JPY.
I wrote this article myself, and it expresses my own opinions. I am not receiving compensation for it (other than from Seeking Alpha). I have no business relationship with any company whose stock is mentioned in this article.