One of the best opportunities you can ask for as an investor is when the market overreacts to a high quality company suffering from short term head winds. One of the most prominent examples this year, is the well documented slide of The Walt Disney Co. (NYSE: DIS). Disney's continued loss of suscribers to its ESPN network has brought the company's earnings growth into question, and pushed shares from $120 per share in the summer of 2015, down to the $90s where shares currently trade. Shares touched down to about $91 per share, before recovering over the last month to just under $99 per share. Let's dive in, and examine just how much these headwinds have actually hurt Disney.
If one looks closely, it is plain to see that Disney is stacking cash hand, over fist - even with the ESPN struggles factored in. A few weeks ago, Disney reported its full year results for 2016. Disney managed some eye popping figures such as:
6% revenue growth.
12% net income growth.
17% earnings per share growth.
10% dividend increase.
27% increase in free cash flows.
Disney pulled this off, even though the company lost the most ESPN subscribers in over a decade this year. Disney is taking steps to stop the bleeding, as it is has partnered up with AT&T (NYSE: T) to include ESPN as part of AT&T's new DirecTV Now bundle. It is also expecting to begin rolling out ESPN branded content on its newly invested in video streaming company BAMtech.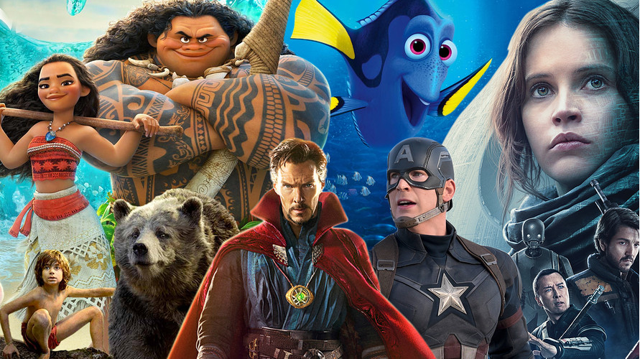 The real growth engine in Disney are the entertainment studios. While the networks will likely even out in time, and the parks are profitable and growing revenues at mid single digits (only getting better with recently opened Disney Shanghai) - the Studio Entertainment division is a cash machine. This is the result of brilliant acquisitions over the years by management. Consider the trend lines of Disney's earnings per share and cash flows over time.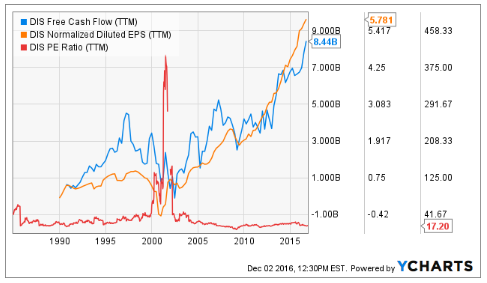 Just after 2005, a noticeable acceleration begins in the growth of earnings, and free cash flow. For the last decade, Disney has put a brilliant focus on doing what it does best - acquire, and create content. Over the last decade - starting in 2006 (when growth took off), Disney has acquired Pixar Studios, Marvel Entertainment, and Lucasfilm.
Almost like a pharmaceutical company, Disney is continuing to stack its pipeline. This past year, Disney has recorded record earnings in its entertainment segment, with revenue growth of 28%, and income growth of 37%. Disney is loaded all the way through 2019 with various block busters scheduled.
While the studios are currently the second smallest segment (behind the networks, and parks) it is driving growth for the whole company. Not only in earnings, but in feeding other segments - new attractions to be implemented at the parks/cruise ships, and new consumer content such as licensing for toy products, etc.
Yet, referring back to our line graph of cash and earnings, the market continues to trade Disney at 17X earnings. I find this interesting when compared to various consumer staples that are trading at 23X earnings right now. Should a company such as General Mills (NYSE: GIS) whose earnings have grown in the low single digits over the past 5 years trade at 22X earnings? When compared to Disney's whose earnings have doubled over the past 5 years, it really shows how high yield plays have been pushed up, and over valued.
While Disney isn't a dividend champion (likely will be some day), and pays its dividend semi-annually - investors shouldn't miss the forest through the trees. Disney is a wealth generator. Disney has doubled its dividend from 4 years ago, and the payout ratio is still only 27% of earnings, even using the forward dividend amount. It is not easy to find a double digit earnings and dividend growth stock in today's market trading at 17X earnings.
While Disney's earnings may be a little volatile, due to the "home run" hitting nature of the movie business, arguably nobody has more swings of the bat than Disney. This year to year volatility makes it perfect for long term investors. Disney is that stock you buy, forget it for 10 years - look back, and notice you compounded returns at 15% for a decade. Which is exactly what investors who bought and reinvested dividends since 2006 have done.
With today's age of access to instant information, it is harder than it looks to focus on the big picture. However, Disney is an example of how doing so can prove lucrative. Disney is taking steps to even out its networks. Its entertainment studios are a cash cow that is driving the rest of the company forward through the theme parks, and consumer items. Disney begins - and ends with content, and there is nobody better and generating it. It is rapidly growing earnings - and dividends. All at a discount to the market. What isn't there to like?
If you liked this article, please find my profile icon at the top of this page, and hit the "Follow" button. I enjoy engaging with those who comment, and am always looking for feedback that allows me to improve on the content I provide. By following, you can receive thorough insight on additional dividend growth stocks. As always, thanks for reading.
Disclosure: I am/we are long DIS.
I wrote this article myself, and it expresses my own opinions. I am not receiving compensation for it (other than from Seeking Alpha). I have no business relationship with any company whose stock is mentioned in this article.