At the end of the year I selectively look for beaten down bargains that have been hit by tax-loss selling. I believe this is just about the only "free lunch" on Wall Street for investors because tax-loss selling puts significant, but very temporary selling pressure on what is often an already cheap stock. This gives opportunistic investors a chance to buy at low prices when some shareholders are selling bargain stocks, purely for tax reasons that have nothing to do with the long term fundamentals of a company. The best part is that cheap stocks that are seeing an extra supply of stock on the market due to tax loss selling, often see gains in the last couple weeks of December as this selling pressure fades. There is even more upside potential in January as this selling pressure ends completely. This is what is known as a January Effect Rally. I recently wrote about an undervalued $2 small cap stock that is poised to benefit from new Trump Administration policies and also from a January Effect Rally. However, I am also looking at high yielding dividend stocks that could also rally into January as tax loss selling ends and as shorts cover. With this in mind, let's take a closer look at one stock that fits this profile:
Medical Properties Trust, Inc. (NYSE:MPW) is a real estate investment trust (or REIT) that is focused on healthcare facilities. It owns properties in the U.S. as well as abroad which gives it geographical diversification. This stock was trading for about $15 per share in October, but it has since dropped along with many other REIT's due to the recent rise in interest rates and also because of concerns over Adeptus Health (NYSE:ADPT) which is a tenant in certain facilities. Let's take a look at the chart for both of these companies below: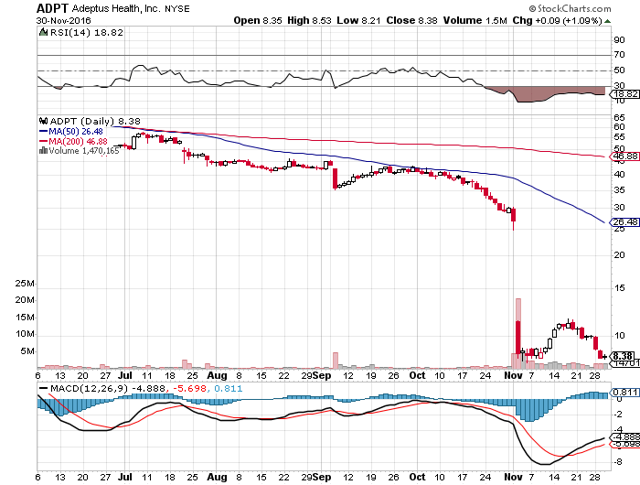 As the chart above shows, Adeptus Health shares have seen a significant drop from about $30 per share in early November to around $8.50 today. This drop in the share price was due to a significant revenue and earnings miss for the third quarter, and also because the CEO resigned. The company also needs to improve on its bill collection process and has plans to do so going forward. In the face of this disappointing quarter, analysts at Goldman Sachs (NYSE:GS) downgraded Adeptus Health from buy to neutral and cut the price target to $12 per share. Based on a $12 price target which represents an upside of nearly 50% from current levels, it does not appear that Adeptus is considered a high risk for insolvency whatsoever any time soon. That even appears to be true for the current share price of $8.50 which shows it is not even close to reaching penny stock status.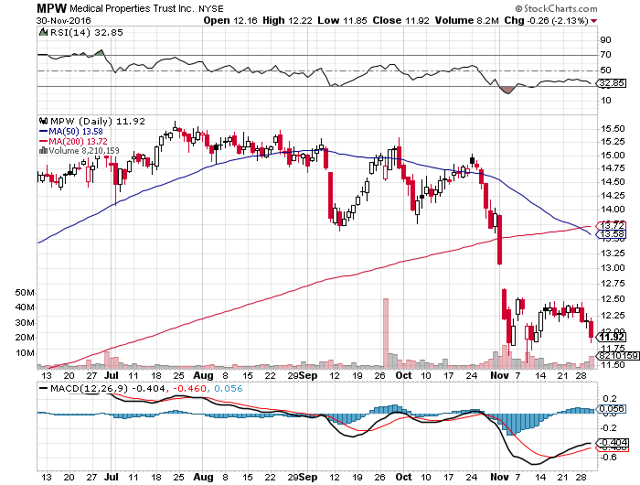 As the chart above shows, Medical Properties Trust stock has also taken a hit in recent weeks, but this appears to be an ideal buying opportunity for a number of reasons:
Reason #1: Concerns about Adeptus Health are totally overblown:
Clearly, some investors are concerned that Adeptus Health might be facing financial challenges. However, these fears appear totally overblown as far as it pertains to Medical Properties Trust because Adeptus only represents about 6% of revenues, and the company appears to be well positioned to continue making lease payments. As noted earlier, Adeptus shares are down significantly this year and might also be due for a January Effect Rally, but the stock still trades for over $8 per share, which is not exactly where stocks trade if a worst-case scenario is playing out or expected to play out. It's is also worth noting that if the worst case scenario ever did play out in the future, lease payments would likely continue to be made to Medical Properties Trust because most businesses remain in operation even if there is a reorganization plan put into place.
Reason #2: Concerns about the rise in interest rates are also totally overblown:
Since the Presidential election victory by Donald Trump, interest rates have jumped and many analysts and investors believe the Federal Reserve is now poised to raise rates by a quarter point in December. The recent move in the 10-year U.S. Treasury Bond appears to have already more than priced in a quarter point rate hike from the Fed. It also appears that many REIT stocks have also more than priced in a Fed rate hike. Based on this, I believe a relief rally will occur in this sector once the Fed actually makes a move. This fear over a measly rate hike reminds me of the expression that "the bark is worse than the bite". In this case, the fear over a rate hike is much worse than the actual rate hike. There is no reason for investors to believe that rates are going up by more than a quarter point in December and that means high yielding REIT stocks will remain very attractive for income investors.
Reason #3: Get paid (soon) with a 7.6% yield while waiting for a $16 to $17 price target which suggests 35% + upside:
Medical Properties Trust pays a quarterly dividend of 23 cents per share or 92 cents annually and this represents a yield of about 7.6%. That is a generous yield and investors who buy this stock soon will be able to collect the next dividend payment. The company has declared it will pay a 23 cent per share dividend on January 12, for any investors who are on record as of December 8, 2016. (This stock will trade ex-dividend on December 6, 2016.) In addition to this high yield, investors could also be poised to see significant capital gains. On November 3, 2016, analysts at Standard & Poor's set a $16 price target on this stock which represents upside of roughly 35%. The average analyst price target is just over $14 per share, which still represents solid upside. On November 8, an analyst at RBC Capital said the worry about Adeptus Health was overdone and that Medical Properties Trust would "emerge unscathed". The analyst gave the stock an "outperform" rating and set a $17 price target.
Reason #4: This stock appears poised for a January Effect and Short Squeeze rally:
It is clear that shorts have jumped into REIT stocks lately and specifically into Medical Properties Trust over the concerns about Adeptus Health. However, while this has worked in the past few weeks, I believe this strategy will soon come back to bite the shorts. Adeptus Health does not appear to be going anywhere soon and even if it did decide to reorganize, the lease payments would most likely be paid. Furthermore, Medical Properties Trust gets about 94% of its revenues from other sources, so this also limits the exposure. It is also clear that a measly quarter point rate hike is not going to make a generous 7.6% yield less attractive to investors in the long run.
According to Shortsqueeze.com, there are currently about 30 million shares short and this represents a 76% increase from the prior period in which nearly 17 million shares were short. This is proof that shorts have piled on in the last few weeks and that means this stock could be more likely to experience a short-covering rally. With a daily trading volume that averages about 3 million shares per day, the current short position of nearly 30 million shares represents about 10 days' worth of trading volume. That is enough to cause a short squeeze, especially since trading volumes typically dry up significantly in the last couple weeks of December. Consider what may soon be a perfect storm for the shorts: Combine much lower trading volumes as we rapidly approach the holiday season along with a heavy short interest, then add a cheap stock with an attractive yield, and the end of tax loss selling, and it looks like a potential short squeeze and January Effect Rally could be coming soon. It is now December, with just around 15 trading days left before many investors and fund managers take off for the holidays, and with the short position being equivalent to about 10 days' worth of average trading volume, the shorts could find themselves chasing this stock higher even before January.
Data is sourced from Yahoo Finance. No guarantees or representations are made. Hawkinvest is not a registered investment advisor and does not provide specific investment advice. The information is for informational purposes only. You should always consult a financial advisor.
Disclosure: I am/we are long MPW.
I wrote this article myself, and it expresses my own opinions. I am not receiving compensation for it (other than from Seeking Alpha). I have no business relationship with any company whose stock is mentioned in this article.