This author hoped to write you today with a relatively mundane update about Energy Transfer family of companies. General Partner Energy Transfer Equity (NYSE:ETE) and primary affiliate Energy Transfer Partners (NYSE:ETP) had seemed to reach a measure of equilibrium; a function of improved energy commodity prices, major growth capital projects winding down, and sidestepping a Williams Cos Inc (NYSE:WMB) acquisition fiasco.

A simple quarterly update, analysis, and view to 2017 business would have been just fine with me. It would have been nice to simply focus upon routine matters like cash flow, distributions, and how a bevy of excellent growth capital projects were doing.
Nah...the drama continues.
So let's buckle our chinstraps and review 3 headline topics:
PennTex Midstream Partners MLP (NASDAQ:PTXP) acquisition
Dakota Access Pipeline project
Sunoco Logistics (NYSE:SXL) proposed merger with Energy Transfer Partners
PennTex Midstream Deal
On October 25, PennTex Midstream announced a transaction with Energy Transfer Partners whereby ETP planned to purchase all the General Partner interests, and 65% of the Limited Partner interests of the Company. The deal closed on November 2.
PennTex is a small ($318 million market cap) MLP with primary operations in northern Louisiana. The Company focuses upon natural gas and NGL infrastructure and related transportation. PTXP units represented an investment in a sound midstream niche player. PennTex business is largely hitched up with the well-run, independent E&P outfit Range Resources Corp (NYSE:RRC).
PennTex owns a decent balance sheet, including 41% debt-to-capital and 70% debt-to-equity ratios, respectively. 2016 cash flow has been stable, with expectations to trend higher. On an annualized basis, the current cash LP distribution on current unit prices yields ~7.5%. Through the first 9 months of 2016, the payout has been more or less covered by free cash flow. Pretty good stuff.
Notably, Energy Transfer did not buy PennTex outright. It bought enough to control the business, including purchasing all the GP interests. ETP did a $640 million deal for 50/50 equity and cash.
So what does it mean?
The purchase includes 6.3 million LP units, and 20 million subordinated LP units, for a total of 26.3 million units out of a total 40.2 million. That's where the 65% Limited Partnership ownership figure comes from.
On it face, $640 million seems somewhat rich for a business that is expected to generate about $56 million operating cash flow in 2016. That's about 11x cash flow. The current expected annualized yield-on-purchase price is 4.8%. While it may be assumed Energy Transfer can borrow the cash purchase component at a comparable interest rate, the ETP distributions on the equity financing portion will certainly be net negative. In addition, ETE investors noted Energy Transfer Equity agreed to relinquish IDRs totaling $33 million a year in perpetuity on the transaction. That subsidy raised eyebrows.
However, like all things Energy Transfer, there's a backstory.
First, there's the underlying PennTex growth component. Energy Transfer is buying in on growth expectations. PTXP is a strong play looking towards 2018, when energy prices may be better, Range Resources' business may be moving up in tandem, and the smaller PennTex will ride those coattails.
Energy Transfer Partners has some $10 billion in growth capital coming online in 2017 through mid-2018. PennTex is a head-start on continued material growth in 2018 and beyond .
Second, ETP expects to harvest post-purchase synergies. Given Energy Transfer history, this is a reasonable assumption. This author suspects most synergies will be via business asset combos, not expense savings. If you are a skeptic, it's granted the business synergies are often difficult to project or prove after-the-fact.
Third, the General Partner IDRs are the vigorish. Energy Transfer acquired 100% of the PennTex IDRs. What are the expected 2016 GP IDR payments? Zero. It's another example why the deal is difficult to evaluate with accuracy now.
Page 11 from the most recent PennTex 10-Q highlights some details around distributions and IDRs:

We see the common unitholders receive distributions ahead of the subordinated unitholders, but only until the distributions reach $0.275 per quarter. Then each receive pro rata distributions above that level until $0.3163 is achieved.
Currently, the cash distribution is $0.295 per quarter.
Here's the kicker: when the payout rises above $0.3163, it gets "fun" for the GP. Here's another 10-Q Page 11 excerpt:

The IDRs begin to pay out after the LP quarterly distributions climb just 2.13 cents from the most recent distribution. That's a 7.2% bump. The 50/50 IDR "high splits" begin when the payout rises above $0.4125.
So we find Energy Transfer is buying today "on the come" for growth and prosperity tomorrow.
On balance, probably not a bad bet. But can anyone predict with certainty how it will pan out? No.
Dakota Access Pipeline
What began as a relatively straightforward pipeline infrastructure project has devolved into an economic and political headache. More ink has been spilled on this than this contributor cares to calculate. Frankly, much of what's written is disinformation. As a rule, I try to avoid mixing politics and investing.
Therefore, you are encouraged to search the internet for all the data points you wish. Those who wish to turn a pipeline project into a higher calling will find plenty of ammo.
Here's what I want to share:
Read what 2 federal judges had to say on the matter. You can read the court rulings here and here.
For those with a keen interest in the facts, I encourage you to check out the "Background" section founds on pages 15 to 25 of the September 9 ruling by U.S. District Judge James Boasberg. (The first of the two links above.) It offers objective findings of fact leading up to the 2016 circus that has come to define the DAPL project.
My view is the pipeline gets built on the current route. The required permits were obtained before major construction started. The Army Corps of Engineers is withholding an easement, not a permit. Granting it to DAPL should have been a perfunctory matter. Politics, not the regulations, created the firestorm. Energy Transfer followed the rules.
The subject water crossing is safe. Fears of a spill are vastly overblown by the Left-Green. The design exceeds all Federal and State safety and integrity requirements. Trying to equate the potential for a DAPL spill under Lake Oahe by looking at overall pipeline spill records is not a fair comparison at all. This water crossing will be directionally-drilled 90 to 115 below the lake. Most pipeline spills occur on land. By far, the primary cause of pipeline spills is third-party damage, not pipeline corrosion or operations. Most others are small spills inside a pipeline or trans-shipment facility fence line. These are identified, reported, and mitigated quickly.
The delay has come with a cost. While no authoritative figures have been provided, unsubstantiated reports indicate the delay has caused DAPL to suffer $450 million in losses. The costs include labor and equipment downtime, mobilization / demobilization charges, onsite equipment damage / vandalism, incremental security measures, litigation, and asset loss-of-use. Not included are Bakken-producer economic losses.
We have a good segue to the last item.
Sunoco Logistics - Energy Transfer Partners Merger
On November 21, Energy Transfer announced the subject merger.
My initial negative reaction to the deal has softened a bit after thinking some more about it. Nonetheless, I encourage readers to review the Conclusions section of the this article for additional nuance.
As investors, many have a prime interest in "Why?" and "What does it mean to me?" As typical for Energy Transfer, very little is simple.
The Why Part
The "Why" part is ostensibly to simplify the complex corporate structure of the Energy Transfer family, streamline the business, and capture various and sundry business and operational synergies. This is very well true.
However, the underlying problem has been ETP's multi-quarter string of sub-1.0x Distributable Cash Flow cover ratios.
In a May 2016 article, yours truly covered how the ETP distribution could be maintained. Since then, it become a game of "chicken." On one hand, Energy Transfer has been struggling to cover an out-sized payout with asset sales, GP IDR relinquishments, issuing ATM equity, and using borrowed money; while on the other hand, the Company's been watching the clock awaiting the $10 billion growth capex to begin generating 2017 and 2018 incremental annual cash flow expected to exceed $1 billion.
For several reasons, the jig was up.
I suspect Energy Transfer management decided the PennTex Midstream deal was too good to pass up, and took the plunge. However, the transaction further pressured an already over-levered balance sheet. Strike One.
The DAPL delay certainly adds to the pressure; while it seems a favorable resolution will come eventually, the drip-drip cash flow is lost for now. Strike Two.
Finally, this writer believe Energy Transfer Equity CEO Kelcy Warren saw the writing on the wall. He is the Company's largest unitholder. It's his baby. The big dog eats first. Those IDR relinquishments kept piling up. All told, it was a tipping point. Strike Three.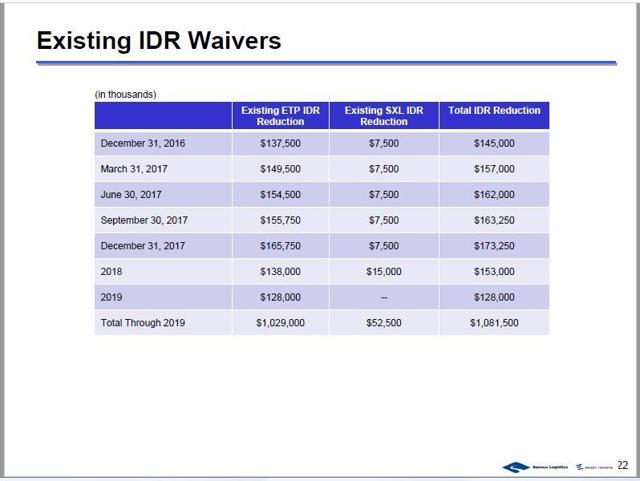 source: ETP/SXL Transaction slidepack, November 2016
To be fair, the fact something was brewing was covered on the November 10 Energy Transfer earnings conference call:
Shneur Z. Gershuni - UBS Securities LLC

....I was wondering if we can start with cost of capital. You recently completed the PennTex acquisition with some equity. And obviously, it looks like a very promising opportunity. But at the same time, your cost of capital quarter kind of dilutes some of the positive impact with respect to that. Have you been looking at it more closely? I know that you sort of discussed it on your second quarter call, it's something down the road....

Kelcy L. Warren - Energy Transfer Partners LP

....Shneur, this is Kelcy. Absolutely. We did mention that in the last quarter. It's something that we are giving a great deal of attention towards. It's something we can't hide from. It's real. And we will address it in a matter that, we believe, is best for our unitholders at the appropriate time. So, I'm sorry. That sounds like a non-answer but, I think, you can read between the lines there a little bit. This is heavy on our mind these days and we're looking at options.
The "appropriate time" turned out to be 11 days later.
The What Part
The "What" part is a glass half-full or half-empty proposition.
Let's set the savings and synergies arguments aside. For many investors, what matters most is the current and future state of the cash distributions. Here is one way to handicap it. I encourage your comments and questions afterward.
First, a few statements to set up the narrative:
Currently, ETP offers an annualized $4.22 per unit distribution. It wasn't going anywhere. Flatlined.
SXL offers an annualized $2.04 per unit distribution. It had shown consistent growth.
Energy Transfer unitholders were offered 1.5 SXL units for each ETP unit. Therefore, ETP unitholders obtain a 50% cash-on-cash distribution uplift. The current $2.04 SXL distribution maps to $3.06 per unit.
Out of the box, ETP unitholders look to take a $1.16 per annum, or 27% haircut versus the current annualized distribution.
Now let's build upon that.
In the November 21 press release, management noted,
The transaction is expected to be immediately accretive to SXL's distributable cash flow per common unit and is also expected to allow the combined partnership to be in position to achieve near-term distribution increases in the low double digits and a more than 1.0x distribution coverage ratio.
Also in the statement,
Under the terms of the transaction, ETP unitholders will receive 1.5 common units of SXL for each common unit of ETP they own. This equates to a 10% premium to the volume weighted average pricing of ETP's common units for the last 30 trading days immediately prior to the announcement of the transaction.
If we premise the new SXL will raise 2017 to 2019 distributions by ~2.5% per quarter (10.4% a year) we have a conservative alignment with cash distribution increases in the "low double digits." Meanwhile, it is reasonable to presume ETP distributions would remain flat through 2019.
Doing the math, keeping it simple, and using no discounted cash flows, here's a table outlings what current ETP unitholders may receive post-SXL merger versus current flatline expectations:

Using this model, the 3-year total cash distribution differential is $1.70. However, ETP unitholders received a 10% uplift on the initial share-for-shares transaction. Interestingly enough, immediately prior to the announcement, the 10% uplift was already baked into units prices. On Friday, November 18, ETP closed at $39.37 and SXL closed at $26.19. The presumed (but unannounced until Monday) ETP conversion price would have been $39.29.
Since the conversion price was determined by the volume-weighted SXL price over the previous 30 days, one has to assume ETP unitholders recognized some value generation, even if it had taken up prior to the November 21 announcement date. (Let the reader understand: that's a story for another time). The fact that both ETP and SXL units have fallen since the announcement isn't part of the direct narrative: that's a function of subsequent trader and market sentiment, not the facts and calculations leading up to the deal.
For reference, here's a price chart for ETP and SXL beginning October 21. October 21 marks 30 days prior to the merger announcement.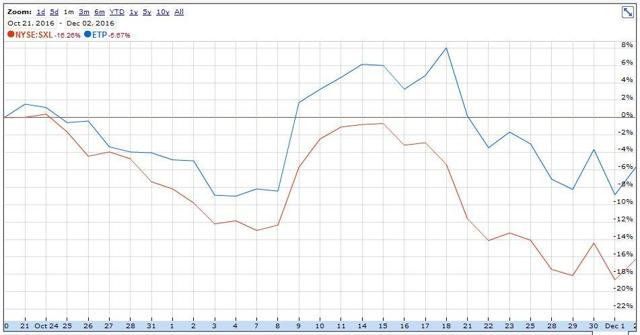 courtesy of google.com/finance
So the question is whether you believe ETP investors received at least $1.45 per unit uplift on units held leading up to the SXL merger. If so, you're whole; maybe better. If not, you took a "stealth distribution cut."
Conclusion
Energy Transfer seems to move from one deal, crisis, or conflict to another. It makes it difficult to evaluate the core business or determine solid Fair Value Estimates.
I've been constructive on Energy Transfer units for a long time. I continue to remain constructive. Indeed, current ETP unitholders may find the devil they don't know is better than the one they know.
However, the various Energy Transfer unit tickers have a lot of strings attached. Most MLP investors seek consistent income, steady growth, and good management. Energy Transfer has been unable to provide these characteristics to all MLP units consistently. A relentless hit-and-miss style between the various tickers, or for the same ticker over different time frames has become a norm.
To be fair, long-term ETE and SXL total returns have been acceptable. ETP unitholders have not done as well, though distribution income has remained strong.
Looking forward, I remain cautiously optimistic. Energy Transfer owns fine assets, is generally well-managed, and is well-positioned to participate in a domestic energy upturn. This view is tempered by the dizzying array of deals, complex corporate structuring / restructuring, and notable generic "surprises."
Investors citing Energy Transfer companies' tickers are becoming "hard to own," can make a reasonable argument.
Your comments are welcome.
Please do your own careful due diligence before making any investment decision. This article is not a recommendation to buy or sell any stock. Good luck with all your 2016 investments.
Disclosure: I am/we are long ETE, ETP.
I wrote this article myself, and it expresses my own opinions. I am not receiving compensation for it (other than from Seeking Alpha). I have no business relationship with any company whose stock is mentioned in this article.