While the tech sector is going through a fascinating and eventful period with private funding cooling down and stocks of giant multinationals being sold off amid potential tax reform and overseas manufacturing restrictions, it is very surprising to see that the e-payment firm, Stripe (Private:STRIP), almost doubled its valuation and attracted a massive amount of funds in its series D round. It is even more impressive when looking at Square's (NYSE:SQ) performance that is trading significantly below its latest private funding round since it went public last year.
Even though Stripe and Square target slightly different audiences, they are frequently compared as the two leading online payments startups after PayPal. The most remarkable element when comparing the two companies is that the younger company, Stripe, is valued at almost twice than Square even though it has a lower annual TPV.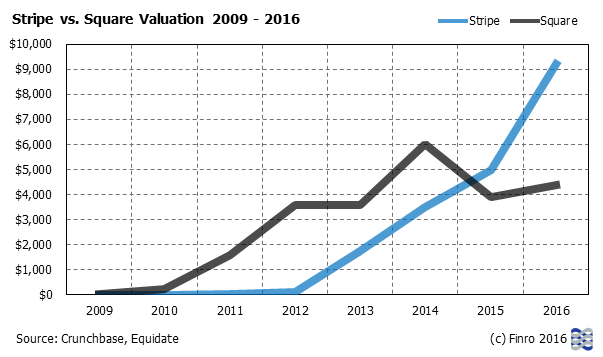 When looking at the general Fintech industry, there is a significant YoY decline in annual and quarterly financing as reflected in the chart below that emphasizes the magnitude of Stripe's accomplishment in raising such a massive round and doubling its valuation. The chart below compares 2015 to 2016 YTD, however, if under an optimistic assumption that Q416 will mimic Q415 in a number of deals, 2016 will lag behind 2015. In this environment, the expected outcome of Stripe's series D is impressive.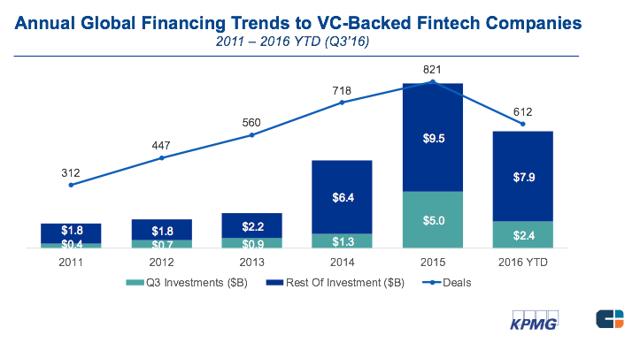 As Stripe is a unique phenomenon in the current Fintech industry, I believe that investors' pressure for a decent return on their investment will rise. Moreover, the recent funding round proved that Stripe could raise funds when most companies couldn't and, in the current environment, that is highly important for a startup. As the tech IPO market experiences a low year, and private placements are scarce, Stripe could use these terms and execute a well-orchestrated IPO that could maximize its return.
A conservative scenario of Stripe's IPO that assumes the company will grow its funding and valuation in an IPO at the average pace of a recent couple of rounds suggests that a 2017 IPO will value Stripe at $15B and generate more than $200M in proceeds. The lofty valuation reflects the expected growth in online or digital payments that follows the increase in e-commerce purchase volume. Unlike Square that focuses mostly on in-store transactions, Stripe focuses on online transactions which are expected to benefit greatly from the rise of digital payments and e-commerce.
Assuming that Stripe's 2016 revenues are the commonly used $450M and that the company's top-line will grow at 20%, as analysts estimate for Square, Stripe's revenues will be $540M in 2017. That level of revenues reflects a steep valuation for a 2017 Stripe IPO scenario of a price-to-sales ratio of 27. This revenues multiple is a bit high for an IPO and will probably be lower when the company files its IPO and prices its shares.
As we witnessed in Stripe's latest series D round, the company managed to attract significant investments even in hard times for the industry and the segment. When looking towards 2017, with Mr. Trump stepping into office and the French and German elections, the market will probably experience a great deal of volatility that will push many companies away from going public, except those companies that have a proven ability to raise money in difficult times or have a tremendously strong brand. One example of such a company is Snapchat (CHAT), and another example is Stripe.
Let's assume that Stripe will indeed go public in 2017, under the valuation assumptions above, is it a good investment going forward? As mentioned above, the entire digital payments market is expected to benefit from the shift of consumer shopping into online and digital methods. Payment processors like Stripe and PayPal's (NASDAQ:PYPL) Braintree are the ones who will immediately benefit. As shown above, the aggregated TPV of global mobile transactions is expected to rise from $780B in 2017 to almost $1.1T in 2019 - a 38% surge.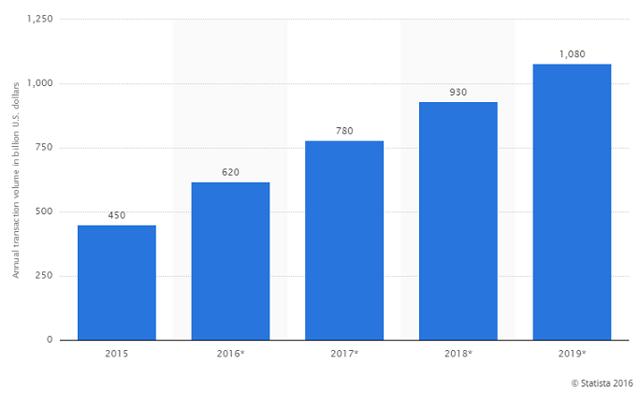 Assuming that Stripe will manage to keep its market share flat in the following years, it is expected to grow its revenues to $566M in 2017, and up to $783M in 2019. In the case that Stripe will increase its market share (which I believe will happen), the company could cross the line of $1B in annual revenues in a few years.
As I estimate that Stripe will file for IPO in 2017 to grab a piece of that amazing growth, investors should keep Stripe IPO on their radar, expecting for a unique bullish opportunity in a stagnate IPO market.
Disclosure: I am/we are long PYPL.
I wrote this article myself, and it expresses my own opinions. I am not receiving compensation for it (other than from Seeking Alpha). I have no business relationship with any company whose stock is mentioned in this article.
Additional disclosure: The information provided in this article is for informational purposes only and should not be regarded as investment advice or a recommendation regarding any particular security or course of action. This information is the writer's opinion about the companies mentioned in the article. Investors should conduct their due diligence and consult with a registered financial adviser before making any investment decision. Lior Ronen and Finro are not registered financial advisers and shall not have any liability for any damages of any kind whatsoever relating to this material. By accepting this material, you acknowledge, understand and accept the foregoing.