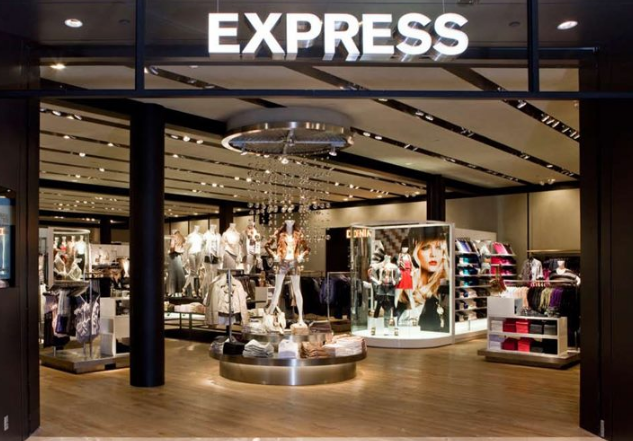 Express (NYSE:EXPR) is a name I've had shifting viewpoints on in the past as the company's wildly fluctuating fundamentals have given investors plenty of reasons to move the stock around. That has created situations where EXPR has looked cheap and others where it certainly didn't, but of late, it seems sentiment is all on the side of the bears. Yet another weak earnings report surely isn't helping but with Express now at multi-year lows, are things really this bad or have investors overreacted?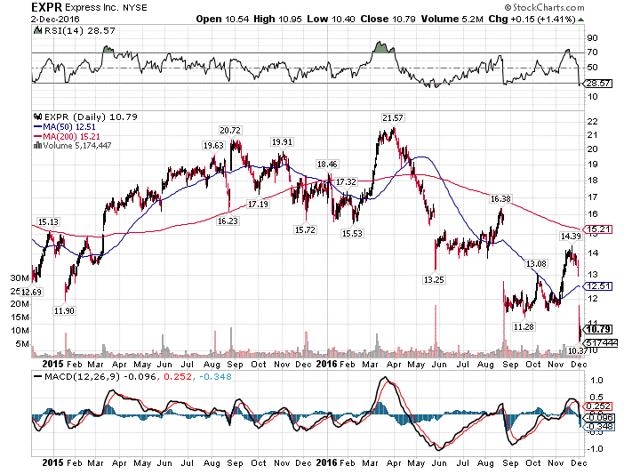 Express has been characterized in the past few years by some periods of really terrific rebounds and equally spectacular plunges in comparable sales. This, in no small part, has led to the volatility we see in the stock price in the chart above and in Q3, it contributed once again. Total sales were down 7% but comparables plummeted 8%. Not only is that terrible on an absolute basis but it comes off of a 6% gain in last year's Q3. The two-year stacked comp of -2% isn't particularly egregious but when you post a -8% showing, I don't think anyone cares.
We all know that retailing is a tough business these days as consumers have pulled back and, to my eye, it looks as though sectors like apparel are a bit saturated. Weaker players like Express are undoubtedly suffering but in Q3, Express was really weak and that is why the stock was hammered. I'd like to find a silver lining in its revenue numbers but there aren't any and given the extremely cautious commentary and guidance from management, it doesn't appear that things are set to improve any time soon.
To pour a little salt in the wound, gross margins fell a full 500bps in Q3. Occupancy and buying costs deleveraged 160bps and merchandise margins fell 340bps during the quarter. That means that gross margins went from 35% in last year's Q3 to just 30% this year, a number that is really difficult to fathom. There are few apparel retailers that can exist with 30% gross margins simply because the costs of running an apparel chain generally exceed that level of revenue. Express sports somewhat lower costs but still, a 500bps loss in gross margins is unacceptable and destroys operating margins. Express obviously marked down product and ran promotions in Q3 in order to try and salvage some acceptable level of revenue but when you cede one-seventh of your gross margins in the process, I'd argue it is hardly worth it.
Speaking of costs, Express actually did a very nice job of controlling expenses as SG&A costs rose only 20bps to 27%. I say "only" because revenue fell by 7% so the fact that we saw only a minor deleveraging of SG&A costs means that Express was very disciplined in Q3 and matched expenses to revenue. That's great but remember that gross margins were only 30% and SG&A came in at 27%. That leaves just three percent of revenue for operating margins and that is dangerously close to break even. Last year's Q3 saw operating margins of 8.1% so we are talking about a gargantuan loss of earnings power for Express.
To add to the pain, so far this year Express has used $51.5M to buy back 3.2M shares. That works out to just over $16 per share and at the current price of $10.79, that's a sizable loss of value. While I appreciate buybacks when they are executed well, this one hasn't been and it will be very interesting to see if management continues the repurchases in Q4. If they do, it will signal they still believe a turnaround is coming and if they don't, well, you know the rest.
The thing is that despite the fact that shares are at multi-year lows, we are still talking about a stock that is going for 13.5 times this year's adjusted guidance from management of 80 cents. That's not a cheap multiple for a retailer that is struggling mightily and if we look forward to next year, the only real positive is that this year has been so horrendous that perhaps comparables will be a bit easier. But even if comp sales do rise next year, what will margins look like? Express has dug such a deep hole with respect to margins that I'm not sure it can climb out and ever achieve its former level of earnings again. Discounting and promotions on a constant basis train customers not to pay full price and that is a hugely negative development for Express. I get management doesn't have much of a choice at this point but still, this is damaging the brand for the long term.
For that reason, I don't think Express is cheap enough here even at under $11. There are far too many variables right now and most of them are pointing the wrong direction. Literally the only positive thing I can think of to say is that comparables will be easier next year but surely that is little solace to longs at this point. Given that retail is weak and that Express has shown itself to be a bad house in a bad neighborhood, I don't see any reason at all to own it here.
Disclosure: I/we have no positions in any stocks mentioned, and no plans to initiate any positions within the next 72 hours.
I wrote this article myself, and it expresses my own opinions. I am not receiving compensation for it (other than from Seeking Alpha). I have no business relationship with any company whose stock is mentioned in this article.