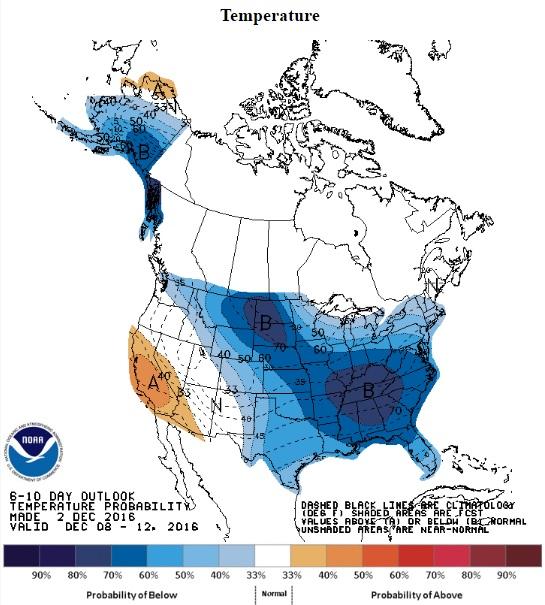 (Source: NOAA)
The latest Commitments of Traders report by the CFTC shows an increase in Money Managers' net length in natural gas.
During the week ended November 29, Money Managers' aggregate short position in Henry Hub financial futures-plus-options dropped by a massive ~354 Bcf, a significant one-week decrease (the graph below).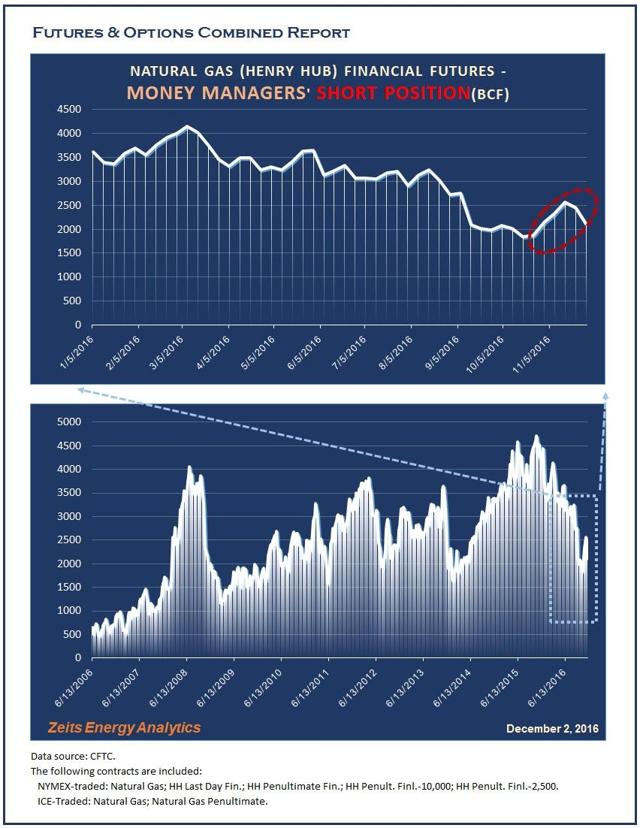 Money Managers' aggregate long position in WTI financial futures and options also decreased during the report week, by ~227 Bcf.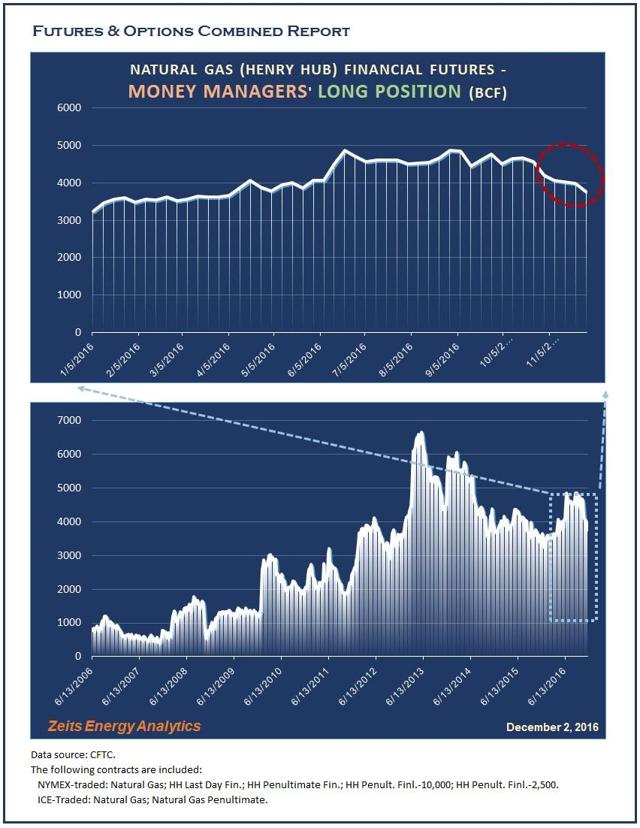 On a net basis, Money Managers' aggregate net length increased by 127 Bcf for the week, a moderate amount in the context of the metric's historical volatility. For the six weeks ended November 29, Money Managers' net length (futures and options) remains ~1.3 Bcf lower than it was approximately six weeks ago, which appears to indicate significant room for position expansion - relative to historical peak level - by commodity pools on the long side.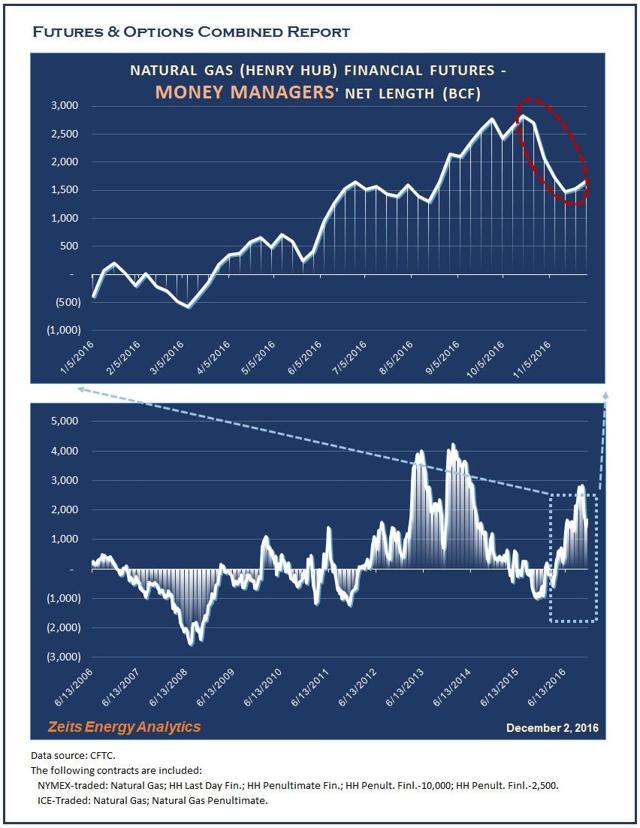 Another continuing trend worth reiterating is the continued decline in Producers and Merchants' net length in the last six months which may reflect increased hedging activity by E&P operators in response to the recovery in natural gas prices from the extremely low levels experienced early this year. Hedging activity may increase in the event natural gas prices continue to climb higher.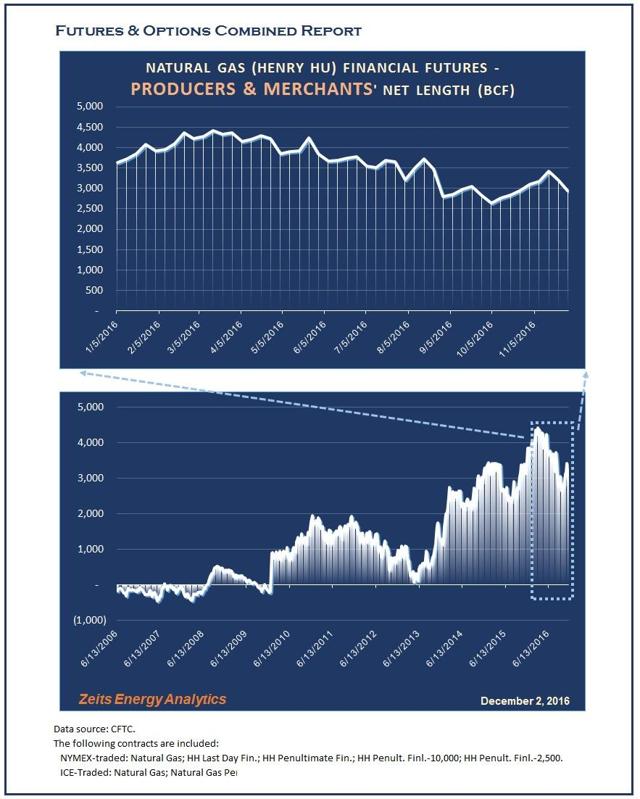 The following sections provide my detailed weekly update on traders' exposure by category.
For in-depth analysis of the oil and natural gas industry and commodity fundamentals, please consider subscribing to Zeits OIL ANALYTICS.
Money Managers' Position
Many analysts closely track changes in the aggregate trading position held by large commodity money managers. This category includes a broad range of entities, such as commodity trading advisers, managed commodity pools and hedge funds.
Traders in this category (and their clients) often make directional bets using financial futures and options. A case can be made, therefore, that changes in the aggregate position held by money managers can be thought of as an indicator of commodity investor sentiment (albeit, one might argue, a lagging one). Changes in the aggregate short position are particularly closely followed, as they are believed to reflect, at least to some degree, directional position-taking by hedge funds.
Futures versus Options
In addition to reporting traders' positions in commodity futures, exchanges calculate traders' combined futures and options positions using delta factors. Long-call and short-put open interest are converted to long futures-equivalent open interest. Likewise, short-call and long-put open interest are converted to short futures-equivalent open interest. A trader's long and short futures-equivalent positions are added to the trader's long and short futures positions to give "combined-long" and "combined-short" positions.
In this review, my primary focus is on tracking changes in combined futures and options positions by traders, as options are an important and often material component of risk-taking (the combined futures and options charts in this note have a dark blue background). For those readers who are more used to tracking the CFTC's futures-only data, I have included a section that breaks out the futures-only positions by key trader category (the charts in that section have a light blue background).
I should note that adding options does not change the recent trends observed in the futures-only data.
Data Summary - Week Ended November 29, 2016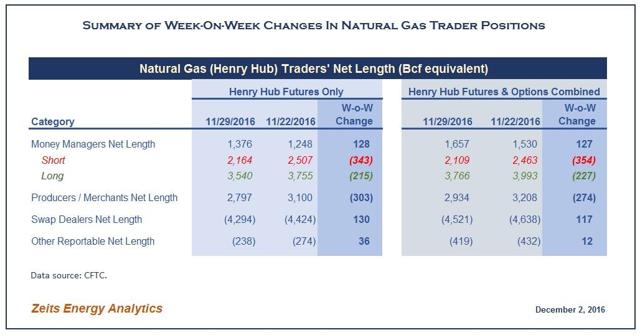 Combined Futures And Options Positions By Trader Category
Charts in this section depict changes in futures and options positions for Swap Dealers and Other Reportables, the remaining major trader categories tracked by the CFTC.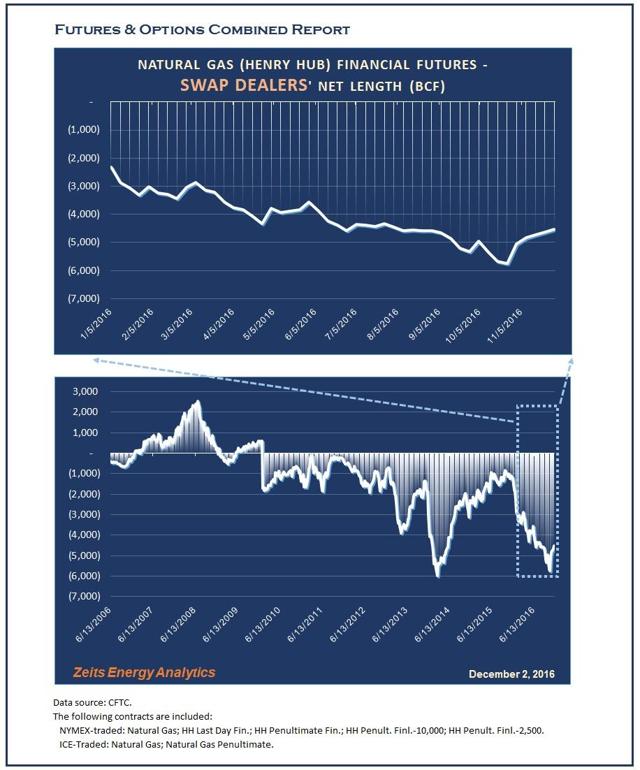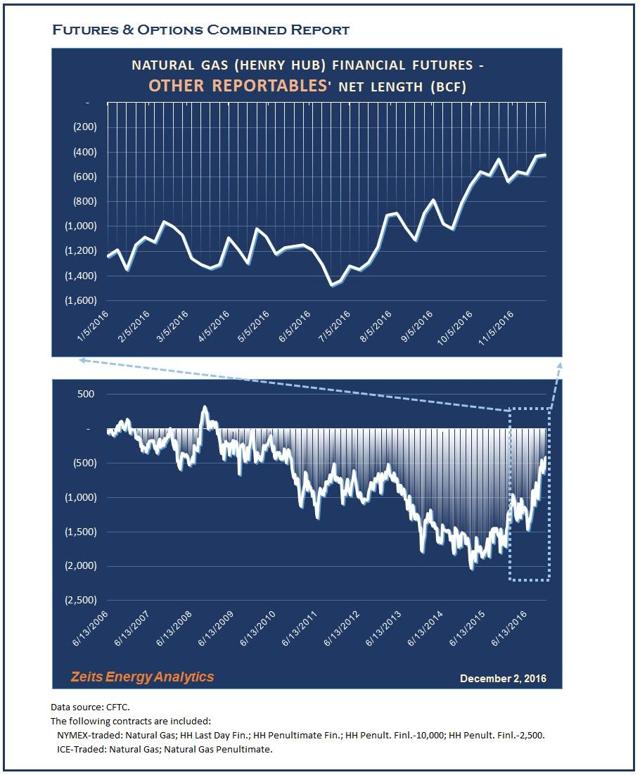 Futures-Only Positions By Trader Category
Charts in this section break out futures-only positions for the following commodity trader categories: Money Managers, Producers & Merchants, Swap Dealers and Other Reportables.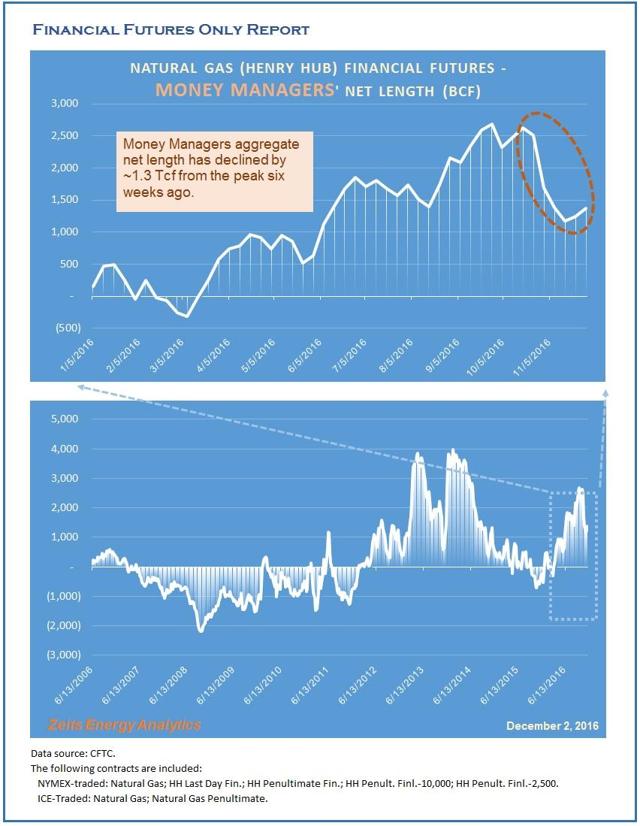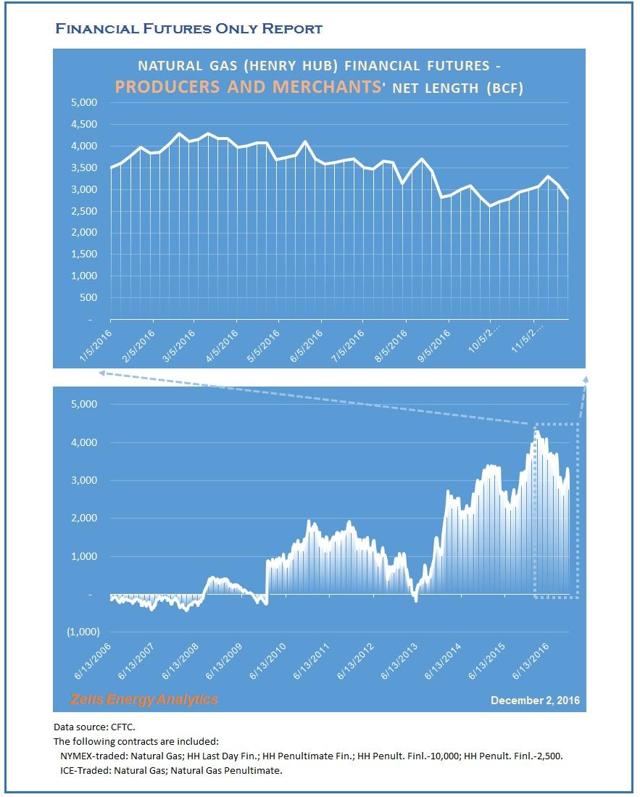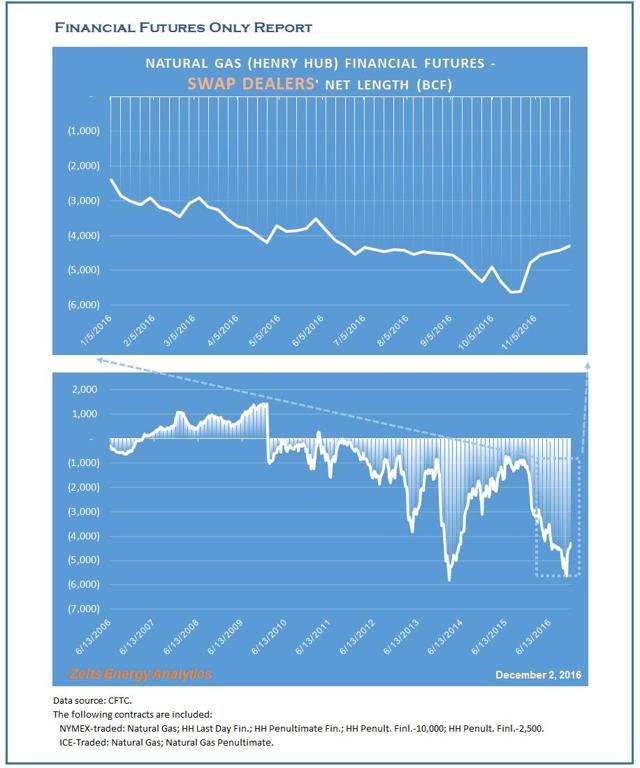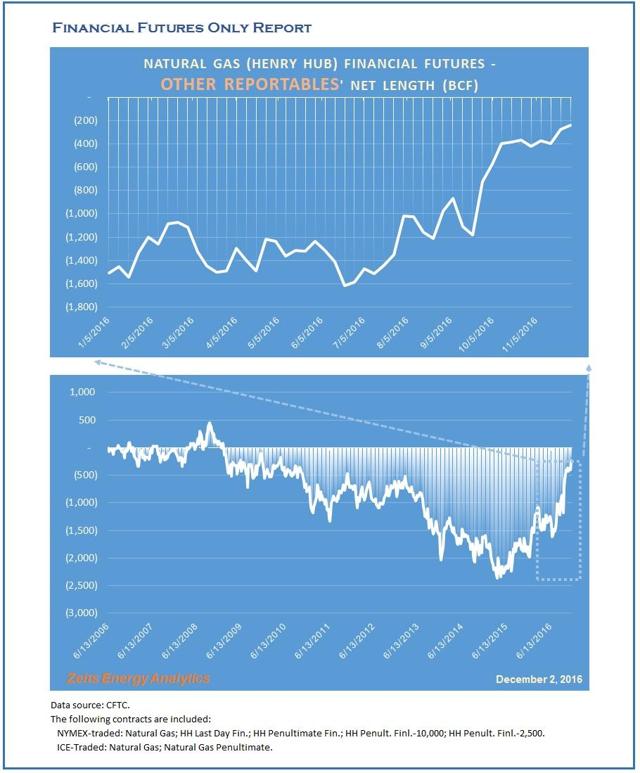 Appendix: Commodity Trader Categories
CFTC collects data on large traders' positions in commodity futures and options on a daily basis from clearing members, futures commission merchants and foreign brokers. The aggregate of all traders' positions reported to the CFTC usually represents 70-90% of the total open interest in any given market. Select data are made public on a weekly basis.
The four categories of commodity traders discussed in the article above are:
Money Managers. A "money manager" is a trader engaged in managing and conducting organized futures trading on behalf of clients. This category includes registered commodity trading advisors (CTA); registered commodity pool operators (CPO); or unregistered funds ("hedge funds").
Producers/Merchants/Processors/Users. A "producer/merchant/processor/user" is an entity that predominantly engages in the production, processing, packing or handling of a physical commodity and uses the futures markets to manage or hedge risks associated with those activities.
Swap Dealers. A "swap dealer" is an entity that deals primarily in swaps for a commodity and uses the futures markets to manage or hedge the risk associated with those swaps transactions. The swap dealer's counterparties may be speculative traders, like hedge funds or traditional commercial clients that are managing risk arising from their dealings in the physical commodity.
Other Reportables. Every other reportable trader that is not placed into one of the other three categories is placed into the "Other Reportables" category.
The CFTC reviews information provided by large traders to determine the category in each specific case.
Please note that the aggregate of all long open interest is equal to the aggregate of all short open interest.
Disclaimer: Opinions expressed herein by the author are not an investment recommendation and are not meant to be relied upon in investment decisions. The author is not acting in an investment, tax, legal or any other advisory capacity. This is not an investment research report. The author's opinions expressed herein cannot be a substitute for comprehensive investment analysis. Any analysis presented herein is illustrative in nature, limited in scope, based on an incomplete set of information and has limitations to its accuracy. The author recommends that potential and existing investors conduct thorough investment research of their own and consult a qualified investment adviser. The information upon which this material is based was obtained from sources believed to be reliable, but has not been independently verified. Therefore, the author cannot guarantee its accuracy. Any opinions or estimates constitute the author's best judgment as of the date of publication, and are subject to change without notice. The author explicitly disclaims any liability that may arise from the use of this material.
Disclosure: I/we have no positions in any stocks mentioned, and no plans to initiate any positions within the next 72 hours.
I wrote this article myself, and it expresses my own opinions. I am not receiving compensation for it (other than from Seeking Alpha). I have no business relationship with any company whose stock is mentioned in this article.