Ethanol producers were pleasantly surprised by the U.S. Environmental Protection Agency's [EPA] decision, which was announced shortly before Thanksgiving last week, to increase biofuel blending under the revised Renewable Fuel Standard [RFS2] by more than it had proposed last May. The final rulemaking will bring corn ethanol's contribution under the mandate to the statutory limit of 15 billion gallons, up from 14.5 billion gallons in the current year. The share prices of ethanol producers The Andersons (NASDAQ:ANDE), Archer Daniels Midland (NYSE:ADM), Green Plains, Inc. (NASDAQ:GPRE), Pacific Ethanol (NASDAQ:PEIX), and REX American Resources (NYSE:REX) have all rallied on the news (see figure).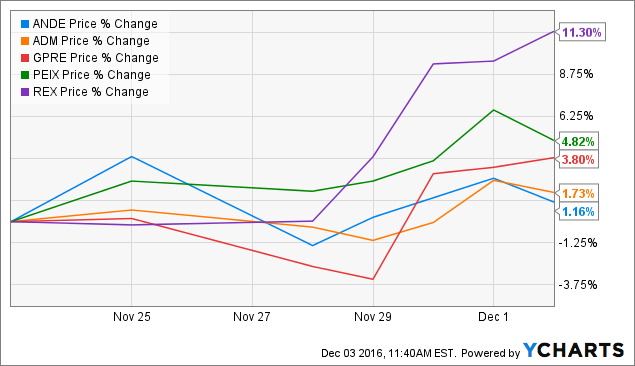 Ethanol producers were already having a solid quarter before the EPA's announcement, although volatility related to the U.S. presidential election (ethanol share prices dived after Donald Trump's unexpected victory before staging a rebound) prevented this from being realized by investors. Earlier predictions of a strong corn harvest have been borne out, causing corn prices to remain near the third quarter's multi-year lows (see figure). Gasoline prices remained well above their Q1 lows, while persistent high prices for Renewable Identification Number [RIN], or blender credits, allowed ethanol producers to recognize a high price premium for their product relative to the price of gasoline.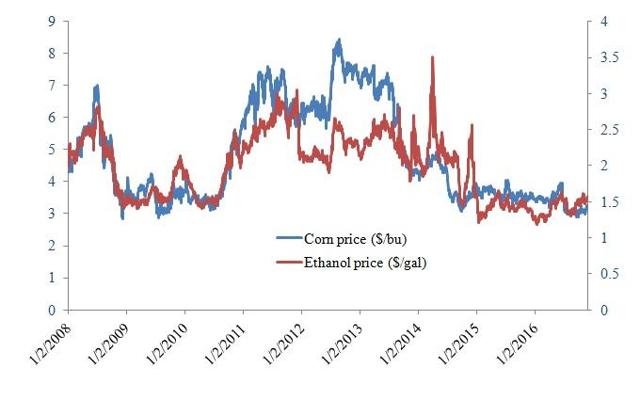 Sources: CARD (2016).
One of the bigger developments in the industry over the second half of 2016 has been ethanol's price premium relative to the price of gasoline. This premium has historically moved higher in response to periods of low gasoline prices because of the blending mandate, which creates a floor under demand for ethanol (unlike gasoline). The mandate is imposed on refiners rather than ethanol producers, however, so refiners must pay however large of a premium is necessary to keep ethanol margins positive and ethanol producers active.
Gasoline prices have rebounded from their Q1 lows yet the ethanol price premium has continued to rise over the last several months (see figure). In fact, the price of ethanol as reported by Iowa State University's Center for Agricultural and Rural Development [CARD] has been higher than New York Harbor RBOB on a volumetric basis for all but three days since September 1 of this year, which is a very rare development given that one gallon of ethanol has only 67% of the energy content of one gallon of gasoline. The ethanol price premium over gasoline has been an average of 59% since September 1.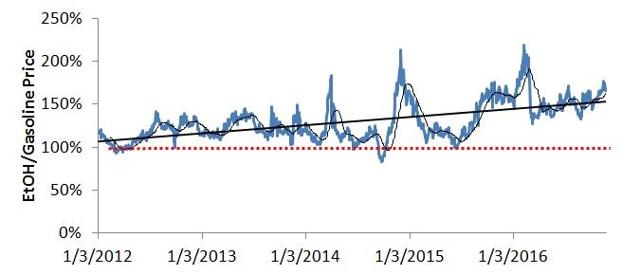 As mentioned, however, ethanol prices have rebounded from their earlier lows. One consequence of this is that ethanol producers' return over operating costs, which is calculated as the difference between a producer's input costs (corn and natural gas) and output values (ethanol and DDGS), have risen to a two year high in Q4 (see figure). The average return since September 1 of $0.37/gal is also the highest since Q4 2014 and the highest sustained level since the summer of 2014, when petroleum prices were still near triple digits.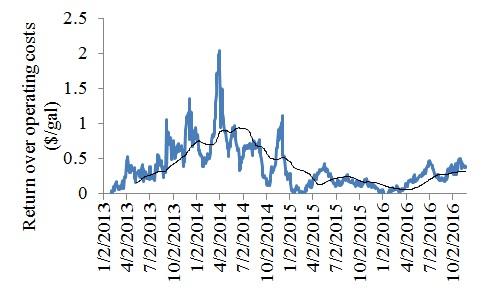 Source: CARD (2016).
The demand floor created by the blending mandate continues to be a major source of support for ethanol producers. The incoming Trump administration's lack of clarity regarding its stance on the mandate should therefore be a cause of concern for the sector's investors: will it support maximum blending under the mandate, as Mr. Trump pledged during the GOP primary, and reduce refiners' blending costs by increasing the mandate's number of "obligated blenders"? Or will he select as next head of the EPA an appointee who supports lower blending costs via reduced blending volumes? Market action over the last month suggests that the former will occur, but this could go either way.
It should also be noted that Brazil's woes continue to support the position of U.S. ethanol producers as well. That country's multi-year drought has prompted sugarcane mills to focus on sugar production over ethanol production. U.S. ethanol producers have stepped in to meet global demand for ethanol in response to stronger clean air regulations (vehicle particulate matter emissions of the type responsible for much urban smog and carbon monoxide emissions decline as ethanol blending increases), and U.S. ethanol exports are on track to hit their second-largest volume ever in 2016 (see figure). This is true even as U.S. ethanol imports have fallen to a multi-year low.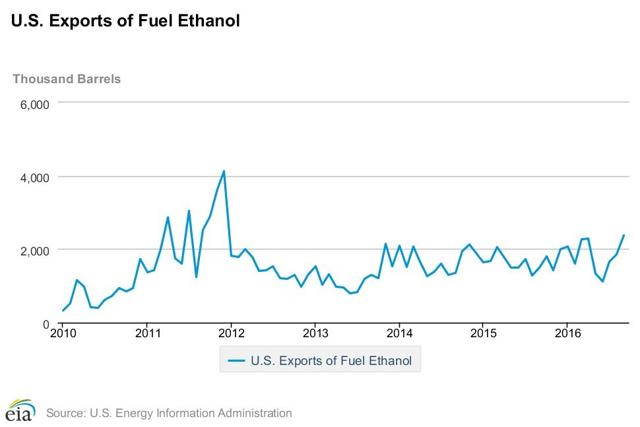 Between strong mandate-induced consumption, a growing demand outlook both in the U.S. and abroad, and low prices for corn and natural gas, about the only development that could make ethanol producers' operating outlook improve still more would be a rising petroleum price. Last week's OPEC deal has fulfilled part of this requirement, although petroleum prices are not expected to rise much further as U.S. production rebounds in response to the $50-$60/bbl price threshold. That said, the dark days of early 2015 and early 2016 appear to at last be in the rear view mirror for the U.S. ethanol sector, although regulatory uncertainty will continue to be a risk factor until the Trump administration unveils its plans for the sector.
Disclosure: I/we have no positions in any stocks mentioned, and no plans to initiate any positions within the next 72 hours.
I wrote this article myself, and it expresses my own opinions. I am not receiving compensation for it (other than from Seeking Alpha). I have no business relationship with any company whose stock is mentioned in this article.