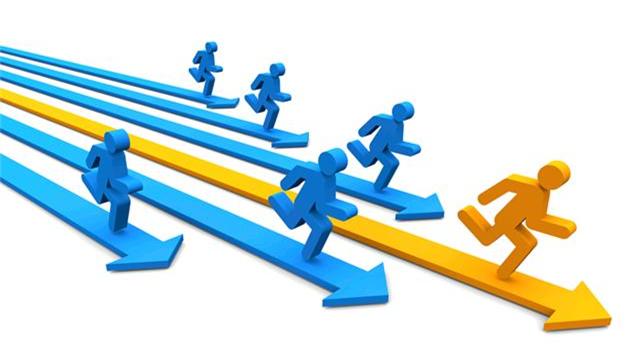 Source: Google Images
Apparently, the markets are not going to go up every week. I am shocked! But seriously, the run post the presidential election has been both interesting and amazing. Nothing has fundamentally changed, yet perceptions and speculation have led to robust performance results.
For 2017, expectations are positive for GDP growth and other macro-economic trends. I do expect a more cautious perspective in the early stages of 2017. We still have the simple winter weather unknowns facing us, which could place pressure on transports leading to a short-term level of correction.
Other factors of uncertainty relate to Donald Trump's actions next year, Brexit, Europe's instability, and inflation, among many other items. As markets remain near all-time highs, investors should be prudent with how they are prepared to manage their positions this upcoming year.
Q1 2016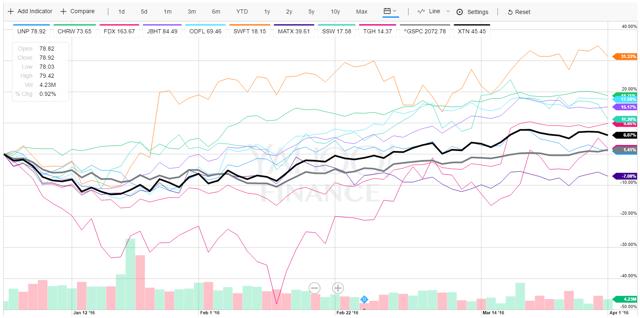 Source: Yahoo! Finance
Through the first quarter of 2016, transports substantially outperformed the broader S&P 500 index as evidenced by the SPDR S&P Transportation ETF (NYSEARCA:XTN). Transports were up over 6 percent during the quarter, while the S&P 500 was up nearly 1.5 percent. Mid-March reflected the greatest difference between the two.
Specific examples of companies reflecting major transport segments have been highlighted above for illustrative purposes. Only Union Pacific, Textainer Group Holdings (NYSE:TGH) and Matson (NYSE:MATX) lagged the SPDR S&P Transportation ETF performance during the first quarter.
Q2 2016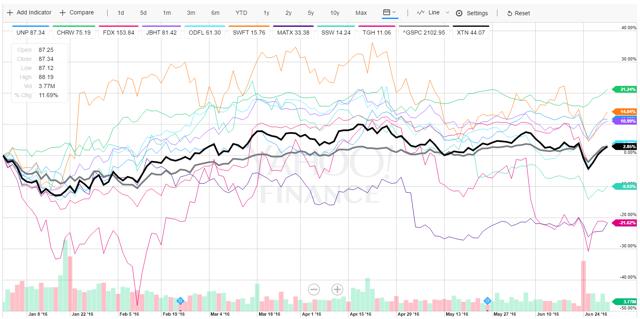 Source: Yahoo! Finance
Through the second quarter of 2016, transports substantially underperformed the broader S&P 500 index as evidenced by the SPDR S&P Transportation ETF. Both transports and the S&P 500 index were up nearly 3 percent through the second quarter.
Transports were much more affected by the perceived impacts from the Brexit vote, similar to the growth concern impacts during January and February. Only Matson and Seaspan Corporation (NYSE:SSW) lagged the SPDR S&P Transportation ETF performance through the second quarter.
Q3 2016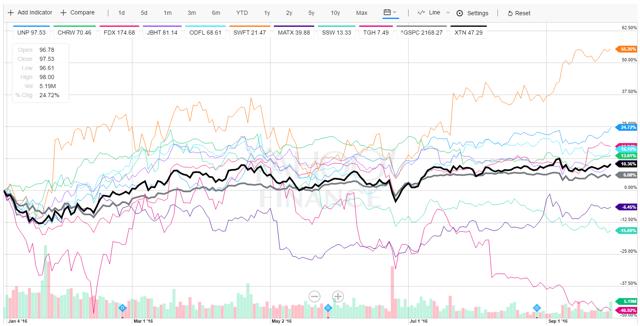 Source: Yahoo! Finance
During the third quarter of 2016, transports re-established the lead versus the S&P 500 as evidenced by the SPDR S&P Transportation index. Both were up 6.1 and 10.4 percent respectively.
Major laggards included Matson, Seaspan and Textainer Group Holdings. The challenging shipping container industry and the Hanjin bankruptcy have continued to weigh on all companies with strong exposure to this industry.
YTD 2016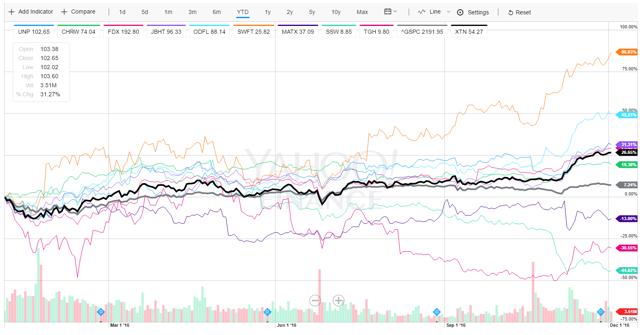 Source: Yahoo! Finance
Year-to-date, YTD the spread between the SPDR S&P Transportation ETF and the S&P 500 increased from last week with transports leading by 19.4 percentage points. The S&P 500 declined by 110 basis points, bps to 7.2 percent YTD, while the SPDR S&P Transportation ETF declined by 20 bps to 26.7 percent YTD.
Even during a down week transports continued to outperform broader market indices. At current levels, investors should be prepared for a reverse trend in the event profit taking and/or negative market moving events occur. Europe's stability is questionable at best, and visibility into Trump's actions is not prevalent.
Expectations remain positive, predicated on a "lax effect" for industry regulations. This is most directly tied to the banking and transports industries. Expectations are also for interest rates to begin to increase. For many other industries, this means higher costs to do business. For consumers, this means higher costs to purchase goods. These events may likely create a short-term spike in GDP and corporate growth, but history tells us that the tipping point to a significant correction may be on the near-term horizon as a result.
Rail Operators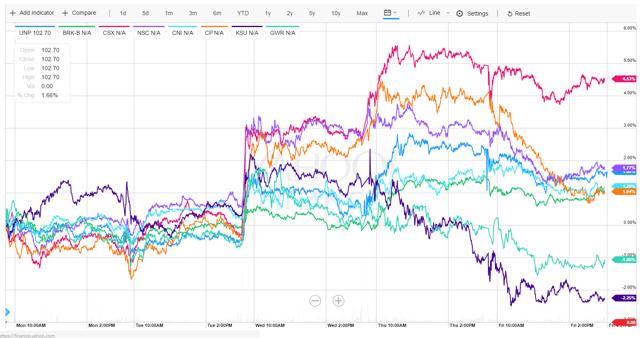 Source: Yahoo! Finance
For the week, rail operator stocks were mixed led by CSX (NYSE:CSX). Laggards included Kansas City Southern (NYSE:KSU) and Genesee & Wyoming (NYSE:GWR). U.S. and Canadian rail stocks for the most part outperformed Berkshire Hathaway (NYSE:BRK.A) (NYSE:BRK.B) reflecting stronger performance than peer indices. Kansas City Southern and Genesee & Wyoming remain prone to downside risk due to Mexico and Europe exposure.
Rail traffic continues to experience positive momentum. Four Class Is are in positive territory for the fourth quarter including Canadian National (NYSE:CNI), Canadian Pacific (NYSE:CP), Kansas City Southern and Norfolk Southern (NYSE:NSC).
Railcar Manufacturers & Lessors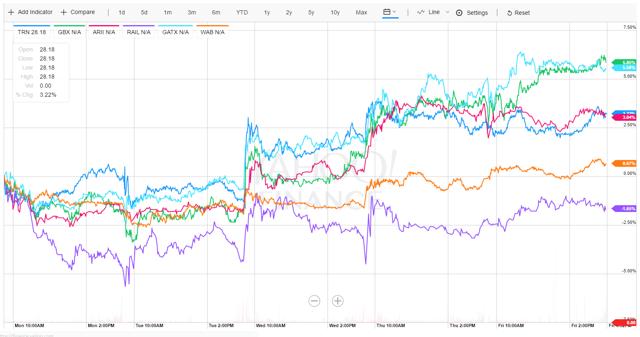 Source: Yahoo! Finance
Railcar manufacturers and lessors continue to track higher and/or in-line with rail operators. As traffic demand continues to improve, so do expectations regarding an eventual increase in orders for railcars. This has yet to occur, but has not stopped positive performance, led by The Greenbrier Companies (NYSE:GBX) and Gatx Corporation (NYSE:GATX) during the week.
Investors should expect to see potentially further declines in railcars purchased over the next quarter. However, the focus and expectation is for new orders to begin to pick up.
Truckload Carriers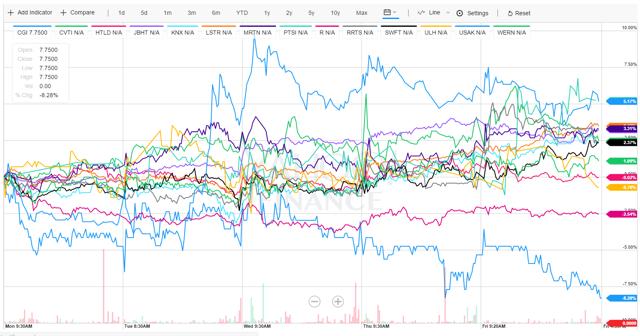 Source: Yahoo! Finance
Truckload carriers were mostly flat to positive during the week. The group was led by smaller companies including USA Truck (NASDAQ:USAK) and P.A.M. Transportation (NASDAQ:PTSI). Celadon Group (NYSE:CGI) was the laggard down nearly 8.5 percent for the week. Ryder System (NYSE:R) also displayed weakness.
Both the rail and trucking industries have benefited strongly from Trump's election. Assuming volume growth improves during 2017, these industries should continue to witness positive performance. Today's levels present downside risk in the event volume growth wanes.
Less-Than-Truckload Carriers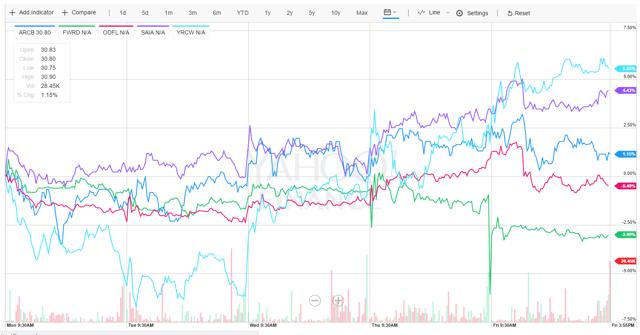 Source: Yahoo! Finance
Like truckload peers, less-than-truckload, LTL carriers were mostly positive during the week. Both Saia (NASDAQ:SAIA) and YRC Worldwide (NASDAQ:YRCW) led performance, while Forward Air (NASDAQ:FWRD) was the laggard.
YRC's performance has been extraordinary. The stock is up nearly 70 percent over the past month. While this performance is great for investors who were lucky enough to buy before the presidential election, it is also what creates the greatest downside risk as volatility is likely to increase.
Air Freight, Package & Delivery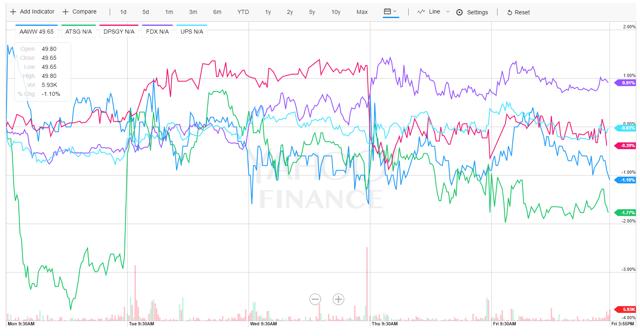 Source: Yahoo! Finance
Air freight package and delivery companies were mostly lower for the week, reflecting one of the weaker transport industries. Only FedEx Corporation (NYSE:FDX) was marginally positive. Revenue-mile tons have been mostly positive, especially for lease operators; international performance has weighed though.
The e-commerce story will likely continue as a tailwind for the foreseeable future. Just today, ULTA Salon, Fragrance & Cosmetics (NASDAQ:ULTA) announced robust e-commerce performance. This trend will eventually slow, but may continue to outperform traditional retail, regardless of market cycle.
Contract Logistics, Forwarding & Brokerage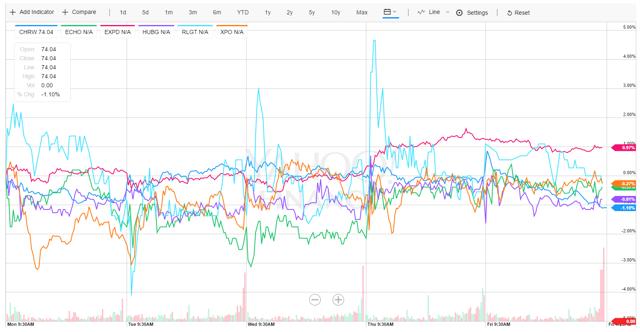 Source: Yahoo! Finance
Contract logistics companies were also mostly down for the week. Only Expeditors International (NASDAQ:EXPD) was up for the week. XPO Logistics (NYSEMKT:XPO) has been a top performer among all transports for the year. Performance for air freight and package delivery and contract logistics companies has weighed transports of late.
There has been a little bit of a disconnect between asset-based company performance versus asset light service providers. The more direct tangible aspect of expected lax regulations is the likely reason. But investors should pay attention in the event the gap widens further; asset light service providers will also benefit.
Container Shipping Lines, Charter Owners & Container Lessors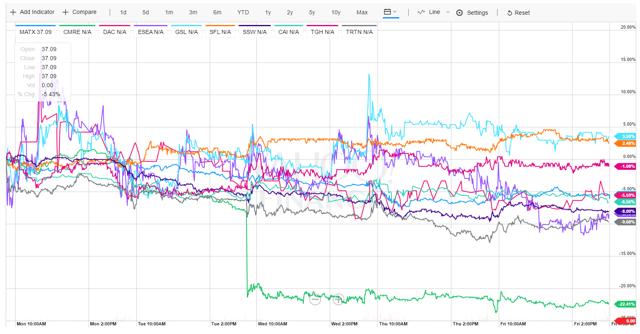 Source: Yahoo! Finance
Whether on a weekly or yearly basis, the container shipping industry has been highly volatile. Performance for the week and for the year has weighed greatly on transports. Most companies were down with Costamare (NYSE:CMRE) being the laggard down nearly 22.5 percent.
These companies are exposed to substantial leverage risk. Investors rightfully so have become more skeptical. Matson as an example is fundamentally stronger than this peer group, yet the company's debt to EBITDA ratio has more than doubled this past year. Higher leveraged companies dependent upon capital intensive investments remain challenged, and this will continue for the foreseeable future.
Demand Trends
Key demand-based indicators that are monitored include Class I rail traffic, trucking industry tonnage, shipments, and loads, air cargo tonnage, container shipping line twenty-foot equivalent units, TEUs, North America seaport TEUs, shipping lane port calls, North America cross-border trade, and freight rates for most of these indicators.
U.S. & Canada Class I Rail Traffic - Carloads & Intermodal Units Carried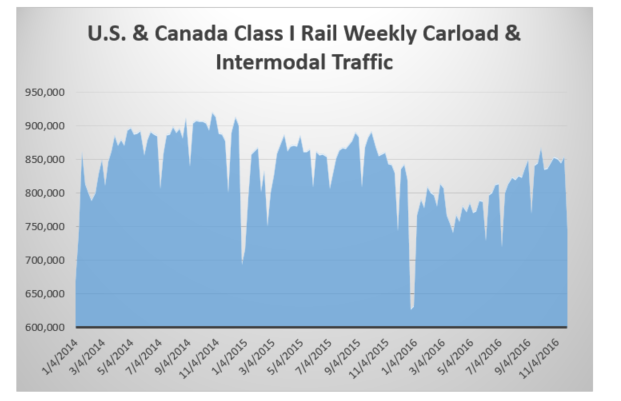 Source: Class I websites and personal database, carload and intermodal units carried
For week 47, total traffic improved to -5.8 percent YTD with carload traffic better by 20 bps to -8.2 percent and intermodal traffic better by 10 bps at -2.8 percent. Week 47 continued to witness overall improvement compared to year-over-year (YOY) rail performance, with a marginal increase versus last year during the Thanksgiving week. This performance represents the fourth consecutive positive week for the year.
Container traffic was flat at -0.6 percent for the year. Intermodal pricing is expected to decline from the peak season increase. Chances are year-over-year performance will remain positive, but it remains to be seen.
Week 47 witnessed a new record for the year with the twentieth consecutive week of weekly coal carload traffic above 107,000. Grain performance remained robust at 20 percent growth versus last year.
Motor vehicles and equipment carload traffic maintained its performance near 40,000 carloads with a marginal decrease versus last year. For the first time over the past twenty weeks, crushed stone, gravel and sand underperformed petroleum products. Post-Thanksgiving should provide better information on this trend.
Trucking Industry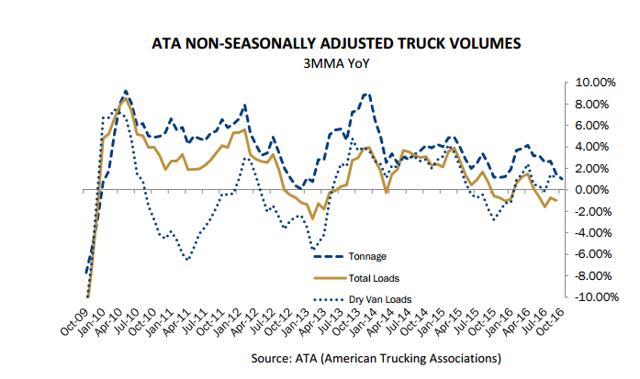 Demand indicators for the trucking industry continue to display weakness and mixed performance. Registrations of new heavy duty tractors and trucks fell nearly 27 percent in the third quarter versus last year. Year-to-date, performance was down 18 percent versus last year. Some experts have stated that these results may signal an end to the rapid growth in new registrations over the past few years.
Old Dominion Freight Lines (NASDAQ:ODFL) provided mixed November performance this week. Results included a decline in shipments and tonnage, but an increase in weight per shipment and revenue yield excluding fuel surcharges. Management stated that they were encouraged by yield stability and improved weight per shipment.
Air Cargo
Not all news for e-commerce has been smooth of late. Just recently, pilots of ABX Air, a subsidiary of Air Transport Group (NASDAQ:ATSG) went on strike for a couple of days. Air Transport Group has been in spotlight lately for its new lease agreements with Amazon.com (NASDAQ:AMZN); the company has agreements with Deutsche Post DHL Group (OTCPK:DPSGY) as well.
Many air cargo carriers whether solely freight carriers or belly cargo carriers, have benefited strongly from the e-commerce boom. Through August 2016, revenue ton-miles within the U.S. have been positive. Internationally, results have been mixed with FedEx witnessing strong declines for certain trade lanes, while United Parcel Service (NYSE:UPS) has witnessed more muted declines.
Container Shipping Lines
Similar with intermodal rail pricing, eastbound Trans-Pacific spot rates have begun to decline as the peak season winds down. Some still expect a possible increase in spot market pricing prior to the Chinese New Year.
Maersk Line has a renewed focus as A.P. Moller Maersk recently separated its container shipping and energy business segments. It didn't take the shipping line side of the business long to make a move. Yesterday, the company announced that it is buying Hamburg Sud. The deal is anticipated to close by the end of 2017.
The container shipping industry still finds itself in a challenging state. Most major companies will report losses for the remainder of 2016 and possibly into 2017. Consolidation will continue as companies seek to find bargain prices to add assets. Over the next couple of years, when including the new alliances, shippers are going to have a much smaller group to deal with; bargaining power will shift to carriers in the near-term.
North America Seaports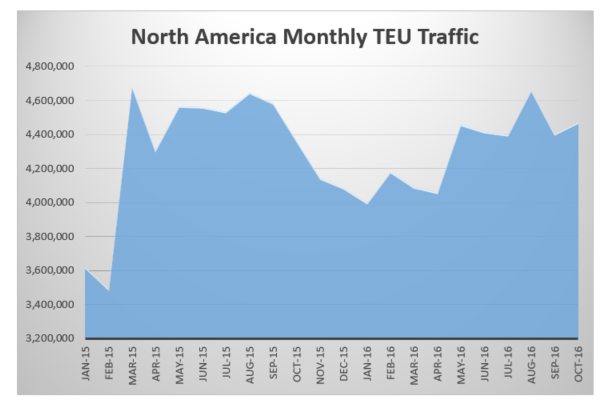 Source: North America seaport websites and personal database
Most seaports on the West, East and Gulf coasts witnessed strong laden twenty-foot container equivalent, TEU performance in October. During 2016, the container shipping industry has witnessed a more normalized peak shipping season.
This has been evident by the broad trends in positive TEU traffic across North America, as well as by increased transported container volumes for major shipping lines including Maersk Line and Hapag Lloyd, among others.
Strength in TEU traffic should not be expected to increase substantially from 2016 next year. Improved volume growth globally is anticipated to be around two percent. This level will likely reflect the near-term demand trend, unless global GDP improves further.
North America Cross-Border Trade
Mexico will remain in the spotlight until we get transparency from the Trump administration regarding how the North America Free Trade Agreement, NAFTA will be dealt with. Companies which have displayed volatility over the past few weeks have included Kansas City Southern and Calavo Growers (NASDAQ:CVGW) as both has significant exposure to Mexico.
The automobile industry is also highly exposed to Mexico with companies including Ford Motor (NYSE:F) considering moving light duty passenger vehicle production facilities south of the border. Other durable goods manufacturers have come out stating that they will keep jobs in the U.S. versus expanding to Mexico. The situation will continue to weigh on companies with long-term exposure to Mexico markets.
That being said, any renegotiation of NAFTA will include U.S. exports to Mexico, as well as potential imports into the U.S. being exported from U.S. seaports to other countries. Mexico, Canada and the U.S. are becoming more formidable from an energy perspective globally. It is in the best interest for NAFTA to continue to support all three countries and their economies.
Portfolio Management Strategy Update
The LLGP and LSGP portfolios were created in February/March of this year; currently there are 13 holdings for the LLGP and two holdings for the LSGP. At the end of the week, the LLGP was up 2.7 percent a decline of 50 bps and the LSGP was up 43.4 percent representing a 200 bps increase from last week.
During the week, positions were added to both Calavo Growers and Unilever (NYSE:UL). A new position was initiated for McCormick & Company (NYSE:MKC). ULTA's quarterly results led to part of the position being sold. Luckily it was sold early in the morning before the stock price witnessed a wide swing to the downside.
The stance for managing the LLGP remains defensive. It is expected that markets will witness a minor correction over the next six to 12 months. It is expected that another recession will occur in the next few years. Buying opportunities will fluctuate as time goes by. Having ample cash for these opportunities is important.
LLGP top double-digit performers YTD:
The WhiteWave Foods Company (NYSE:WWAV) 54.9 percent
Amazon.com 35.5 percent
JB Hunt Transport (NASDAQ:JBHT) 23.6 percent
The Boeing Company (NYSE:BA) 20.3 percent
Republic Services (NYSE:RSG) 17.1 percent
Deutsche Post DHL Group 13.8 percent
LLGP negative performers YTD:
Sanderson Farms (NASDAQ:SAFM) -7.9 percent
Calavo Growers -7.8 percent
Unilever -6.6 percent
Seaspan Corporation -5.5 percent
LINE Corporation (NASDAQ:LN) -4.8 percent
Autoliv (NYSE:ALV) -3.5 percent
Sprouts Farmers Market -3.1 percent
McCormick -1.1 percent
US Foods Holding (NYSE:USFD) -0.4 percent
The transition from Scottrade to Motif has been positive so far. The mobile application for Motif is substantially better than Scottrade and being able to trade dollar amounts for fractional shares enhances the ability to have more flexibility for management strategies. A motif has not been created, but this step may be undertaken later.
Ample cash reserves are available. The expectation is that markets will improve further as GDP and other macro-economic indicators remain positive. But there will be better buying opportunities versus today in the near-term for transports especially.
LSGP Performance
Mobileye (NYSE:MBLY) 1.2 percent
XPO Logistics 66.2 percent
YRC Worldwide 39.6 percent
At year-end, Unilever will be up for consideration to be moved into the LSGP. Likewise, XPO will be up for consideration to be moved to the LLGP. YRC will remain in the LGSP for the foreseeable future.
LLGP Holding Scorecard
Top Performer
Top performers are companies which have returned the highest results for the year. In addition, they have exhibited strong operating metric performance leading to stock gains. These companies imbue the objective of achieving annualized double-digit returns.
The Boeing Company
JB Hunt Transport
Republic Services
ULTA Salon, Cosmetics and Fragrance
Neutral
Neutral holdings have returned moderately positive or negative performance for the year. Some companies may be witnessing moderate impacts to the business driven mostly by industry-specific trends.
These companies typically will fluctuate between less than positive 9 percent to no greater than negative 5 percent during normalized market conditions. Seaspan was dropped back down to the watch list. Typically, it is not uncommon for a majority of holdings to be in this list. Ideally, the substantial majority will be in the neutral or higher lists.
Cal-Maine (NASDAQ:CALM)
Kansas City Southern
LINE
Matson
Sprouts
Unilever
US Foods
Watch List
Companies on the watch list merit a close consideration as to their sustainability to remain within the LLGP. If a determination is made to remain, the likely result will be to aggressively defend the stock price and accumulate on weakness. If the determination is to liquidate, the holding will likely be moved to the LSGP and sold opportunistically for a realized gain.
To date, all companies on the watch list have had a determination made to remain in the LLGP. Both Cal-Maine and Seaspan will be monitored weekly as to possible further additions. Ideally, not many companies will remain on this list for a long duration period.
Calavo Growers
Sanderson Farms
Areas Of Interest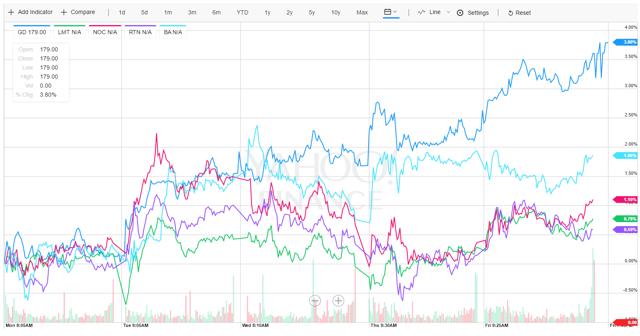 Source: Yahoo! Finance
Defense stocks were positive for the week led by General Dynamics (NYSE:GD). Boeing has been a strong performer for the LLGP. The company's exposure to the defense industry has been a primary reason why none of the peers above have been added. Further research will be performed to consider a pure defense company later.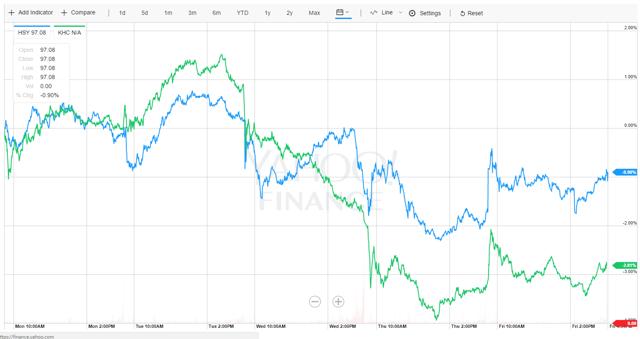 Source: Yahoo! Finance
McCormick was added to the LLGP this week, therefore, it is no longer included. The Hershey Company (NYSE:HSY) continues to be a company that will be considered. The Kraft Heinz Company (NASDAQ:KHC) has been added as a new peer. Kraft Heinz will likely not be considered strongly. A smaller growth-oriented company will be sought after to add to this group.
Summary
Transports continue to outperform broader market indices whether the week is positive or negative. With less than a month left for 2016, this sector will remain a top performer.
As we begin to think about next year's prospects, having available cash is a good idea. While indicators point to continued positive performance, uncertainty regarding Trump's actions as well as Brexit and other European uncertainties remain on the horizon.
For these reasons, buckling down and getting tighter regarding management strategies is a wise decision.
Disclosure: I am/we are long BA, CALM, CVGW, JBHT, LN, MATX, MKC, KSU, RSG, SAFM, SFM, UL, ULTA, USFD, XPO, YRCW.
I wrote this article myself, and it expresses my own opinions. I am not receiving compensation for it (other than from Seeking Alpha). I have no business relationship with any company whose stock is mentioned in this article.
Editor's Note: This article covers one or more stocks trading at less than $1 per share and/or with less than a $100 million market cap. Please be aware of the risks associated with these stocks.