Source: Small Biz Survival, Huffington Post and Square
Why do I think Square (NYSE:SQ) is heading for profitability?
The company's growth rate is very impressive. In 2013, the company generated about $203 million in net revenue while the company expects to generate $1.71 billion net revenue in 2016. Accumulated growth rate from 2013 to 2016 is about 428%. While maintaining year over year higher growth rate, the diluted EPS decreased in its third quarter by about 50%. The biggest money makers are currently Square Capital, which advances cash to merchants, and Caviar, a food-delivery service, according to WSJ. The CFO Sarah Friar said on a conference call with analysts as follows:
Payments are a "healthy business... and we're now layering on new software and data, together, those combine to give you the path to profitability."
While maintaining a higher revenue growth, if the company reduces its cost of revenue (like it did in its 3rd quarter), the company will likely post its first profit in 2017.
Sentiment: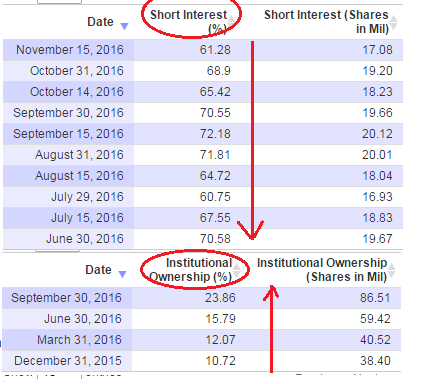 As we can see from the above table, the institutional ownership has been gradually increasing while short interest has been gradually decreasing, indicating a bullish signal. The institutional ownership has increased from 12% to about 24% within this year. The short interest decreased from 71% to 61% within a few months. The company has a consensus Price Target of $13.17 which is 3.65% upside, according to market beat.
Square is a mobile payment company. In a nutshell the company collects money from a buyer and transfers it to a seller through its device that can be interfaced with a smartphone or tablet. The company keeps 2.65% per swipe for Visa, MasterCard, Discover and American Express and the remaining amount is transferred to the seller's bank account within one to two business days. There are no fees for the buyer. It is a very simple and effective business model and the company is very open about its business.
Example on a $5,000.00 sale:
=$5,000 x 0.0265 (2.65%)
= $132.50 (Square's commission)
= $5,000 - $132.50
= $4,867.50 is the final amount you would receive from Square within one to two days.

Source: Square
Financial and Operational Performance and Forecast:
Square has been generating higher revenue year over year. The company generated about $203 million in 2015; they are expected to generate $1.7 billion in total revenue. Although the company hasn't made a profit yet, the net loss for 2016 is expected to decrease by about 50% from the previous year.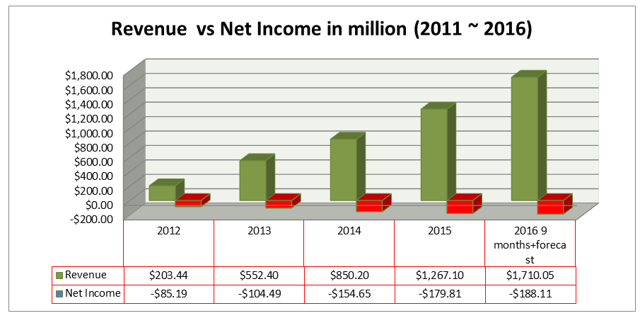 Source: Created by Author (data obtained from SEC filing)
For the first three quarters of 2015, Square posted a net loss of $0.88 per share. Similarly, for the first three quarters of 2016, the company posted a net loss of $0.46 per share. The loss per share decreased by about 48% from the previous quarters.

Source: Created by Author (data obtained from SEC filing)
Valuation:
The book value of the company is about half a billion, with the P/B ratio at about 10. This indicates that Square's stock costs about 10 times what their assets could be sold for. The average P/B ratio in the technology sector is about 4. It appears that the stock is overvalued.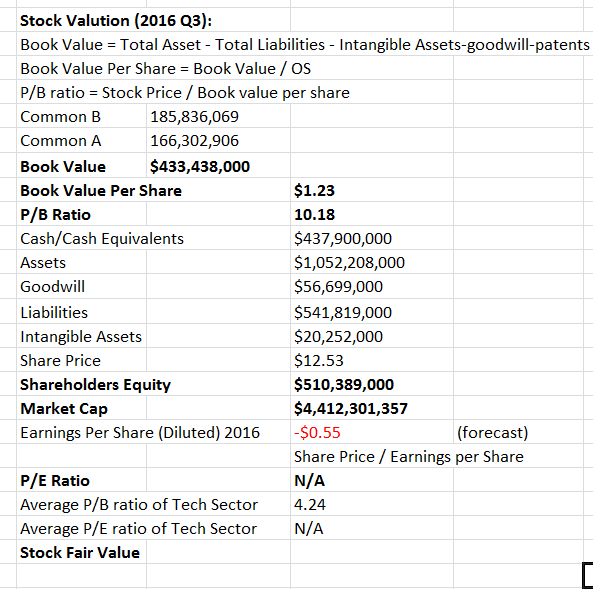 Source: Created by Author (data obtained from SEC filing)
Market Size and Competition:
The current size of the mobile payment market is $650 billion and this is expected to grow to $1080 billion in 2019, according to Statista.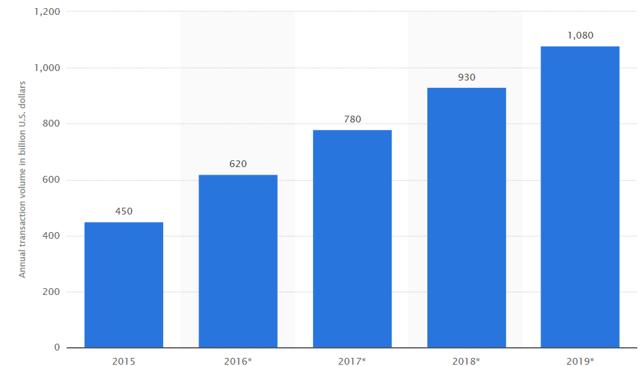 Source: Statista
There are numerous competitors in this market with PayPal at the top of the heap, as the below pie chart shows. Square does offer a free reader and free app. Square is for everyone, according to Merchant Maverick.
PayPal Here (NASDAQ:PYPL)
Clover Go
Clover Mobile
Spark Pay
Shopify (NYSE:SHOP)
PayAnywhere: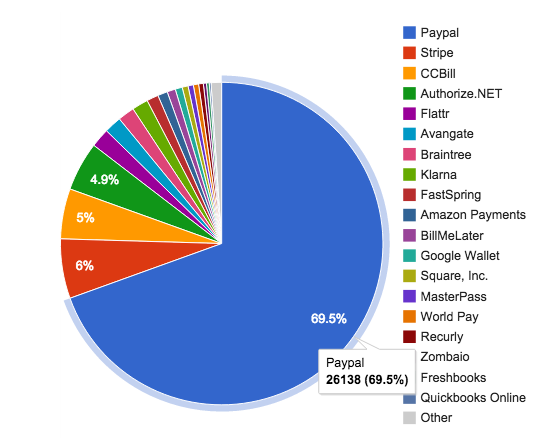 Source: Quora
Downside Risk:
As they mentioned on their third quarter filing, Square relies on app marketplaces such as the Apple App Store and Google Play to drive downloads of their mobile app. Apple, Google and other operators of app marketplaces regularly make changes and those changes may make access to Square's products and services more difficult. In the event that it is difficult for their sellers to access and use their products and services, their business may be materially and adversely affected. The company further said as follows:
For example, the current version of Square Reader for magnetic stripe cards plugs into the audio jack of most smartphones and tablets. In September 2016, Apple introduced the new iPhone 7, which does not have an audio jack, and instead Apple will provide an adapter that can be inserted into a connectivity port. This adapter may fail to interoperate with our Square Reader, or existing users may decide not to use the adapter. This change and other potential changes in the design of future mobile devices may limit the interoperability of our hardware with such devices and require modifications to our hardware. If we are unable to ensure that our hardware continues to interoperate effectively with such devices, if doing so is costly, or if existing merchants decide not to utilize additional parts necessary for interoperability, our business may be materially and adversely affected.
Conclusion:
The company has been generating higher revenue year over year. Wall Street expects the company to post a loss of 9 cents per share for its 4th quarter of 2016. The company's net loss decreased by about 50% in its third quarter compared to the previous quarter; so it is moving in the right direction by generating higher revenue and reducing its loss. At this rate, I expect the company to post its first profit in the second or third quarter of 2017.
Based on my analysis, I recommend Square as a BUY (buy the dip; recommended entry price is $9) I always recommend that you protect your positions with insurance (option).
Disclosure: I/we have no positions in any stocks mentioned, and no plans to initiate any positions within the next 72 hours.
I wrote this article myself, and it expresses my own opinions. I am not receiving compensation for it (other than from Seeking Alpha). I have no business relationship with any company whose stock is mentioned in this article.