About a year ago, I suggested buying Facebook (NASDAQ:FB) (Facebook Will Win the 2016 Election), as the Company was poised to "win" the recently completed election. Despite lower total spending on the Republican side due to Trump's masterful use of "free" media, I believe FB was the winner of the election. Zac Moffatt, digital director for Mitt Romney's 2012 campaign agrees, noting, "Facebook's real value is in its size and scale . . . It's that you can hit three out of four Americans on one platform."
Facebook "won" by selling ads to the candidates (local as well as national) and was identified in playing a key role in President-elect Trump's fundraising. Borrell Associates estimated $1 billion was spent on digital ads, triple the 2012 spend.
As the below chart illustrates, FB did succeed during the past year, gaining 8% (though it is down 9.3% since the election).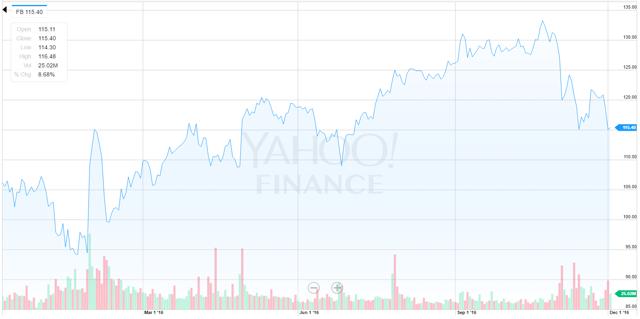 Source: Yahoo
Analysts are forecasting $1.30/share in profits for Q4, up from $1.24/share thirty days ago. For 2017, estimates have been increased to $5.21/share, up from $5.06 thirty days ago.
As much as I'd like to celebrate FB's success, I think it has reached peak election influence. The Company has taken a lot of heat for fake news and otherwise manipulating (even if unintentionally) the election results. The New York Times had a prominent article titled, Facebook, in Cross Hairs After Election, Is Said to Question Its Influence." Going forward, FB, and other online media companies are going to have to spend a lot more time, money and resources in curating news to avoid fake news and otherwise manipulating the public. In short, FB is going to be more like a media company, subject to media scrutiny and media valuations. I think the last part is going to be a bit of a surprise to many investors.
Currently, FB is trading at 22.2x forward earnings. By contrast, Alphabet (NASDAQ:GOOG) (NASDAQ:GOOGL) is trading for 18.4x and InterActiveCorp (NASDAQ:IAC) is trading for 18.6x. More traditional media companies like Sinclair Broadcasting (NASDAQ:SBGI) are trading for 13.8x (even after a 28% increase in the past month) forward earnings.
FB just finished another strong quarter, earning $0.57/share ahead of the consensus estimate of $0.52/share (which was above Q2 earnings of $0.50/share. In Q4, the Company is expected to earn $0.67/share, an estimate which grew from $0.63/share in the past week. In the last 30 days, there have been 48 estimate changes; 100% of the estimate changes were positive. As the Company has put points on the board, the stock has responded, up 37% since the beginning of the year and 10% since post-Q2 earnings. Clearly, FB is on a roll.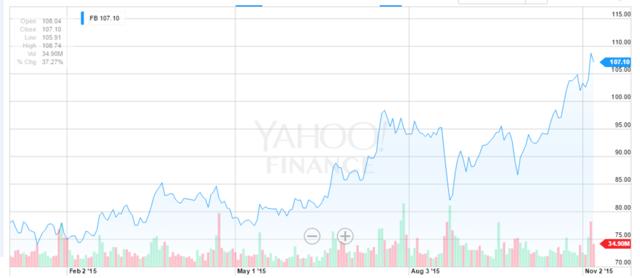 Source: Yahoo!
In 2016, FB is expected to earn $6.5 billion ($2.85/share), 32% more than the $4.9 billion ($2.16/share) the Company is expected to earn in 2015. It is my belief that the 2016 estimates woefully underestimate the impact of political spending on FB's earnings.
My suggestion would be to take profits on FB following the December earnings release (I do think the quarter estimates are too low). Post-election, FB will certainly continue with its various growth initiatives, but it will never be as unique, as desirable and as profitable. Users will also bristle (whether consciously or unconsciously) at FB's newly forced restraint, and a subset will seek newer/different platforms. And FB will start to trade (on a multiple basis) as a media stock, albeit a digital media stock.
Disclosure: I/we have no positions in any stocks mentioned, and no plans to initiate any positions within the next 72 hours.
I wrote this article myself, and it expresses my own opinions. I am not receiving compensation for it (other than from Seeking Alpha). I have no business relationship with any company whose stock is mentioned in this article.