In a delightful mash-up of metaphors, Mr. Market just threw out the proverbial "golden goose" with the bathwater, which is great news for DGI investors.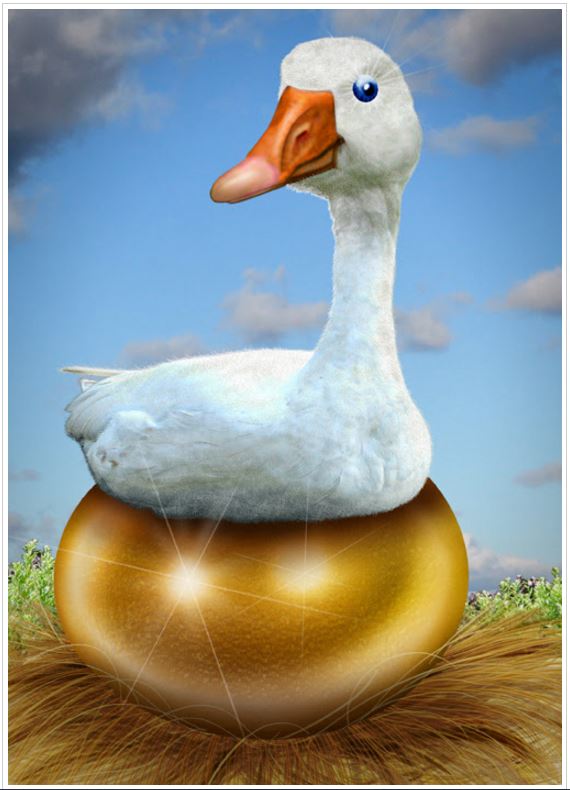 Source: Kristen Lamb - image Donkey-Hotey
Data center REIT CoreSite Realty (NYSE:COR) announced a 50.9% dividend raise and the shares dropped over 3.5 percent on Thursday, December 01, 2016. The "noise" of the REIT sector sell-off on Wall Street seemingly caused this news to fall on deaf ears.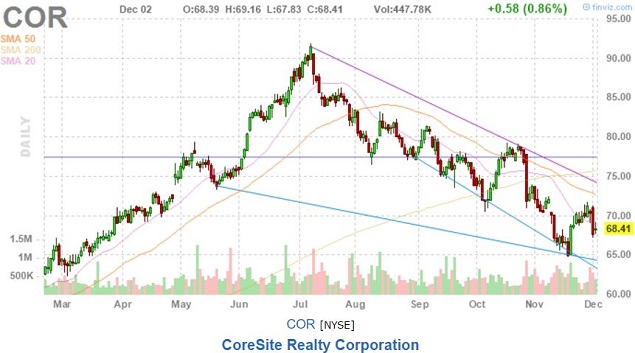 How the heck do you ignore a 50% dividend raise and blindly hit the sell button? Clearly, algorithmic trading made the decision based upon money flow out of the REIT sector on Thursday, driven by higher interest rate expectations due to Trumponomics.
On Friday, shares closed up a bit with the rest of the REIT sector, trading in lock-step with 10-year Treasury yields.
During the last 52 weeks, CoreSite has traded in a range of $53.81-$91.91 per share, closing at $68.41 on Friday, December 2, 2016. Here's an opportunity for the retail investor to buy the dip and lock in a forward yield-on-cost of 4.68%.
Along with Q3 2016 earnings, CoreSite raised FY 2016 guidance to $3.63 and the midpoint, which equates to 18.8x 2016 FFO per share. However, assuming a 20% increase in FFO per share to $4.35 2017e, the multiple would be 15.7x for this DGI dynamo. You can make your own assumptions. In my view, given a dividend CAGR of 35% since 2010, CoreSite shares are now a strong buy.
CoreSite - Bigger Picture
The more attractive CoreSite valuation follows on the heels of the announcement of an expansion in Northern Virginia, the number one US data center market. Investors also had a few months to digest the departure of long-time CEO Tom Ray, which was announced along with Q2 2016 results.
Many readers took advantage of my data center REIT strategy which I suggested at the end of last year as my top sector pick. Regular readers also trimmed these positions during the summer when I wrote a few cautionary articles, including:
In a nutshell, I suggested to readers who had racked up huge gains to consider rebalancing their REIT portfolio by trimming positions and take some chips off the table. However, my long-term bullish view for the sector had not changed, it was simply a valuation call.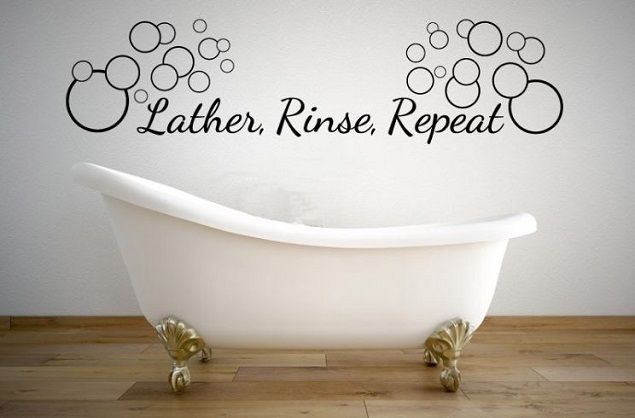 Now I view CoreSite as another "lather, rinse, repeat" opportunity for investors who have been following me on Seeking Alpha this year.
CoreSite's Happy Problem
The announcement of a 660,000-square foot expansion of CoreSite's Reston, Virginia, campus solves the "happy problem" of having just a two-year remaining supply of space based upon historical net-absorption.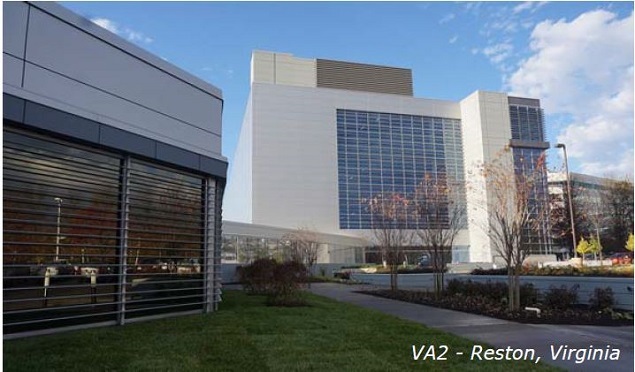 Source: CoreSite - Data Center Campus Reston, Virginia
It could be more challenging for management to solve a similar problem in Silicon Valley where data center operators must buy existing buildings and gut them to create more "land" for development. CoreSite has a much smaller presence in Chicago, but just six months of space remaining, which also must be addressed.
CoreSite DGI Track Record
This latest CoreSite announcement continues a pattern which has been hidden in plain sight.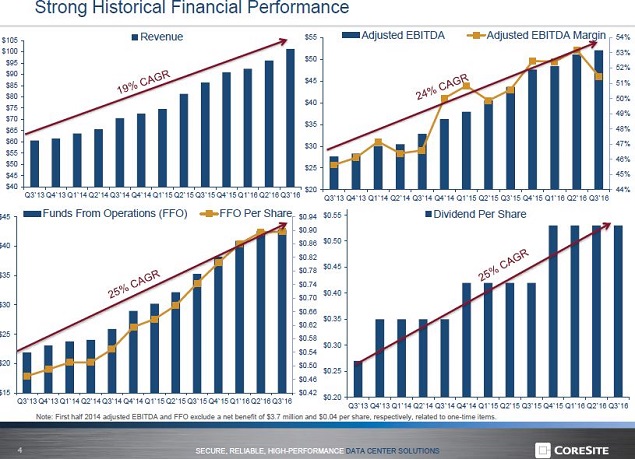 Source: CoreSite - Q3 2016 earnings (for unattributed slides below)
CoreSite Realty was the top performing REIT of 2015 and now with this huge dividend increase, has a six-year history of growing its dividend at a CAGR of 35%. Here is what management had to say about the latest dividend bump:
"We have raised our dividend each year since our IPO in 2010, correlating to 35% compound annual growth, furthering our commitment to increasing our dividend in tandem with our growth in cash flow and to delivering superior returns on capital for our shareholders," added Jeff Finnin, Chief Financial Officer of CoreSite.
They may only happen once a year, but they are just what DGI shareholders dream about at night - consistent FFO/AFFO growth which drives double-digit dividend bumps.
I had previously written back in August:
In a world dominated by a 24/7 news cycle, influenced by 15 minutes of fame, and subject to a "what you done lately" quarterly reporting mentality on Wall Street, it is very easy to lose sight of longer term performance.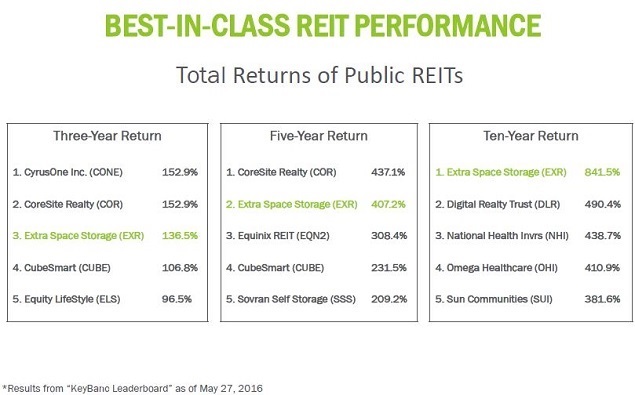 Source: Extra Space Storage presentation
The undisputed equity REIT champion during the past three and five years has been CoreSite. However, the chart above also points out that other data center REITs have been top performers over the last decade as well.
In a rising rate environment, data center REITs which can grow FFO per share in double-digits should continue to outperform the broader REIT sector. If global GDP slows or contracts, data will continue to grow at an exponential rate, making this sector a defensive play as well.
The Data Tsunami Tailwind
All six data center REITs have benefited from secular drivers of cloud computing, streaming media, wireless data and the rise of IoT (Internet of Things) or machine-to-machine communication is just in its infancy.
The enterprise shift to off-premises distributed IT architecture continues to accelerate as new applications are tested and launched in the cloud, and hybrid cloud (public, private and on-premises integrated IT solutions) becomes the new normal.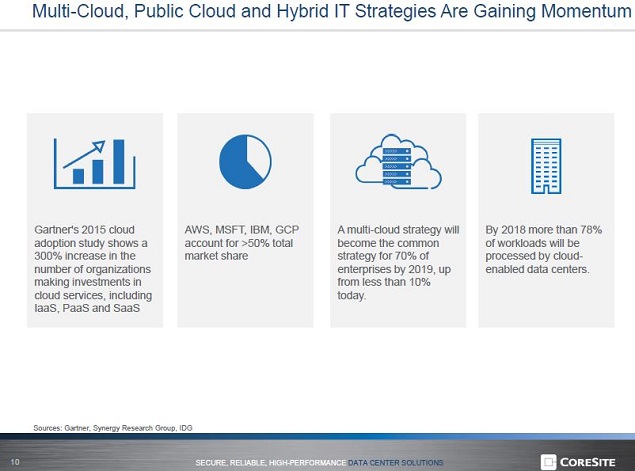 During the past year, the paradigm shift by enterprise to cloud computing, including global scale public cloud, and a more distributed IT architecture to reduce latency for high-performance applications, has driven record quarters of leasing activity for data center REITs.
Microsoft (NASDAQ:MSFT) Azure/Office 365 cloud expansions with third-party landlords, along with Oracle (NASDAQ:ORCL) cloud deployments, accounted for a significant percentage of record wholesale leasing by data center operators in several markets during 2016.
Different Data Center Strategies
However, all these data center operators don't follow the same strategies. Here is a brief rundown of the six publicly traded data center REITs:
Digital Realty (NYSE:DLR) was the first data center REIT and owns and operates the largest global fleet of data centers, with 140 located in over 30 metros worldwide. In addition to large scale, or wholesale deployments, Digital's Telx acquisition signaled a pivot toward connectivity and colocation. Digital is the only one of its peers with an investment-grade rating.
DuPont Fabros (NYSE:DFT) is the lone remaining REIT that only focuses on large wholesale deployments. During the past year DFT has accelerated a fully-funded five-year plan to expand into Toronto and Portland. DFT usually offers investors the highest yield and just announced a 6.4% dividend increase to $2.00 from $1.88 per year, bumping the yield to ~5%.
Equinix, Inc. (NASDAQ:EQIX) is a 19-year old S&P 500 company which became a REIT in 2015. Equinix owns and operates the largest global network of data centers which focuses on connectivity and interconnection. Ninety percent of internet traffic passes through the EQIX network of data centers. Equinix is a major tenant for Digital Realty.
CoreSite Realty also focuses on connectivity, primarily in eight major US markets. CoreSite will opportunistically sign larger "wholesale" deployments as well. CoreSite was the top-performing REIT for investors during 2015, regardless of sector.
CyrusOne (NASDAQ:CONE) focuses on the Fortune 1000 enterprise market and has benefited from the need for large businesses to integrate public and private cloud solutions with on-premise owned facilities. Over the past two years CyrusOne also has actively sought to serve financial services and cloud service providers.
QTS Realty (NYSE:QTS) buys massive infrastructure-rich properties at a discount and repurposes them into state-of-the-art data center campuses. QTS also offers colocation and managed cloud solutions with a focus on security and compliance for both government and private sector clients.
Both Equinix and CoreSite operate data centers which are primarily focused on customer connectivity and interconnection. They are highly leveraged to growth in network and cloud traffic in Tier 1 data markets rather than large server farms in remote locations where there are cheap space and power.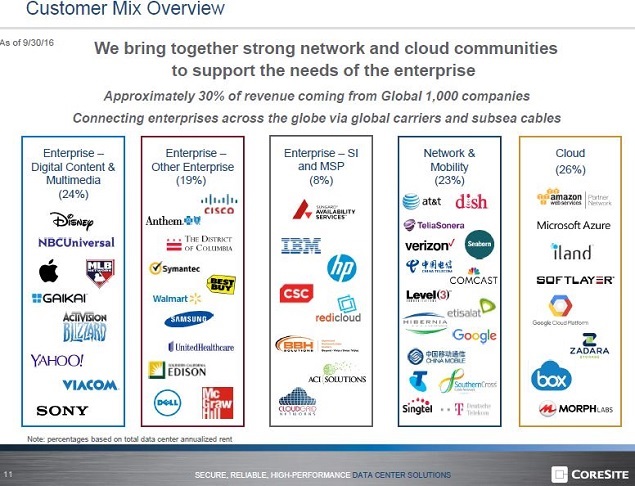 CoreSite data centers prosper from leasing smaller cabinet and cage server racks colocated in their respective facilities. Both new leases and existing customer expansions for space, power and additional cross-connects help to drive higher revenues per square foot than wholesale operators.
There are exceptions, most notably a recent huge deployment in CoreSite's SV-7 Silicon Valley data center, widely reported to be a build-to-suit for Amazon Web Services. However, CoreSite's bread and butter are the hundreds of small leases signed each quarter for less than 1,000 square feet.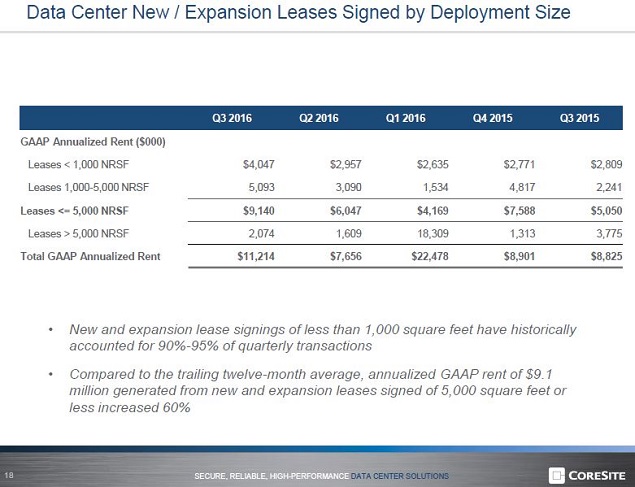 The high cost of power in SoCal severely limits the number of larger wholesale deployments. However, the media and content distribution ecosystem at the iconic One Wilshire carrier hotel in downtown Los Angeles is a major source of CoreSite revenues.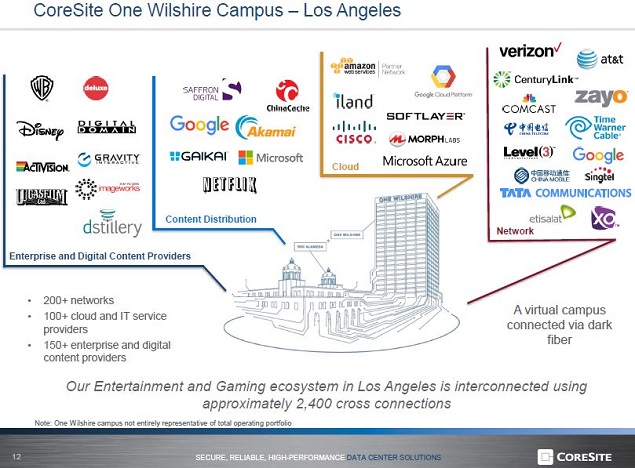 These tenants are attracted to low-latency for high-performance applications rather than low cost of space and power.
Highly connected ecosystems like One Wilshire take years to evolve, and once in place become tenant magnets that are difficult to replicate in a given data center market.
Bipolar 2016 DC REIT Trading
The data center REIT sector soared during 1H2016 on all of the excitement surrounding the record leasing and visible booked-not-billed backlog driving FFO per share growth. However, the data center REIT sector has been beaten down after an Icarus-like rise during 1H2016.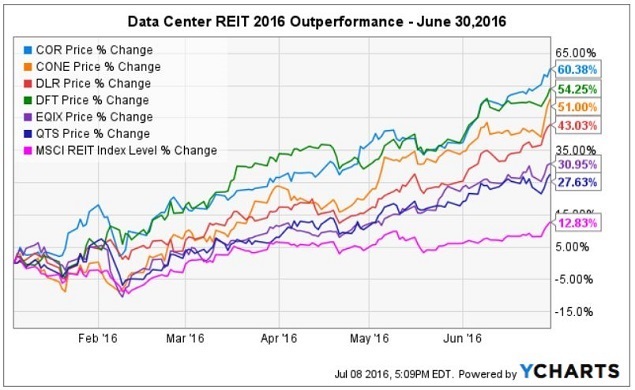 REIT valuations had peaked in early July, post-Brexit, when investors were chasing the safety and yield from REITs owning prime US commercial real estate.
However, concerns regarding a more hawkish Fed and then the Wall Street reaction to the election results spoiled the party, mainly due to the 40% rise in the 10-Year Treasury interest rate since Trump became President-elect.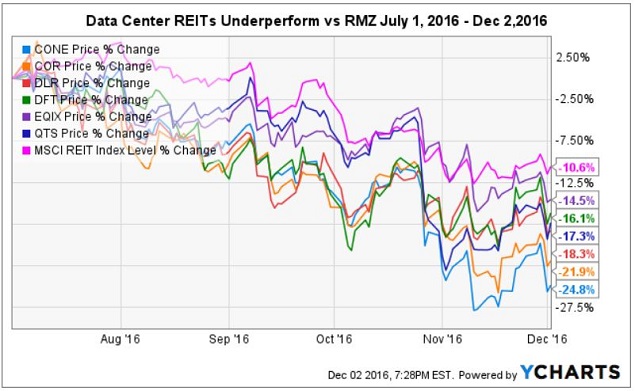 The REIT valuations had become quite frothy and now they have corrected. Post-election, money flowing out of real estate and technology sectors into financials, materials, pharmaceuticals and defense has driven down all REIT valuations, including faster growing data centers.
Investor Takeaway
I think that the pendulum has swung too far and the selling frenzy in data center REITs in many cases is now overdone.
The ability to deploy capital at mid-teens ROIC for new development and grow dividends faster than any other REIT sector will once again be recognized by investors. This is especially true in a rising rate environment where growing AFFO per share will become more difficult for REITs which operate as "spread investors," who primarily grow by acquisitions.
Frankly, DGI-focused investors looking to allocate cash will have few alternatives as strong as CoreSite. CoreSite's revenues are particularly predictable due to the business model being incredibly "sticky." High utilization rates of existing stabilized data center space contribute to the high adjusted EBITDA margins CoreSite reports relative to industry peers.
CoreSite Realty has now joined CyrusOne and DuPont Fabros as highly attractive data center REITs to purchase on this pullback. DuPont Fabros and CyrusOne both have distinct five-year growth plans shared at most recent Investor Day presentations.
I believe that these three data center REITs once again have attractive valuations, especially factoring in the growth prospects going forward. Does that mean that COR shares wont head lower? Absolutely not.
However, I think that most data center REITs will report another strong quarter and FY 2016 results in February. After the recent multiple compression, there is once again more upside baked into the data center REIT shares than downside.
I view this as another "lather, rinse, repeat" opportunity to get aboard the data center REIT train prior to it leaving the station, once again.
I relentlessly hunt for diamonds in the rough and rising stars, in addition to closely following data centers, covering REIT blue chips and breaking news. Please consider following me as a Seeking Alpha author if you would like to be notified when my future articles are published.
Disclosure: I/we have no positions in any stocks mentioned, but may initiate a long position in COR, DFT, CONE over the next 72 hours. I wrote this article myself, and it expresses my own opinions. I am not receiving compensation for it (other than from Seeking Alpha). I have no business relationship with any company whose stock is mentioned in this article.