Note: In part 1 on this topic, I had explored why Philips (NYSE:PHG) had spun-off its semiconductor business and how large the Philips semiconductor business was at that time.
NXP Semiconductors (NASDAQ:NXPI) - Lessons from Adversity during The Private Years
In life, timing is everything. The time Philips picked to spin-off (September 2006) its semiconductor business turned out to be brilliant. On the flip side, Kohlberg Kravis Roberts & Co. and their business partners in private equity had a near disaster on their hands.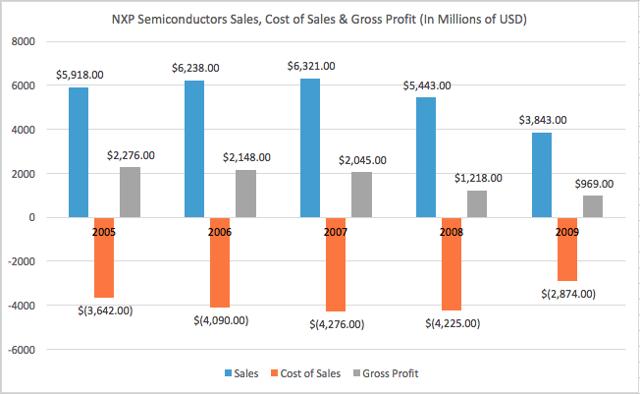 Exhibit 1: Sales, Cost of Sales & Gross Profit before and after spin-off from Philips in September 2016 (Source: NXP Semiconductors and Philips filings, SEC.GOV)
Sales peaked in 2007 and then we had the great recession that, according to the US National Bureau of Economic Research (NBER), started in December 2007 and lasted until June 2009. Sales slid nearly 14% in 2008 and recorded another 30% decline in 2009. Overall, there was a 40% decline in sales in two years. Although, some of the sales decline in 2009 was attributable to the spin-off of certain businesses.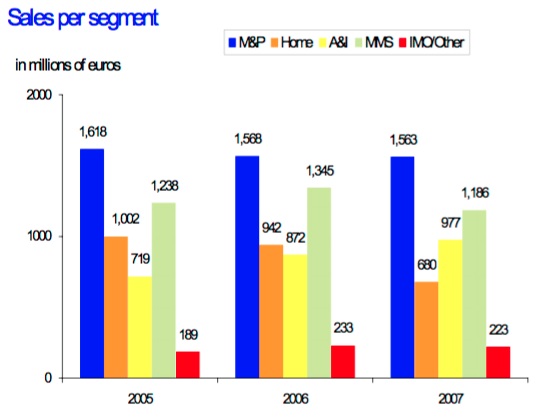 Exhibit 2: NXP Semiconductors Sales Per Segment (Source Company Filings)
M&P - Mobile & Personal Market
A&I - Automotive and Identification Market
MMS - Multimarket Semiconductors
IMO - IC Manufacturing Operations
In 2006 and 2007, NXP Semiconductors had significant revenue serving the mobile and personal products such as cellular handsets, portable media players and cordless phone. In fact, their mobile and personal business segment was their largest in terms of revenue. They were very optimistic about the future of the business given that cellular handsets and portable entertainment devices were converging and that created increased demand for handsets with application processing and video processing. They had acquired the cellular communications business of Silicon Laboratories Inc. to strengthen their position in the cellular business. But greater demand or market leadership does not always lead to greater profits.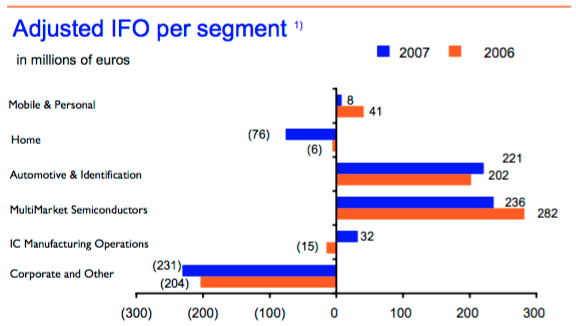 Exhibit 3: NXP Semiconductors Income from Operations (IFO) (Source: Company Filings)
But the income from operations from their mobile products (M&P) unit was substantially less than that of automotive and identification or multimarket semiconductors.
The home market focused on semiconductor applications in the digital TV, set-top box and PC-TV markets. NXP already had leadership in the analog television market and they felt they would be able to leverage that leadership in the digital television business. There was substantial growth in this digital TV business partly because of the government mandate to include digital tuner in every television and the proliferation of digital broadcasts. But, the home business unit was posting operating losses and the analog TV business was in a steep decline.
In September of 2007, NXP had sold their cordless phone system-on-chip business to DSPG. In July 2008, they contributed their wireless activities to the ST-NXP Wireless joint venture. NXP subsequently sold their stake to Ericsson and was renamed ST-Ericsson.
Around this time, NXP was beginning to realize that their operating strength was in automotive and identification markets. They were also able to see the long-term potential that these markets offered. Semiconductor applications in automotive and identification markets offer a number of advantages that NXP found very attractive. Let's first consider the automotive market:
Automotive semiconductor market was growing at a consistent clip and at a higher rate than the overall semiconductor market. This was despite the slow growth in sales of automobiles. This was due to the following reasons:

Increased integration of consumer electronics in cars
Increasing focus on safety and comfort
Increased governmental regulations like car safety obligations (tire pressure monitoring in the US)
Replacement of mechanical devices with semiconductor
NXP Semiconductors had gained significant competitive advantages in the automotive sector due to the following reasons:
Long product lifecycles
Zero-defect requirements of auto manufacturers
In the identification business, these were the drivers of growth:
New governmental requirements for secure identity documents
Increasing prevalence of cashless transactions

This trend gave rise to Near-Field Communications (NFC) technologies

More sophisticated supply chain management models

This trend gave further impetus to use of Radio Frequency Identification (RFID).
NXP's key customers in automotive and identification were:
Bosch
Bundesdruckerei
Continental (including former Siemens VDO)
Gemalto
G&D
Oberthur Card Systems
Smartrac
Sony
Visteon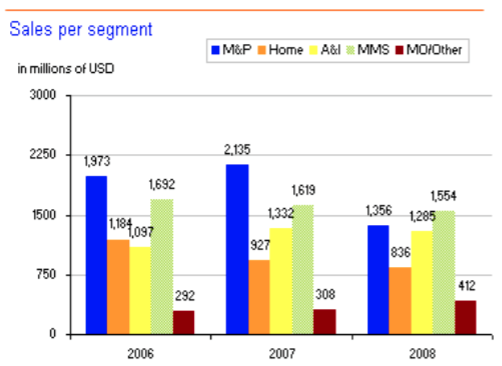 Exhibit 4: NXP Semiconductors Sales Per Segment (Source: Company Filings)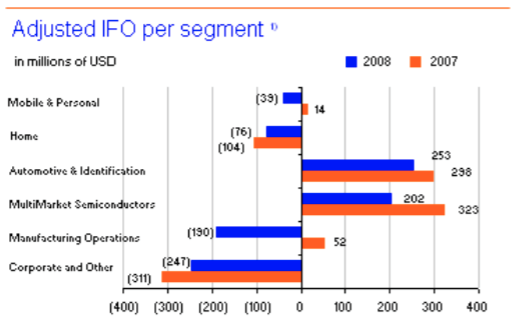 Exhibit 5: NXP Semiconductors Income from Operations (IFO) 2007-2008 (Source: Company Filings)
In 2008, NXP Semiconductors sold the wireless operations of its Mobile & Personal business unit to STMicroelectronics (NYSE:STM). They took a 20% ownership in the resulting joint venture. In 2009, STMicroelectronics exercised its option to buy NXP's 20% ownership in the joint venture. The remaining parts of the Mobile & Personal group was moved into their Multi-Market Semiconductor business.
In their Home business unit, NXP completed the combination of its CAN tuner module operations with those of Thomson. This resulted in a new venture (September, 2008) named NuTune, which is included in the home business unit. NXP had a 55% ownership in that unit. With NuTune, NXP expected to maintain a leading market position in analog TV while overall market for analog TV was in decline and thus extract profits.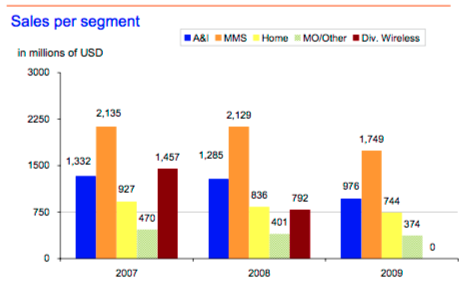 Exhibit 6: NXP Semiconductors Sales Per Segment 2007-2009 (Source: Company Filings)
Div. Wireless - Divested Wireless Business Unit.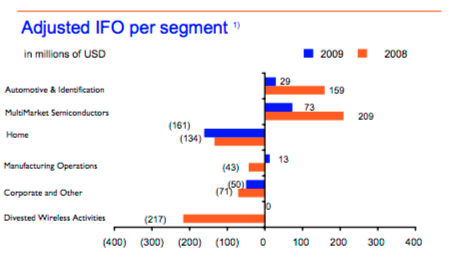 Exhibit 7: NXP Semiconductors Income from Operations (IFO) 2008-2009 (Source: Company Filings)
"You never let a serious crisis go to waste. And what I mean by that it's an opportunity to do things you think you could not do before."
- Rahm Emanuel, Mayor of Chicago.
In the midst of one of the deepest recessions of our times, the private equity owners showed an attitude that was very similar to the one echoed by Rahm Emanuel.
Rick Clemmer, CEO of NXP Semiconductors, wrote this in the annual report for 2009:
"In 2009, NXP's flexibility and rigorous execution were critical factors in dealing competitively with the effects of the severe global economic and financial crisis. We took the challenges head-on, made many bold decisions, and will continue to do so."
In 2009, NXP sharpened their focus on High Performance Mixed Signal (HPMS) Strategy. They were rigorously cutting costs by selling off wafer fabs and by redesigning their operations and were improving their capital structure by paying down debt. Their debt reduction in 2009 totaled $814 million that was fueled by $500 million in bond exchange and the rest in tender offer and other privately negotiated transactions.
At the end of 2009, they transferred their System on a Chip business to Virage Logic. This gave them the ability to focus their innovation efforts on HPMS while still having access to leading edge CMOS technology without having to bear the R & D burden.
Despite the downturn of 2009, NXP reported some key successes:
RF Base stations, thanks to our ability to offer many of the key High Performance Mixed Signal products needed for complete solutions;
Lighting, with our new driver and controller ICs for Compact Fluorescent and Solid State lighting that enable dimming and consumer-friendly form factors;
Computing, where our GreenChip family is making it easier and more cost-effective for power supply manufacturers to comply with energy efficiency specifications such as 80PLUS and ENERGY STAR;
Smart metering, home automation, white goods and digital power with some significant 32-bit microcontroller design wins with application specific microcontrollers based on the new ARM cortex M3 and M0 technologies;
Consumer electronics, where our market leading Silicon Tuners and HDMI interfaces enable new features, connectivity, and convenience;
Automotive, with our solutions enabling new features and capabilities such as HD radio, toll road pricing, and low power in vehicle networking and sensors;
Medical applications, with ultra-low power radios that enable implantable devices and RFID solutions that ensure secure and cost effective delivery of pharmaceuticals; and
Identification, where we won a supply contract for Chinese ePassport based on our SmartMX chips, where we were rated # 1 in the Contactless Transaction IC Vendor Matrix for the third year in a row and ranked # 1 in the Top 10 of the most influential foreign RFID brands from RFID World.
(Source: Company Filings)
In 2009, total sales were $3,843 million compared to $5,443 million in 2008. Out of the $1,600 million drop in sales, $792 million was due to the divestment of wireless activities in July 2008. The rest $808 million was due to the financial crisis and the weak economic environment. In the fourth quarter of 2009, NXP saw year-on-year growth for the first time in the last 6 quarters.
In 2010, with their focus on HPMS, NXP combined their digital television and set-top business with Trident, with NXP retaining a 60% ownership.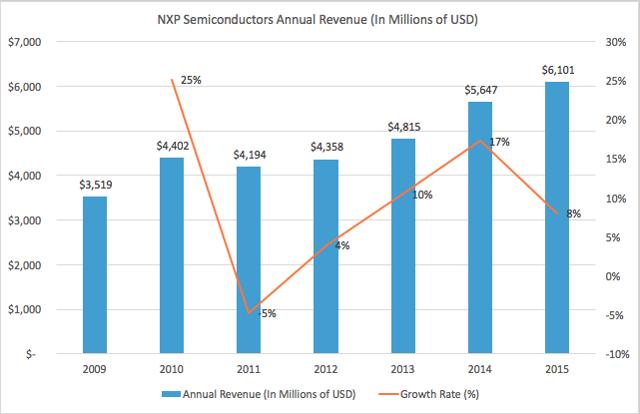 Exhibit 8: NXP Semiconductors Annual Revenue and Growth Rate 2009-2015 (Source: NXP Semiconductors Company Filings)
Note: The difference in the 2009 sales revenue between the exhibit 1 and exhibit 8 is due to the exclusion of the revenue from the sound systems business in exhibit 8.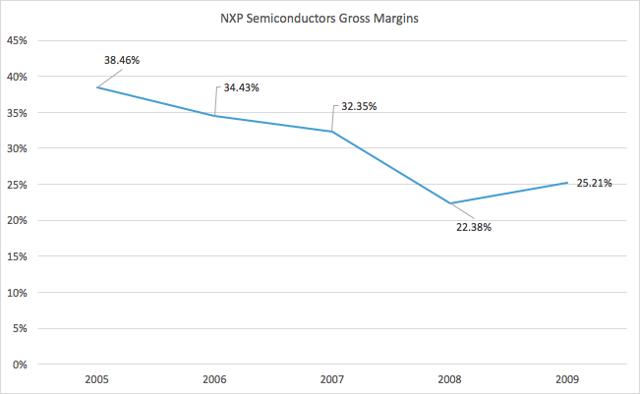 Exhibit 9: NXP Semiconductors Gross Margin (%) Before and After Spin-off from Philips (Source: NXP Semiconductors Company Filings)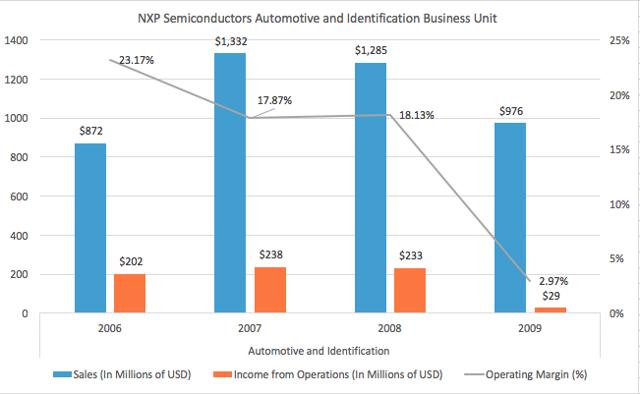 Exhibit 10: NXP Semiconductors - High-level Overview of Automotive and Identification Business (Source: Company Filings, Author Calculations)
For all the flaws of private equity, one thing that they bring to the table is a relentless focus on financial discipline. The following reasons helped NXP Semiconductors survive this severe downturn:
Focus on financial discipline led to complete revamp of the executive management team

Richard Clemmer was brought in as CEO from Agere Systems, Inc.
Karl-Henrik Sundstrom was brought in from Ericsson as CFO.
Mike Noonen joined as Executive Vice President of Sales. He led global sales and marketing at National Semiconductor and is credited with leading gross margin expansion there.
In total, 9 of the twelve members of the executive management were new after the spin-off from Philips. Focus on high-performance mixed-signal solutions

Mixed-signal solutions were becoming more prevalent in sectors such as automotive.

Renewed interest in automotive safety, growing trend of autonomous driving and increased importance on reducing emissions led to use of more software and semiconductor solutions in cars.
In December of 2010, NXP Semiconductors sold their sound solutions business which was a leading provider of speaker and receiver components for the mobile handset market to Knowles Electronics for $855 million in cash.
New Business Segments
In 2010, NXP Semiconductors reorganized into four reportable segments. Two of these segments were market-oriented business segments:
High-Performance Mixed-Signal
Standard Products
The two reportable business segments were:
Manufacturing Operations
Corporate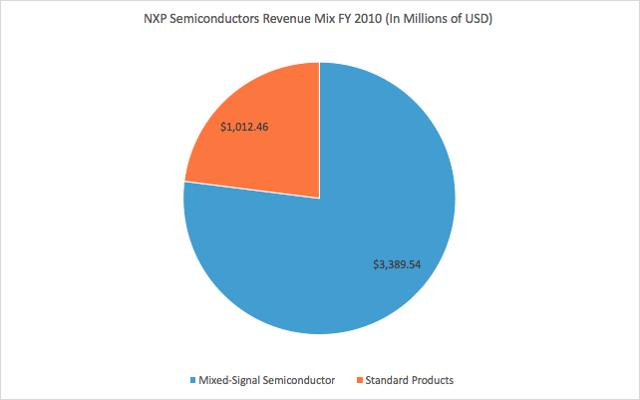 Exhibit 11: NXP Semiconductors Revenue Mix in 2010 - Mixed Signal was 77% of total revenue (Source: Company Filings)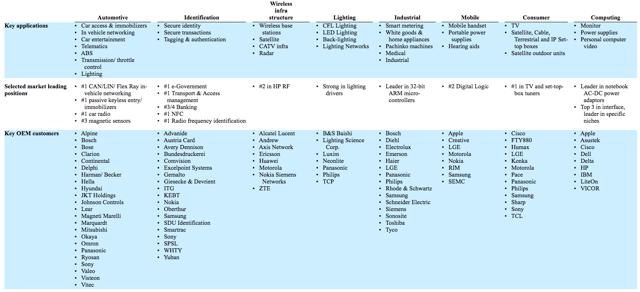 Exhibit 12: Mixed-Signal Key Applications, Market Leadership Positions and OEM Customers across market Verticals (Source: Company Filings)
The adversity caused by the great recession of 2007-2009 helped the company find its focus and purpose in the business world. High-performance Mixed-Signal solutions were proliferating in automotive, identification, wireless infrastructure, lighting, industrial, mobile, consumer and computing. They were able to focus on their strengths and leverage their leadership positions in these markets.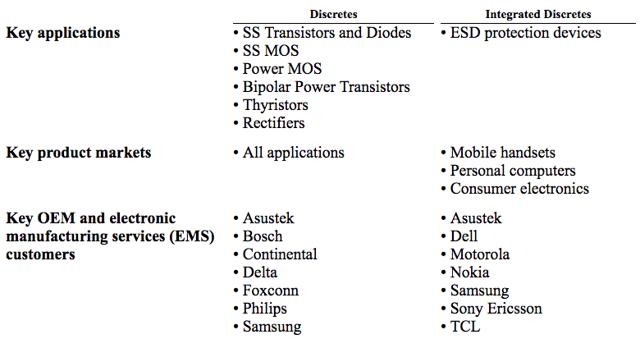 Exhibit 13: Standard Products - Applications, Product Markets & OEM Customers (Source: Company Filings)
Strategy Analytics estimated the total market for automotive semiconductors to be about $16.7 billion in 2009. According to Strategy Analytics, NXP Semiconductors was the fifth largest supplier of automotive semiconductors worldwide in 2009. NXP had increased its market share from 5.8% in 2005 to 6.4% in 2009. In 2015, by acquiring Freescale Semiconductor, NXP was able to become the top vendor in the automotive semiconductor market with a 14.2% share (Source: Strategy Analytics: NXP Tops Automotive Semiconductor Vendor Rankings). I will look at the evolution of Freescale Semiconductor's business in a subsequent article. If the top company in a sector controls under 15% of the market, there is probably room for further consolidation.
On August 6th, 2010, nearly four years after it went private, NXP Semiconductors priced its IPO and listed on NASDAQ. The share price was $14 with 34 million shares offered and raising about $476 million (Source: NASDAQ). Lockup expiration was set for February 2nd, 2011.
Macro Trends Driving Growth
NXP Semiconductors is in the early innings of riding the following macro trends that will drive growth for many years to come:
Energy Efficiency
Mobility & Connected Mobile Devices
Security
Healthcare
These macro trends bode well for Qualcomm (NASDAQ:QCOM) in the long term when they complete their acquisition of NXP Semiconductors.
The Lessons
Some of the management and investment lessons that we can learn from the exploits of NXP Semiconductors are:
Market share does not translate into profit share. Apple (NASDAQ:AAPL) is a great example where their market share in the smart phone market is lot less compared to the likes of Samsung (OTC:SSNLF), but they garner 80% of all the industry profits.
There is likely to be more consolidation in the semiconductor industry given the low concentration ratio (Also, read more on this topic here - Market Concentration).
NXP teaches us the importance of understanding revenue and operating income of individual business units and learning about macroeconomic trends.
Be decisive, as Warren Buffett would say, don't dawdle. And, never let a crisis go to waste.
Disclosure: I/we have no positions in any stocks mentioned, and no plans to initiate any positions within the next 72 hours.
I wrote this article myself, and it expresses my own opinions. I am not receiving compensation for it (other than from Seeking Alpha). I have no business relationship with any company whose stock is mentioned in this article.