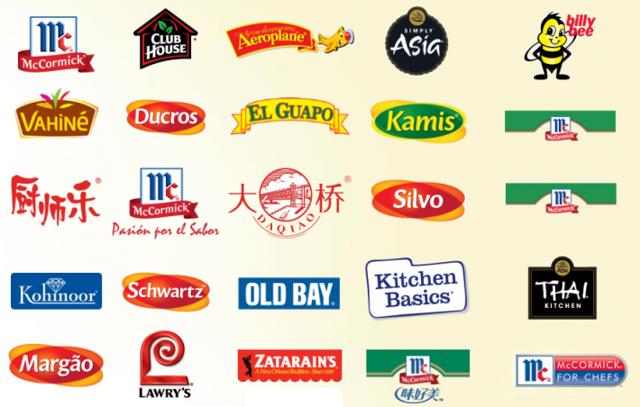 Source: Google Images
Before getting into the overview of how a position in McCormick & Company (NYSE:MKC) is being managed, it is worth noting adjustments that have been made to the structure of the portfolio in which McCormick resides. There are two portfolios currently under management; the Lean Long-Term Growth Portfolio, LLGP, and the Lean Short-Term Growth Portfolio, LSGP.
Each portfolio's name is reflective of its objective. The review of McCormick is tied to the management strategies for the LLGP. Initially, the LLGP was created to invest in individual stocks with an investment horizon over the next 30 years or so. Recent strategies have involved the review of prospective companies and their peers, including but not limited to fundamental and technical analysis, industry research, and broader macroeconomic trends.
To date, much of these assessments have been undertaken in a general manner. By this I mean reviewing the data, considering the current market environment and making decisions to buy or sell. The weakness from this process impacting the LLGP through 2016 has been a tendency to become overweighted with certain positions. This has resulted from varying cycles for different industries, usually leading to negative performance over a prolonged period of time.
To tighten up the LLGP's management strategies, rules have been put in place to help serve as a guide to make investment decisions. As many investors know, whether professionals or amateurs, having a strategy is one thing, reacting to market movements and information is another. There are likely hundreds of different ways to structure and/or guide investment decisions. The revised approach I have developed is by no means a silver bullet. But it is a continued progression of managing portfolios from a retail investor's perspective.
The updated core principles of managing the LLGP can be organized into three categories. These categories relate to a company's core strengths:
Market
Leadership
Fundamentals
The market category relates to a company's competitive position as evidenced by data, listed/noted competitors and transparency between competitive peers. Leadership is associated with the longevity that management has within the company as well as in the industry. Fundamentals relate to the core metrics that management uses to monitor the business, as well as other metrics that are comparable to peers.
These three primary categories reflect the review steps for any company and/or diligence to be performed. Once a company is determined to be a suitable investment, valuation becomes the next focus area.
For valuation, price to earnings, P/E and enterprise value to EBITDA, or EV/EBITDA, are the most commonly used metrics. There are a wide variety of metrics to consider, but keeping it more simple is usually better. Other metrics worth noting include leverage, profitability and cash flow and dividends.
In addition to valuation, technical review is important as a tool to help identify potential buying opportunities. It is always challenging to identify the best price for long-term investments, as markets move daily. Again, there are a myriad of technical measures. I currently have incorporated the use of stock price relationships to simple 50- and 200-day moving averages, incorporating deviation.
Lastly, it is important to have a focus on what type of annual contribution is anticipated for each holding within a portfolio. This has been one of the most challenging pieces. The recent revision assumes that there will be rules meant to guide management, rather than serve as ultimatums. They are as follows:
A range of the number of holdings is established (i.e., 15-20 holdings)
A set value for annual investment is determined for each holding (i.e., $500 per year per company)
A maximum number of buys is determined for each holding (i.e., four buys equals $2,000)
As unrealized gains occur resulting from buys exceeding the set value, partial positions are liquidated
McCormick Case Study
Per the company's most recently filed 10-K statement, McCormick considers itself as a global leader in flavor. The company manufactures, markets and distributes spices, seasoning mixes, condiments and other flavorful products to the entire food industry, including retailers, food manufacturers and foodservice businesses.
McCormick was added to the LLGP this past week. The following information will serve as a step-by-step guide of the process utilized, based upon the recent adjustments made to the LLGP's management strategies.
Step 1: Market Assessment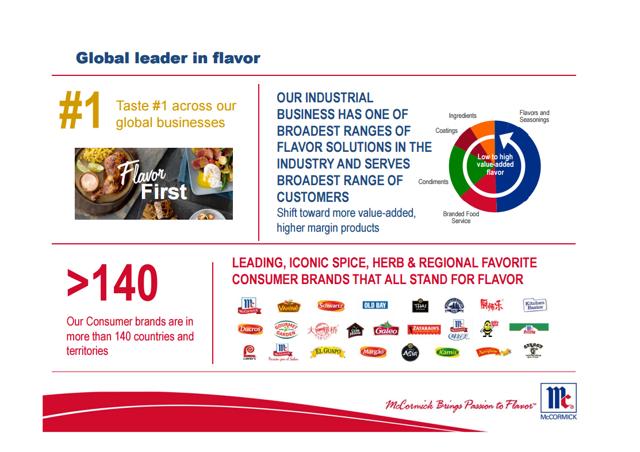 Source: Barclays Global Consumer Staples Conference, September 8, 2016
As mentioned, an ideal market assessment would entail volume and price equating to revenue. Additionally, there would be transparency for broader consumer demand as well as competitor volume and price trends.
In reality, this information is rarely available comprehensively from public sources. This is why professional analysts hold conferences and attend quarterly reports - to get as much insight as possible. There are some great examples of industries and companies which do provide excellent transparency, though. In many cases, competitors do not provide equivalent information, so pieces are often left out.
That being said, McCormick is a clear leader in global flavor, as evidenced by the company's many strong brands and presence across many countries. There are two general constants for its future growth: a growing global population, and the desire for households and foodservice companies to prefer to add flavor to food. These factors offer McCormick continued long-term growth prospects.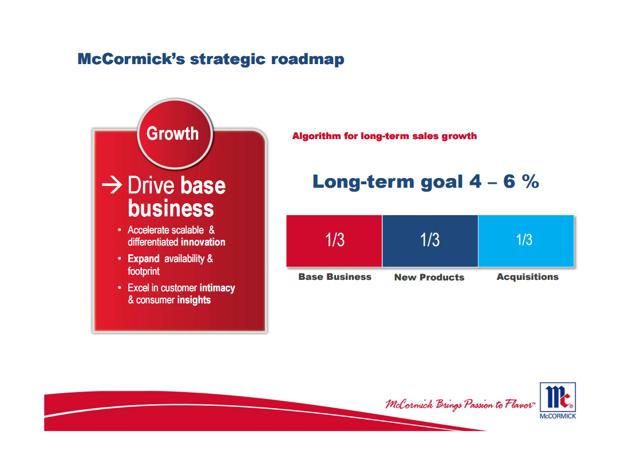 Source: Barclays Global Consumer Staples Conference, September 8, 2016
McCormick's strategies to take advantage of these long-term trends are worth noting. The company is focused on balancing its base business with new products and acquisitions. The recent acquisition of Enrico Giotti, the Italian flavorings firm, is an example of a smaller, bolt-on deal. New products have focused on organic flavorings of late, as the company's research has highlighted the desire for healthier eating tied to flavors.
Peer comparison can be used for McCormick, although granularity is not that great. For example, there is not a company as purely focused on flavor and which is public to compare with McCormick. A company like The Kraft Heinz Company (NASDAQ:KHC), for instance, has a condiment and sauces operating segment, but this segment is focused more on mayonnaise and ketchup condiments and other sauces versus McCormick's flavor products, which focus heavily on spices and other recipe mixes.
Nonetheless, Kraft Heinz generated $5 billion in net sales through September 2016 for its condiment and sauces segment. During McCormick's previous three quarters, the company generated nearly $3.2 billion in net sales, with nearly 60 percent stemming from the consumer business versus industrial.
While not directly comparable, McCormick's more pure focus on flavor is formidable versus a more diversified company like Kraft Heinz. These factors highlight and strengthen McCormick's long-term potential from a market position.
Step 2: Leadership
McCormick's current leadership team has extensive experience within the industry. Both the CEO and CFO positions have long-term experience at both McCormick and more broadly in the industry. A few management positions have recently been hired, but the mix of large peer corporation experience as well as consulting experience related to mergers & acquisitions should add diversity and balance to longer-term team members.
Many companies are strongly impacted by their leadership. Most successful companies have a select core leadership team which has been involved with the company from its earlier business cycle. McCormick's history spans the past 100-plus years. As such, the opportunity to lead a company with strong brands and continue to build the market potential globally is lucrative.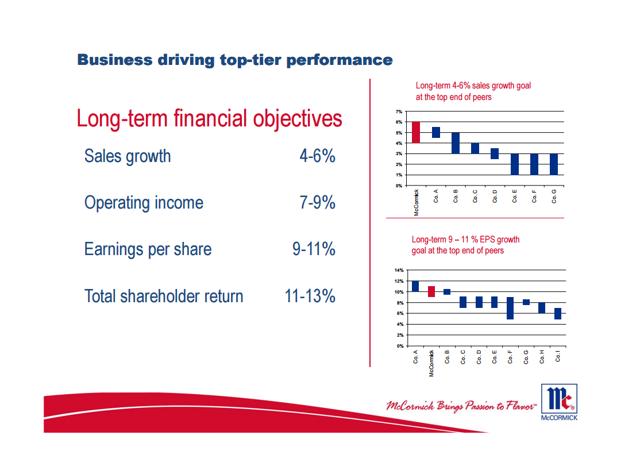 Source: Barclays Global Consumer Staples Conference, September 8, 2016
The current team has performed well. Top line growth has been in line with long-term goals, and earnings on an adjusted basis have been solid. The relationship of management's set expectations and shareholder goals is something that is clearly correlated.
Step 3: Fundamentals
The fundamentals for McCormick are focused on sales growth and returning value to shareholders through profitability and either sustained and/or improved margin performance. For 2016, sales performance has waned some, but operating profit, EBITDA and adjusted diluted earnings per share have improved substantially.
Tracking these measures forward from the long-term financial objectives is an important focus for the fundamental health of the business. Other measures for investors relate to operating and free cash flow, as well as dividends.
To date, McCormick's operating cash flow has slowed and free cash flow has turned moderately negative. But the company has increased its capex substantially, so the lower free cash flow is not necessarily a bad thing, as investments are expected to pay off down the road.
For dividends, the company recently increased the payout amount by nine percent. This is a very positive result for existing and future shareholders. Management is looking to provide double-digit average annual returns. The dividend increase puts the current yield on cost, YOC, above two percent. This means average stock price appreciation needs to be close to eight percent. As further dividend increases occur, the need for equity performance is reduced.
The company's profitability, EBITDA and return on assets and equity margins are all very strong. Other areas of consideration such a leverage display that McCormick is in line with other consumer staples peers; its debt-to-EBITDA on a gross basis is nearly two times.
Step 4: Valuation
For valuation, the company has held varying levels which have directly correlated to market cycles. During recessions, McCormick has traded at P/E ratios ranging between 16 and 18 times earnings. EV/EBITDA levels have fluctuated between 10 and 12 times. Free cash flow yields after dividend payouts have fluctuated near 1.5 percent.
Contrarily, during growth cycles, McCormick's P/E ratio has ranged between 21 and 26 times earnings. EV/EBITDA has fluctuated between 14 and 18 times, and free cash flow yields have ranged between two and four percent.
Currently, McCormick is trading below 22 times 2017 estimated earnings, which is near the lower end of the company's valuation level during a growth cycle. The average analyst stock price target sits at nearly $99 per share, representing a potential 11 percent return over the next year, not including dividends.
Based on the conventional valuation metrics and analyst estimates, McCormick is reasonably priced, allowing for a potential return in double digits. This, of course, assumes that the current growth cycle remains in place.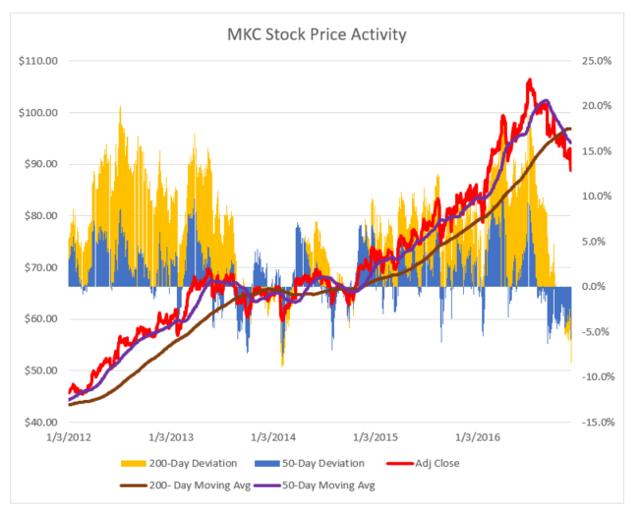 Source: Yahoo Finance stock data and personal database
From a technical perspective, today's price does look to be opportunistic. The chart above depicts McCormick's stock price, 50- and 200-day simple moving averages and the deviation between the two. As can be seen, over the past five years, the stock has traded in a very positive trend, with the primary exception being during 2014.
The company's net sales growth did slow during 2014, but diluted earnings per share improved strongly. Investors who took advantage of McCormick's negative deviations from its stock price declines below the 50- and 200-day moving averages would have witnessed very strong gains, even at today's price, which has declined by over 15 percent from earlier in the year.
Over the past five years, McCormick's negative deviation has never dropped below -10 percent. Today's price level is nearly at 2014's bottom. This technical review suggests that like the fundamental valuation levels, McCormick may be ripe for a position to be initiated or accumulated for those already owning the stock.
Step 5: Management Strategies
As stated, an initial position was added this week to McCormick within the LLGP. This position serves as 2016's set value. Part of McCormick's decline has resulted from uncertainty globally, as well as expectations for increased costs to do business, whether from transportation or borrowing. But these costs will be passed on to consumers as long as the growth cycle remains.
Currently, it is not expected that McCormick will fall much further than today's level. However, if it did, there is ample cash available to add to the initial position. As 2017 approaches, the next set value position add will be the focus. McCormick has displayed some weaker stock price action towards the back-half of the year, but trends have been inconsistent.
Including next year's set value, there is a maximum of up to five additions to the position which could occur. Judging by the technical trends over the past five years, it does not appear that any year would have merited greater than three buying actions. Based on this information, it is likely that there will be one to three additions to McCormick during 2017. As suggested by the information presented, any position add will be opportunistically sought after.
Disclosure: I am/we are long MKC.
I wrote this article myself, and it expresses my own opinions. I am not receiving compensation for it (other than from Seeking Alpha). I have no business relationship with any company whose stock is mentioned in this article.