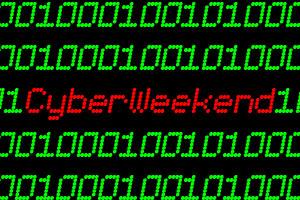 Source: multichannel merchant
If the figures from cyber weekend are reflective of e-commerce spending in the U.S. during the Christmas season, Amazon (NASDAQ:AMZN) may not do as well this year, as measured by market share, than last year. This year, according to data from Slice Intelligence, Amazon's share of Cyber Weekend fell slightly year-over-year to 30.9 percent. Last year, the e-commerce giant accounted for 31.1 percent of total Cyber Weekend sales.
These results aren't a measure of online visits, but online shopping receipts. Slice scanned more than 1 million online receipts when gathering the data.
Following far behind Amazon at the e-commerce level was Best Buy (NYSE:BBY), which garnered 7.4 percent of the total for the weekend. After following a surprisingly solid third quarter, this is good news for its shareholders. Last year, Best Buy had 6.1 percent of market share for the weekend. If that growth continues on for the remainder of the Christmas season, it will surprise shareholders once again with a solid quarter.
After Best Buy were Target (NYSE:TGT) with 4.4 percent of e-commerce sales and Wal-Mart (NYSE:WMT) with 4.1 percent.
Other companies making a nice upward move in relationship to market share were Kohl's (NYSE:KSS), which jumped from 2.3 percent last year to 2.7 percent this year, and Apple (NASDAQ:AAPL), which climbed from 0.9 percent in 2015 to 1.5 percent in 2016.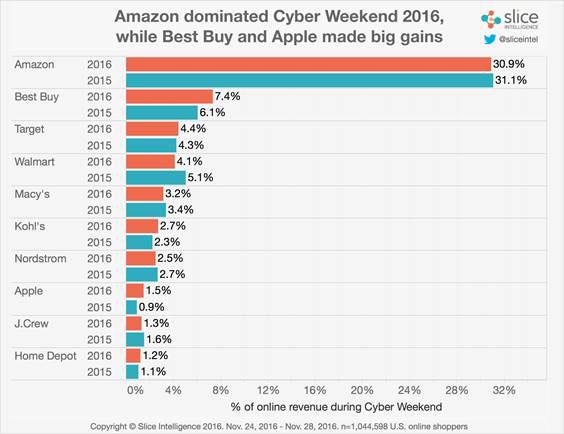 Source: Slice Intelligence
How to think of e-commerce growth and online market share
With e-commerce growth going to continue at a hefty pace over the next several years at least, investors need to understand this isn't a zero-sum game. Not only is that true if market leaders continue to grow share, but also for those that may be losing share.
The reason for that is the segment of the market is growing so fast, it is overcoming the loss of market share for those companies not hanging on to it during this ongoing growth spurt, meaning they are making more money even while losing share.
I'm not saying that's a positive, but as far as short-term results, it will overcome the loss of share, although it points to concerns for the future of companies losing that share.
According to Adobe Digital Insights, e-commerce sales for the top 100 U.S. retailers climbed by 7.6 percent to $39.97 billion from Nov. 1 to Nov. 28. It wasn't made clear if sales from Amazon were included in those numbers. Adobe projects that online sales will soar to $91.6 billion in 2016, an increase of 11 percent.
Some companies will lose some market share while gaining revenue, and presumably earnings. That's how investors should evaluate the short-term performance of U.S. retailers during this season, and for the next several, until data confirm the pace of e-commerce growth in the U.S. is slowing down.
For now, e-commerce growth will overcome slight loss of market share, but it does point to concerns over the "why" of that loss of share, and the long-term performance of retailers that are losing it.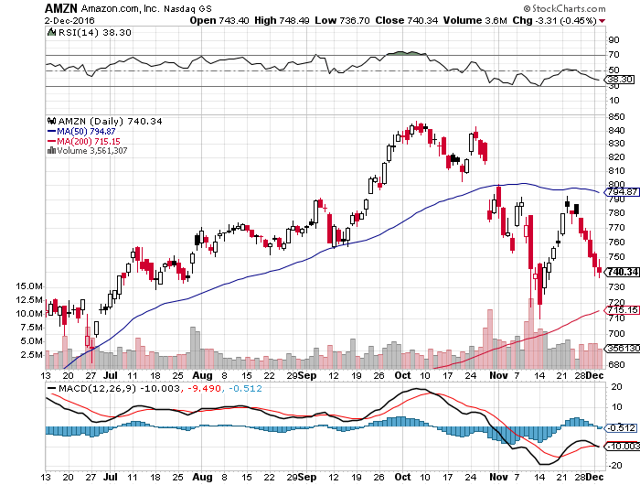 Source: StockCharts.com
Most visited websites
Data from ComScore revealed the most visited websites for Cyber Monday were Amazon, eBay (NASDAQ:EBAY), Wal-Mart, Kohl's and Target. The immediate concern, assuming the spending trend continues through the remainder of the Christmas season, is why some of these leaders as measured by visits, are losing market share.
On the opposite side of that, it's a positive to think in terms of those not getting near the visits being able to boost market share.
The two major concerns are Amazon and Wal-Mart, which both lost market share even though they attracted a lot of traffic. In retail, that could suggest a lot of things; the major one being whether or not competitors had to sacrifice margins and earnings to generate higher sales. In other words, did they have to cut prices to generate revenue.
Under that scenario, if that is how it is shown to play out for the holiday season, it could mean Wal-Mart and Amazon were better off with smaller share, if it is reflected in earnings. If it's not, then it points to other competitive problems they will have to deal with.
Other retailers that could experience a disappointing holiday season are Macy's (NYSE:M), Nordstrom (NYSE:JWN) and J. Crew. All of them performed weak during Cyber Weekend. We'll have to wait to see if the failure of Macy's website during the important weekend continues to haunt the company for December.
Of all of these, Wal-Mart is the most concerning to me, as its share for the weekend plummeted from 5.1 percent in 2015 to 4.1 percent in 2016. That happened even with solid online traffic. If that continues on, Wal-Mart has a lot of work to do to turn itself around.
Conclusion
I'm not concerned about Amazon yet, but it does appear, based upon the important data from Cyber Weekend, it is experiencing competitive pressure from a variety of retailers. That makes its job harder in figuring out how to respond and grow its share.
Even though Cyber Weekend is important, it's only a snapshot of a small part of overall spending during the Christmas season. A lot of traffic and sales is driven by one-off sales for particular products that don't continue on for the rest of the year.
That could easily mean Amazon in particular will rebound through the rest of 2016, as its core Prime members ramp up spending. Wal-Mart may also surprise to the upside, based upon its web traffic numbers.
If share for Amazon continues at this pace, it would appear to reflect the possibility discounting on strategic products wasn't all that resulted in it losing share. If that's the case, it will have to quickly figure out why it happened and how to respond to it.
For now, Amazon is doing fine, as the growth in the e-commerce segment of the market will easily overcome a loss of share, if that's how it plays out for the last quarter. Amazon will enjoy revenue growth for the quarter and should be rewarded for that in its share price.
Further out, shareholders will want to know if it's becoming vulnerable to competitors who are closing the gap in the minds of consumers.
Disclosure: I/we have no positions in any stocks mentioned, and no plans to initiate any positions within the next 72 hours.
I wrote this article myself, and it expresses my own opinions. I am not receiving compensation for it (other than from Seeking Alpha). I have no business relationship with any company whose stock is mentioned in this article.