There's absolutely no sugar-coating how ugly the past few weeks in the gold market (NYSEARCA:GLD) have been. A flat day for gold has been a victory for investors, in a month that seemed to get increasingly worse each day. After what looked like a bottom at $1,250/oz, gold has fallen off a cliff since reaching $1,337/oz in futures trading on November 8th. Those following me know that I exited my long position on gold at $1,229/oz on November 11th. I was forced to do this to adhere to my stop level, and because I felt that if $1,250/oz was broken, more downside would be seen. This resulted in a $24/oz loss on the trade, from my average cost of $1,253/oz.
The reason that I always advocate stops is because it allows you to buy an asset class lower, when it is ready to go back up. Some authors recommend simply dollar-cost averaging into positions to mitigate your risk. I have nothing against dollar-cost averaging in a bull market, but it's not the best move when you're one year into a bear market. While it's impossible to know how long the bear market will last, buying blindly with no stops is a recipe for disaster.
While gold has not turned the corner just yet, some positive developments are showing up. Open interest on the metal is at the lowest levels since February of this year, and the 21-day moving average for bullish sentiment is at the lowest level since July 28th of last year. While this did not lead to a complete bottom in the metals, it did precede a move from $1,080/oz to $1,170/oz in less than 20 trading days. There is no guarantee that the current setup will fuel an 8% rally in less than a month, but in the past, the indicator has shown strong positive forward returns one month out.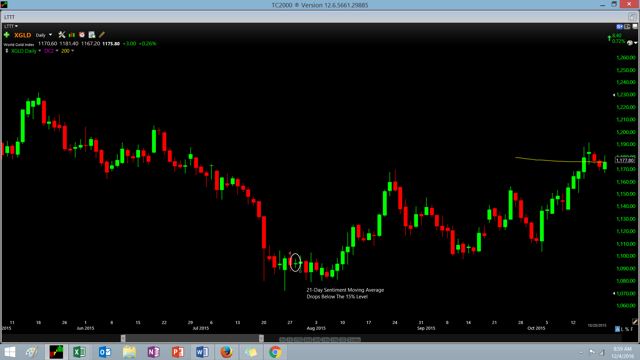 (Source: TC2000.com)
Open Interest
The open interest in the COT Report is simply the number of contracts open at a current point in time. Generally speaking, when looking at open interest, high levels of open interest often mark tops and low levels often mark bottoms. The thought behind this is that in high levels of open interest, everyone is buying and it's the hottest market to be in. In times of low levels of open interest, no one is interested and there is a lack of buyers.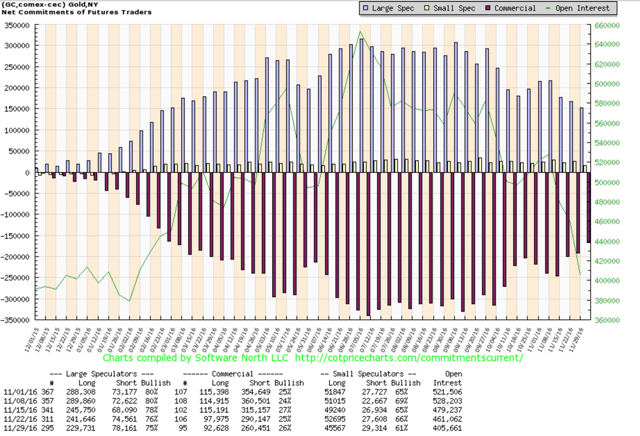 (Source: CotPriceCharts.com)
While it can be a little difficult to see on the above image, open interest is the green line in the background of the chart. As we can see, open interest peaked the week of July 15th on the above chart. This also coincided with the highest price for gold this year. It is impossible to know where the peak is at the time, but this was a warning for me to stop entering new long positions. Taking a look at the open interest now, we are back to early February levels. While we do not know if this will be the bottom, there is certainly a lack of interest in the market. This is a positive sign for the bulls, as it shows that gold is no longer the market everyone's talking about.
In addition to open interest, we can see that speculators have run for the hills. Small speculators are now near the lowest bullish levels they've been at all year, while commercials have significantly eased up on their short positions. While I do not trade off of the COT report alone, things are looking very good at this juncture.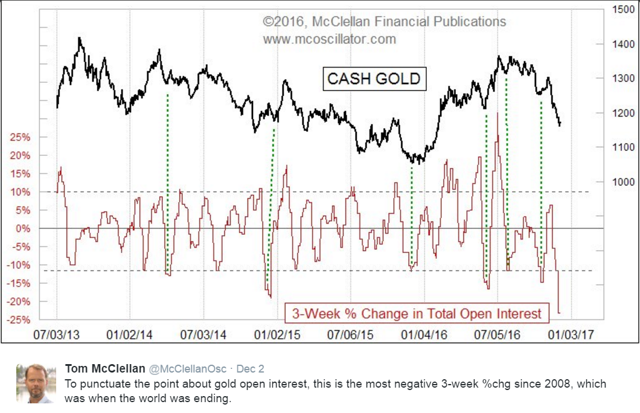 (Source: Mcoscillator.com)
The stat that I find most interesting is one brought to our attention by Tom McClellan. As we can see from the above chart, this is the most negative 3-week change in open interest since 2008. This is a very positive sign for bulls as well, since past drops have marked swing lows in gold. While there's no guarantee that this COT Data marks the lows in gold, the odds are now significantly in the bulls' favor from these levels.
Daily Sentiment Index
Just this weekend, I published an article on silver, noting how we have finally got the sentiment buy signal I was looking for. Silver bulls are now at the 20% level, and I have taken a half position long the metal. Gold is currently lagging silver in this respect, but is setting up very nicely to generate a powerful buy signal.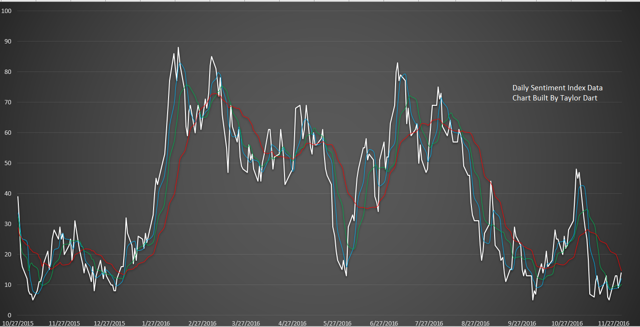 (Source: Daily Sentiment Index, Author's Chart)
Chart Legend - White Line: Gold Bullish Sentiment, Blue Line: 5-Day Moving Average, Green Line: 10-Day Moving Average, Red Line: 21-Day Moving Average
As we can see from the above chart, the 5-day and 10-day moving averages are now trending higher and in bullish alignment. Sentiment has been stuck under the 20% level for over 2 weeks now, and to say it's despondent would be an understatement. If you look back to January 2015, you can see that the chart is setting up very similarly. The moving averages have been dragged down to depressed levels, and bullish sentiment looks like it wants to begin a new uptrend. I am currently not long gold, but I will explain what I am looking for to get long the metal.
When I am looking at Daily Sentiment Index (DSI) data, there are two things I am looking for.
How many bulls are in the market?
What are the sentiment moving averages telling us?
Depressed sentiment readings alone are not buying opportunities, in my opinion. While it is often worth starting a portion of a position on depressed sentiment readings, there is no need to go all in. Extreme pessimism often leads to more selling, and therefore, sentiment readings under the 20 level can be very dangerous. The strongest buy signals using sentiment data is when price comes off a depressed reading, and then moves higher above its moving averages.
I have shown the past signals in the chart directly below to show what I am looking for on the sentiment chart I have built. I have built these sentiment charts to help readers better visualize what sentiment looks like for different asset classes. In addition to using DSI data, I have added my own moving averages in hopes of timing trend changes in sentiment. The two circles in the below chart to the left show when the white line crossed above all of the moving averages, after being at a level of below 10% bulls. Generally, the longer sentiment stays below 15% bulls, the more powerful the upside move out of this level is. Given the fact that this is the longest we've spent below 15% bulls since July of last year, it could set up a nice move higher for bulls. This setup is not confirmed yet, and I want to see the white line close above all of the moving averages.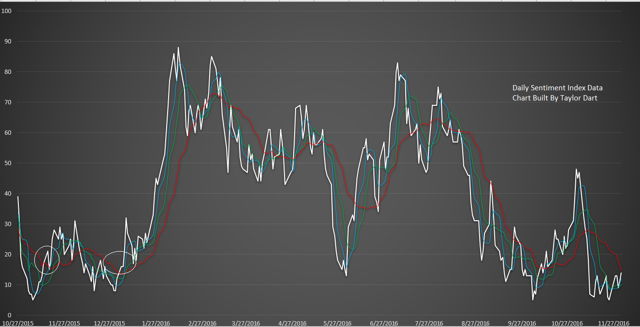 (Source: Daily Sentiment Index, Author's Chart)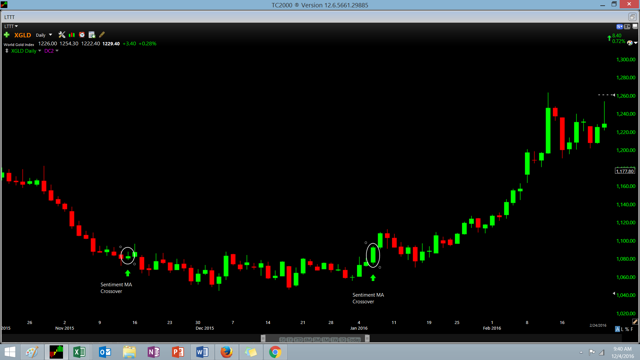 (Source: TC2000.com)
In the above chart, I have shown what the most recent buy signals based on this crossover looked like. The November signal was not a great signal by any means, but it did get you in after the majority of the downside had been inflicted. While the trade did see a drawdown of 3%, it provided a great entry if you were able to sit with your $1,080/oz gold when it traded down to $1,047/oz. The second buy signal was nearly perfect timing, and preceded a 15% move in gold in less than 25 trading days. If one used both of these buy signals to build a position, you would have had an average cost on gold of $1,187/oz prior to the massive rally to begin the year.
Gold bulls currently sit at the 14% level, and the 21-day moving average is the last line of defense for the bears. If bullish sentiment on gold can close above 15% bulls, then the buy signal will be complete. It is impossible to know what price correlates with a buy signal based on sentiment, but a positive day for gold on Monday could do it. If I get my sentiment buy signal on Monday, I will be entering a half position long gold.
Technical Outlook and Summary
Taking a look at the daily chart of gold, the price does look like it's trying to bottom out. Gold is currently fighting to hang onto its 61.8% retracement of this year's rally, and has formed two consecutive hammers on the daily chart. While the metal still remains below psychological and technical support at $1,200/oz, a close above this would be very bullish. Shorts in gold would be forced to run for cover, and this chart would look more like a bear trap.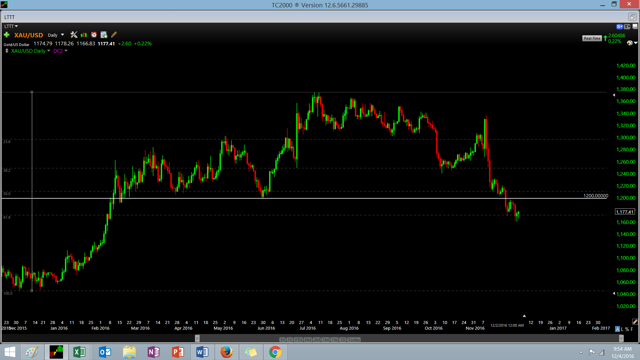 (Source: TC2000.com)
Nearly everyone has turned bearish on gold near the lows, and my articles are littered with commenters looking for 12-13 on the Gold Miners Index (NYSEARCA:GDX). While anything is possible long term, it's generally not the best time to be starting new short positions after a 25% decline in an index over 2 months. I currently have no position in gold, but remain long several gold miners. I have moved my gold exposure from 33% two weeks ago to 38% this week. If my sentiment buy signal triggers in gold, I will be moving into a half position long the metal immediately. While silver does currently have a sentiment buy signal, gold has not given us one yet. Patience is very important in trading, and I see no reason to front-run this signal. Depressed sentiment readings alone are no reason to buy, and I want to see confirmation before taking any action. I believe the easy money has been made short gold, and the odds have significantly moved back in favor of bulls. While it's certainly possibly that gold does go lower, I believe the next $80/oz move to be to the upside.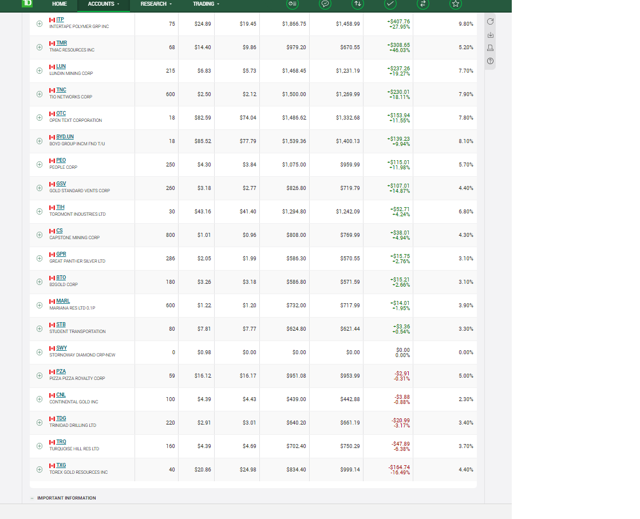 (Source: TD WebBroker Account)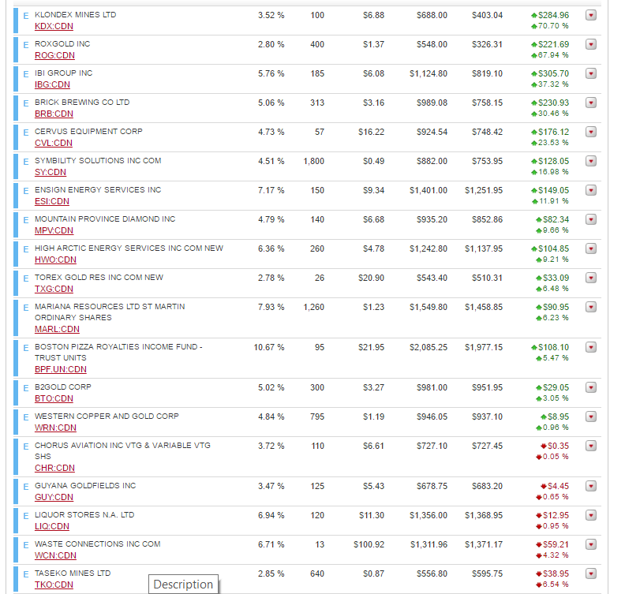 (Source: CIBC Investors Edge Account)
For full transparency, I have shown my main investment accounts above.
Disclosure: I am/we are long GUYFF, MRLDF, ICGQF, RDEMF, CGOOF, GSV, BTG, TORXF, TMMFF, ROGFF, KLDX.
I wrote this article myself, and it expresses my own opinions. I am not receiving compensation for it (other than from Seeking Alpha). I have no business relationship with any company whose stock is mentioned in this article.
Additional disclosure: If you liked this article and found it useful, please feel free to follow me by clicking on my name next to my avatar at the top of this article. I also invite you to follow me at www.twitter.com/TaylorDart01 where I routinely share my entries, exits, and stops on new positions, as well as updating followers on sentiment data on markets I am following.