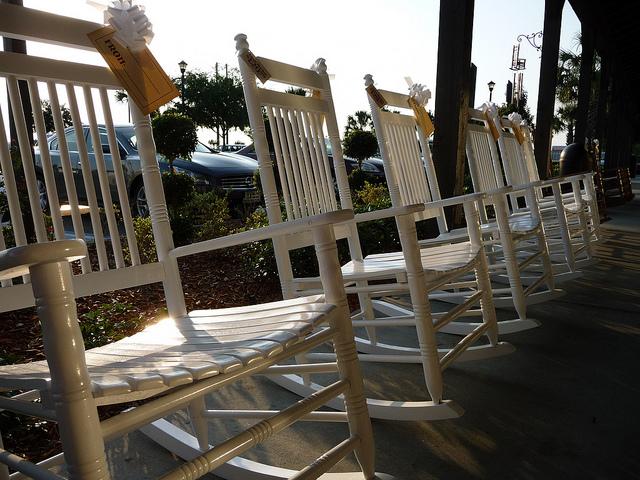 Image Source: Neil Thompson
By Kris Rosemann
Even prior to adding Cracker Barrel (NASDAQ:CBRL) to the Dividend Growth Newsletter portfolio, "Alerts: A Long-Time Favorite from the Bullpen and An Interest Rate Risk Hedge," we had been keen observers of the stock's potential as an income idea, "Free Cash Flow Feeds Cracker Barrel's Dividend Growth." We continue to believe the restaurant has been proficient in setting itself apart from the remainder of the dine-in restaurant space, and not just in the sense of its differentiated concept, but the proof is in the numbers, too.
For example, the company's operating margin expanded to 9.6% in fiscal 2016 from 6.9% in fiscal 2011, while sales growth at Cracker Barrel has expanded at a rate much faster than the broader casual dining industry, with significant outperformance originating in its fiscal 2013 and continuing through the present day. The first quarter of fiscal 2017, results released November 22, marked the company's 10th consecutive quarter of positive comparable store restaurant sales and its 20th consecutive quarter of outperforming the casual dining industry. We continue to believe Cracker Barrel is a long-term winner as restaurant performance remains stellar, despite weakness in its retail store. We love the dual nature of its business model in this regard.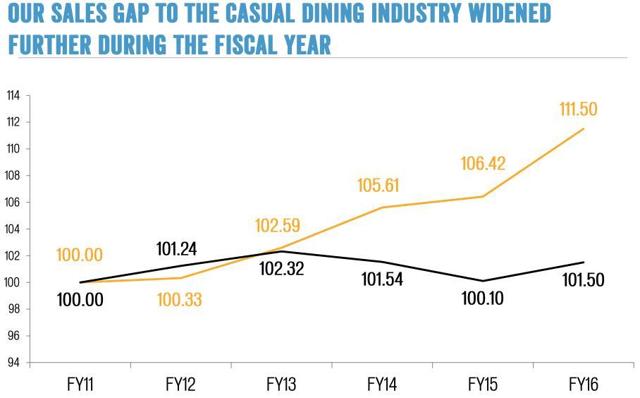 Image source: Cracker Barrel
Despite a genuinely difficult operating environment, Cracker Barrel exceeded expectations in comparable store restaurant sales and bottom-line performance during its fiscal first quarter. Retail weakness, however, was evident in the firm's comparable store retail sales performance, which fell 4% in the quarter and marked the first time since the second quarter of fiscal 2014 it reported negative quarterly retail sales as fewer guests made fewer retail purchases. Comparable store restaurant traffic experienced weakness as well, falling 1.7% from the year-ago period. This traffic pressure was more than offset by a 3% increase in average check in the quarter, which was driven by 2.2% growth in average check and a favorable mix impact of 0.8%. Cracker Barrel is doing a good job of raising prices to mitigate the impact from weaker traffic, which is also tied to weaker retail sales.
Recently, we highlighted the strength of breakfast-focused menu initiatives in the restaurant space, "Examining Same-Store Sales in the Restaurant Industry." Cracker Barrel has used its all day breakfast, which it calls "Breakfast Y'all Day," as a differentiator for its brand since 1969, and it continues to do so as it targets the desires of the millennial consumer. While our expectation for traffic at Cracker Barrel to be energized by lower prices at the pump has not materialized, the firm has used its brand differentiation and strong operational execution to offset the recent weakness in traffic. This could offer even more potential upside should recent traffic trends be rectified, though the weakness is largely an industry-wide issue.
Management helped drive a more favorable mix via the targeted marketing of seasonal, and a favorable food commodity environment helped improve gross margin materially. This, along with a shift in the timing of expenses, including marketing and investment in employee-related expenses, pushed the firm's quarterly operating income up to 10.7%, compared to 9.3% in the comparable quarter of fiscal 2016. Net income per diluted share came in at $2.01, an 18% increase on a year-over-year basis, while free cash flow was impacted by an increase in capital expenditures, largely due to ongoing store expansion efforts.
As a result of its solid fiscal first quarter bottom-line performance, Cracker Barrel raised its guidance range for fiscal 2017 earnings per diluted share to a range of $8.10-$8.25, a welcome improvement over previous expectations of $7.95-$8.10 and a favorable comparison to consensus estimates of $8.13, "Cracker Barrel Rocks Back on Weak Guidance." Although management continues to expect wage pressures to impact its performance, it has identified potential synergies within its current service structure that will reduce store hourly labor by 25-30 hours per week. Specifically it will now cross-train its retail sales associate and cashier positions for low-volume hours, expecting such an initiative to be a significant contributor to cost savings in the fiscal year. Comparable store restaurant sales growth projections for the full fiscal year remained unchanged in a range of 1%-2%.
Though free cash flow generation may face some pressure over the full fiscal year as a result of increased capital expenditures, we continue to view its dividend growth potential in a positive light. Cracker Barrel's Dividend Cushion ratio currently sits at 1.7, a solid measure when considering its 2.8% yield, and a recent run-up in shares has turned our position from an income-based, capital appreciation-neutral one to an overall best-case scenario. In addition to a 2.8% dividend yield (and a special dividend), shares are up more than 20% since being added to the Dividend Growth Newsletter portfolio early February 2016, as of this writing. We're hanging on to shares.
--------------------------------------------------
This article or report and any links within are for information purposes only and should not be considered a solicitation to buy or sell any security. Valuentum is not responsible for any errors or omissions or for results obtained from the use of this article and accepts no liability for how readers may choose to utilize the content. Assumptions, opinions, and estimates are based on our judgment as of the date of the article and are subject to change without notice. For more information about Valuentum and the products and services it offers, please contact us at info@valuentum.com.
Disclosure: I/we have no positions in any stocks mentioned, and no plans to initiate any positions within the next 72 hours.
I wrote this article myself, and it expresses my own opinions. I am not receiving compensation for it (other than from Seeking Alpha). I have no business relationship with any company whose stock is mentioned in this article.
Additional disclosure: CBRL is included in the Dividend Growth Newsletter portfolio.