Discussion of a seemingly bonanza grade drill intercept is only one of many attractions in this week's
Resource Sector Digest.
(Vol. 65 - December 5, 2016)
Brought to you by Itinerant and The Investment Doctor.
In this edition we shall:
Set the scene;
Highlight actionable ideas;
Comment on news releases; and
Link to relevant articles.
Please consider our cordial invitation to join Itinerant Musings for exclusive access to actionable research on mining and energy stocks.
Please note: We will be raising our subscription rates for Itinerant Musings starting January 1. Members as of December 31 will be able to keep the present membership rates going forward. Please take advantage of the lower rates while they still apply, and join Itinerant Musings today.
In case you missed out on previous editions of this newsletter, simply click here, here or here to catch up.
Setting The Scene
Several reported drill holes caught our eyes last week, but Erdene Resources (OTCPK:ERDCF) stood out during our routinely scan of news release headlines:

Now, this is the kind of news release we would want to bring to the immediate attention of Itinerant Musings subscribers, if only it lives up to first impressions. And so we proceeded to have a closer look. Here is the table within the news release providing some detail on the headline BKD-77 hole: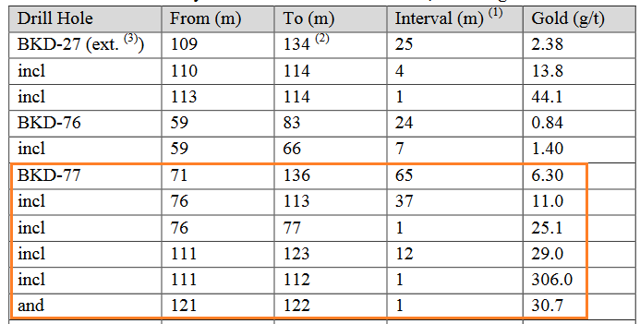 We plugged the data into our spreadsheet, and unfortunately, our initial suspicion of this data was confirmed. The 65m headline interval includes a section of 37m at a grade of 11g/t. And this section contains almost all the gold reported for the headline 65m intercept. In actual fact, the 37m zone only leaves 0.089g/t for the other 28m, and that's not going to make the cut-off grade in a mining operation by any stretch of the imagination. Let's just call a spade a spade, and let's call the intercept 37m of 11.0g/t gold. Still not bad, and still worth a closer look, especially since this intercept seems close enough to surface to make it amenable to open pit mining.
But unfortunately, we had to cut expectations yet again. Those 37m include two high-grade sections: 1m at 25.1g/t and 12m at 29.0g/t. Netting out these two high-grade sections leaves us with just 0.38g/t for the remaining 24m of this already reduced 37m interval. Nothing to write home about, and probably still below cut-off grade in a hypothetical mining scenario. But hey, this still leaves us with 12m at 29g/t - surely, this must be worth closer inspection?
Of course it is, especially since we have already come this far. And immediately we note that this 12m interval contains 1m at 306g/t - which, you guessed it, leaves us with 3.8g/t for the remaining 11m. The news release doesn't say so, but by now we would be quite prepared to bet that these 11m at 3.8g/t aren't evenly distributed either.
In conclusion, we see several very high-grade 1m intercepts within a much lower-grade halo. Checking on the company's web site, we found the following information about the Bayan Khundii project:
"Visible gold was observed on surface in multiple samples, and within 10 of the 15 drill holes completed, as irregular-shaped grains, up to 2mm. Gold mineralization is associated with quartz veins and/or hematite within, or along, the boundary of quartz-hematite veins and veinlets. Gold is also present as very finely disseminated grains, and rarely as fracture in-fillings within intensely sericitized and silicified volcanic host rocks."
Sampling of the drill core was performed in 1m sections, and as is common practice, split lengthwise with only one part of the core sent away for assaying. The quote above points towards gold nuggets within otherwise barren or exceedingly low-grade ore. If luck would have it (or careful selection of split core halves sent to the lab), then assayed core contains such nuggets, and high-grade results can be reported for the respective 1m sample. If the drill misses a nugget, or if a nugget hides in the half of the split core that stays in the core shed, then this 1m sample is reported as waste.
Sound like a lottery? Well, it is.
Testing highly nuggety ore bodies by drilling is difficult, and many experts would call such drill results into question unless they can be confirmed by bulk mining. Pretium Resources (NYSE:PVG) provided the script for the kind of controversy that can erupt around such a deposit a couple of years ago.
Erdene's head line is misleading in this context. The company did not intersect 65 meters of 6.3 g/t; rather, it happened to drill a hole with several gold nuggets embedded in the core over a 65m length. A twin hole next to the headline hole might well provide vastly different results. The mentioned "finely disseminated grains" are mostly of a grade too low to be considered ore; and we suspect that even where this halo presents at higher grades, it might still present challenges for processing.
We did not waste our subscribers' time by bringing this news release to their attention, and quite frankly, such is the case with most data we look at during a busy day. But every now and again, we do find a gem worth sharing after all - and when we do, our subscribers are first to know via one of our "Notes To Subscribers," or the chat board, which has become quite busy of late.
N.B. This drill hole interval calculator is a great little tool to check news reports much like we have in the above.
Actionable Ideas
Roxgold (OTC:ROGFF) has been on the Itinerant Musing's shopping list for a while, and this article explains why.
News Releases
The week following Thanksgiving marks the beginning of the end of this year for investors. Here is a summary of news released by companies as they enter the 2016 home straight.
News release of the week goes to Continental Gold (OTCQX:CGOOF), which finally obtained the environmental permit for the company's Buriticá project. Permitting for this high-grade project is now complete, and reaching this milestone will likely act as an accelerator to corporate interest. Extrapolating from past performance, it would probably be best for investors if this project was taken out of Mr. Ari Sussman's hands as soon as possible.
Drill result weren't all disappointing last week. Here is a selection of noteworthy news releases in this regard:
Great Panther Silver (NYSEMKT:GPL) suspended operations at La Topia in order to facilitate plant upgrades and the transition to a new tailings storage facility. As a result, production will come in below guidance, and free cash flow for Q4 seems elusive. This move was no surprise for Itinerant Musings subscribers, and we wonder if the perceived breakout of late will be sustainable into year end under these conditions.
Avino Silver & Gold Mines (NYSEMKT:ASM) closed the previously announced bought deal for gross proceeds of $11.2 million. The market reacted most unkindly to this initiative. Is Avino a buying opportunity here? This question received considerable attention in the Itinerant Musings chat board, and we would be interested in hearing opinions from readers of this newsletter in the comment section below.
Timmins Gold's (NYSEMKT:TGD) share price fared only slightly better after closing the previously announced C$20 million bought deal.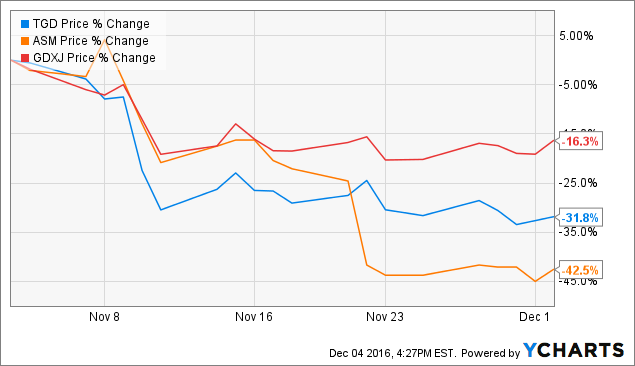 Concentrate shipments from the mighty Oyu Tolgoi mine in Mongolia have been suspended due to new requirements (read: chicanery) at the Mongolian-Chinese border. Turquoise Hill Resources (NYSE:TRQ) owns a 66% stake in this mine, and majority shareholder Rio Tinto (NYSE:RIO) is the operator. The Mongolian government owns the balance of the mine and has angered China by welcoming the Dalai Lama to its capital city to Ulaanbaatar. We chant three "Aums" as we keep our eyes on the copper price.
Probe Metals (OTCQB:PROBF) is expanding its Val d'Or East property by optioning adjoining properties from Alexandria Minerals (OTCQB:ALXDF) as well as QMX Gold (OTCPK:QMXGF). Probe has expanded the ongoing exploration program at this project, which currently hosts an inferred resource of 770,000 ounces of gold at 2.6 g/t. Probe Metals is the re-incarnation of Probe Mines, which developed and sold the Borden project to Goldcorp (NYSE:GG) a couple of years ago, and the company's efforts at Val d'Or East should be taken seriously.
Lundin Mining (OTCPK:LUNMF) provided an operational outlook for the next three years post the Teke deal. The news release was a mixed bag, with good news coming from Candelaria first and foremost. The re-introduction of a dividend reflects the company's excellent balance sheet - or, as has been said on the Itinerant Musings chat board: the company is growing up.
Lucara Diamond Corp. (OTCPK:LUCRF) also provided an operational outlook for 2017, which confirmed our high expectations. Lucara also felt compelled to respond to local newspaper reports. The company has terminated its mining services contract with Eqstra Botswana at its Karowe mine and stated that "the company is unaware of any fraud or illegal activities, of its current or former employees, in relation to the mining contract." Hear about the man running through the dark forest shouting "I am not afraid"? Perhaps more to the point, Lucara explained that stockpiled material was currently fed to the plant, and production was likely not to be affected by the transition to another mining contractor. Watch out for a buying opportunity if the situation deteriorates.
Kirkland Lake Gold (OTCPK:KGILF) and Newmarket Gold (OTCQX:NMKTF) completed their business combination, and CEO Mr. Tony Makuch lost no time in taking the axe to the management team plus add another former colleague from Lakeshore Gold times, Mr. Phillip Yee, as the new CFO to the team.
The majority of Rubicon Minerals' (OTC:RBYCF) creditors have approved the proposed restructuring plan, which brings the company one step further to recycling the Phoenix gold project. Mr. Makuch's predecessor, Mr. George Ogilvie, is the CEO of this once-high flying junior explorer.
Sprott Resource Corp. (OTCPK:SCPZF) is proposing to take over Adriana Resources (ANARF). Adriana owns 40% of the Lac Otelnuk iron ore project in Quebec, which is currently on care and maintenance. And on the topic of Sprott, we note that Pershing Gold (NASDAQ:PGLC) has signed a non-binding commitment for a $20 million credit facility with Sprott Resource Lending to be used for the development of the Relief Canyon gold mine. The terms indicate that Sprott shares some of the concerns we summarized here, and require raising of equity in at least the same amount as drawn down from the facility, besides charging a sizeable interest rate. In this vein, the company is already raising $7.5 million at roughly 10% below the share price before the announcement. The market took the cue, and Pershing Gold sold off 10% compared to peers (NYSEARCA:GDXJ).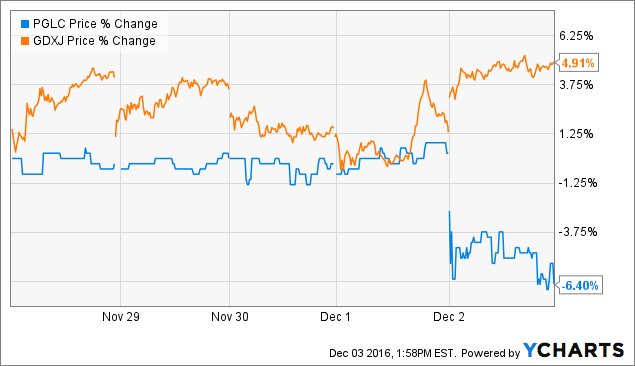 PGLC Price data by YCharts
Barrick Gold (NYSE:ABX) announced the settlement of its $650 million cash tender offer for certain outstanding notes, and has reached the declared target of reducing debt by $2 billion in 2016.
Hudbay Minerals (NYSE:HBM) is going in the opposite direction and is refinancing $920 million of its outstanding notes due 2020 by raising $1 billion in new debt. If the announced pricing holds, then interest payments will reduce from 9.5% on the present debt to 7.25% and 7.625% on the two series of the new notes. One year ago, we noted the company had "Great Assets, Too Much Debt," and this assessment still holds true.
Paladin Energy (OTC:PALAF) is showing the way for companies with overleveraged balance sheets in a bear market. The company has $212 million in convertible bonds coming due in April next year, no way of generating free cash flow at current uranium prices, and negotiations with regard to sale of a further 24% interest in the Langer Heinrich mine appear to be stalling. The chart below tells the story better than so many words.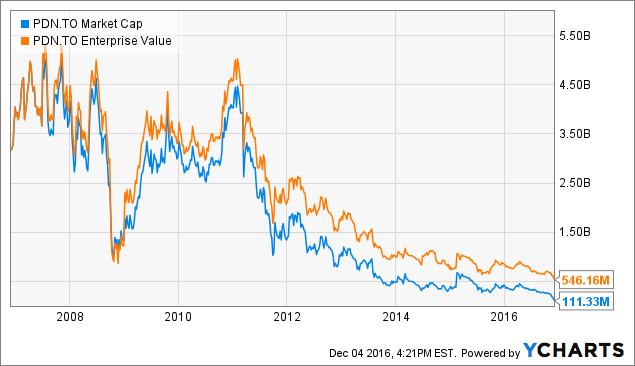 PDN Market Cap data by YCharts
Copper Mountains (OTCPK:CPPMF) is changing its ticker on the TSX to CMMC. So sorry to see the old one go. And with this last quip, we will bid you farewell and leave our valued readers in the capable hands of The Investment Doctor for next week's offering. We can't wait until we see youse all again safe and sound the week after.
Disclosure: I am/we are long ASM, NULGF, LUNMF.
I wrote this article myself, and it expresses my own opinions. I am not receiving compensation for it (other than from Seeking Alpha). I have no business relationship with any company whose stock is mentioned in this article.
Editor's Note: This article covers one or more stocks trading at less than $1 per share and/or with less than a $100 million market cap. Please be aware of the risks associated with these stocks.