For some time now I have been bullish on Legacy Reserves (NASDAQ:LGCY). Now I have yet one more reason to continue to be bullish. While no news came directly from the firm, OPEC's recent decision to cut oil production alongside Russia and other non-OPEC nations should prove to be a major catalyst for the firm if the agreement holds. In what follows, I will detail what this likely means for the business and its shareholders moving forward and give you a good idea why shares of the firm have skyrocketed as a result.
A look at Legacy's cash flow
The true health and value of any business can be determined by looking at how much cash said business should generate over its lifetime. While it is impossible to know how long Legacy will be around due to possible business failures, mergers, acquisitions, etc..., it is possible to determine whether or not the business will survive for the foreseeable future absent any anomalies. For the purposes of this analysis, the "foreseeable future" is being defined as through 2019.
In the table below, I used management's recent guidance, combined with my own assumptions about the firm (such as capital expenditures, production levels, etc...) to look at what Legacy's cash flow picture should look like from 2017 through 2019 if both I and its management team are correct. This data does assume that oil prices average $51.06 per barrel while natural gas prices average $3.514 per Mcf over this timeframe, which is almost certainly too low if OPEC and non-OPEC nations follow through with their production plans and if global demand stays at or above current expectations. Of course, if energy prices plummet, this is almost certainly too high through at least next year so, due to this uncertainty, I feel these levels are appropriate for now.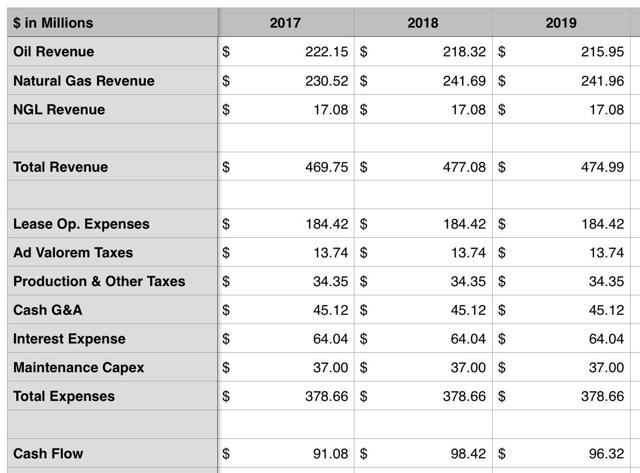 Incorporating all of the data and assuming that capital expenditures are enough to keep production approximately flat (we should have an idea if this is true in the next few months), then Legacy should generate free cash flow next year of $91.08 million. In 2018 this should come out to $98.42 million, while in 2019 it should be around $96.32 million. Unlike some companies, which will see cash flow fall at a nice clip moving forward if prices remain unchanged, Legacy's picture is pretty robust and consistent now thanks to its low cost structure.
Some issues to keep in mind
When you look at this cash flow data and consider that the firm's common shares are currently valued at $161.05 million in aggregate, the situation looks pretty impressive. If these numbers turn out to be accurate, Legacy's forward price/free cash flow ratio stands at between 1.6 and 1.8, meaning that in between 1.5 and 2 years investors should "make" their money back from owning a piece of the firm.
That said, there are some risks to keep in mind. First is that if Legacy has already hedged a great deal of their future production, then this picture could look worse than it actually is. Effective October 25th of this year, management agreed to terms that force the firm to hedge at least 75% of their expected production through 2018 in exchange for a Second Lien borrowing facility that grants the business the opportunity to borrow up to $300 million before factoring in a 2% upfront fee.
So far, they have tapped $60 million of that in order to reduce their credit facility but may, if possible, take on some debt to buy back Senior Notes or, more likely, may use that facility not only to cushion them against the credit facility (which is unlikely to take a further hit at current prices) but to also use it for growing production as the business deems it appropriate. As part of this agreement, however, the company has 60 days from October 25th to implement those hedges so we do not yet know if they have done any or maybe even all of those activities leading up to OPEC or if they waited and will now hedge at more attractive levels. The second key risk if management taps into its extra borrowing capacity in a way that destroys, not increases, shareholder value and a third risk if OPEC backs away from its deal in some way, shape or form.
Takeaway
Based on the data provided, the financial condition under rising energy prices looks like it will probably improve considerably if management has not entered into too much hedging (though the picture was not exactly bad at slightly lower prices either). When you consider where its share price values the firm and if Legacy continues to survive as it has, which looks a lot more likely now than it did through most of this year, shares look to be incredibly cheap and, even after experiencing this tremendous upside to its share price, it looks like the firm offers investors with attractive prospects moving forward.
Disclosure: I am/we are long LGCY.
I wrote this article myself, and it expresses my own opinions. I am not receiving compensation for it (other than from Seeking Alpha). I have no business relationship with any company whose stock is mentioned in this article.
Additional disclosure: I own LGCYO, not LGCY