We just finished our RHINO Ratings for all of the healthcare REITs, in which we have ranked all of the companies based on a quantitative scoring system. In our model, we have included a number of metrics, such as earnings (or FFO) growth, dividend safety, strength of the balance sheet, and government pay risks.
As many of you know, the healthcare REIT sector has been somewhat volatile over the last few months, primarily as a result of the well-documented risks within the skilled nursing sector. Most recently, HCP, Inc. (NYSE:HCP) completed the spin-off of its HCR ManorCare portfolio into a separate company, Quality Care Properties (NYSE:QCP).
A month ago Welltower Inc. (HCN) announced it was selling $1.7 billion in skilled nursing properties, and a $930 million joint venture transaction on 11 seniors housing properties, signaling strong interest from foreign and institutional buyers.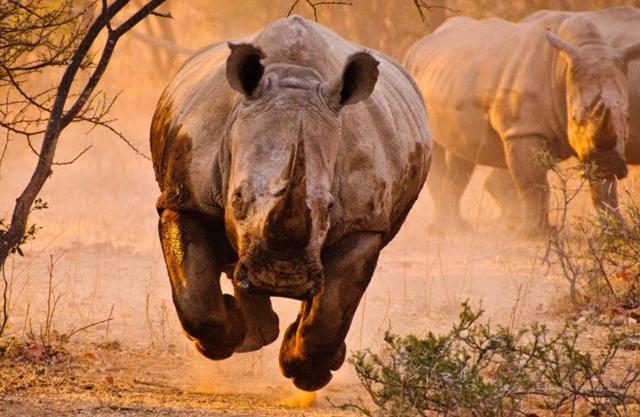 HCN said it will sell $1.7 billion of properties leased to skilled nursing operator Genesis HealthCare Inc. (NYSE:GEN), with 64 properties going to a joint venture of Lindsay Goldberg LLC and Omega Healthcare Investors (NYSE:OHI) affiliates in a $1.1 billion transaction.
Separately, HCN is selling 75% of a portfolio of 11 seniors housing properties to a joint venture of Union Life Insurance and China-based Cindat Capital Management Ltd.
HCN executives said on a conference call that the tenants in the properties, including GEN, have struggled to afford their rent in recent years, as their revenue streams have been hurt by the changing U.S. healthcare environment. The GEN transaction includes a roughly 5% rent reduction, with slimmer yearly lease escalations.
The 11 seniors housing properties sold to the Cindat joint venture are master-leased to Brookdale Senior Living Inc. On November 1, HCP said it is also selling a 64-property portfolio leased to Brookdale to a Blackstone Group, LP fund for roughly $1.13 billion. Executives at both REITs said Brookdale has faced cyclical challenges.
Today we decided to take a closer look at HCN, a healthcare REIT that we own within our Durable Income Portfolio (seen in the Forbes Real Estate Investor newsletter). For more information on our RHINO ratings, subscribe to our Seeking Alpha Marketplace HERE.
Welltower Has Deep Roots in Ohio
HCN is one of Ohio's largest publicly traded companies with nearly 500 employees. About 200 of them work at its Toledo headquarters. It also has offices in Jupiter, Florida, London, Toronto, and Newport Beach, California, among its largest satellite locations.
In September 2010, HCN moved into the former headquarters of Dana Corporation in Toledo, sited on 166 acres of mature landscape and gently rolling terrain. The original 1970s era structure has been transformed into a modern state-of-the-art facility designed to embody the goals of the corporation by creating a comfortable workplace conducive to creative thinking and collaboration.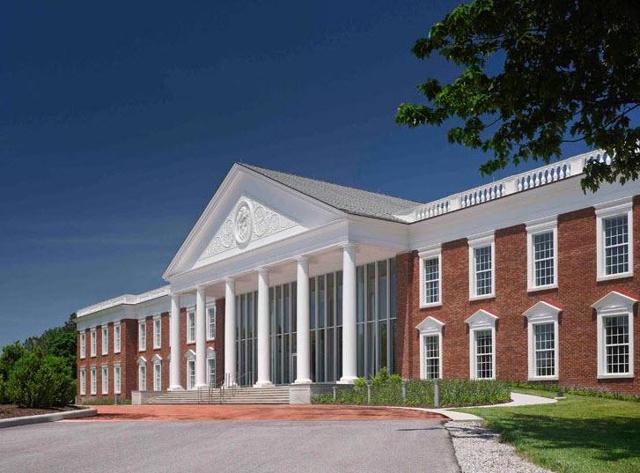 In the early days, HCN grew its portfolio by acquiring nursing homes, but around 1996, the company went on a growth spurt and began acquiring larger portfolios. In 2005, the company's portfolio of assets were worth nearly $3 billion, and by 2010 it had grown to $9 billion. At that stage, HCN began to super-size acquisitions with several transformation deals.
In 2011, it spent $2.4 billion to acquire assets of Genesis HealthCare, an operator of rehabilitation facilities, nursing homes, and assisted-living complexes in the Northeast and mid-Atlantic states. In 2012, the Toledo company partnered with a Canadian company, Chartwell Seniors Housing REIT, to acquire 42 senior housing and care communities in Canada at a cost of $925.2 million.
Then, in 2012 and 2013, it paid $4.3 billion, in stages, to acquire the properties of Sunrise Senior Living, Inc., a senior living firm with 125 high-quality properties in large metro areas of the United States, Canada, and the United Kingdom.
Today, HCN partners with over a dozen of the healthcare industry's top operators of senior assisted living and long-term and post-acute care facilities. The company has a portfolio that consists of 1,464 properties, with total market cap of ~$38.064 billion:

Source: S&P Global Market Intelligence
HCN is the 6th-largest REIT in the US: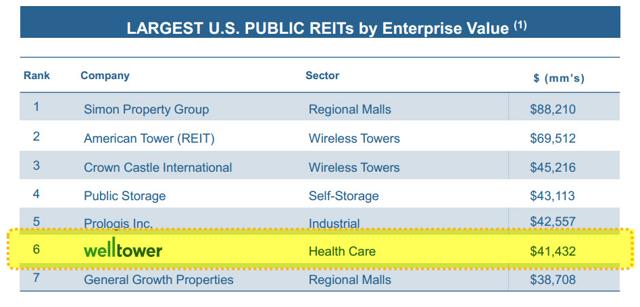 Why Healthcare?
As one of three dominant healthcare REITs, HCN owns a diverse collection of properties ranging from seniors housing, post-acute care facilities, and outpatient medical buildings.
As noted above, the healthcare REIT sector has created unique challenges for government reimbursement-focused models that do not have the same ability to pass along increases in operating expenses. As a result, HCN commenced a strategy to pivot away from government pay models into private pay sectors.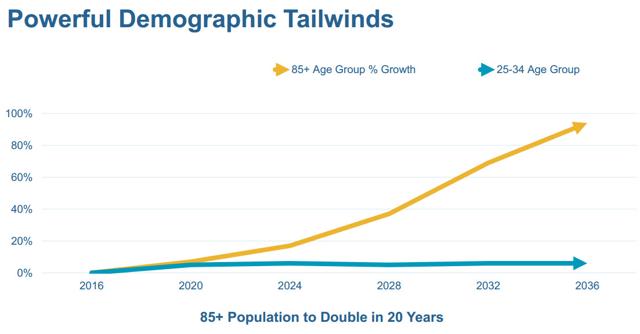 The aging demographic wave is positively impacting utilization across all sectors of healthcare, and the REIT is capitalizing on this demographic trend by investing in healthcare assets where commercial forces determine price and where market forces limit supply.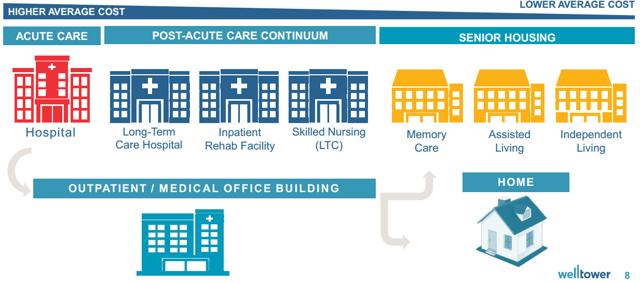 These trends led HCN to numerous discussions that have resulted in a series of transactions that will take the company's private pay revenue mix up to 92.4% and long-term post-acute care concentration from 19.9% down to 13.5% of NOI.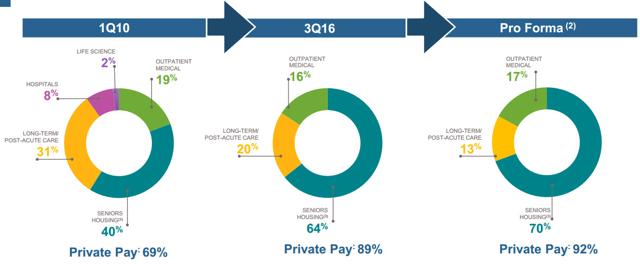 More than 20 of the leading operators in the sector come to HCN first when they find an opportunity in their local markets. More and more institutional capital is flowing in the sector, so the ability to get a first look is invaluable.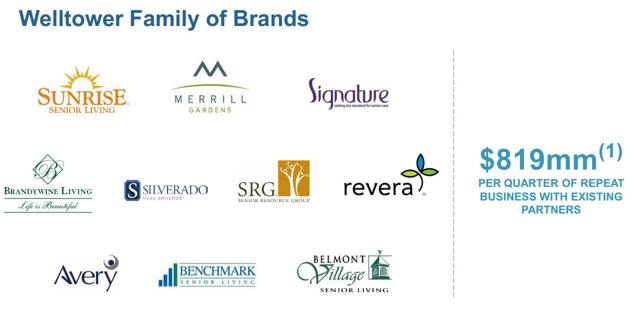 Here's a snapshot of HCN's top tenants: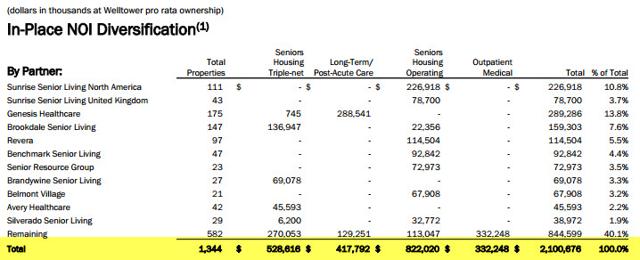 Note: Prior to GEN closing.
This is how the REIT defines a "Class A" Healthcare Portfolio: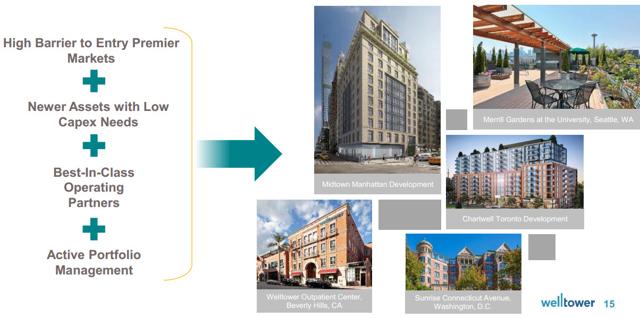 Here is a snapshot of HCN's U.S. Seniors Housing Portfolio: Major Urban Market Focus: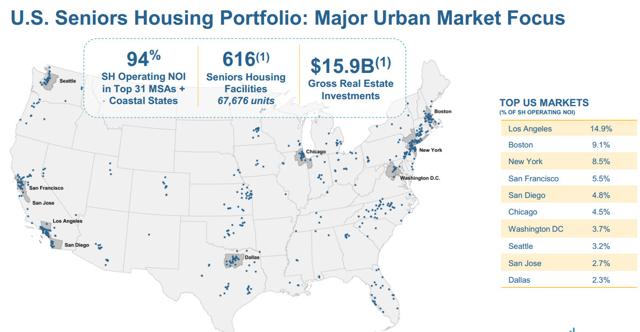 Here's a snapshot of the company's UK Portfolio: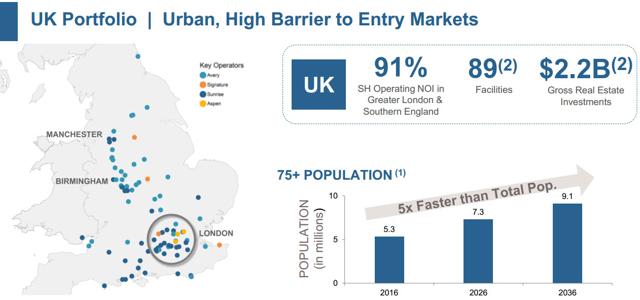 Here's a snapshot of its Canadian Portfolio: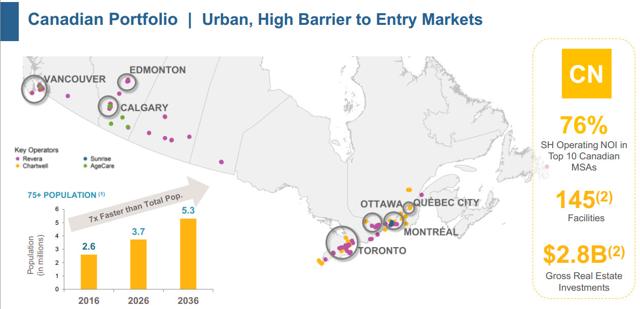 The Improved Balance Sheet
As a result of HCN's recently announced dispositions, the company should see significant balance sheet and portfolio enhancements that are expected as a result of the portfolio repositioning plan.
The most significant capital event in the recent quarter was the company's decision to opportunistically raise a total of $358 million of equity through a combination of the ATM and the RIP programs, where it issued a total of 4.7 million shares at an average price of $6.98 per share. HCN also generated $489 million of proceeds through $60 million in loan payoffs and $429 million of property sales, which included $162 million in gains on sale.

Source: S&P Global Market Intelligence
HCN repaid approximately $191 million of secured debt at a blended rate of 5.4% and assumed $79 million of secured debt at a blended rate of 3.7%.
The REIT expects to use $2.8 billion of the $3.3 billion in disposition proceeds expected in the fourth quarter to pay down debt and preferred stock. This will greatly strengthen the balance sheet on a pro forma basis. More specifically, net debt-to-underappreciated book capitalization will decline by roughly 4% to around 34%. Net debt-to-adjusted EBITDA will decline to approximately 5.1x, and interest and fix charge coverage will improve to 4.4x and 3.6x respectively.

Source: S&P Global Market Intelligence
S&P recognized the improving balance sheet strength with the rating increase which brings HCN to the BBB+ equivalent rating with all three agencies. (We included this update in our RHINO Ratings).

HCN is clearly enhancing the quality of its portfolio, increasing the private pay mix, while reducing long-term care exposure. It should see improvements in liquidity and financial flexibility in 2017 with the full $3 billion line of credit available, virtually no near-term debt maturities, and an expected improvement in cost of capital.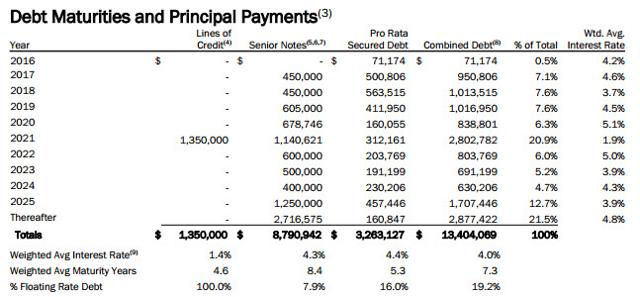 The Latest Earnings Results
In Q3-16, HCN's normalized FFO was $1.16 per share and 4% versus last year and normalized FFO of $1.04 per share, which increased 5% versus last year. The results were driven primarily by same-store cash NOI growth and the $2.6 billion of net investments completed over the last four quarters.
The company revises its 2016 normalized FFO guidance to a range of $4.50-4.56 per share and normalized FAD guidance to a range of $3.99-4.05 per share, representing 3% and 4% increases respectively at the mid-point.
The slight reduction in the FFO mid-point is primarily a function of the increase in disposition guidance, while the FAD increase is primarily a result of lower CapEx than previously projected. Here's our FFO model:

Source: S&P Global Market Intelligence
As you can see, we have forecasted FFO in 2017 of $4.37 per share, primarily a result of the large-scale dispositions. We expect the REIT to see normalized FFO growth in 2018 as the acquisitions unfold.
HCN paid its 182nd consecutive quarterly cash dividend on November 21st of $0.86 per share, a rate of $3.44 annually. Also, it announced a 1.2% dividend increase in 2017:

Source: S&P Global Market Intelligence
Let's take a look at HCN's FFO growth in 2016, compared with that of the peer group:

Source: S&P Global Market Intelligence
Our 2017 earnings outlook for HCN is even weaker. We project that the company will see outsized dilution in 2017, and this could produce some temporary financial engineering, i.e., an elevated payout ratio next year. Here's the 2016 payout ratio...:

Source: S&P Global Market Intelligence
... but here's our forecasted payout ratio for 2017...: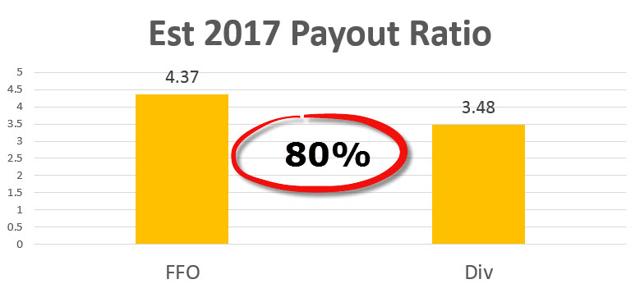 Source: S&P Global Market Intelligence
... even a bit more unsettling when you compare FAD (our AFFO):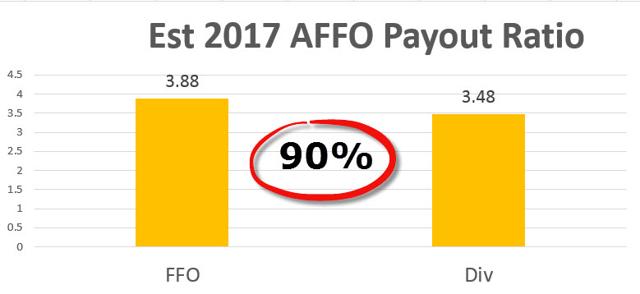 Source: S&P Global Market Intelligence
What Shall We Do?
We like HCN's transformational recycling strategy that includes reducing GEN exposure from 13.8% to 7.1% (could go lower in 2017), credit upgrade by S&P (to BBB+), and JV partners from China.
However, I wonder whether or not HCN is a day late or a dollar short!
In other words, VTR was the first to remove its government pay risk by spinning most of the skilled nursing properties into Care Capital Properties (CCP). Later, HCP spun its higher-risk properties into the newly formed QCP. Now, HCN is the last big fish to swim away from the government pay model, hoping to catch the attention of Mr. Market.
Let's see what Mr. Market thinks of the company's dividend yield:

Source: S&P Global Market Intelligence
Not bad, especially when you consider the fact that HCN is rated BBB+ (one of just 2 healthcare REITs with that rating).
Let's now take a closer look at its P/FFO multiple:

Source: S&P Global Market Intelligence
Again, HCN appears attractive when comparing its more durable operating fundamentals. Let's take a look at the total return performance over the last 12 months...:

Source: S&P Global Market Intelligence
... and over the last 90 days...:

Source: S&P Global Market Intelligence
... And over the last 30 days...:

Source: S&P Global Market Intelligence
... And over the last week:

Now let's compare HCN with the leading peers over the last 3 years...:

Source: S&P Global Market Intelligence
... Over the last 5 years...:

Source: S&P Global Market Intelligence
... And over the last 10 years:

Source: S&P Global Market Intelligence
The Bottom Line
HCN is clearly repositioning its business model, and in our opinion, the shares are attractively priced. The short-term dilution as a result of $3.3 billion of asset sales is a near-term risk; however, it's clear to us that the dividend yield is adequately covered, and earnings growth should ramp back up in late 2017 and early 2018. We view New Senior (NYSE:SNR) as a very likely target for HCN in 2017 and another example of how HCN can deploy its massive liquidity into accretive private pay deals.
Keep in mind, we are not backing up the truck, as we believe the REIT has some work to do. However, we are maintaining our BUY Rating - HCN is not our top rated RHINO, but we believe investors should take charge!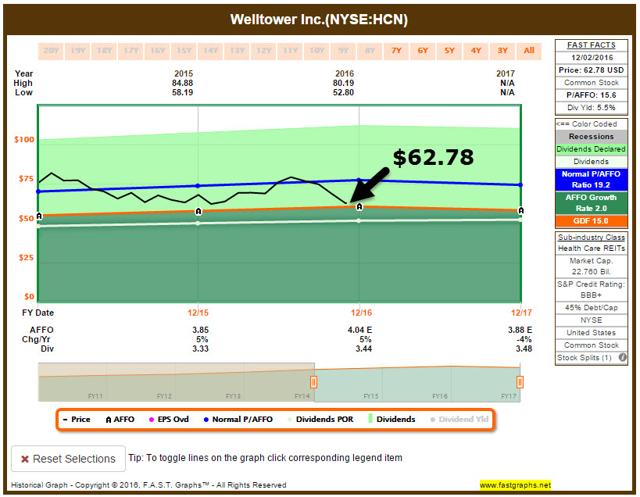 Author's Note: I'm a Wall Street writer, and that means that I am not always right with my predictions or recommendations. That also applies to my grammar. Please excuse any typos, and I assure you that I will do my best to correct any errors, if they are overlooked.
Finally, this article is free, and my sole purpose for writing it is to assist with my research (I am the editor of a newsletter, Forbes Real Estate Investor), while also providing a forum for second-level thinking. If you have not followed me, please take five seconds and click my name above (top of the page).
The only guarantee that I will give you is that I will uncover each and every rock I can, in an effort to find satisfactory investments that "upon thorough analysis promises safety of principal and satisfactory return. Operations not meeting these requirements are speculative." (Ben Graham).
Sources: F.A.S.T. Graphs, S&P Global Market Intelligence, and HCN Filings.
Disclosure: I am/we are long O, DLR, VTR, HTA , STAG, GPT, ROIC, HCN, OHI, LXP, KIM, WPC, DOC, EXR, MYCC, TCO, SKT, UBA, STWD, CONE, BRX, CLDT, HST, APTS, FPI, CORR, NHI, CCP, CTRE, WPG, KRG, SNR, LADR, PEB, BXMT, IRM, CIO, LTC, DEA, NSA, HASI, VER. I wrote this article myself, and it expresses my own opinions. I am not receiving compensation for it (other than from Seeking Alpha). I have no business relationship with any company whose stock is mentioned in this article.