Palo Alto Networks (NYSE:PANW) is one of the best bets in the cyber security space since the company is making smart moves to tap a growing end-market. For instance, Palo Alto's addressable market growth is expected to clock a compounded annual growth rate of almost 7% for the next four years, with the market size exceeding $22 billion. This is shown in the chart given below: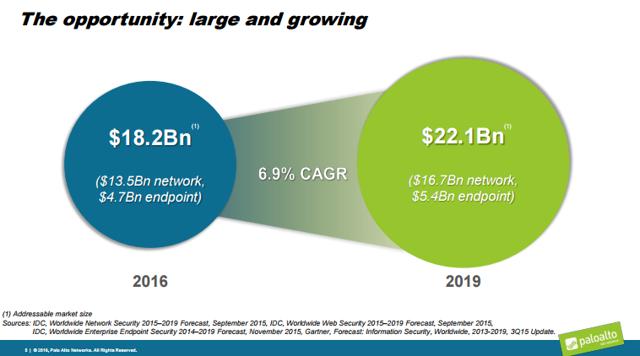 Source: Palo Alto Networks
As shown above, by 2019, Palo Alto will have an addressable market size of $22.1 billion. This indicates that the company has a lot of runway to improve its growth since it has generated just under $1.5 billion in revenue in the past four quarters. Now, as the end-market opportunity improves, Palo Alto will be better placed to accelerate its top line growth on the back of its wide product portfolio.
Why Palo Alto is well-placed to tap the end-market opportunity
As the chart given earlier in the article indicates, Palo Alto's current addressable market is worth $18.2 billion. In comparison, the company has generated $1.5 billion in revenue in the past year, giving it a market share of around 8% in network and end-point security. Looking ahead, it is expected that Palo Alto will be able to enhance its market share in the industry since it has a complete product portfolio when compared to its peers. This is shown in the chart below.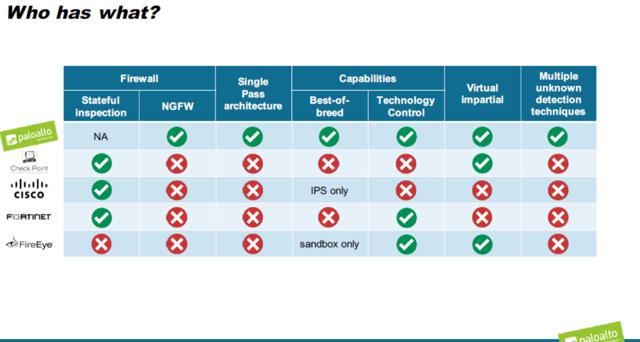 Source: Palo Alto Networks
As shown above, the market share gain looks likely as Palo Alto has a comprehensive and complete architecture of security solutions, as well as a more focused prevention platform as compared to its peers. For instance, Palo Alto is the only company among its peers to have the single pass security architecture.
As a result of this architecture, Palo Alto can process a security packet in a single process as compared to a multi-pass architecture. Now, using the single-pass architecture allows the user to reduce the overhead costs due to lower traffic, while also giving out a superior quality output due to less degradation.
Due to the presence of such a superior platform, it is not surprising to see why the likes of JP Morgan expect Palo Alto to triple its market share to 24% by 2024 from the current 8%. Assuming that the end-point and network security market stagnates at 2019 levels of $22 billion, which is very unlikely due to the growing demand for cyber security solutions, Palo Alto will witness a major bump in its revenue.
With a share of 24% of a $22 billion market, Palo Alto's top line will be more than $5 billion, clocking a CAGR of almost 15% until 2024. But, it won't be surprising if the market size continues to grow after hitting $22 billion in 2019. Additionally, Palo Alto is making smart moves on the operational front in order to make the most of the end-market opportunity. As reported by CRN:
"We believe the growth potential for Palo Alto Networks is there as it continues to grow market share in firewall, increases its subscription revenue streams, and establishes itself as the first true security platform vendor."
The good news is that Palo Alto is increasingly focusing on its subscription business, which is a smart move as this will lead to an improvement in both revenue and margins in the long run.
A shift to the subscription & renewals-based business will be a tailwind
Palo Alto Networks is transitioning to a subscription model, which in turn is leading to tremendous growth in subscriptions. In the last reported quarter, the company acquired 1,500 new customers, which has taken its total customer count to 35,500. This rapid growth in Palo Alto's customers is driving its subscription and support renewals revenue. For instance, Palo Alto's subscription revenue last quarter grew 65%, while support renewals revenue improved over 49% on a year-over-year basis.
The growth in the subscriptions business will provide a recurring revenue stream to Palo Alto as it will eventually lead to an increase in the number of renewals once the subscriptions expire. This is the reason why Palo Alto's subscription and support renewals business has been growing at a fast pace, as seen below: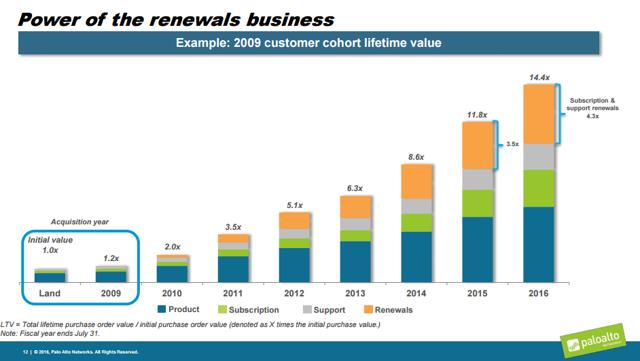 Source: Palo Alto Networks
At the same time, Palo Alto has been upgrading its existing customers to its next generation security platform. This has led to an increase in the lifetime value of each customer. For instance, a customer has to spend $15.2 million as lifetime value now as compared to $10.1 million in the first quarter of 2016. The following chart clearly shows the pace at which Palo Alto's existing customer base is moving to the new platform, leading to an improvement in the lifetime value and potential revenue growth in the future: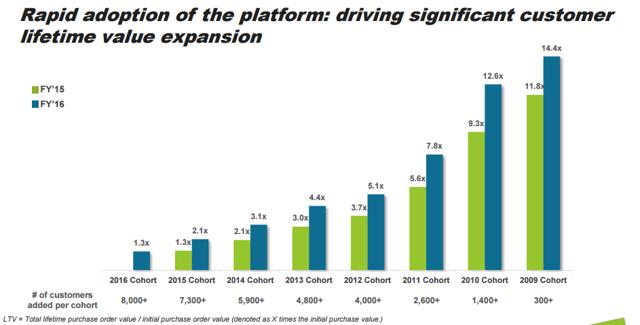 Source: Palo Alto Networks
Conclusion
Thus, Palo Alto Networks has strong prospects going forward that investors should not ignore. Its focus on acquiring new customers and the ability to improve renewals will enable it to enhance its financial performance. Additionally, a strong suite of products will play a key role in helping Palo Alto acquire more customers in the long run. So, it will be prudent for investors to buy Palo Alto Networks in light of the points discussed above.
Disclosure: I/we have no positions in any stocks mentioned, and no plans to initiate any positions within the next 72 hours.
I wrote this article myself, and it expresses my own opinions. I am not receiving compensation for it (other than from Seeking Alpha). I have no business relationship with any company whose stock is mentioned in this article.