By Heather Rupp, CFA, Director of Communications and Research Analyst for Peritus Asset Management, Sub-Advisor of the AdvisorShares Peritus High Yield ETF (NYSEARCA:HYLD)
As we look at the implications of a Trump presidency and Republican-controlled Congress, last week we discussed our interest rate outlook. While the market seems to be jumping to the conclusion that infrastructure and other government spending and the benefit of lower taxes will drive growth and inflation, and with it interest rates, we aren't a believer that we will see dramatic move upward in rates (Treasury yields) from where we are now.
Part of our reasoning here is the fact the yields on the US medium and longer-term Treasuries are much higher versus sovereign debt rates globally. 10-year bonds in much of the rest of the developed world are yielding around 0-1% and many of these economies are still in the midst of quantitative easing and stimulus.1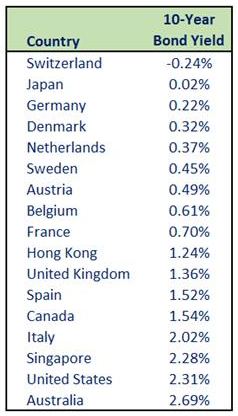 Between the higher rates the US Treasury bonds already offer relative to the rest of the world and our comparatively better economy, in addition to the demographic reality that we discussed last week, we believe this will serve to sustain demand for US Treasury bonds, constraining rates on those from increasing too far.
It is the 5- and 10-year rates that matter the most for us as high-yield investors as bonds in this market are usually issued with a term of 5-10 years. "Spreads" in this market are priced off of the comparable maturity Treasuries, so that leaves the 5- and 10-yr US Treasury rates as the basis for "risk free" comparison for high-yield investors.
Beyond that, if you are a believer rates are going higher, this would assume we get to a scenario of moderate growth - an assumption that we still don't believe is valid. We spoke last week of how we expect the changing demographics to negatively impact demand for goods/growth. On the tax side, maybe there is ultimately a reduction of taxes, which may drive some consumer spending… or instead do consumers use it to repay debt or increase their savings after years of having to pull from it?
The ramped up government spending and tax cuts will take time and it may well be a balance of potentially positive growth from that versus a probable negative impact if some of the protectionist measures discussed during the campaign come to pass. Modifying or pulling out of some of these trade deals may serve to negatively impact our global trade/exports.
The goal of the protectionist measures is to keep jobs at home but many of the largest US-based corporations sell to the rest of the world, so if we impede their ability to export, that will impact domestic economic growth. And maybe consumers have more money in their pockets due to tax cuts and job growth, but now is it costing them more to purchase goods because they don't have access to the cheaper imports?
Not to mention that, as noted above, the rest of the world is still mired in no growth and stimulus-induced economies. So who will be the buyer of our goods? While there may be some changes here at home due to the election results, it does nothing to improve economies, consumers, and corporations globally. We live in a global marketplace.
We don't see enough growth on the horizon that the Fed gets to get off the tightrope they have been walking between not disrupting what little positives there are in the economy by taking rates up too fast and still giving themselves some room for monetary policy action when the next recession inevitably hits. We still see the lack of the global growth story not changing and it will continue to be a headwind for domestic growth.
The "politics of rage" as it has been called is sweeping across the globe with elections in France and a host of European nations up next. Protectionism and nationalism are on the rise and none of this is good for global trade and growth rates. Rates have risen too far and too fast in our opinion. The Fed is very likely to hike rates 25 basis points in December to save any credibility.
How many more rate hikes might be coming is certainly up for debate, but we remain skeptical. Eight years have passed since the 2008 crisis and we have seen trillions of dollars of stimulus force fed into the economy to what end? The election of Donald Trump is unlikely to change the course set for us by demography. Interest rate risk (duration) is now the fashionable topic but it will fade as quickly as it came.
The knee jerk reaction of investors to sell all "bonds" because rates are going to go up provides us with what we see as a very nice entry point across high-yield bonds and loans, especially given the very short duration of the asset class. We are not a believer in the rising rate script but remain vigilant and highly sensitive to the reality of stagnant global growth rates and an aging population.
For those who believe that rates are bound to rise from here, we see our high-yield bond and loan asset classes as one of the only places inside the fixed income universe that investors can make money. For more on our thoughts on the election impacts, interest rates, and the outlook for high yield, see our piece, "The Election Impact on High Yield: Rates and Regulation."
1 Data sourced from Bloomberg, as of 11/22/16.
Although information and analysis contained herein has been obtained from sources Peritus I Asset Management, LLC believes to be reliable, its accuracy and completeness cannot be guaranteed. Information on this website is for informational purposes only. As with all investments, investing in high yield corporate bonds and loans and other fixed income, equity, and fund securities involves various risk and uncertainties, as well as the potential for loss. Past performance is not an indication or guarantee of future results.
Disclosure: I/we have no positions in any stocks mentioned, and no plans to initiate any positions within the next 72 hours.
Business relationship disclosure: AdvisorShares is an SEC registered RIA, which advises to actively managed exchange traded funds (Active ETFs). This article was written by Heather Rupp, CFA, Director of Communications and Research Analyst for Peritus, the portfolio manager of the AdvisorShares Peritus High Yield ETF (HYLD). We did not receive compensation for this article, and we have no business relationship with any company whose stock is mentioned in this article. This information should not be taken as a solicitation to buy or sell any securities, including AdvisorShares Active ETFs, this information is provided for educational purposes only.
Additional disclosure: To the extent that this content includes references to securities, those references do not constitute an offer or solicitation to buy, sell or hold such security. AdvisorShares is a sponsor of actively managed exchange-traded funds (ETFs) and holds positions in all of its ETFs. This document should not be considered investment advice and the information contain within should not be relied upon in assessing whether or not to invest in any products mentioned. Investment in securities carries a high degree of risk which may result in investors losing all of their invested capital. Please keep in mind that a company's past financial performance, including the performance of its share price, does not guarantee future results. To learn more about the risks with actively managed ETFs visit our website AdvisorShares.com.