Over Thanksgiving weekend, I had made a few calls to my old college buddies who happen to be lawyers and we spoke for a while. All three were watching football and enjoying time with the family and it got me thinking as to why we don't speak more often over the phone. And then I remembered that they are transaction lawyers who are always busy, especially this time of year, as the scramble to get deals done before the new year takes precedent over everything. So I called all of them back and asked why they weren't swamped with work, and all three had the same response: their deals were on hold due to the recent surge in interest rates, as banks were looking for more money and clients were reevaluating the financial feasibility of their projects.
As we all know, the so called "Trump Rally" was largely unexpected. Hedge funds have been scrambling to reposition, using past winners such as the technology sector as a bank to reposition into financials, energy and infrastructure. When knee jerk reactions happen like the unexpected Trump win, the proverbial babies get thrown out with the bath water, but the opposite of that proverb is also true. Certain sectors and stocks rallied based on false prefaces, specifically in the face of worsening fundamentals. For one specific sector, this is a textbook "sell the rally."
Let's take a look at what has happened in the housing sector since Trump's election. The entire sector rallied based on the notion that infrastructure spending and higher inflation would lead to a boom in a housing. Then, in a fortuitous confluence, on November 17th, as the Trump rally in housing was starting to stall, an uptick in building permits and housing starts was demonstrated in the census data released by the US government that day. This led to a further surge in the iShares Down Jones US Home Construction ETF (NYSEARCA:ITB). This data, however, provides insight into the October 2016 housing market, pre interest rate surge.
Now let's take a look at why I believe the home building market will get significantly worse. Going back to the anecdote I told at the beginning of this article, let's take a look at what 30 year mortgages have done over the past month since the Trump election.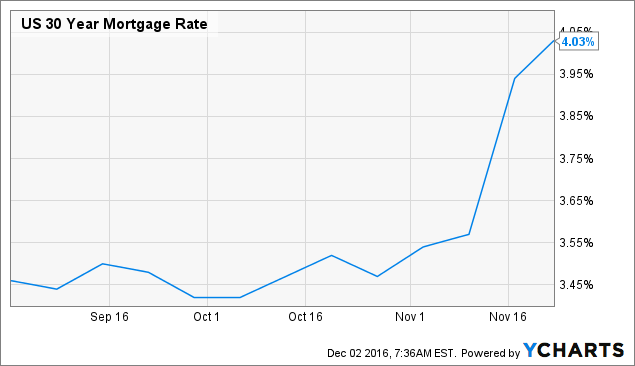 US 30 Year Mortgage Rate data by YCharts
Surging from under 3.5% to over 4.0% in a matter of weeks, this significantly lowers the purchasing power of potential homebuyers. As rates tick up, the potential homebuyers' DTI (debt to income) ratio does as well, thus the same mortgage payment, will allow the home buyer significantly less home purchasing power. You can read more about how rising rates affect purchasing power here, but a 1% rise in rates is the equivalent of a 10% rise in home price, and we have seen over half of that 1% rise in a matter of weeks. Sure, some savvy homebuyers with the financial means to do so will realize that Trump's policies are likely to lead rates higher for the foreseeable future, and lock in at the current price, but this hardly reflects the average American. For many prospective homebuyers, the same home just got a lot more expensive, which will surely lead some to hesitate, if not give up.
Much hoopla has been made over the past several years about how millennials rent and don't buy, and how this has hurt the new home buying market, and as such, optimists have scanned far and wide for catalysts in the home ownership market. Under the Obama Administration, which sought to reform immigration, immigrants were thought to be the saving grace of the housing market. According to this study from the Joint Center for Housing Studies of Harvard University, immigrants accounted for 27% of net new household formations over the last 2 decades, citing that home ownership for immigrants is a staple of the American dream. And when we look at the demographics of new ownership of those under age 45, "the foreign born have accounted for virtually all household growth." Now I am not a political pundit and don't claim to be, but it is easy to discern that a Trump administration will be very anti-immigration, and as such, this will have a significant impact on the housing market.
Now let's take a look at the housing market as a whole, as home building is directly related to demand in the housing market. according the 2016 profile of international home buying by the NAR, foreign investment accounted for $102 billion of home purchases in the United States from April 2015-March 2016. This was a slight tick down from $103.6 billion in the previous one year period. In fact the portion of non-resident to resident foreign purchases dropped from 50% to 41% from the previous year. NAR attributes this to "the slowdown in economic growth in many countries and the strengthening of the U.S. dollar against many foreign currencies explains in part the drop in the number of non-resident foreign buyers." Now let's take a look at the top 5 countries investing in the US Housing market: Canada, China, Mexico, UK, and India. The dollar has appreciated significantly against all of these currencies over the past several weeks with the exception of China whose currency is pegged. Add in the headline risk of Trump's anti-immigration and anti-trade policies, and this creates uncertainty surrounding foreign investment in the US Housing market, which is likely to lead to a further decline in non-resident foreign investment in housing.
This confluence of a sharp rise in rates, a strong dollar and anti-immigration policies will likely lead to a decline in home building.
How to play: Get short the ITB, with the next actionable data being the New Housing Permits and Builds for the month of November, coming out around the 17th of December. If you're not a short seller, I would certainly look to lighten any position I have in home building.
Always do your own homework before investing, and as always, stay vigilant.
Disclosure: I/we have no positions in any stocks mentioned, and no plans to initiate any positions within the next 72 hours.
I wrote this article myself, and it expresses my own opinions. I am not receiving compensation for it (other than from Seeking Alpha). I have no business relationship with any company whose stock is mentioned in this article.