I've long advocated for buying the so-called "super-regional" banks, particularly what I would call the cheap three (Regions Financial (NYSE:RF), Comerica (NYSE:CMA), PNC Financial (NYSE:PNC)). The thesis behind that investment story was essentially a mimicry of the Goldilocks fable. These banks were not too small (less risk of being smothered by financial regulations like Dodd-Frank, lack of scale to compete), nor were they too big (catching the ire of consumers and regulators via the "Too Big To Fail" stigma). Instead, they were just right. Overall, this thesis has played out quite well, with the basket of these three banks returning 40% over the course of 2016 - a return profile which trounces that of most large-cap banks (Citi (NYSE:C), Bank of America (NYSE:BAC), Wells Fargo (NYSE:WFC)) or small-caps (Carolina Trust (NASDAQ:CART), South State Corporation (NASDAQ:SSB)).
That trade appears to have run its course. All three of these names now trade at price/tangible book values above 1.5x, levels not seen since 2014. In this case, it appears Mr. Market is pricing in some sizeable growth in tangible book value over the next several years, primarily driven by an expected steepening of the yield curve and potential wind-back of regulations (reducing fixed cost structure). The so-called "Trump Effect" is in full swing, and these companies are no exception. Certainly, some of these tailwinds may occur to some degree, but it is tough to make a call on what policies will be enacted and who stands to benefit the most within the sector. While banks were certainly long overdue for a rally, it appears that investors might have gotten ahead of themselves in this case.
Flashbacks of 2013 and 2014
2014 looked mighty similar to what is going on today, in my opinion. Throughout the second half of 2013, the yield curve began to show signs of life for banks as investors digested the wind-down of the Federal Reserve bond buying program. Long-term maturities spiked, while short-term bond yields stayed flat. Reversion to the mean was at hand, and investors thought the time had finally come for the banking sector to have its time in the spotlight.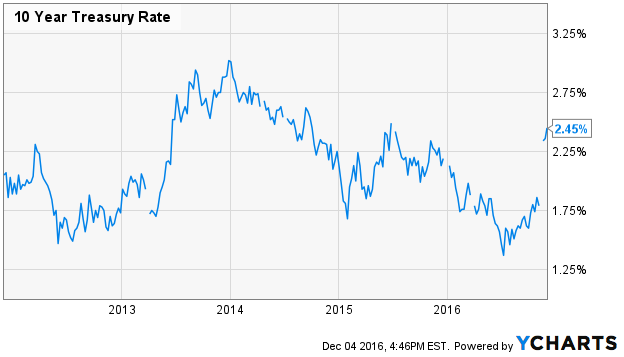 This proved to be a head fake. Investor appetite for U.S. Treasuries did not wane, and the flight-to-safety of Treasury bonds sparked a rally in the asset class throughout 2014. The catalyst for that drop wasn't anything onerous - it was simply an overreaction by markets. Economic data wasn't poor, and Feds were starting to turn a bit more hawkish. It was just a case of rates jumping too far, too fast. The Wall Street Journal highlighted this in its own article back in May 2014:
That yields hover around the year's lows while U.S. economic data has been improving has many bond analysts scratching their heads.

We who are usually some of the most bullish in the herd are having a hard time reconciling generally OK data" with falling yields, said David Ader, government-bond strategist at CRT Capital Group.

Many analysts point to the heavily skewed net trading position at the start of the year, with many investors betting Treasury prices would fall as the economic recovery picked up pace. Those bets were hit by a U.S. slowdown last quarter, causing many to unwind the so-called shorts.
While the yield curve has certainly improved, it is important to note that the yield curve at that time in May 2014 was actually much more favorable for bank profits than it is today, even after the recent rally in Treasuries: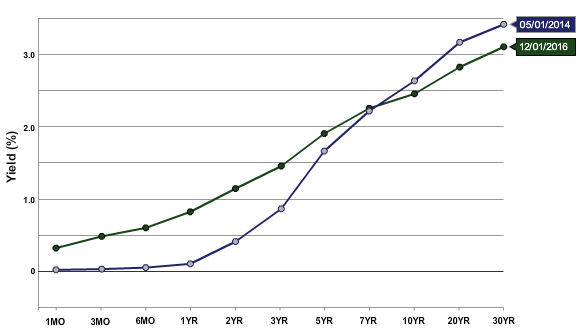 While banks have been able to maintain (or in some cases, marginally grow) their share prices since that Q4 2013/Q1 2014 rally, those marginal gains have been hard won. Instead of being driven by the yield curve, gains have instead been driven by expense control and improving loan credit quality. It will be much more difficult to drive earnings higher if we do see the yield curve retreat the other way. Yet, for the super-regional banks that I've highlighted, share prices today are well above where they were back in mid-2014. I'm not certain the rally is justifiable given my own current expectations, and I've since sold out and moved out of the way of this rally. It might be best for investors to do the same or, at the very least, take a little bit off the table.
For deep dive research on asymmetric risk/reward plays in the Industrial and Basic Materials sectors (particularly small and mid-caps), consider investing alongside me and other subscribers within Industrial Insights. Get cutting-edge information with proven results.
This new offering doesn't mean I will be cutting down on quality or my allocated time towards my free offerings on Seeking Alpha. Follow me (by clicking the "Follow" button at the top of this article next to my name) to receive general stock market research and commentary, especially on under-followed small/mid-caps across a wide variety of sectors and industries.
Disclosure: I/we have no positions in any stocks mentioned, and no plans to initiate any positions within the next 72 hours.
I wrote this article myself, and it expresses my own opinions. I am not receiving compensation for it (other than from Seeking Alpha). I have no business relationship with any company whose stock is mentioned in this article.
Editor's Note: This article covers one or more stocks trading at less than $1 per share and/or with less than a $100 million market cap. Please be aware of the risks associated with these stocks.