Last Time Out
Since the end of World War II, 71 years have passed during which, the "perfect" balance has resulted in 63 different Italian governments, or more often than most change shoes. Instead of being a real second legislative check, that balance is seemingly a weapon of mass distraction and instrument of political vetoes which creates legislative paralysis. Is it any wonder how little effective or real change is accomplished, and how much the populace laments?

Oh the irony of it all? Wanting immediate change, while saying we won't get fooled again, by voting NO to constitutional change which could alleviate legislative gridlock, it could be another case of "Meet the new boss, same as the old boss." Pick your poison comes to mind. - Catch 22?
Italian voters were caught in a Catch 22, having a chance with YES, to escape the legislative gridlock of a perfectly symmetric bicameral legislature, or with NO sending a politician and his party, packing. And then status quo as in meet the new boss, same as the old boss?
And you may ask yourself, well
How did I get here?
Perhaps it was the type of chance which comes along....
Once In A Lifetime?
"Once in a Lifetime" is a song by new wave band Talking Heads, released in 1981 as the first single from their fourth studio album, 1980's Remain in Light. The song was written by David Byrne, Brian Eno, Chris Frantz, Jerry Harrison, and Tina Weymouth, and produced by Brian Eno. It was named one of the 100 most important American musical works of the 20th century by National Public Radio and is also included in The Rock and Roll Hall of Fame's 500 Songs that Shaped Rock and Roll.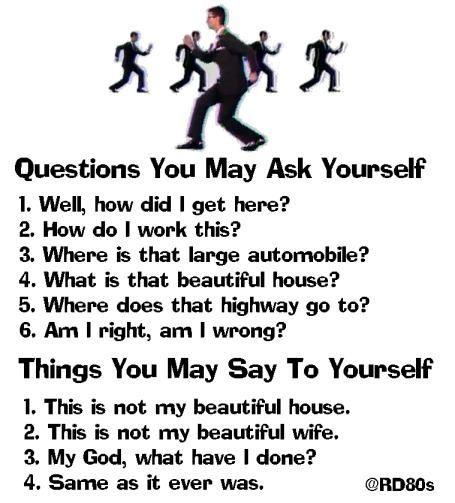 Eno used a different rhythm count for some members of the group than others, starting on the "3" instead of the "1." It gave the song what Eno called "a funny balance within it. It has really two centers of gravity: their '1' and my '1.'" This rhythm imbalance was exaggerated in the studio, and is present throughout the song.
Eno decided to approach the production by allowing each of the band members to record overdubs of different rhythmic and musical ideas independently of each other, with each member being kept blind to what the others had recorded on tape. In the final mix, Eno faded between these independent ideas at different parts of the song. This is very much in keeping with his production technique of oblique strategies.
Speaking of funny balance, keeping others blind, and oblique strategies, following up on the details in ItalExit? A Catch 22? Part 1 and Catch 22 Part 2...
Referendum Results
With more than 90% of the results in, the "No" campaign led with almost 59% of the vote to slightly over 41% for "Yes".
Voter turnout was remarkably high, with the Interior Ministry's website claiming 68.33%, and indicating the final turnout could be more than 70%.
Italian Prime Minister Matteo Renzi:
"The Italian people spoke today in unequivocal fashion. We tried, we gave Italians a chance to change but we didn't make it."
Political Reactions
In keeping with his promise to resign if the referendum was rejected, Prime Minster Renzi said he would visit President Sergio Mattarella on Monday to formally hand in his resignation following a final meeting of his cabinet.
President Mattarella will then be tasked with brokering the appointment of a new government or, if he is unable do that, ordering early elections.
Populist movement leader, comedian and Donald Trump admirer Beppe Grillo, backed the No position, portraying it as a protest vote against Renzi's status quo and Sunday's vote presented a major victory to the Five Star party.
Market Reactions
On the news, the Euro dropped -1.17% to its lowest level since March 8, 2015 at 1.0534 USD and has since rebounded to 1.06. The Italian MIB bourse shed as much as 2% at the opening, then rebounded.
Italian financials -4% then rebounding to rise +0.5%, shares in the world's oldest bank, Monte dei Paschi were flat on the day after being suspended at the opening. It is rumored that MDP needs a €5B infusion as early as NEXT WEEK to stay afloat.
Italian bond yields spiked sharply higher as the 10 yr bond yield jumped 11 basis points (bps) to 2.01%. Unlike other assets initial downward reaction then rebound, Italian bonds remain under pressure as the premium over German bunds increased to 175 bps.
This spread widening is cause for concern as already stressed Italian bank balance sheets hold €286 billion of toxic NPL's, and a large amount of Italian bonds.
With additional spread widening in a self reinforcing process, many expect and have place their bets accordingly on further downside for Italian bonds and bank stocks. Which could precipitate a domino effect or chain reaction within Euro based bond, equity and currency markets.
Opposition Party Reaction
Five Star party figure Alessandro Di Battista said in a press conference following the result:
"We can change our constitution now to give more power to citizens. We defended the values of the Italian constitution. If there is an anti-politics party it is the Democratic Party, not us."
Let's check back in two years and see how that's working for you. Money says this is probably what we will hear...
Letting the days go by (same as it ever was)
Letting the days go by (same as it ever was)
Once in a lifetime...
and perhaps this from those who were caught in that Catch 22...
"Am I right? Am I wrong?
And you may say yourself, "My God! What have I done?"
Would like to thank you folks fer kindly droppin' in. You're all invited back again to this locality. To have a heapin' helpin' of Nattering hospitality. Naybob that is. Set a spell, take your shoes off. Y'all come back now, y'hear!
This is our 111th in a series of thematically related missives which will attempt to identify the macroeconomic forces with potential to adversely affect capital, commodity, equity, bond and asset markets.
I wish to dedicate this missive to one of my mentors, Salmo Trutta, who is a prolific commenter on SA. Without Salmo's tutelage, and insistence on not masticating and spoon-feeding the baby ducks, as in learning the hard way by doing the leg work and earning it, this missive would not have been possible. To you "Proximo"... "win the crowd and win your freedom" - Spaniard.
Disclaimer
Investing is an inherently risky activity, and investors must always be prepared to potentially lose some or all of an investment's value. Past performance is, of course, no guarantee of future results.
Before investing, investors should consider carefully the investment objectives, risks, charges and expenses of an investment vehicle. This and other important information is contained in the prospectus and summary prospectus, which can be obtained from the principal or a financial adviser. Prospective investors should read the prospectus carefully before investing.
Market Plays
As for how all of the above ties into the potential and partial list of market plays below... the market as a whole could be influenced, and this could tie into any list of investments or assets. Those listed below happen to influence the indices more than most.
There are many macroeconomic cross sector and market asset correlations involved that affect your investments. Economic conditions, the eurodollar, global dollar debt and monetary policy all influence the valuation of the above and market plays below, via King Dollar's value, credit spreads, swap spread pricing, market making, liquidity, monetary supply and velocity, just to name a few. For a complete missive series listing covering those subject and more,click here.
The potential global economic developments discussed in this missive could affect numerous capital and asset markets, sectors, indexes, commodities, forex, bonds, mutual funds, ETFs and stocks.
A List of Potential Market Plays (Long or Short?): SPDR Gold Trust ETF (NYSE: GLD); Apple Computer (NASDAQ:AAPL); Google (NASDAQ:GOOG) (NASDAQ:GOOGL); Facebook (NASDAQ:FB); Microsoft (NASDAQ:MSFT); Citigroup (NYSE:C); General Electric (NYSE:GE); Cisco (NASDAQ:CSCO); Bank of America (NYSE:BAC); Amazon (NASDAQ:AMZN); Tesla (NASDAQ:TSLA); SP 500 Trust ETF (NYSEARCA:SPY); Ford (NYSE:F); Starbucks (NASDAQ:SBUX); Intel (NASDAQ:INTC); ATT (NYSE:T); IBM (NYSE:IBM); Exxon Mobil (NYSE:XOM).
Disclosure: I/we have no positions in any stocks mentioned, and no plans to initiate any positions within the next 72 hours.
I wrote this article myself, and it expresses my own opinions. I am not receiving compensation for it (other than from Seeking Alpha). I have no business relationship with any company whose stock is mentioned in this article.