The month of December started with Starbucks (NASDAQ: SBUX) CEO Howard Schultz announcing he will be stepping down from his post (effective April 3, 2017). Schultz will remain with the company in the role of Executive Chairman and current Chief Operating Officer Kevin Johnson will step into the CEO role. The stock fell around 10% after hours once the move was announced and eventually was down about 3.26% after-hours that Thursday evening. Starbucks is still a stock that is showing great promise for the future and I do not see this move having a negative impact on the future direction of the company.
I believe it is especially important that Schultz will maintain a role within the company. He will continue to work in retail innovation, particularly regarding the Starbucks Roastery and Reserve brands. The Reserve shops are premium retail coffee shops where the average ticket price is four times the average ticket price of a traditional Starbucks.
The Roastery is being described as a "previously unattained level of premiumization." In a Fortune article, Schultz stated, "we will also add Reserve bars into thousands of existing Starbucks." Starbucks is planning on adding over 20 Roasteries and over 1,000 Reserve stores. Schultz will continue to work on achieving the long-term goals of these brands, which are to help Starbucks continue to be a differentiator in the coffee industry.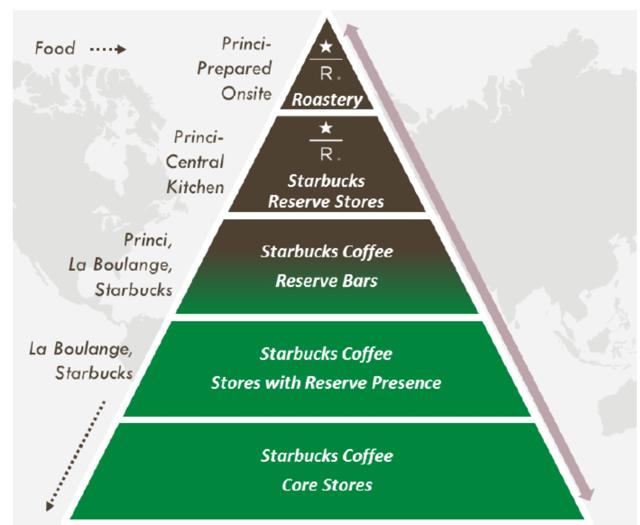 (Courtesy of Forbes)
Kevin Johnson joined Starbucks in 2015 by becoming the company's president and chief operating officer. He had since been on the board of directors since 2009. It will be very beneficial for Johnson that Schultz will be remaining with the company. In a recent CNBC article, "Schultz praised Johnson, noting that the last two fiscal years have been the best in the company's history in part of the COO." Johnson has experience at Microsoft (NASDAQ:MSFT) and within the technology industry. Therefore, it is believed Johnson can help Starbucks continue to fully utilize consumer technology as it has recently done with the company's successful mobile order platform.
Starbucks also has several positive things going for them as Johnson takes on the CEO role. One of these being the company's large-scale expansion into China. The company is currently in progress of doubling its store count in China to 5,000 within the next five years. Just this past June, Starbucks saw same-store sales in China increase by 7%. Starbucks will capitalize on China's immense population paired with the country's growth in coffee consumption.
The company's Teavana brand has grown in sales in each of the past seven quarters. Starbucks is hoping that the intense popularity of tea in China should continue to grow this recently acquired brand. According to Forbes, the increase in sales of Teavana could increase the average spend per customers for Starbucks.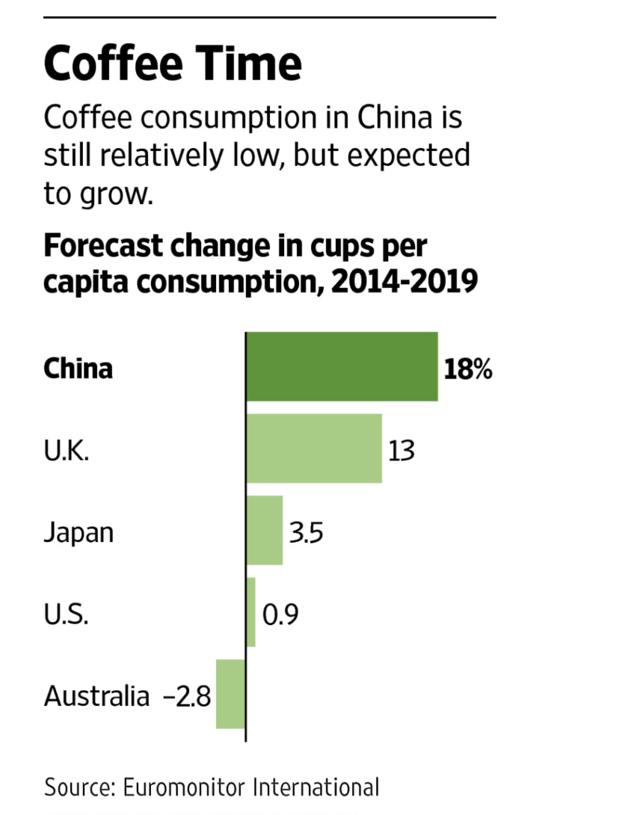 (Courtesy of Wall Street Journal)
Starbucks has seen incredible success with its mobile order platform. 25% of the company's transactions now come from a mobile payment method. The emergence of Johnson as CEO could lead us to see Starbucks continuing to utilize technology as a large contributor to sales. Mobile payments for Starbucks could continue to rise to potentially half of the company's sales.
Starbucks believes that the increase in smartphones being used in China will help play a positive factor in the company's expansion efforts. According to Bloomberg, the company has been expected to increase overall technology investments to over $300 Million in 2016. Given the consistency Starbucks has had in sustaining a high ROIC, the company should be able to turn this investment in value-add for the company itself and to investors.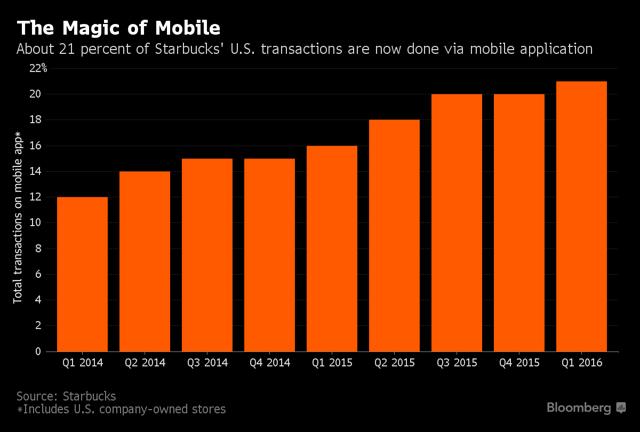 (Courtesy of Bloomberg)
I am bullish on Starbucks in terms of the long term, but I am still aware there are risks involved with the company. One of these risks is that large-scale expansion in China could not go as planned. We could potentially see this expansion not go well with the primary risk being the growth in coffee consumption could not grow in China as it is currently anticipated. It is also important to see how the Teavana brands fare in China as well. This could be the best indicator of how successful the large-scale China expansion will go.
Another risk is the effectiveness of the new roles of Johnson and Schultz. Could we possibly see Schultz micro-manage Johnson from his role as Executive Chairman? Or could we see Schultz focus his career towards politics and take his focus off his new role? These are critical circumstances that we must keep an eye on in the future. Starbucks must also continue to keep its eyes on competitors. The coffee industry contains low switching costs so it is easy for competitors to switch to other companies such as Dunkin', McDonald's, and Keurig.
Starbucks has seen double-digit revenue growth every year since 2012 and this trend is likely to continue into the future. Projections found on Yahoo Finance currently forecast an annual revenue growth of 16.85% for Starbucks over the next five years. This is compared to an industry projected annual growth rate of just 0.13%. Starbucks is going to see this growth through continuing to improve same-store sales and from reaping the benefits of the company's large scale expansion into China.
According to Morningstar, the company has seen a ROIC of 23% or higher in six of the past seven years. This level of consistency makes the expansion into China look even more promising. The data pictured below shows the benefits long-term investors have received by holding Starbucks shares. The stock may receive some volatility here in the short term due to the CEO change, but there is strong reason to believe this is a stock that shows promising potential for long-term investors. Starbucks also has a nice 1.72% dividend yield to help provide short-term rewards for investors. This has also seen consistent growth over the past few years.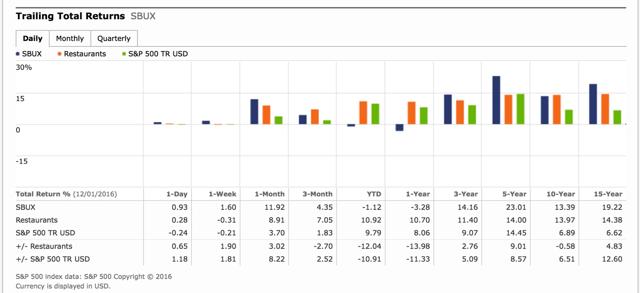 (Graphic from Morningstar)
If your portfolio is built on long-term equities, then I would not recommend getting rid of Starbucks right now. Kevin Johnson has the experience and positive relationship with Schultz where his term as CEO should help the company continue to move in a positive direction. It is a positive factor that Schultz will stay with the company and continue to work on the company's Roastery and Reserve brands. It is also important to know just how wide of an economic moat Starbucks controls in the coffee industry.
The Starbucks brand and continued innovation have far differentiated the company from others in the industry. The company's expansion in China and continued success with mobile payments should continue to help Starbucks differentiate itself from competitors and remain successful in an overall slow growing industry. Schultz is no longer CEO of Starbucks, but the company still has a very bright future.
Disclosure: I/we have no positions in any stocks mentioned, and no plans to initiate any positions within the next 72 hours.
I wrote this article myself, and it expresses my own opinions. I am not receiving compensation for it (other than from Seeking Alpha). I have no business relationship with any company whose stock is mentioned in this article.