Today, Neurocrine Biosciences (NASDAQ:NBIX) is at the cusp of a major transformation, from being an R&D focused company to a commercial organization. With the company inching closer to unlocking its value, I believe that this is an opportune time to invest in Neurocrine Biosciences.
The company is awaiting FDA approval for its investigational drug, Ingrezza. This drug is positioned to enter market segments with significant unmet demand and extremely limited alternative treatment options. In such a scenario, the high probability of successful commercial launch can be a very good reason for the savvy investor to put his money in this stock.
Tardive Dyskinesia is an area with high unmet demand
I strongly believe that the drug will be approved by the FDA for Tardive Dyskinesia, based on strong results from Phase 3, Kinect-3 study. But before that, let us try and understand the overall prevalence of this disease. It will help in gauging the revenue opportunity available for Ingrezza in future years.
Tardive Dyskinesia is an irreversible movement disorder and stems from excessive and long term use of antipsychotic drugs.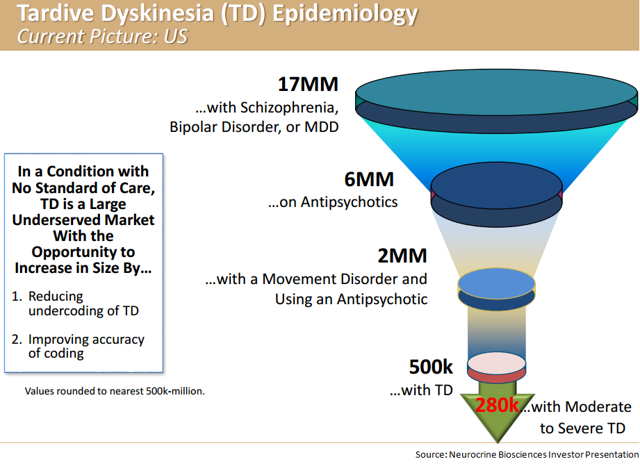 The diagram shows that about 500,000 people in USA suffer from Tardive Dyskinesia while 280,000 suffer from severe form of the disease. Majority of the tardive dyskinesia patients are mood disorder patients while about one-third are schizophrenic patients.
Kinect-3 study establishes efficacy of Ingrezza as therapy for Tardive Dyskinesia
Ingrezza (Valbenazine) is expected to become the first U.S. Food and Drug Administration or FDA approved therapy for Tardive Dyskinesia. The drug is a VMAT2 protein inhibitor. This protein, which is found in the human brain, helps in regulating movement of dopamine across the nerve cells. Tardive Dyskinesia is believed to be caused due to excessive amount of dopamine moving through neurons. By inhibiting VMAT2, Ingrezza aims to treat a Tardive Dyskinesia patient.
Ingrezza has managed to secure priority review status for its new drug application or NDA from the FDA. The drug has been allotted the prescription drug user fee act or PDUFA date of April 11, 2017.
In the Kinect-3 study, two doses of Ingrezza, 40 mg and 80 mg, were compared with placebo. After six weeks of testing, it was checked whether Ingrezza managed to attain its primary endpoint, which is change from baseline in abnormal involuntary movement or AIMS score. Post this, Neurocrine Biosciences has continued with one-year extension study to study the safety profile of Ingrezza. The company is also conducting another open-label study, Kinect-4 comprising of 150 patients.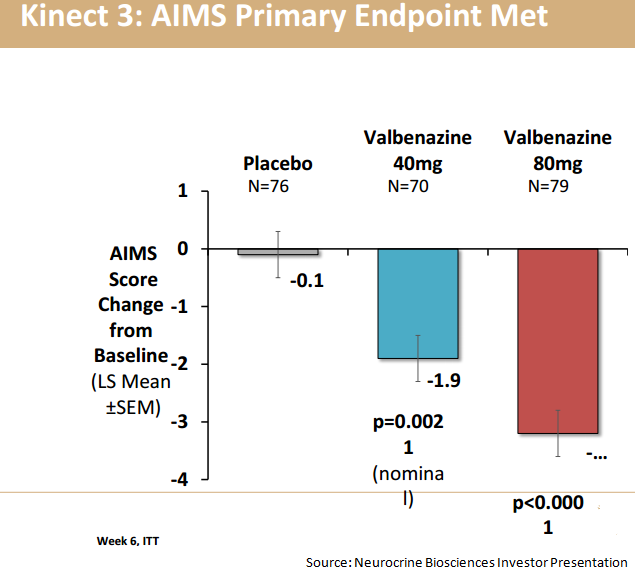 The above results can help us understand that while placebo did not have much of impact on AIMS score, both 40mg and 80 mg Ingrezza have demonstrated statistically significant decline in the same score. And this superior performance was shown by Ingrezza almost immediately after the commencement of the trial.
Even while analyzing the overall percentage of patients that responded to placebo as well as the two dosages of the drug, Neurocrine Biosciences has chosen the more rigorous definition for a successful response. The company considers a decline in AIMS score by more than 50% as a response by the test subject. In majority of clinical trials, a change of around 30% in primary endpoint is considered to be a response. And even for this high target, it has been demonstrated that while only 9% responded to placebo, 24% responded to 40mg Ingrezza, and 40% responded to 80mg Ingrezza.
Based on results from Kinect-3 study, Ingrezza has managed to demonstrate statistically significant improvement in AIMS score as compared to placebo in intention-to-treat or ITT patient population. These patients are considered to be a part of the trial, even if they are not given all doses or even if they fail to participate in the whole trial.
In case of per-protocol population or considering only those patients who took the doses during the study, Ingrezza managed to demonstrate a higher statistically significant improvement in AIMS score. The drug also managed to demonstrate its efficacy in per-protocol population based on clinical global impression or CGI score, another commonly used in relation to mental disorders.
Kinect -3 study also demonstrated that Ingrezza is effective in treating Tardive Dyskinesa, despite any previous use of antipsychotics by the concerned patient. This efficacy was confirmed by both AMS and CGI scores. Now this finding can prove to be a very strong reason for FDA approval of Ingrezza, as this validates the use of the drug in real life scenario.
So according to Jefferies webcast, an average Tardive Dyskinesia patient consumes around 7 and half drugs on a daily basis. Neurocrine Biosciences has tested Ingrezza without making any changes in the patient's usual treatment regimens.
Physicians work hard to stabilize the patients' suffering either with schizophrenia or mood disorders using anti-psychotics. Hence, they are extremely averse to making changes in these regimens, in case patients start suffering from Tardive Dyskinesia. In such a scenario, a drug which can help treat the condition can fast become a preferred therapy for both physician as well as patient community.
Ingrezza demonstrated high safety and tolerance in Kinect-3 study
So patients tested in Kinect-3 study were an almost accurate sample of the real-world Tardive Dyskinesia patient population. Patients included those with psychosis, history of alcohol or substance abuse. One-fifth of the trial patients also suffered from hepatitis C. And, despite the difficult-to-treat profile of the trial subjects, Ingrezza was very well tolerated by them. There were very limited adverse events in Kinect-3 study.
Based on robust efficacy and safety profile, Ingrezza has very high probability of being approved as a Tardive Dyskinesia therapy.
Ingrezza may also dominate Tourette Syndrome segment
Ingrezza is also being explored for Tourette Syndrome, a movement disorder with patients displaying several motor and vocal tics. This condition affects about 400,000 patients in USA, of which 250,000 to 300,000 suffer from severe form of the disease. Tourette syndrome predominantly affects boys at an early age of six to seven years. The disease continues to show symptoms till around twenty years of age. After this, only 20% of the people continue to suffer from symptoms, while the disease remits in remaining 80% patients. While Tourette syndrome is not a life-threatening disorder, it definitely affects the quality of life of the patient, especially at a very young age. Current treatment regimens for Tourette syndrome involve antipsychotics, which can be a harmful option for a young child. This presents a unique opportunity for Ingrezza to become a market leader in yet-unexplored therapeutic area.
Neurocrine Biosciences is conducting two Phase 2 trials for Ingrezza in Tourette Syndrome segment, one specifically for adults and the other for children and adolescents. The primary endpoint for these trials is the Yale Global Tic Severity Scale.
Topline data from the adult trial for Tourette Syndrome is expected by January 2017 while data from the trial comprising of children and adolscents in expected in March 2017. While results are awaited, patients have been known to eagerly enroll in these trials. This helps us highlight the demand present in this area, a strong growth driver for Ingrezza in future years.
Ingrezza patent estate
Ingrezza's composition of matter patent extends all the way to year 2029 in USA. Other patents also protect this VMAT2 inhibitor in international markets. In case the drug manages to secure market exclusivity or pediatric exclusivity due to Hatch/Waxman provisions, the drug can enjoy a patent protection in USA even till year 2034.
Ingrezza can become a blockbuster therapy
So considering the unmet medical demand, limited treatment options, and solid clinical profile of Ingrezza, I believe that the drug has high probability of becoming a blockbuster drug.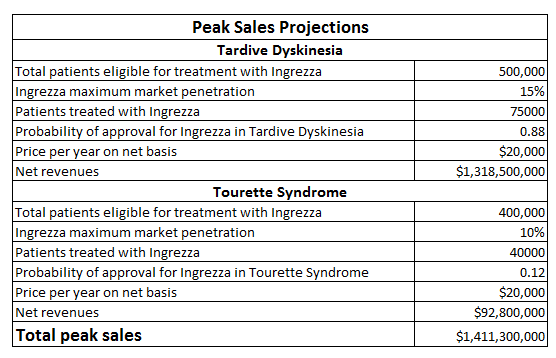 According to Neurocrine Biosciences corporate presentation, there are about 500,000 patients suffering with Tardive Dyskinesia in USA. I assume that at its peak performance, Ingrezza will manage to capture at least 15% of the overall market. I have made a conservative estimate to account mainly for access constraints that Ingrezza may face.
The probability of FDA approval for a psychiatry drug from the new drug application or NDA phase is around 87.9%. In its third quarter 2016 earnings release, Neurocrine Biosciences has estimated that Ingrezza will be launched in the market for Tardive Dyskinesia at about $20K to $60K per year, on net basis. The price range explains that per year expense will vary with dosages required.
So assuming the lowest net price of $20K and combining number of patients treated and probability of drug approval, we get a probability weighted peak sales estimate of about $1.3 billion for Ingrezza in Tardive Dyskinesia space.
Similarly, it can be concluded that the probability weighted peak sales estimate for Ingrezza in Tourette Syndrome segment is around $92.8 million. Here again, we assume that only 10% of the target population will opt for the drug, which is a pretty conservative estimate.
Based on these calculations, I believe that Ingrezza will manage to reach peak sales of about $1.4 billion. Hence, it can become a blockbuster therapy and can make Neurocrine Biosciences an solid investment opportunity.
Disclosure: I/we have no positions in any stocks mentioned, but may initiate a long position in NBIX over the next 72 hours. I wrote this article myself, and it expresses my own opinions. I am not receiving compensation for it (other than from Seeking Alpha). I have no business relationship with any company whose stock is mentioned in this article.