Starting with civil war of 2011, Libya has been in a state of constant strife. The country has found itself torn by its many conflicting parties. Among them are two main forces - General National Congress of western capital Tripoli and House of Representatives seated in eastern Tobruk. In order to avoid any confusion, in this article they will be called simply West and East. On 5 April 2016 West took first steps to unite both parts under an umbrella of Government of National Accord (GNA), but so far this move has not been successful.
Infighting among the powers significantly influences the production and shipping capabilities of a country. Since the capture of the central export terminal on 11th September (more on that in our other article), we have seen week-long pauses in outflows alternating with spikes of production every month.
This time the plateau ended 29th October to 2nd November when several tankers left Libyan ports with 1.1mbbl for Malta, 1mbbl for UK and several smaller to Italy and Spain. Since then exports have been almost continuous, shipping to Europe and Korea until the following halt on 16th November.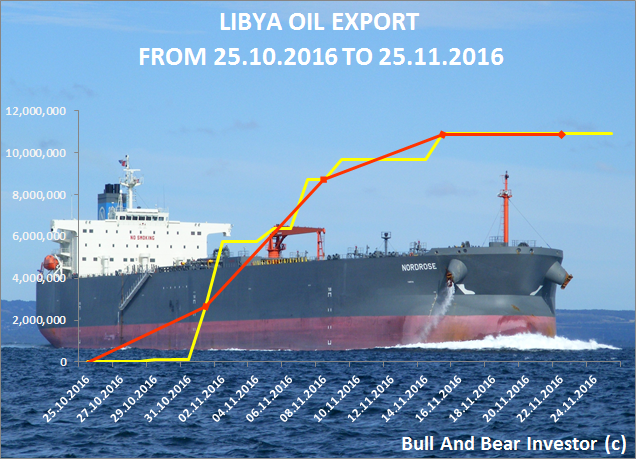 (Source: Tanker tracking data, Bull And Bear Investor's calculations)
This is hardly normal for any of OPEC countries, but Libya does not intend to stop outflows for long. National Oil Corporation (NYSE:NOC) goes so far as to say that country's production almost doubled since the last week of September from 363,000 bbl/d to 670,000 bbl/d and it intends to reopen 2 major fields, Al-Sharara and Al-Feel.
This could certainly help Libya to bring back its output back towards levels seen before the conflict. Especially since OPEC made a deal to cut production while exempting Libya from the agreement. Maybe then it will be able to get its goal of 800,000 bbl/d in 2017.
However, that heavily depends on whether or not NOC will get $2.5 billion funding to reopen some of its old pipelines. With the Libyan Central Bank barely functioning and with the country heading towards economical disaster, the government hardly can accomplish this on their own.
As the Bank and GNA seem to leave West to their own devices, dissatisfaction among population grows. After an almost complete victory of western militias over ISIS in Sirte, other militia warbands seem to turn on themselves at the capital of Tripoli in a grab for power.
At the same time, eastern forces of General Haftar try to gain support from a new U.S. president and Russia. So far these countries respect a U.N. embargo on arms inside the country.
It seems that the future of Libya will be decided on whether or not the two sides will unite. And if Haftar can broker an agreement with foreign powers, we may see him as a new conqueror of a country. Currently, West does not seem to hold much authority.
All in all, we expect that next month exports will slowly get steadier as new fields will probably come into use. But at the same time, longer term prospects do not look so bright. If the conflict drags on, declines will certainly kick in because of a lack of maintenance of existing resources.
Our articles are typically based on tanker tracking data, which is not available for free anywhere else. If you want to receive notifications on when our articles are published, please go to the top of this page next to my profile, click the "Follow" button and then click on "Real-time alerts on this author."
Disclosure: I/we have no positions in any stocks mentioned, and no plans to initiate any positions within the next 72 hours.
I wrote this article myself, and it expresses my own opinions. I am not receiving compensation for it (other than from Seeking Alpha). I have no business relationship with any company whose stock is mentioned in this article.
Additional disclosure: The material presented in this article is provided for informational purposes only and is based upon information that is considered to be reliable.