There is nothing more important to the overall economy than the consumer. The biggest swing factors for the consumer are interest rates and energy prices. Both of these just jumped and should slow the consumer which should slow the economy. That can be a stock market (NYSEARCA:SPY) drag.
The Economy Is The Consumer
It shouldn't be an epiphany but people drive the economy.
We'll prove it.

Source: St Louis Federal Reserve
Almost 70% of GDP is made up of personal consumption expenditures. People buying things for themselves and their family is what runs the economy. The consumer portion of the economy is bigger than ever (see the chart above).
The Consumer Cares About Interest Rates And Energy Prices, Both Recently Jumped
Gas Prices Versus Consumer Confidence
Consumer confidence is driven by one main thing, can they buy what they need. If so they have confidence if not they don't.
There are two main swing factors to this; interest rates and energy prices, specifically gas at the pump.
Let's see.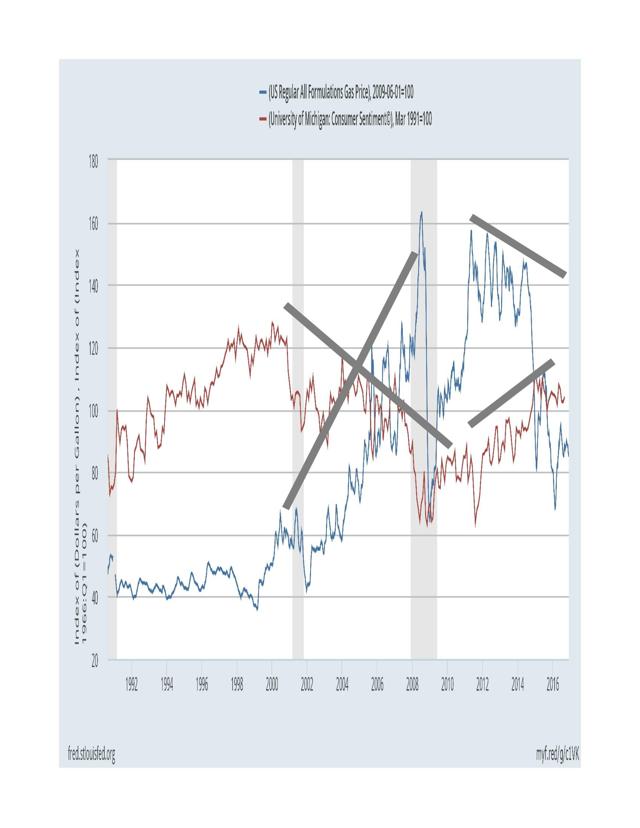 Source: St Louis Fed. Lines: Elazar Advisors, LLC
We drew some grey lines to show that when gas at the pump goes up consumer confidence goes down, and vice-versa. (This chart was indexed to match the two data series.)
If the recent jump in oil prices holds and affects overall energy prices this is a crimp to a tight consumer budget. It can force consumers to have to make decisions and leave out discretionary purchases. That slows spending. That spending is the economy (first chart above).
Interest Rates Versus Consumer Confidence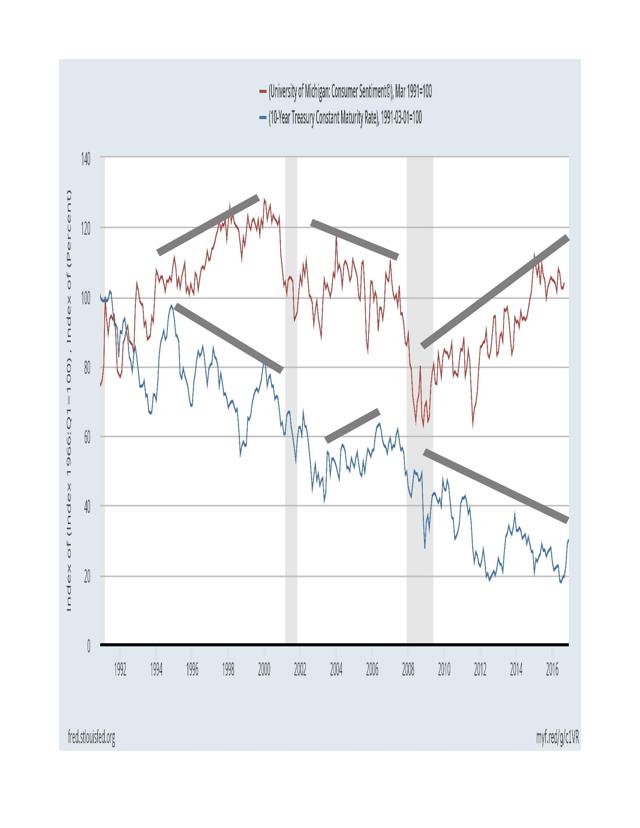 Source: St Louis Fed. Lines By Elazar Advisors, LLC
Above also, when rates go up consumer confidence drops and vice versa.
The recent jump in rates could reverse this eight year run in consumer confidence. That can stall out economic growth.
Consumers are burdened with debt and pay a large amount on revolving credit. Their home prices also go up and down inversely with interest rates. Those home prices give consumers confidence to spend because they feel wealthy.
An economy that has been depending on the consumer has two major headwinds to contend with that only just occurred. That should cap growth and potentially slow growth.
Conclusion
Two major headwinds just jumped into the picture for the consumer and so the economy. Rates and energy prices just jumped. Those are two critical factors to how consumers feel about themselves. Consumers drive the economy and the economy drives the stock market. If the consumer slows we need to worry longer term about the stock market.
PRO TRADER: Free Two-week Trial
Click here for a free trial.

Come see what we're doing.

Directional calls on stock market, stocks, gold, oil, bonds, currencies, indexes and more.
If you want Elazar's analysis on Seeking Alpha, scroll to the top of the article and hit "Follow." Elazar also writes real-time pieces as news is reported. If you want to be among the first updated check the box for "Real-time alerts on this author" under "Follow."
Disclaimer: All investments have many risks and can lose principal in the short and long term. This article is for information purposes only. By reading this you agree, understand and accept that you take upon yourself all responsibility for all of your investment decisions and to do your own work and hold Elazar Advisors, LLC and their related parties harmless. Any trading strategy can lose money and any investor should understand the risks.
Disclosure: I/we have no positions in any stocks mentioned, and no plans to initiate any positions within the next 72 hours.
I wrote this article myself, and it expresses my own opinions. I am not receiving compensation for it (other than from Seeking Alpha). I have no business relationship with any company whose stock is mentioned in this article.