In a recent article "ETRACS 2x ETNs - Is Leverage A Friend Or Foe?" the live performance of some of UBS' (NYSE:UBS) ETRACS 2x leveraged ETNs was compared vs. their unleveraged counterparts. The analysis found that even though the 2x ETNs are only designed to track twice the monthly performance of the index, they still as a group managed to reasonably achieve their 200% leverage objective over longer time periods (up to 5 years). Thus, my conclusion was that investors did not have to be unduly worried about leverage decay eating up their entire value of their investment, despite article headlines boldly claiming that "Leveraged ETFs All Go to Zero".
The monthly-resetting feature of the ETRACS 2x ETNs was even beneficial for the performance of the ETRACS Monthly Reset 2xLeveraged S&P 500 Total Return ETN (NYSEARCA:SPLX), when compared to the ProShares Ultra S&P500 (NYSEARCA:SSO) which resets its leverage daily. Since inception of SPLX in Mar. 2014, it has returned +46.76% compared to +41.28% for SSO. Also shown on the chart is the SPDR S&P500 ETF (NYSEARCA:SPY), which returned +24.05%, for comparison.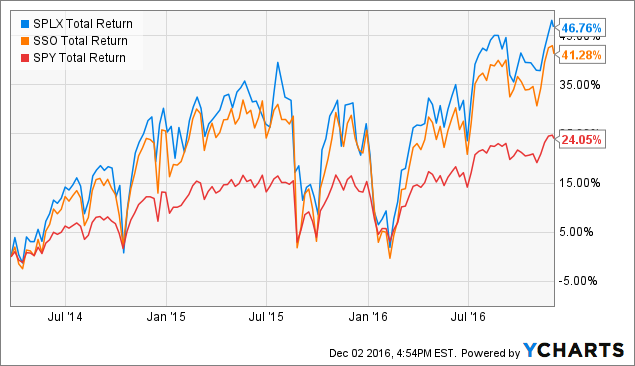 SPLX Total Return Price data by YCharts
The article generated a stimulating comment stream amongst the readership of Seeking Alpha. A number of astute readers pointed out because the 2x ETNs had not passed through the financial crisis, the effect of leverage on their performance during bear markets was unknown, monthly-resetting notwithstanding. For example, reader Bertrand22 commented:
It seems like most of these ETNs are relatively young and therefore didn't go through any major crisis.

If you check SSO since inception against the S&P500, you will note that it has yielded the same return as the S&P500...but it should have been twice that return! My question is, do you believe that these ETNs, due to their monthly reset, would shield you against those major move in the market?
Reader TriniIndi echoed:
Yes its important to know how they would do in a crisis. Often crises are accompanied by high volatility which as your analysis suggests leads to underperformance with the 2x ETNs.
Therefore, this article seeks to simulate the performance of the monthly-resetting SPLX all the way back to before the financial crisis to see how this 2x ETN would have fared.
Methodology
To simulate the performance of SPLX, I calculated the monthly total return change of SPY using data from Yahoo Finance and then doubled this to obtain SPLX's monthly change. Monthly total return values for SSO were obtained from Morningstar. For simplicity, the return series is computed using monthly return rather than daily return values, but this does not change the overall analysis. The start point of the analysis is Jun. 2007, the inception date of SSO.
Let's take a look at the results. The following chart shows the total return of SPY, 2*SPY, SPLX (simulated) and SSO.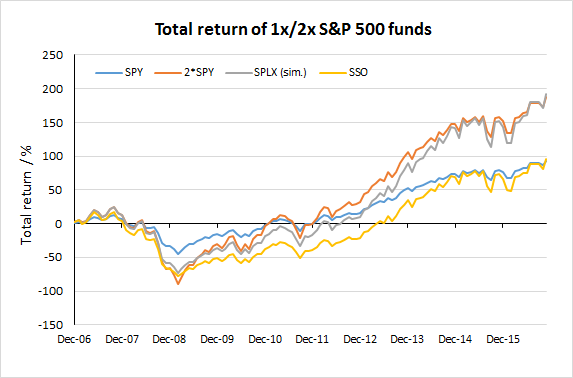 (Source: Stanford Chemist with data from Yahoo Finance and Morningstar)
The data above is very revealing. The simulated, monthly-resetting 2x ETN SPLX, actually managed to even slightly outperform 200% of the index, with a +192% total return vs. +187% for 2*SPY. On the other hand, the daily-resetting 2x ETF SSO (+95.6%) barely managed to beat the unleveraged SPY (+93.5%) over this time frame. This suggests that monthly resetting is clearly superior to daily resetting when passing through a bear market, at least where the S&P 500 is concerned.
Looking more closely at the start of the chart indicates that both SPLX (simulated) and SSO actually fell less than 2*SPY at the depths of the financial crisis. However, while SPLX took full part in the rebound, SSO lagged significantly behind, possibly due to the high daily volatility that was present still during the recovery.
Annualizing the total return values of the various funds over this ca. 10.5-year span shows that simulated SPLX has the highest annual return of 10.75% over this time period, followed by 2*SPY at 10.56% (cf. 6.49% for SPY).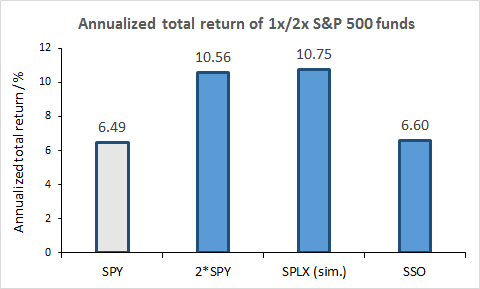 (Source: Stanford Chemist with data from Yahoo Finance and Morningstar)
It should be noted that the simulated SPLX performance does not include fees (aside from SPY's expense ratio that is already accounted for in the calculation). SPLX currently charges a total expense ratio of (1.25% + 3-month LIBOR), which comes out to 2.18% using today's 3-month LIBOR rate of 0.93%. This 2.18% expense ratio is steep, but two facts should be borne in mind. First, adjusting SPLX's performance by this expense ratio gives an annual return (8.57%) that still over two percentage points higher than unleveraged SPY (and SSO, which itself has a 0.89% expense ratio). Secondly, the performance of 2*SPY is also a fee-free figure; accessing margin from a typical retail broker to achieve 200% S&P 500 exposure would be much more expensive than going through an ETN route.
To delve further into the reason for the discrepancy between the two 2x funds, I looked at the monthly return series of the monthly-resetting SPLX (simulated) and the daily-resetting SSO. To ensure a fair comparison, I boosted SSO's return by an amount equivalent to its annual expense ratio, since the simulated SPLX also does not include fees. The hypothetical fee-free SSO is denoted as SSO*. Also plotted on the same axes (in area format) is the difference in monthly return between SPLX (simulated) and SSO*.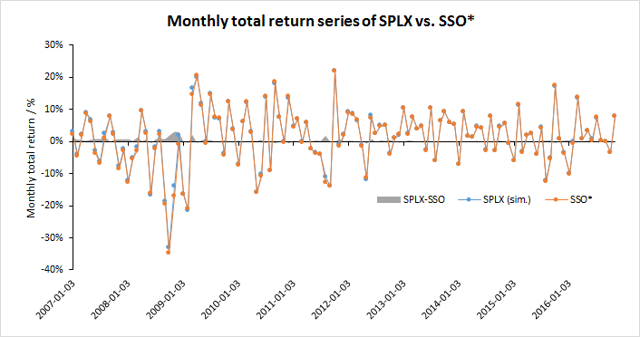 (Source: Stanford Chemist with data from Yahoo Finance and Morningstar)
As can be seen from the chart above, the monthly return series for SPLX (simulated) and SSO* are nearly identical - you really have to squint closely to be able to spot the differences between the two graphs. The differences, shown as gray areas, are rather tiny in comparison to the return values themselves. At first glance, you might wonder are SPLX and SSO really that different?
Let's zoom up the graph by only showing the differences. Here we can see that the differences are actually quite obvious - SPLX (simulated) outperforms SSO the vast majority of months. Moreover, as we might have expected, the monthly-reset fund outperforms the daily-reset fund more when volatility is high - such as during the financial crisis or briefly in the summer of 2011.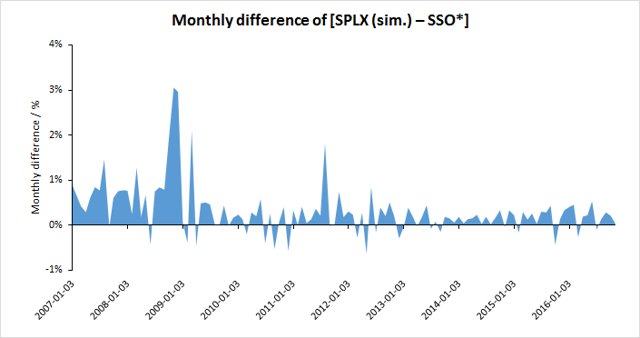 (Source: Stanford Chemist with data from Yahoo Finance and Morningstar)
The maximum outperformance was recorded in Nov. 2008 - that month, SPLX (sim.) returned -13.9% vs. -16.9% for SSO, good for a 3.1% differential. Normally, outperforming by a few percentage points in a month isn't something that deserves to be written home about. But when one fund consistently outperforms the other by 10s of basis points per month, this difference really does add up over the long haul, producing the results shown in the second chart of this article.
Conclusion
This study was performed to investigate how monthly-resetting 2x ETNs would have performed in a crisis. I chose SPLX for this analysis because [i] the S&P 500 is a widely used benchmark for the U.S. equity markets, and [ii] a daily-resetting 2x counterpart, SSO, exists and that was also incepted before the financial crisis.
The analysis found that 2x monthly resetting would have been of significant benefit to SPLX in passing through the financial crisis, had it existed before then. In fact, a simulated SPLX investment would have even outperformed 200% of SPY over the past 10 years, before fees. After fees, SPLX still beats 200% of SPY assuming that the latter investment's margin rate is greater than about 2% (most retail brokers charge far higher than that).
The conclusion of this study would therefore be, if an average investor were intent on achieving 200% exposure to SPY, he should prefer SPLX rather than SSO or leveraging his account with margin from his broker.
Before jumping all-in into SPLX, however, some issues that are associated specifically with ETNs should also be mentioned. First, as SPLX is technically a debt instrument, its existence is contingent upon the solvency of the issuer, in this case UBS. If UBS were to disappear overnight, the ETN would become worthless. Secondly, the ETRACS ETNs have redemption mechanisms in place that would cause the fund to be redeemed if the index were to fall 30% in a month, or if the notes fell below $5. Personally, I do not consider redemptive events to be either net positive or net negative for unitholders, but that's a topic for another day. Finally, note that SPLX tracks a total return index, and as such the ETN does not pay out any distributions as the index also includes the effect of reinvested dividends.
If you have enjoyed my article, please consider clicking the "Follow" button next to my name to be alerted to new content! Also, subscribers to the Cambridge Income Laboratory receive my best trade ideas in advance, have access to my personal ETF/CEF income portfolio, and can request specific ETF/CEF analysis.
Disclosure: I/we have no positions in any stocks mentioned, and no plans to initiate any positions within the next 72 hours. I wrote this article myself, and it expresses my own opinions. I am not receiving compensation for it (other than from Seeking Alpha). I have no business relationship with any company whose stock is mentioned in this article.