In my prior BUY call, I laid out my case for using Aberdeen (OTC:ABDNF) as a way to play out an emerging market recovery. Sadly, this has not quite materialized. FY16 results were better than expected but flow improvement looks unlikely to materialize on concerns around EM equity performance, which was a key reason for my Buy thesis in the first place. Overall, Aberdeen's outlook remains cautious on multiple fronts, including the dividend, flows and industry-wide challenges all of which are reflected by analyst consensus.
Here's what happened this quarter: Aberdeen's full-year pretax profit fell to 352.7 million pounds, as a result of outflows across a range of products including its multi-asset funds. The results were however in line with consensus (~350 million). Overall revenue for the year fell 14% to 1 billion pounds, again, in-line with forecasts.
FY16 results were good overall, driven largely by higher than anticipated investment gains. AUM numbers were largely driven by a higher than expected market/performance/FX benefit at £53.4bn.

On the cost side, annualised cost savings of £50m were achieved by year-end. On a constant currency basis, the phasing of the cost savings has reduced 2016 costs by £28m, negating the additional costs from M&A, however the impact of GBP weakness on overseas costs weighed.
With the US election done and dusted, the pathway looks set for rising USD and US rates, both of which are adverse for EM and Aberdeen's shares have shown negative correlation to both. The stock has already underperformed UK asset manager peers by an average 15% since the US elections on 8 Nov.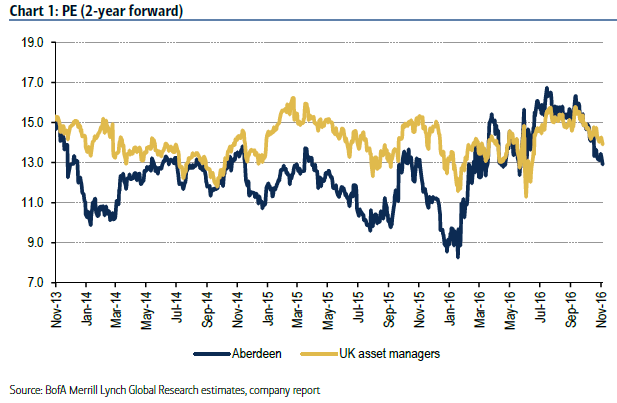 Opportunity to buy the dip? Don't think so. The weakness captures the increasingly challenging outlook Aberdeen now faces considering its business model is the most EM-centric in the UK asset manager universe. The latest US election result has led to 1) rising USD as money flows back into the safe haven currency that is the USD, 2) US rates look to rise further as the Fed looks to hike on reflationary fiscal policies by the new Trump administration and 3) trade protectionism. All these factors have been historically negative for EM markets and will continue to be unless we see a major about turn by President elect Trump.
Recent flow data has backed up this argument. Data from EPFR up to the week ending 23 Nov for Aberdeen (covering 18% of AUM) shows net outflows have picked up in the last two weeks.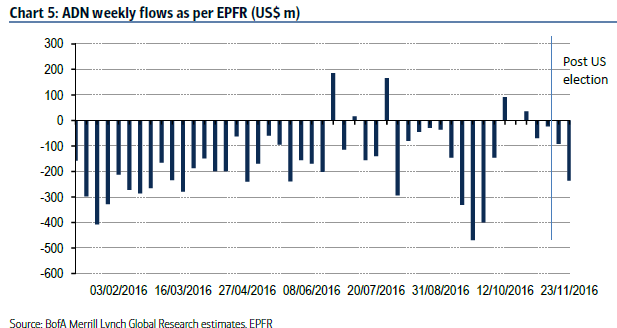 Other factors which weighed on Aberdeen's flow data were 1) St. James's Place ~£(1.6)bn in APAC equities and 2) a £(2)-(2.5)bn announced outflow coming from SWF in Global and APAC equities. Revenue impact for the SJP outflow should be modest at £3-4m pa or <1% of revenues along with the SWF outflow with about half the yield of the headline equity margin or <1% of revenues. Management has acknowledged this as well, expecting short-term trends to fluctuate due to the aforementioned redemptions in addition to macro developments.
For investors worried about dividend sustainability, no indication of a cut yet. The dividend at 19.5p was held flat as expected with no significant announcements in respect of the outlook or any changes to dividend policy.
The short-term play looks to be over as Aberdeen remains very much exposed to the fortunes of EM. Prefer to wait for a more attractive entry point if signs of an EM recovery do materialize. Long term though, taking a long Aberdeen position needs to be justified by more than just EM and flows. To justify a long-term buy on this stock, one would need to see value creation through growth in other areas (e.g. fairly priced acquisitions) and cost-cutting measures to materialize to justify purchasing today.
Disclosure: I/we have no positions in any stocks mentioned, and no plans to initiate any positions within the next 72 hours.
I wrote this article myself, and it expresses my own opinions. I am not receiving compensation for it (other than from Seeking Alpha). I have no business relationship with any company whose stock is mentioned in this article.
Editor's Note: This article discusses one or more securities that do not trade on a major U.S. exchange. Please be aware of the risks associated with these stocks.