Crude oil (NYSEARCA: USO) soared to its strong resistance of $52 after OPEC agreed to an output cut to balance the flooded oil market. If the commodity is able to handle this supply zone, we can expect $80 in the next two years. Several oil companies would benefit in that scenario, and one of them has just given a bullish breakout.
OPEC's decision to scale back its production and getting Russia involved seems like a win. It has also shocked many analysts since they kept a preconceived notion that the OPEC meet would fail after Saudi Arabia earlier pulled out of talks with leading non-OPEC producer Russia. What was more surprising to the analysts and the broader market was the declaration of an output cut and not a production freeze. OPEC has decided to remove 1.2 million barrels a day by January while Russia will contribute with a cut of 600,000 b/d. This is equivalent to 2 percent of global production. Even if this is not enough, it is at least a start. Will they honestly abide by the agreement is another story altogether.
This agreement also tells of a highly misplaced and a failed gamble on letting the free market decide the prices of oil (NYSEARCA: OIL). In November 2014, Saudi Arabia pushed the OPEC members to protect their market shares while letting the economics of demand-supply decide the price. OPEC wanted to kill the high-cost American drillers and producers so that it can have a bigger pie of the market, but little did it know that it will all backfire. The U.S. companies are still standing, and have substantially lowered their breakeven points. Having realized this, OPEC had no other choice than to cut back on production and enjoy higher prices along with everybody else. So much for the market share struggle!
Technically, NYMEX Light crude oil is trading at $51.68 a barrel, which is extremely close to the $52 resistance. After a month of high volatility, crude finally ended November on a strong positive note, with gains extending in December. If the optimism on the OPEC deal sustains this month and the price ends above $50, it would mark the highest monthly closing for commodity since August 2015. It would also force the short-sellers to cover their positions, lending fuel to the up move. Take a look at the monthly price chart below.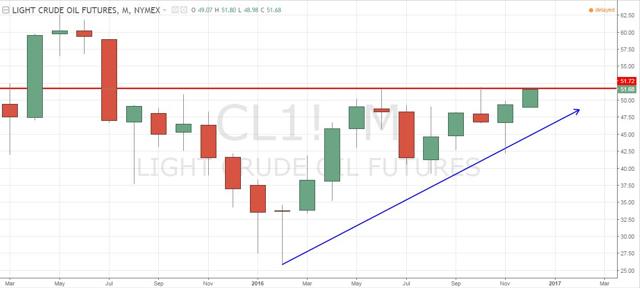 Source: TradingView
A big beneficiary of the rising oil prices is ConocoPhillips (NYSE: COP), a stock with a strong correlation to crude oil. In my recent article on Conoco, I had said that the stock is closer to the resistance level now. A breakout which takes the price beyond this resistance trendline could bring in huge gains for the stock. On a positive note, if the oil (NYSEARCA: OIL) bulls are able to cross the $52 resistance, then there is an overwhelming probability of the stock heading higher to $52-$56.
Even though crude is yet to cross the resistance, the stock has decisively breached a couple of resistances last week. A run-up to the previous top near $56 may be on the horizon, however, I will wait for another weekly closing above these breached levels to gain more confidence on the bullish breakout. A retest of the violated resistances near $45-$46 can be used to build long positions.
As can be seen from the weekly COP price chart below, the 14-week RSI value has been supporting the bullish structure in play since the Feb-low. The latest RSI value is pretty strong at 61.7731. It also gives that if oil prices rise to $80 as expected, COP could emerge as a great investment, rising significantly higher than the near-term target of $56.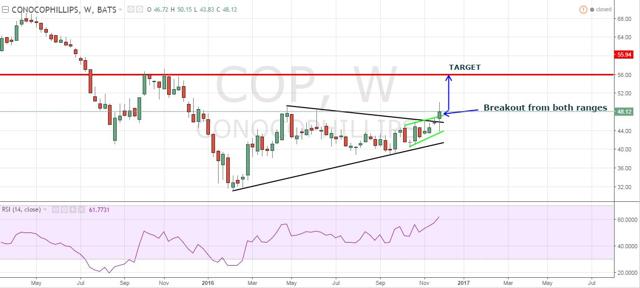 Source: TradingView
Conclusion
The positive outcome of November OPEC meet has sent crude oil jumping and forcing the short-sellers out of the game. A breakout above $52 should bring in hefty gains for the oil bulls and the related stocks.
One such stock with a strong direct correlation with oil is ConocoPhillips which gave a bullish breakout last week. The stock should now aim for the target price of $56, but a retest of the breached resistances may be in the offing. Another positive weekly close above those levels will confirm the sustainability of the breakout. COP is expected to be a big gainer from rising crude oil.
Note: I cover several stocks in different sectors as well as S&P 500, crude oil, gold and silver, U.S. dollar, etc. So, if you liked this update, and would like to read more of such informative articles, please consider hitting the "Follow" button above. Thank you for reading!
Disclosure: I/we have no positions in any stocks mentioned, and no plans to initiate any positions within the next 72 hours.
I wrote this article myself, and it expresses my own opinions. I am not receiving compensation for it (other than from Seeking Alpha). I have no business relationship with any company whose stock is mentioned in this article.