The financial markets have taken a victory lap over the last month, as we continue to see investor optimism on the results of the recent US elections. Many of these trends have started to look sluggish in terms of momentum, however, and this is an early indicator that we could see bearish reversals that will take many in the market by surprise. In practical terms, this means real monetary risk for investors that are caught long at the wrong levels.
In these types of situations commonly traded assets like the SPDR Gold Trust ETF (NYSEARCA:GLD) and the iShares Silver Trust ETF (NYSEARCA:SLV) tend to get most of the attention - especially from those most interested in precious metals investments. But when we are looking at the mining companies, we can identify macro trends that are conflicting and this could ultimately lead to sideways price activity in assets like the VanEck Vectors Gold Miners ETF (NYSEARCA:GDX).
Chart View: GDX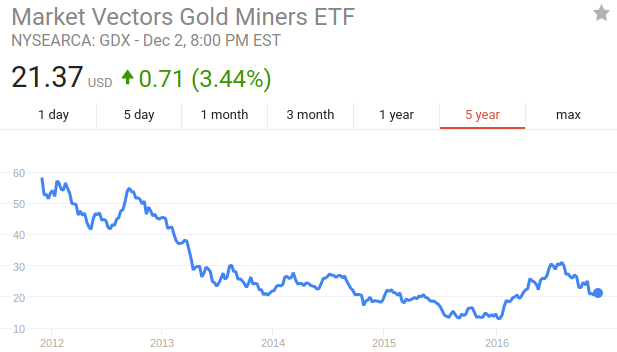 Chart Source: Gold Traders
In the chart above, we can already see that collective activity in the mining space has had trouble for the last two years. This uninspiring performance has gone largely unnoticed if we look at most of what has been reported in the financial media. It is true that the precious metals space has made shorter term progress for most of 2016 but when we look at the multi-year view, it is much easier to see that this enthusiasm is largely misplaced.
So the next major question is whether or not the pro-business platform that is currently being touted by President-elect Donald Trump will be enough to stoke gains in manufacturing and building in infrastructure that will filter through the metals space and inspire rallies. To make accurate assessments here, it is critical to look at the state of the US labor market as this is generally the most important precursor in generating asset inflation and increases in broad-based productivity.
Chart View: US Unemployment Rate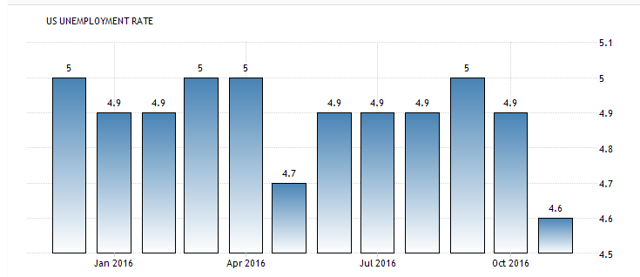 Chart Source: Gold Traders
In this chart, we can see that the US unemployment rate has fallen to 9-year lows at 4.6%. These are levels that bring us back to the good old days where a more innocent financial environment had not yet witnessed the economic destruction encountered during the global financial crisis. But what is missing here is the fact that these "gains" are a direct result of the fact that the labor participation rate for workers aged 25-54 has fallen to 62.7%. These are dismal levels that have not been seen since the late 1970s and ultimately this suggests that the potential for gains in manufacturing relate to a distant goal that will take longer to reach than most of the market realizes.
Chart View: US Labor Participation Rate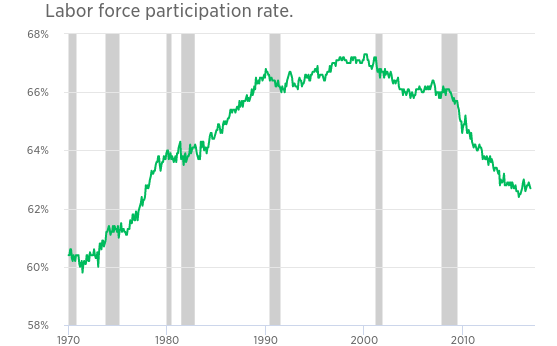 Chart Source: Gold Traders
This spells clear negative for the metals miners, and this is something that will almost certainly create headwinds for those invested in GDX. The good news is that these negatives could create alternative macro trends that make precious metals more attractive for investors looking for safe haven protection in an environment marked by stalling (or falling) equity markets.
Regionally, those interested in individual mining stocks might have better success when looking at non-US mining companies like BHP Billiton (NYSE:BHP) and Rio Tinto (NYSE:RIO). The picture is likely to be less clear for US companies like Barrick Gold Corp. (NYSE:ABX), Newmont Mining Corp. (NYSE:NEM), and Goldcorp. (NYSE:GG). What is more clear is that we are likely to see sideways trading activity for the space as a whole and this means we are unlikely to see any significant rallies in GDX as we head into next year.
Disclosure: I/we have no positions in any stocks mentioned, and no plans to initiate any positions within the next 72 hours.
I wrote this article myself, and it expresses my own opinions. I am not receiving compensation for it (other than from Seeking Alpha). I have no business relationship with any company whose stock is mentioned in this article.