On November 16 th I published here my analysis regarding Deere (NYSE: DE) wondering should I sell my Deere holding. The stock was at $91 at the time and it was a week before the earnings release.
Based on my analysis I decide to sell and by that I missed the big rally to >$100 levels.
As a post mortem I went back and added the additional information that was contributed through the earnings release to understand where I went wrong with my estimations.
The original model in a brief:
The model was aimed to estimate the recent quarter's results and to evaluate the financial outlook of two optimistic scenarios for ull Year 2017.
Scenario "a": +10% year over year revenue increase
Scenario "b": +20% year over year revenue increase.
Here is the summary table that was introduced in the previous revision with the relevant assumptions.

The new information:
Following the earnings release the next table shows the comparison between the Modeled and the Actual Q4'16 results alongside the FY'16 view:

My model for Q4 was too shy regarding the Revenue trend as I used the 8% decline that was originally forecasted by DE's management.
The Net margins came in way low compared to my forecast as the recent quarter Net Margin % of revenue was one of the weakest ever.

So the bottom line was that my 2016 model estimated that the FY'16 EPS would reach $5.27 but the actual EPS for the year ended up at $4.81.
The 2017 model:
As I mentioned earlier I had two optimistic scenarios for 2017. Both models assumed a year over year revenue growth and a healthy Net Income %, which would interpreted into a healthy EPS range.
Based on a stock price of $91 per share the Fwd P/E ended up at 13-14.2x which is higher compared to historical trends which were ~12x.
Based on the company's earnings call presentation its 2017 expectations are more conservative:
The company expects revenue to be down year over year (I used the 1% reduction quote):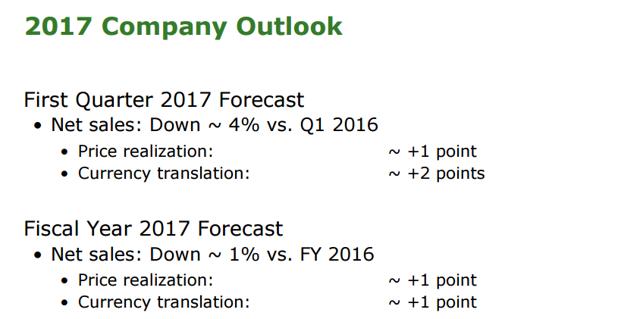 Tax rate is expected to be higher compared to 2016: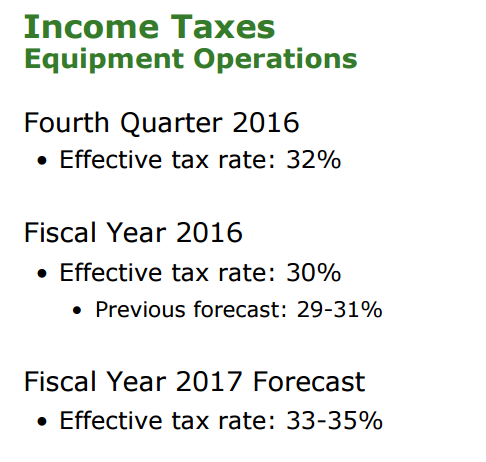 R&D expenses are expected to be lower year over year: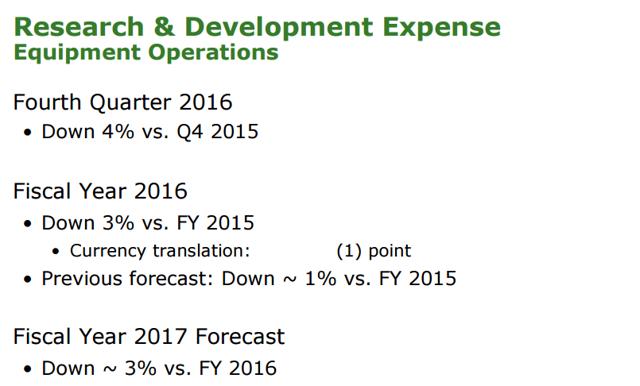 All that led to me remodel the 2017 financials and the current estimation for FY'17 is a $5.84 Annual EPS. Based on a stock price of $91 it means a Fwd P/E ratio of 15.6x.

All 2017 models end up with a P/E ratio that is higher compared to the historical ~12x which means that at $91 the stock is not cheap.
Needless to say, at a stock price of $100, it could be called expensive.
Based on Yahoo finance the consensus EPS for FY'17 is at $5.15. It means that my model is even more optimistic than the buy-side analysts. It therefore strengthens my position that the stock is too high at these levels.

Conclusions:
The recent quarter's results and the Full year guidance are not signaling a recovery in DE's business model. With an EPS that ranges between $5.15 (Consensus) to $5.84 (my model) the dividend payout ratio is above 40%. It was above 40% since 2015 but it would mean that the company would probably will not implement a significant dividend raise as long as it doesn't see more sound signals of an ecosystem upturn.
I am waiting on the sidelines for now. I will get back in if the price reflects a more interesting dividend yield.
Disclosure: I/we have no positions in any stocks mentioned, and no plans to initiate any positions within the next 72 hours.
I wrote this article myself, and it expresses my own opinions. I am not receiving compensation for it (other than from Seeking Alpha). I have no business relationship with any company whose stock is mentioned in this article.
Additional disclosure: The opinions of the author are not recommendations to either buy or sell any security. Please do your own research prior to making any investment decision.