Investment Thesis
Starting from May, Alliance One's (NYSE:AOI) price dropped from $26 to $14.40, and now the stock is currently trading at a P/E ratio of 1.94. This invites us to think about, in terms of investment, how good this company could be. When you invest money in cheap companies, it is important that there be potential value growth drivers. In this case, such drivers can be reducing AOI's debt and the growth of consumption of tobacco in emerging markets.

Company Profile
Alliance One is not a well-known company, so I'd like to give a brief overview. Alliance One and Universal Corp (NYSE:UVV) are the only two global publicly held leaf tobacco merchants. Leaf tobacco merchants purchase, process, pack, store and ship tobacco to manufactures of cigarettes and other consumer tobacco products throughout the world. The company also provides agronomy expertise for growing leaf tobacco.
The consumer tobacco business consists of a few multinational cigarette manufactures and by government controlled entities. About 10 percent of AOI's revenue is the share of PMI and China Tobacco International, Inc.
The table below shows geographic information as to sales and other operating revenues based on the destination of the product shipped. The Belgium destination represents a customer-owned storage and distribution center from which the tobacco will be shipped on to manufactures facilities.

Source: Alliance One Annual Reports
The key issue that Alliance One faces constantly is seasonality. According to AOI Annual Report:
The purchasing and processing activities of our tobacco business are seasonal. Flue-cured tobacco grown in the United States is purchased, processed and marketed generally during the five-month period beginning in July and ending in November. U.S. grown burley tobacco is purchased, processed and marketed usually from late November through January or February. Tobacco grown in Brazil is usually purchased, processed and marketed from January through July and in Africa from April through September. Other markets around the world have similar purchasing periods, although at different times of the year.
Two charts below show total sales and other operating revenues of the company per quarter and estimated fair value of long-term debt and interest expense.

Source: Alliance One International 10-Q Reports

Source: Alliance One International 10-Q Reports
Indeed, in the period from April to June the company has the lowest revenue. During recent years Alliance One International has decreased levels of long-term debt. The company is trying to take further steps for reducing and improving their debt to capital ratio.
Another acute problem for Alliance One is fluctuations in foreign currency exchange and interest rates, in spite of their business is generally conducted in U.S. dollars. Here is the quotation from 2016 annual report:
But the company must purchase tobacco in non-U.S. countries using local currency. As a result, local country operating costs, including the purchasing and processing costs for tobaccos, are subject to the effects of exchange fluctuations of the local currency against the U.S. dollar. In addition, the devaluation of foreign currencies has resulted and may in the future result in reduced purchasing power from customers whose capital resources are denominated in those currencies.
The next chart shows cumulative monthly returns of Alliance One International , Universal Corporation and SPDR S&P 500 Trust ETF (NYSEARCA:SPY). As you can see AOI was very volatile relative to others. And considering that the company doesn't pay any dividends, shareholders did not receive anything for these five years.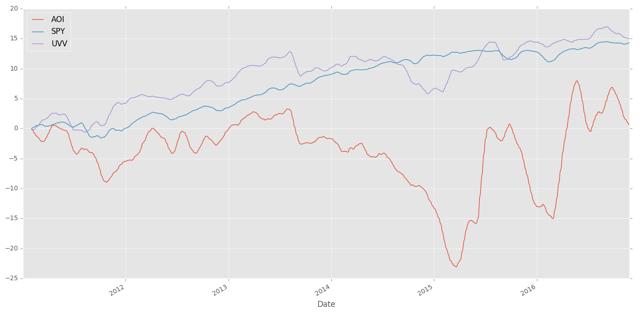 Source: Author created image using data from Yahoo Finance and Python
Valuation
Below I will make an attempt to estimate fair value of this stock using the discounted cash flow model. For constructing the probabilistic DCF model, I've used the Monte Carlo Method and the Oracle Crystal Ball. Total amount of sales is quite stable: in 2012, 2013, 2014 and 2015 were 426.9 mn kilos, 424.4 mn kilos, 424.8 mn kilos, 378.4 mn kilos and 382.4 mn kilos, respectively. And in Q1 2017 the company sold 61.2 mn kilos vs 55.6 in Q1 2016 and 88.8 mn kilos in Q2 2017 vs 84.8 mn in Q2 2016; thereby AOI can achieve at least 400 mn kilos in 2017. But it is important to note that average price per kilo decreased too much in comparison with previous periods.
Here I made few assumptions: Discount Rate has Normal Distribution with Mean = 9.25% and Std. Dev. = 0.82 % and Revenue growth has Beta Distribution with -2% minimum and 4% maximum. This table below shows my main input and predictive data:

Based on these data, you can see my distribution of predictive fair value.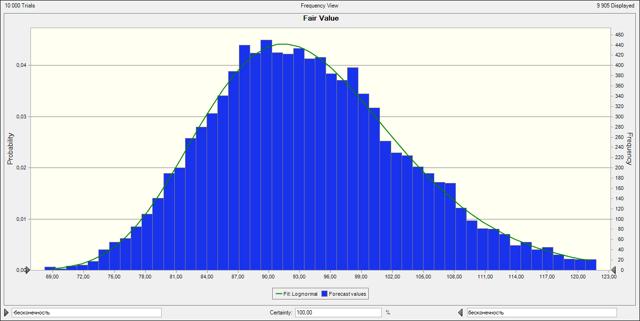 Source: Source: Data - Morningstar; infographics by author
My DCF analysis indicates that the current stock price is undervalued. And if we look at technical chart we will see that there are at least two signals for buying. The classic buy signal is generated when the short-term average crosses above the long-term average. And RSI indicator makes a reading of 38. When RSI makes a reading below 30 it will be the signal for buying.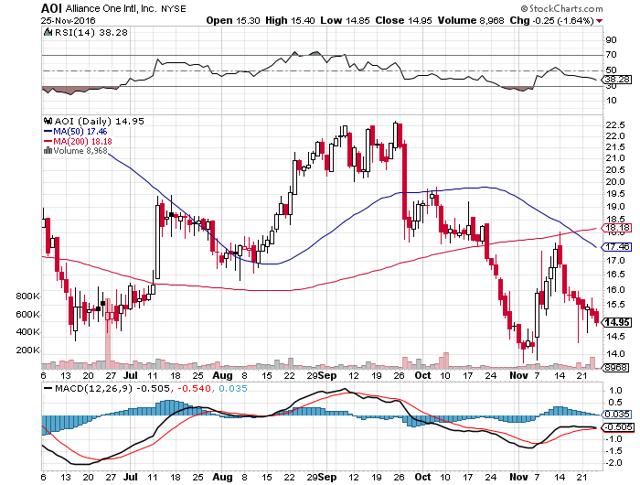 Source: http://stockcharts.com/
Recommendation
Over the last few years Alliance One International didn't make you rich, but now stock seems very cheap. The company is able to generate steady cash flow and also is trying to reduce high levels of debt. While in developed countries, consumption of tobacco cigarettes continues to decline, sustained volume growth is widely predicted in emerging markets, driven by population growth and increasing disposable income. As a result, the overall value of the tobacco market continues to increase. Nonetheless, we should wait for a clear sign for confirmation that this theory is right. For instance, such a sign would be when RSI moves below 30.
Disclosure: I/we have no positions in any stocks mentioned, and no plans to initiate any positions within the next 72 hours.
I wrote this article myself, and it expresses my own opinions. I am not receiving compensation for it (other than from Seeking Alpha). I have no business relationship with any company whose stock is mentioned in this article.