Last week, OPEC reached a deal to slash its oil output by 1.2 million barrels per day for the first half of 2017. As a result of this move, oil prices rallied in an impressive manner, with the Brent now trading at just under $55 per barrel. The good news is that the recent jump in oil prices is expected to continue, as the likes of Russia and other non-OPEC producers are also expected to join the production cuts.
In fact, other non-OPEC countries, including Russia, are expected to contribute another 600,000 bpd of oil production cut, which will reduce global oil production to the tune of 2% in the first half of 2017. Now, as a result of these production cuts, it is expected that Brent oil prices will rise to more than $60 per barrel, according to a forecast by Andurand Capital. If this happens, ConocoPhillips (NYSE:COP) will be one of the primary gainers of the production cuts since it has high price sensitivity to Brent oil. Let's see why.
Why ConocoPhillips will be a key beneficiary of the cuts
When oil prices were down, ConocoPhillips had altered its production portfolio to bring down its break-even point by more than half to just $50 per barrel. This was way below its earlier break-even point of $105 per barrel. Driven by this lower break-even point, Conoco's sensitivity to the change in Brent oil prices has increased.
For instance, an increase of $1 in the price of Brent oil is expected to improve Conoco's annualized cash flow by $110 million at the mid-point in 2017. This sensitivity will hold well as long as Brent oil prices range between $45 and $65 a barrel. Considering the expected improvement in Brent oil prices, Conoco's oil price sensitivity is good news for investors since it will have a positive impact on its cash flow.
Now, in the first three quarters of 2016, ConocoPhillips has generated operating cash flow of $3.1 billion. But, in the last quarter itself, the company generated $1.23 billion in operating cash flow. Thus, Conoco has generated a substantial chunk of its operating cash flow for 2016 in the third quarter. This can be explained by the gradual improvement in Brent oil prices, as shown in the chart below: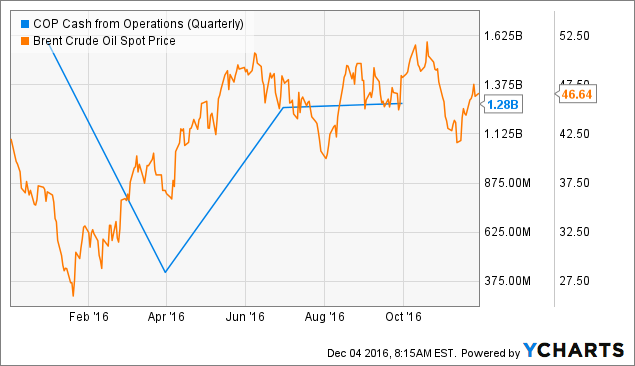 Thus, an improvement in the Brent spot price as the year has progressed has proved to be a tailwind for ConocoPhillips' cash flow, as shown in the chart above. More specifically, in the first half of the year, Brent oil had averaged $42.96 a barrel, which increased to $46.18 in the third quarter. All in all, over the first nine months, Brent oil averaged a price of $44 a barrel.
Now, so far in the fourth quarter, Brent oil has averaged slightly over $51 a barrel, which means that Conoco will witness another bump in its cash flow performance this quarter. But, more importantly, the company's cash flow profile in 2017 should turn out to be even stronger.
What $60 Brent means for Conoco's cash flow?
As already mentioned earlier in the article, ConocoPhillips has generated $3.1 billion in operating cash flow in the first three quarters of the year at an average Brent oil price of $44 a barrel. In the fourth quarter, Conoco's operating cash flow could come in at almost $1.37 billion as Brent oil prices are averaging $5 per barrel higher than the third quarter in the ongoing quarter.
This is because for each $1 increase in Brent oil, Conoco's operating cash flow increases by $110 million on an annual basis. This means that an increase of $5 per barrel in the Brent oil price could increase its annual cash flow by $550 million, or by $137 million in a single quarter. Since Conoco generated $1.23 billion in operating cash flow last quarter, its cash flow in the fourth quarter could come in at $1.37 billion (by adding $137 million to third quarter's cash flow).
As a result, Conoco's annual operating cash flow for 2017 will be $4.47 billion, with an average Brent oil price of $46 per barrel. This means that if Brent oil actually reaches $60 a barrel in 2017, ConocoPhillips' annual cash flow will improve by more than $1.5 billion (multiplying $110 million by 14 since Conoco's cash flow increases by $110 million for each $1 change in Brent prices). This is an increase of over 33% from this year, and will be driven by a $14 per barrel improvement in Brent pricing.
Now, it won't be surprising if oil prices actually increase to $60 a barrel since the OPEC deal will play a key role in reducing the oversupply in the industry. As reported by Bloomberg:
"OPEC's deal will help cut the current global supply surplus of about 300 million barrels, Venezuelan Oil Minister Eulogio del Pino said in a Bloomberg TV interview. This could lift prices to $60 to $70, he said."
Conclusion
Thus, ConocoPhillips investors can expect a significant improvement in the company's cash flow performance next year after the OPEC deal. So, it will be a good idea for investors to continue holding ConocoPhillips since financial improvements could lead to more upside.
Disclosure: I/we have no positions in any stocks mentioned, and no plans to initiate any positions within the next 72 hours.
I wrote this article myself, and it expresses my own opinions. I am not receiving compensation for it (other than from Seeking Alpha). I have no business relationship with any company whose stock is mentioned in this article.