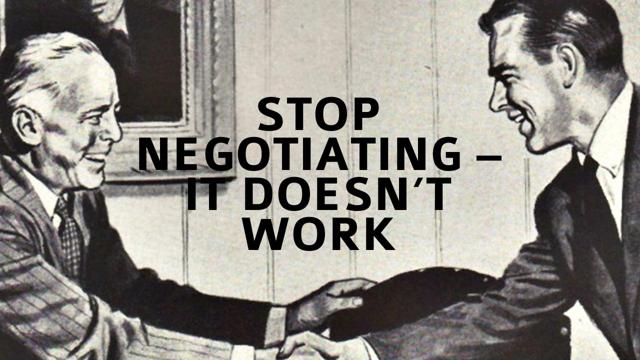 (source: internet)
Last week The Financial Times reported [link requires paid subscription] negotiations over Valeant's (NYSE:VRX) sale of Salix to Takeda have broken down, for now at least. According to the Times' sources, the companies had "disagreed on the value of the business" but Takeda might be willing to return to the negotiating table if Valeant "were to disclose more information about the business". The sources alleged that Valeant had "struggled to keep up with Takeda's demands for information about the business during negotiations and taken insufficient steps to prepare the unit for sale".
My take on this is that Valeant and Takeda went into the negotiations with very different expectations. Valeant probably regarded the proposed 10B sales price as a low ball opening offer from Takeda and envisaged reaching a significantly higher price in a final deal. A price around 12B would have been reasonable considering that Salix has not quite lived up to expectations after Valeant bought it at an enterprise value of 14.5B in 2015 (page 23 of the Q4 2014 earnings presentation).
Takeda, however, seems to have interpreted Valeant's willingness to open negotiations at this price as a sign of weakness, which it sought to exploit to try to get an even lower price. It did this by tire kicking, requests for "further financial information", and now walking away from the negotiation table - all familiar tactics that anyone who has tried to sell a used car is likely to have experienced.
In this article I discuss why this development has put Valeant in a very bad situation, what management needs to do to get out of it, and the lesson it should learn from this experience.
First though, there is something that needs to be made clear from the beginning:
Valeant doesn't need to sell Salix to manage its debt
In fact Valeant has a pathway to manage its debt without selling any assets at all. New CFO Paul Herendeen, who showed himself to be prudent to a fault with guidance at the Q3 earnings call, said in reply to a question about debt repayment
I think the question was do we - without asset sales, do we see a pathway where we maintain adequate liquidity to service our debt, and the answer is yes, I do see that pathway. I won't kid anybody, we have a challenge here, it's easy to see. [...] But [...] I am confident there is a pathway for us to maintain adequate liquidity to service our debt and to refinance it.
The bond market also thinks Valeant can manage its debt without selling Salix. Although VRX bonds sold off sharply after the news that the Salix negotiations had broken down, they did not enter distressed territory. For example, the April 2025 bond, which reflects the market's long term view of VRX's credit, currently yields 11.0%, below the ~12% threshold for being distressed.
The recent bond price action reflects the fact that Valeant's pathway for managing its debt became narrower, and therefore riskier, after the guidance cut in the Q3 earnings. The latest selloff reflects the bond market's view that the pathway would be wider after a Salix sale at the reported 10B negotiating price. However, the fact that the bonds remain undistressed shows the bond market views the pathway as still being there, and that selling Salix is not required to keep it open.
The divergence between the concerned yet calm view of the bond market and the hysterical "trading like they're going to go bankrupt" view of the stock market on VRX that I discussed previously is still very much in place.
Why the Salix sale debacle has put Valeant in a terrible situation: It harms Salix's performance after all the work that has gone into fixing it this year
The ongoing negotiation saga, with the continuing prospect that Salix might be sold, is terrible for Salix's sales force and management. They are now living with the possibility of losing their jobs in the near future when a new Salix owner seeks to achieve synergies. How can Papa hope to recruit good sales reps to expand the sales force as he intends in this situation - who would want to take a new job that might be gone after a few months?
Furthermore, it creates uncertainty in the physician community, making doctors hesitant to prescribe Salix's drugs. It gives an opening to competitors to try to take market share by pushing their own drugs hard through increased sales efforts, pricing cuts etc. (For example Allergan with its drug Viberzi that competes with Xifaxan in IBS-D.)
In fact Valeant has seen this before. After buying Medicis in 2012 it put the Aesthetics unit of that business up for sale in 2014. The impact of this on the unit's performance was described on a slide in the Q2 2014 earnings presentation: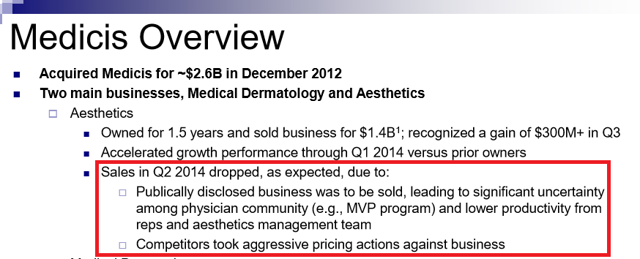 As stated on the slide, the negative effects of being put up for sale that I mentioned above all happened in this case.
The situation could be even worse for Salix since it was already in a fragile state. Problems with staff turnover were a major factor in Salix's underperformance earlier this year, and one of Papa's main achievements so far was to fix this.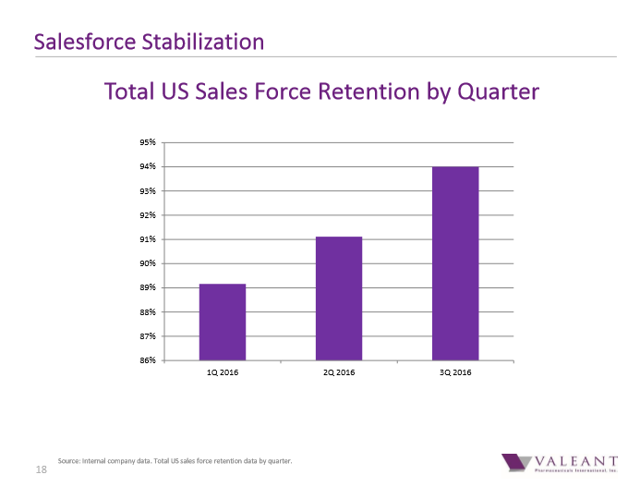 Papa's good work: Increasing sales force retention during the year. (Source: Q3 earnings presentation)
Management declared on the Q3 earnings call that Salix was "fixed". The current situation risks undoing Papa's good work on that.
Valeant's management needs to urgently address the situation. Here's what they should do:
Declare right away that the Salix sale is dead and buried! That there will be no further negotiations with Takeda or anyone else, and that Salix will not be sold in the foreseeable future. And likewise for Valeant's other core assets. I would like to see management put out a statement along the following lines:
After exploring the possibility of selling Salix at a price that makes sense to us, we have concluded that there is no prospect of this happening either now or in the foreseeable future. We have completely and permanently broken off all negotiations, and will focus all our efforts henceforth on growing the Salix business in our hands to realize its full potential.
We neither need nor wish to sell Salix or any of our core businesses, and will not consider offers for them unless the offer is irresistibly good and with a firm minimum price. Given the depressed valuations of growth pharma assets at present, we do not expect such offers to be forthcoming for the foreseeable future. Therefore our complete focus and commitment is and will continue to be on stabilizing and growing our core businesses to return them to industry growth rates in our hands.
Hopefully by this the harm to Salix that the current situation is causing can be averted or reversed.
The lesson management needs to learn from this episode
While it is understandable that Valeant's management was interested in exploring whether Takeda was willing to pay a sensible price for Salix above the opening 10B offer, by doing so they have allowed a very unfortunate situation to develop where Salix hangs in limbo and suffers harm while Takeda plays its games for who knows how long.
In hindsight the appropriate response to Takeda's offer would have been: "Go away and stop wasting out time, unless you are prepared to pay 12B cash. We will not accept anything less, and you need to accept from the start that negotiations between us will focus only on whether the price should be higher than that." And negotiations should be permanently broken off if Takeda or others are not prepared to quickly close the deal at or above the 12B price.
By failing to act assertively and insist that the negotiations start from a sensible opening price offer, Valeant's management has not only allowed Salix's harmful limbo situation to occur but has also created an impression of being willing to sell assets at firesale prices. This will hurt their efforts to sell other (non-core) assets, since other buyers will think they can also get steep discounts.
Furthermore, it creates an impression of desperation, leading the market to wonder if [i] management views its debt situation as worse than it has been letting on, and [ii] the value of Valeant's assets are less than previously assumed. This obviously hurts the share price, in the short term at least. Finally, it distracts management from what it should really be completely focused on, namely returning the core businesses to industry growth rates so as to avoid problems in refinancing the major debts when they come due in 2020.
Management needs to reflect on and learn from the mistakes it has made in this episode so that they are not repeated, and quickly take action to undo the present damage.
Disclosure: I am/we are long VRX.
I wrote this article myself, and it expresses my own opinions. I am not receiving compensation for it (other than from Seeking Alpha). I have no business relationship with any company whose stock is mentioned in this article.