Traditionally, the financial markets have been known for their idioms and maxims. But what is unfortunate is the fact that the wisdom of many of these sayings cannot be truly understood until after the fact, as investors are left to pick up the pieces and develop another strategy.
So if we can commit to phrases like 'it is always darkest before the dawn,' it is important to remember that this sentiment must also have its mirror opposite -- and this is an idea that could eventually come to define the current state of the financial markets. Recent optimism in the equities space has been inspired by the idea that Donald Trump (the 'change' candidate) will be able to create a pro-business atmosphere that will drive growth and provide sustainable gains in corporate earnings.
Chart View: US Labor Markets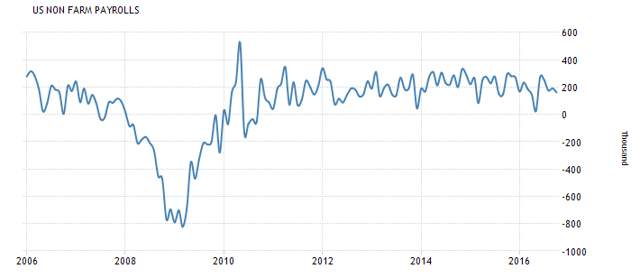 Chart Source: Gold Traders
Of course, no one yet knows if any of this will turn out to be true. But what we do know is that the half-glass-full mentality that has defined performances in the SPDR S&P 500 ETF (NYSEARCA:SPY) and the SPDR Dow Jones Industrial Average ETF (NYSEARCA:DIA) over last few weeks is likely to hit a brick wall once this exuberance subsides and markets are forced to revisit the fundamentals of the US economy.
So instead of being pulled-in by the positives express in recent campaign speeches, investors should instead focus on the dismal performances posted in the US labor markets as this is the area that will define stock volatility over the next few months, and likely change the current trends seen in the iPath S&P 500 VIX Short Term Futures ETN (NYSEARCA:VXX). In the chart above, we can see the true long term performance in the 'strong' jobs market that was lauded by President Barack Obama and Democratic candidate Hillary Clinton on the campaign trail over the last few months.
Chart View: US Labor Participation Rate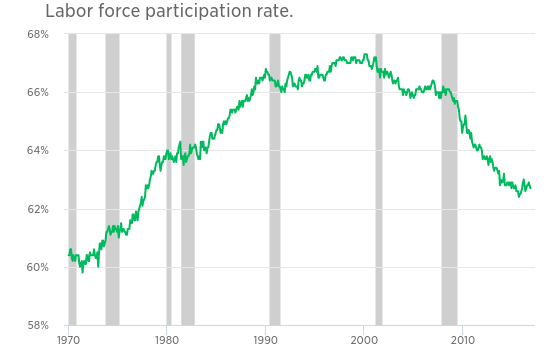 Chart Source: Money Investors
On average, non farm payrolls hit a firm ceiling below 200,000 monthly additions and this is a number that has struggled to keep up with simple population increases during the period. If these long term trends were not enough to cause concern for investors, the labor participation rate should be viewed as an added factor. As President Obama leaves office, the US unemployment rate has fallen to 4.6% and this is the lowest level we have seen in nine years.
But what is not often reported is the fact that this 'strength' has come as a result of a weakened labor participation rate. Labor participation for Americans aged 25-54 now stands at the lowest levels we have seen since the 1970s (62.7%). This is a reality that is not being considered by the majority of the market, and this spells trouble for stock investors once these factors filter into the corporate earnings disappointments that are becoming increasingly inevitable.
Chart View: iPath S&P 500 VIX Short Term Futures ETN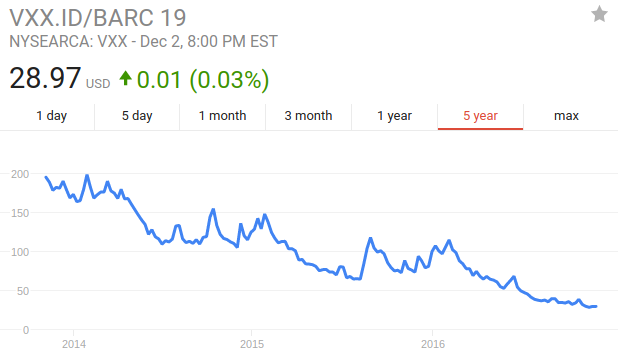 Chart Source: Money Investors
Of course, none of this is readily apparent when we look at the stock market volatility that is indicated in the chart above. But there is an increasing likelihood that what we are really seeing is the 'calm before the storm,' and that giddy investors chasing stocks at their highs will ultimately be thrown overboard once the fundamental weaknesses in the US economy become more apparent to the aimless herd that currently makes up the market majority.
Disclosure: I/we have no positions in any stocks mentioned, and no plans to initiate any positions within the next 72 hours.
I wrote this article myself, and it expresses my own opinions. I am not receiving compensation for it (other than from Seeking Alpha). I have no business relationship with any company whose stock is mentioned in this article.