Overview:
Back on March 3, 2015 I wrote my first article on AMD (NYSE:AMD) titled "10 Reasons Why AMD Will Be $10 By 2017". Since then I have written 23 more articles on AMD and in each one had a buy rating on the stock. During that entire period of time they never had any meaningful earnings. Now approaching my original price target of $10 (updated to $15 in this article "AMD: Raising My Price Target To $15 By 2018") significant earnings are on the horizon.
In this article I show how $1 per share annual earnings may be projected beginning the end of the 1st quarter of 2017 projected forward 12 months.
Assumptions:
1. Market for high performance desktops is $4 billion.
Zen will get 20% of that $4 billion or $800 million per year.
Lisa Su:
"we will have a very competitive offering for the $4 billion high performance desktop processor market."
Since Intel's Client Computing Group (NYSE:CCG) has about $30 billion in annual revenue AMD will compete for a lot more than $4 billion in the total desktop market.
2. Market for server products about $15 billion.
Zen servers will get 10% of that market or $1.5 billion per year.
Lisa Su:
" From here, it's a $15 billion market. It's very, very strong margin contribution. If I weren't aspiring for double-digit share then I don't think that would be aspirational enough."
3. Market for laptops is $ 10 billion (out of $30 billion in CCG revenue)
Zen plus Polaris/Vega will get 10% of that market less the $200 million they get now or $800 million. That might be conservative.
4. New SoC contract will generate $200 million year.
5. VR plus GPUs will get a growing share of $425 million.
6. Google, Apple, THATIC, Alibaba, Apple will add another $200 million per year.
Note that Zen laptops and servers do not show up until 2nd half 2017. Also keep in mind these numbers are the chip market alone not the finished product market.
Charts: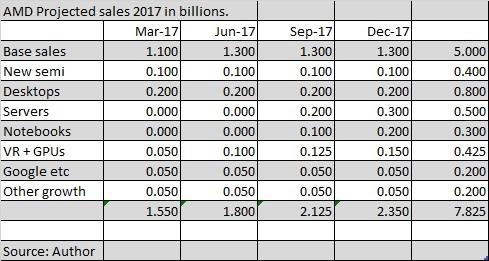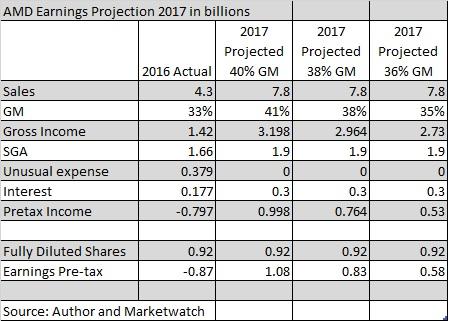 If earnings are $1 what will the price be?
We have a good comparison (kind of) in Nvidia (NASDAQ:NVDA) whose stock recently went up by over 25% after announcing good earnings. Right now Nvidia is selling at 20 times projected 12 months earnings ($92/$4.50). Looking at the above chart 20x for AMD would be over $20. And even if I am off a quarter or two for the $1.00 forward projection Mr. Market will figure that out pretty fast.
Of course Nvdia has a vastly superior balance sheet and is not currently losing money. It also seems to currently have a good solid grip on the very high end of the graphics market. But AMD's soon to arrive Vega GPU may limit that even more than it is now.
Duopoly + duopoly = monopoly.
On the other hand AMD is the only member of two chip duopolies: x86 processors and high end graphics chips. I think the market still undervalues this unique capability especially in the VR area. It also applies to the desktop, laptop and server markets too. And as far as semi-custom CPU/GPU SoC's (Systems on a Chip) no one can compete. Think about the Google and Alibaba deals for a moment. Do you think they bought graphics chips for their servers but have not talked to AMD about customized CPU/GPU products for those same servers? The reverse is also true for the CPU licensing deal with THATIC. Certainly there have been discussions about GPU licensing too.
Conclusion:
As AMD's price approaches my outrageous prediction of almost 2 years ago ($10) I am now looking at perhaps double that by the end of 2017 or early 2018. This is a tribute to the outstanding management skills of CEO Dr. Lisa Su. Her unrelenting focus on designing and producing a few outstanding products that customers would want to buy is about to pay off in a big way. At every step along the way CEO Su told us what would happen and it did.
"I think, going forward, the way you should think about it is, we are a growth company. "
I am maintaining my $15 price target until I see how the Zen desktop is accepted in Q1 2017. But based on history I am sure it will be a very good outcome.
AMD remains a strong buy.
If you found this article to be of value please scroll up and click the "Follow" button next to my name.
Disclosure: I am/we are long AMD.
I wrote this article myself, and it expresses my own opinions. I am not receiving compensation for it (other than from Seeking Alpha). I have no business relationship with any company whose stock is mentioned in this article.