In my recent article on Coca-Cola (NYSE: KO) titled Here's When You Should Buy Coca-Cola, I discussed that investors need not purchase more shares at the current level and should wait for lower levels. The article was well-received, and I was asked to do a similar piece on Pepsi (NYSE: PEP).

Source: PepsiCo.eu
In this article, I will use a combination of technical and fundamental analysis on PepsiCo to make the same case as I did for Coca-Cola: that investors do not have to buy PEP at the current level. I will also discuss the appropriate levels for investing in PEP, and would give a sneak peek into my style of investing which may or may not appeal to every investor, since I like to be very conservative in my investing approach.
Note: My discussion on lower price investing levels should not be mistaken as being bearish. I am just suggesting lower entry points for investors.
PepsiCo is off less than 10 percent from its 52-week high (all-time high) of $110.94 at $100.60. The decline hasn't really made the stock cheap. So, is this a dip to invest or a dip to ignore? Well, let us answer this simple question using two technical price charts with some indicators overlaid.
The daily PEP price chart below shows that the stock has been facing selling pressure under the resistance trendline (marked in the chart as the downward sloping black line) connecting the tops since July 2016. The selling pressure intensified and the stock plummeted to the horizontal support near $100.85. An attempt to sustain above this support was thwarted by the bears and the stock pierced it decisively in Wednesday's session and confirmed it in Thursday's trading. The bounce on Friday might not sustain going ahead. A close above $103 could bring the bulls back into the game.
Additionally, it has been marked in the daily chart that the volume has been far greater in red sessions as compared to that in green sessions.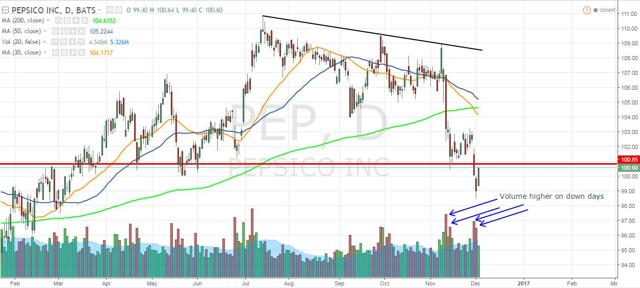 Source: TradingView
A famous moving average crossover pattern - Death Cross - also seems to be in works for PEP. This pattern is said to occur when a lesser duration moving average crosses a higher duration moving average on the downside. This indicates that the trend has become bearish in the near-term and stock losses may follow. The efficacy of this crossover is more pronounced when the stock or the market is near the top since it signals a reversal.
The 50-day SMA is often considered alongside the 200-day SMA when discussing the death cross. Investors can choose different periods as well. I also look at the 30-day SMA along with these two. So, I have overlaid the three SMAs on the daily price chart above.
Evidently, the 30-day SMA of $104.1717 has crossed the 200-day SMA of $104.6352 in late-November. The 50-day SMA of $105.2244 is also trending lower and is closing the gap with the 200-day SMA with every passing day, thanks to the sustained pressure on PEP. The 50-day SMA, also known as the 'trend indicator', may cross the 200-day SMA in the next couple of weeks if the stock does not head higher.
So, the <10% drop from an all-time high does not have to be bought.
From the perspective of an investor who bought at the top, the dip should be ignored for two reasons:
10 percent drop has not made the stock attractive.
But, another 10 percent loss might do the trick.
From the weekly PEP price chart below, we can see the pink region, which marks the price range of $92-$94. The stock has tested this zone several times, and stamped it as a strong buying region. So, I would recommend waiting for the stock to drop to at least this zone.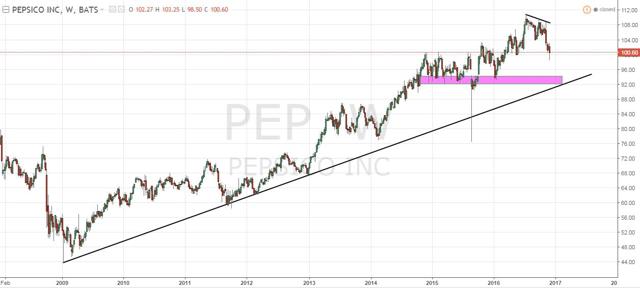 Source: TradingView
Another point to consider here is that the entire upmove from 2009 to the recent top had the stock flirting with the upward sloping support trendline several times. Levels closer to this multi-year support have generously rewarded the buyers, and therefore, I recommend purchasing PEP closer to it. As of this moment, this support comes in around $90-$92.
This gives me the second confirmation that long-term or medium-term investors would be better off postponing their purchases but be willing to buy near $92.
From the multi-year PEP valuation data pulled from Morningstar, it can be seen that PEP is slightly overvalued from historical perspectives. The current Price-to-Sales ratio is 2.37 compared to the 5-year average of 2.05. The P/E ratio is 22.06, which is higher than the 5-year average of 21.63. On a similar note, the P/CF and the P/B ratios are at premiums to their historical averages.
From a conservative standpoint, it is better to buy a stock when its fundamental metrics are closer to their historical averages. I often judiciously utilize those opportunities when the stock's current valuations are trading at 20 percent discounts to these historical averages.

Source: TradingView
What If I Was In Your Shoes?
Before investing in a stock, it is important to understand and remember that there will come many dips along the way, some of which need to be bought while some need to be let go of. Buying a dip is partially dependent on an investor's risk-taking ability. I am a conservative investor and do not easily panic even when the stock is 20-25 percent lower from my average purchase price. The vagaries of the market sometimes punish even a fundamentally strong stock and causes a temporary decline in portfolio. I believe that an investor should be able to stand firm in the wake of such declines, because they will always be there.
I am generally excited by a 30 percent decline in a quality stock's value, and would then keep on adding if the market continues to punish the stock unfairly. The downside to this is that I might miss out of strong rallies, and I have missed, plenty of times. My conservative strategy will prove fruitful to anyone employing when the market eventually falls, and falls hard.
So, if I were a PEP investor who bought at $110.94, I would not touch it now. Instead, I would wait for a 30 percent decline, which would take its time to come. A 30 percent decline from my purchase price at lifetime high would mean $78. We saw this price in August last year, but I do not expect to see it anytime soon. So, I will sit tight for now.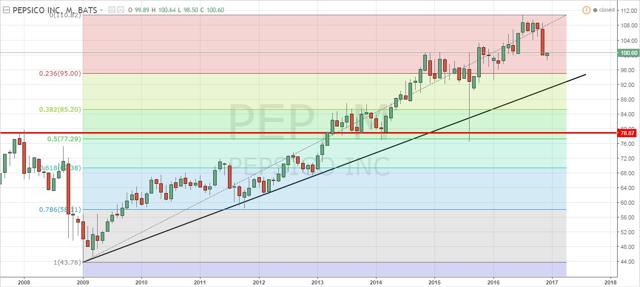 Source: TradingView
The importance of $78 is also highlighted by the important technical tool, Fibonacci retracements employed on the post 2008-recession rally. The level marks the peak of 2008 and also the 50 percent Fib retracement, which has a strong reputation in the stock market for being a value investing level.
For those considering fresh investments in PEP, it is advised to wait for levels closer to $92-$94.
Conclusion
PepsiCo investors do not have to buy this dip as the stock has not really become cheap with a ~10 percent drop from all-time high. A further 10 percent cut to $92 could be in the offing, and fresh investments can be considered then. The level of $92 was tested several times earlier, and the multi-year support trendline also confirms this as a good entry point.
The fundamentals suggest that PEP is slightly overvalued compared to historical averages, so practicing conservatism in investing is recommended.
Note: I cover several stocks in different sectors as well as S&P 500, crude oil, gold and silver, U.S. dollar, etc. So, if you liked this update, and would like to read more of such informative articles, please consider hitting the "Follow" button above. Thank you for reading!
Disclosure: I/we have no positions in any stocks mentioned, and no plans to initiate any positions within the next 72 hours.
I wrote this article myself, and it expresses my own opinions. I am not receiving compensation for it (other than from Seeking Alpha). I have no business relationship with any company whose stock is mentioned in this article.