I was recently reading through some presentations and came across Fuchs Lubricants (Petrolub). In short, the Company is the world's largest independent lubricants manufacturer. It offers lubricants for car and motor vehicles, goods transport, passenger traffic, mining companies and the steel industry. The Company has a strong focus on R&D (products developed within the last 5 years generate 70% of sales).
Generally, I'm not keen on reading company presentations, but rather searching for value in annual reports. This time, I was stumbled upon this chart: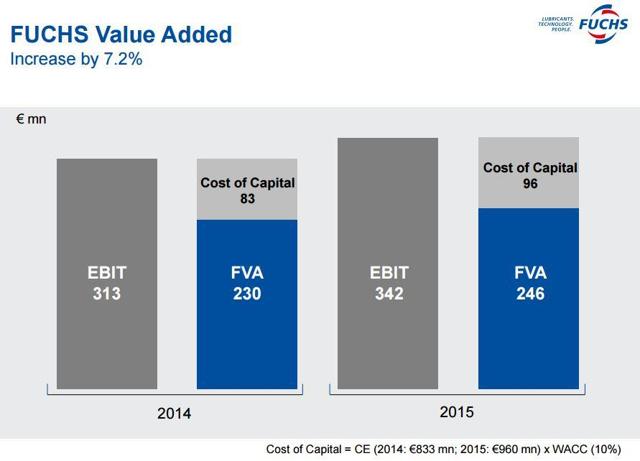 Usually, companies in their reports talk mostly about top line development and operating performance. With Fuchs situation is different. After I found the above-mentioned chart, I looked into the annual report that is a great source of information about value creation process at Fuchs.
For instance: FVA (Fuchs Value Added), which is based on earnings and capital investments, is the central KPI for management. EBIT is the KPI for the results of operation, while the costs of average capital employed represent the KPI for the net assets and financial position. Value is only added when the recorded earnings are higher than the costs of capital employed.
Furthermore: Variable compensation for local, regional, and global management is based on FVA. Entitlements to variable compensation are only granted when positive added value has been generated in the respective financial year.
Here is a history of value creation:

It is rare to find such a clear description of the company value creation process. Therefore, when the right businesses are paired with an exceptional capital allocation, the result can be a remarkable compounding of shareholder capital.
A company's intrinsic value will be compound at a rate that roughly equals the product of its ROIC and its reinvestment rate (Intrinsic Value Compounding Rate = ROIC x Reinvestment Rate). There are other factors that can create higher earnings (pricing power is one big example), but this simple formula is helpful to keep in mind as a rough measure of a firm's compounding ability. So if Fuchs can retain 50% of its capital and reinvest that capital at a 35% return, we'd expect the value of the company to grow at a rate of around 17.5% per year (50% x 35%).
Is it sustainable?
Fuchs anticipate organic growth in sales revenues in all regions in 2016. External growth as a result of the acquisitions made in 2015 will largely affect the Europe region. Overall, top-line growth should come in the range of 7-8%.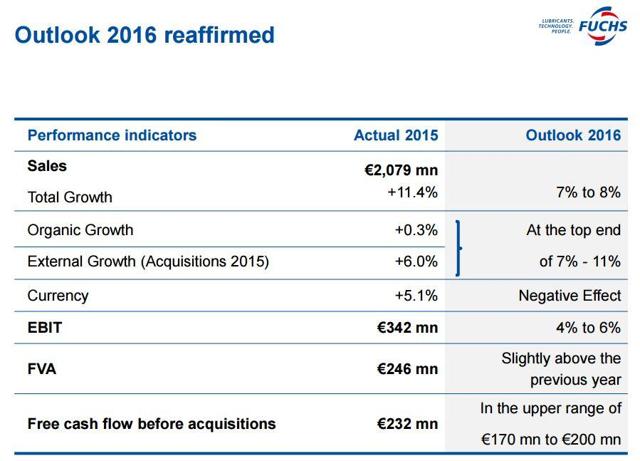 Due to the anticipated increase in sales revenues, EBIT should grow as well (recent acquisitions will also contribute). However, the earning power of the newly acquired companies is still below the Group average. The anticipated growth in EBIT should exceed the rise in the costs of capital employed. As a result of this, the management is anticipating a higher FVA in the low single-digit percentage.
Fuchs' ability to maintain pricing power will be challenged from time to time. For instance, some investors have become concerned about rising competition for specialty lubricants in Asia. This business accounts for about 30% of Fuchs' current revenues, and a significant proportion revenues over the next several years. Lower-cost Asian players might not be an imminent competitive threat, and I think Fuchs has enough time to properly react.
Conclusion
This article is about the importance of earning a higher return on capital than the cost of capital, and creating additional value for investors. Once Charlie Munger said: "Over the long term, it's hard for a stock to earn a much better return than the business which underlies it earns. If the business earns 6% on capital over 40 years and you hold it for that 40 years, you're not going to make much different than a 6% return - even if you originally buy it at a huge discount. Conversely, if a business earns 18% on capital over 20 or 30 years, even if you pay an expensive looking price, you'll end up with a fine result." But those companies are rare birds.
Fuchs shows us its focus on creating added value which is the cornerstone of a long-term success. Many companies fail on this point because they don't understand the concept of economic value creation. Somehow the majority of companies are occupied with other financial parameters and at the same time, they are destroying value for its shareholders. If Fuchs sustain its high returns and finds more opportunity to deploy capital it will be a long-term compounding machine.
Disclosure: I/we have no positions in any stocks mentioned, and no plans to initiate any positions within the next 72 hours.
I wrote this article myself, and it expresses my own opinions. I am not receiving compensation for it (other than from Seeking Alpha). I have no business relationship with any company whose stock is mentioned in this article.
Editor's Note: This article discusses one or more securities that do not trade on a major U.S. exchange. Please be aware of the risks associated with these stocks.