The debate surrounding Apple (NASDAQ:AAPL) and its future often can grow a little repetitive. It seems almost inevitable the Apple news cycle repeats itself year after year with the same recycled arguments, as pundits continue to levy all the usual criticisms: iPhone revenue dependence, critiques of product design, complaints surrounding "financial engineering" via the shareholder return policy. Yet like clockwork, Apple continues to string together solid financial results. The sales that were supposed to evaporate on waning consumer demand always seem to stick around, and long expected margin contraction driven by commoditization of product lines never appears. Unfortunately, the fundamentals always seem to be ignored. "Next year will be different!" cry the bears, and the cycle begins yet again.
Perhaps we can pin the blame on why this poor sentiment exists on Tim Cook. Technology investors tend to chase story stocks, and Apple has done a poor job of crafting a compelling narrative. The company hasn't thrown a real curveball to the market for years, and as a result, everyone is clamoring for change. A CEO with a penchant for story-telling (Elon Musk as an obvious example) could have assuaged concerns when times look bleak, but that isn't Tim Cook's persona.
At the end of the day, that won't matter much. Financial results win out eventually, and like always, I'd caution that change for the sake of change usually does not drive significant profits. Apple has always been methodical in its approach, and I suspect the company will continue to follow that path. Stagnancy doesn't mean the company is failing to execute when it comes to financial results. Controlled for working capital changes (accounts payable/receivable, inventories), operating cash flow was down just 6% over fiscal 2015. Apple remained a cash-generating machine. Despite returning more than $41B to shareholders ($12.1B in dividends, $29.2B in net stock repurchases) and investing more than $23B in its business ($13.5B in capital expenditures, $10B in research and development), Apple still managed to stash away $9B in cash (net of new debt issuance) for a rainy day.
Why The Bear Thesis Doesn't Matter
The benefit of investing in Apple at this juncture, however, is that the market continues to value the company as if its business has already been structurally impaired. As a value investor, these types of situations are exactly what I want to see. With expectations apparently set so low, the company has easy hurdles to clear to maintain its current share price. I'm happy to own the unfavored dogs of the market, so long as those companies can manage to hop gracefully over those low expectations: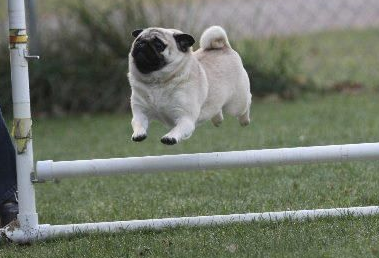 That type of investment philosophy isn't as glamorous as predicting the next growth superstar like Amazon (NASDAQ:AMZN) or Facebook (NASDAQ:FB), but that doesn't mean it is any less profitable long term. As investors, we can test that hypothesis by building out a model income statement for Apple over the next four fiscal years: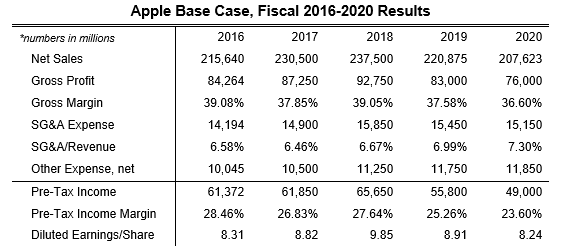 Without getting too granular on the unit sales and prices that drive this model, I can bring out the highlights. This was built under the assumption that Apple underperforms both fiscal 2017 and 2018 average sell-side analyst consensus. After a brief reprieve from margin contraction in fiscal 2018 driven by the much-anticipated iPhone 8 launch, Apple then sees significant annual revenue drops (~7%), with no repeat of the usual jump that takes place from a brand new iPhone model launch. I've priced in some non-insignificant drops in reported margins, as Apple begins to lose operating leverage in this case as gross margins shrink and the company's R&D budget increases in desperation: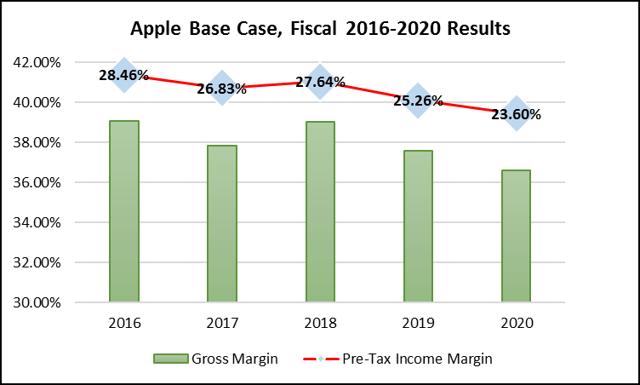 In this scenario, despite tens of billions in investment over the past several years, the company still cannot find a suitable diversifier for its key iPhone product, which has begun to fall out of favor with consumers. For Apple, this would be an unprecedented shift in normal year to year margin volatility, and would mean a return to margins not seen since 2009, when the company had significantly less scale.
Despite the fact that pre-tax income falls more than 20% in this example, earnings per share stays relatively flat due to the attractive shareholder return policy. Given that Apple today is currently trading at roughly its five-year trailing P/E multiple (13.2x), and if we assume that range stays true going forward, then Apple will be dead money over the next several years. Moderate contraction at worse depending on the rate at which you discount future cash flows (8.24 in EPS x 13.2 = $108/share, mid $90s if you discount).
So my answer to whether Apple will release a new blockbuster product within the next several years that will drive tens of billions in additional new revenue and profits before 2020?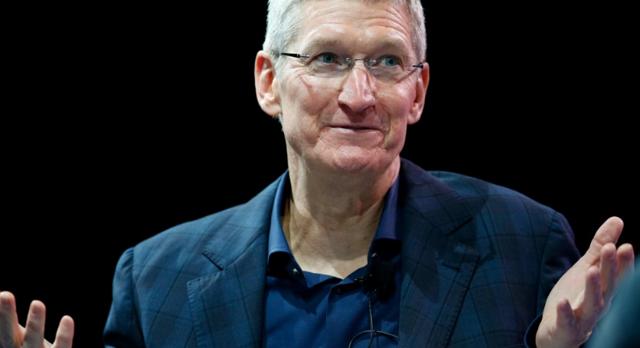 I can't tell you, and neither can anyone else. But it isn't necessary to warrant buying today. The market is pricing in next to no chance of that happening. Even more importantly, the market is pricing in meaningful declines in margins, something that has not yet occurred for Apple. That builds in a margin of safety, and buying Apple today basically gives you a free call option on the potential for a stellar new product line (fair chance given the multi-billion R&D and capex budgets) and on the company maintaining its pricing power in the consumer device market. The value is there, and as long as that value remains present, I will maintain a large position.
For deep dive research on asymmetric risk/reward plays in the Industrial and Basic Materials sectors (particularly small and mid-caps), consider investing alongside me and other subscribers within Industrial Insights. Get cutting-edge information with proven results.
This new offering doesn't mean I will be cutting down on quality or my allocated time towards my free offerings on Seeking Alpha. Follow me (by clicking the "Follow" button at the top of this article next to my name) to receive general stock market research and commentary, especially on under-followed small/mid-caps across a wide variety of sectors and
Disclosure: I am/we are long AAPL.
I wrote this article myself, and it expresses my own opinions. I am not receiving compensation for it (other than from Seeking Alpha). I have no business relationship with any company whose stock is mentioned in this article.